Prior to the Declaration of War against the states and the people by the federal government in 1933 when they amended the Trading with the Enemy Act of 1917 to include all Americans as "enemies", thereby authorizing the federal government to nationalize the monetary system in the US (Section 5b of the 'Act' of 1917 'as amended' March, 1933,
In fact there were 5 totally separate and distinct currencies in circulation up until that time.
#1 Federal Reserve Notes
 This is the one you are most familar with and the one we have now.
Back then, this was introduced as a competing private currency guaranteed by the US government and issued under charter - as it is today.  Except that today, the currency system has been nationalized and socialized.  There is only one charter that can issue currency... the Fed.  All other private currencies along with "lawful money" as defined in the constitution has been outlawed under the "continuing states of emergency" (see the 1973 WPA and Senate Report 93-549, 1973) declared in 1933.
#2 National Currency
National currency was currency issued by private national charter banks.  All the big banks issued their own currency against their deposits. Naturally 'deposits' at that time were "lawful" currency.  In other words, gold and silver or notes that could be redeemed in gold and silver.  That said, other than the fact that the bank did have to be chartered as a national bank and that the currency itself had to conform to certain standards, this currency was private.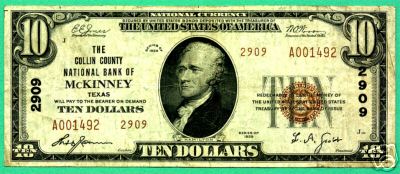 Interestingly, the Federal Reserve Note was also considered National Currency issued from a private chartered bank.  Why?  Because it was (at that time).  Please see what the note was "secured" by as stated on the face of the bill.  Government bonds, as opposed to "lawful money" that all other private banks had to use to secure its private money.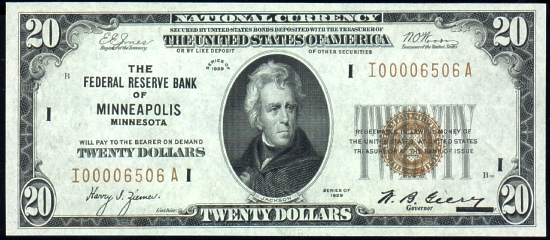 #3 United States Notes
United States Notes were issued by the United States Government itself out of the Treasury of the United States (which is NOT the US Department of the Treasury!)  The Treasury of the United States is a lawful entity authorized by the Constitution.
It's important to note that while this was definitely not a "private currency", it was a competing currency and redeemable for "lawful money" as it states on the face of the bill and which is specified in the Constitution as being the required definition of a "dollar". 
#4 Silver Certificate
This is a 1923 silver certificate.
While this isn't entirely a "private" solution.  It's also not entirely a nationalized or socialized solution such as the Federal Reserve Notes we have today.  It's more of a 'service' that the federal government is providing so you don't have to carry around metal.  I mean that in all seriousness.  The federal government wanted to hold metal no less than you, I or any other bank, for various purposes (such as spending and lending, foreign policy or whatever).  They held your silver, but gave it back to you upon demand.  Or a bank would because they would take this note in trade.
#5 Gold Certificates
Like the silver certificates above, these are essentially "bearer bonds".  I.e. whoever bears the note can redeem it for lawful currency.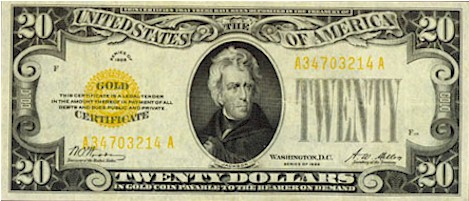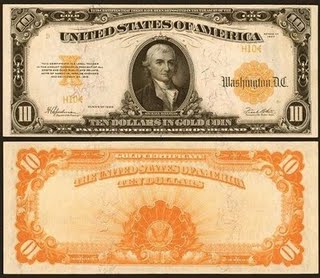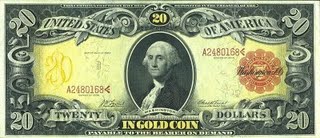 In Summary
If you believe yourself to be a "free marketeer", stop thinking in terms of what "we should do".  Stop attempting to impose your ideas of an ideal currency system on others.  Merely point out the disadvantages of the nationalized socialized currency system we operate under today.  Point out that in the no so distant past the US had a private currency system that worked quite well.  And advocate for privatization.
Private currencies DO work.  Nationalized socialized currency systems ALWAYS collapse at some point.
=======================================
Jeff Greenspan and Ernest discuss how the Federal Government got the power it has to enslave us. Trading with the Enemy Act of 1917

Senate Report 93-549
---