Radiation pollution in our homes???   Smart Meters are just that and considered the worst of what has been appropriately labeled, "Electrosmog."  
Smart Meters emit hazardous radiation throughout our homes up to 190,000 times per day, and have caused health decline ranging from headaches, sleep disturbances, constant high pitched ringing in the ears, heart palpitations, chest pain, dizziness, anxiety, behavioral changes, hypersensitivity, muscle cramps, as well as exacerbating symptoms of diabetes, cancer, Alzheimer's, MS, autism, and much more.
Please join us for a free showing of this powerful documentary at the Paradise Valley Community Center Conference Room, from 6 to 8 pm, Tuesday, January 14th.
The address is:   17402 N. 40th Street, Phoenix 85032.    

Please 

don't

get it mixed up with the Paradise Valley Community College.  
Q&A following the film.   
Limited seating.
   Call to reserve a seat.    602-710-5588
 

~
Sponsored by Autism Society of Phoenix ~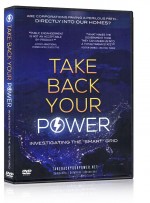 ▶ Take Back Your Power -
2 Min. Trailer
(2013) -
Note:  President Obama stating,
"Under my plan of a cap and trade system, the electricity rates would necessarily sky rocket."  
http://www.youtube.com/watch?v=FDMYc1qlhFY
Smart Meters are NOT federally mandated, and we DO have a choice.
            If you don't have a meter on your house that looks like this (mechanical analog), then you have a Smart Meter.