---
Arizona Breakfast Club this Saturday March 1st, 2014; 8-10 a.m. @ Coco's (Paradise Valley Mall)
Written by Donna Hancock
Subject: Events: Arizona
NEXT MEETING: Saturday,  March 1st, 2014
LOCATION: COCO'S (PARADISE VALLEY MALL LOCATION) @ 4514 E CACTUS ROAD; PHOENIX, AZ.
THIS WILL BE A BUFFET-STYLE BREAKFAST (WE HAVE BEEN AT THIS LOCATION BEFORE, SO MANY OF YOU WILL BE FAMILIAR WITH THE SET-UP).
THE PRICE FOR THE BREAKFAST/MEETING IS $15 (SORRY FOLKS - INFLATION), WHETHER YOU EAT OR NOT.

THE OLD LOCATION AT BILL JOHNSON'S BIG APPLE RESTAURANT WAS NOT WORKING OUT FOR WHAT WE NEEDED TO DO AND WAS A TEMPORARY MEETING PLACE AT BEST.

ARIZONA BREAKFAST CLUB -
Meets on the first Saturday of every month.
Doors open at 7:30 a.m. Food is served starting at 8:00 a.m. 
Discussing begins around 8:30 a.m. Meeting ends at 10:00 a.m.
Steve Meunier
(founder of
The H2OPE System
-
H2OPESystem.Com
),
The H2OPE System
is an off the grid water purification system, solar powered generator, and complete water pumping system all in one. Power is provided by up to three(3) internal 12V batteries that are recharged by the sun through the external solar panel. (Batteries not included in Base models).
The system brings together water filtration, power and water pumping to even the most remote locations. Now isolated homes can have safe water to drink with no effort at all. No boiling is needed or chemicals to add. The unit can produce up to 3 gallons of potable water per minute.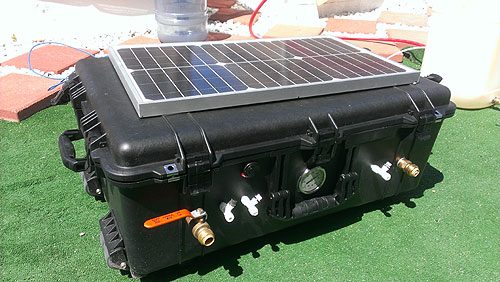 Jeff White
(Endless Food Systems -
EndlessFoodSystems.Com
) will be on hand to help explain Aquaponics. Endless Food Systems uses a unique process called Aquaponics.  It is the combination of Aquaculture (raising fish) with Hydroponics (growing plants without soil).  The fish produce waste which is then pumped up into the grow bed where the plants are.  The plants use up the fish waste as it is a perfect food for them and the water is returned to the fish tank now purified. 

PrepperFestAZ
- PrepperFestAZ.Com -
PrepperFest AZ Expo is your destination for all things prepping.
Our expo goal is to give everyone the opportunity to EXPLORE SELF-RELIANCE in a family friendly atmosphere. Our expo gives you an opportunity to frame prepping for what it is, which is living the Boy Scout motto of BE PREPARED.  Our vision of prepping is living the agrarian lifestyle of a  self-reliant farmer, a way of living that most people lived before the industrial revolution.  In the last few decades, people migrated from farms to cities and lost the connection with self-reliance that ALL of our ancestors knew was critical for living a sustainable, secure lifestyle.