China Will Need This Tiny Company's Help for Decades
On January 1, 2011, China's latest "five-year plan" began.
Every five years, starting in 1953, China's government releases a collection of goals for the country, kind of like New Year's resolutions.
This latest list of resolutions includes stricter regulations on air pollution – specifically, the nitrogen-oxide (NOx) emissions that spew out of thousands of coal-fired plants in China.
China's pollution problem has been growing for decades. China isn't going to stop using coal anytime soon. So its only option is to control the level of harmful emissions.
The best play on this developing trend is Fuel-Tech (FTEK).
I wrote about Fuel-Tech
when I got back from my trip to China in September. Back then, shares were trading at $6 each. Last week they hit $10.
That's a 67% gain in less than four months.
In November, the company reported solid quarterly results, including earnings per share of $0.03. The analysts who cover the company were expecting just a penny per share in earnings.
The bigger news for investors was increasing demand in China. The company is expanding its market to include smaller boilers in addition to big industrial plants.
And Fuel-Tech's systems are EXACTLY what companies need in order to comply with the new pollution regulations.
Even though the stock is up big, I believe there's a lot of upside room left. Remember, China is just starting to crack down. As a result, Fuel-Tech is in position to see YEARS of increasing orders for its pollution-control systems.
Fuel-Tech is an Illinois-based company that generates about 80% of its revenue in the U.S. China's latest regulations create an enormous growth driver for the stock. The market is just starting to realize this...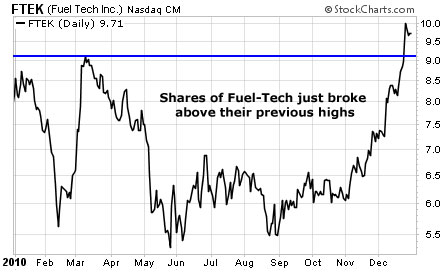 As you can see in the chart above, shares of Fuel-Tech just broke out above their previous highs around $9. The $9 to $10 area is a great "buy zone" for investors who want to make money on this huge long-term trend.
China has no plans to wean itself off coal anytime in the next few decades. And it's just starting to tackle the pollution. That's great news for Fuel-Tech.
Good investing,
Larsen
Further Reading:
"The first thing you notice is the sun... It's always blurry." That's what Larsen wrote after his trip to China this fall. "The pollution problem in China is even worse than it's portrayed in the Western media." Get the real, boots-on-the-ground perspective here:
China's Giant, Disgusting Investment Opportunity
.