Last week, the annual "festival of hype" kicked off.
Also known as the Consumer Electronics Show (CES), it's the Super Bowl of tech gadgets. It's held every January in Las Vegas. This is fitting since it's a big, flashy showcase of poor decisions.
At this year's CES, tablet computers were all the rage. Lenovo, Asus, Acer, Sharp, and Motorola are among those that unveiled tablets. It's no exaggeration to say almost every manufacturer that can make a tablet computer will release one during 2011.
It's a lot of hype. The market will become flooded. Retailers will order too many... and end up on the losing end of the hype.
The winners will be the chip makers. Semiconductor companies make all the little parts that go into gadgets like cell phones and tablet computers. Many of these companies were the same ones making parts for 3D TVs last year. That was a huge flop. But the parts makers came out just fine.
That's the beauty of being a parts-maker. It doesn't matter if the products are overhyped. They get tons of orders from multiple manufacturers. They don't have to worry about which models end up catching on. And next year, they'll be making the processors or other parts to go into the next overhyped product.
You've probably seen lots of headlines coming from reporters who were at the CES. Message boards filled up with tech geeks' opinions on which products are going to be the big winners. (Feel free to laugh if anyone calls one of them an "iPad killer.")
For bigger gains, you can buy the companies that show up in lots of the tablets that came out at the CES. For example, Nvidia (NVDA) has a new processor called "Tegra 2" that's going into tablets from Motorola and Toshiba.
Nvidia has spent the last decade as the industry leader in graphics-related parts like video cards. This is important heading into the latest cycle of products. Manufacturers are desperate to upgrade the graphics capabilities of their tablets and smartphones.
After lagging during 2010, I wouldn't be surprised to see shares of Nvidia outperform over the next six months. And shares just made a huge breakout...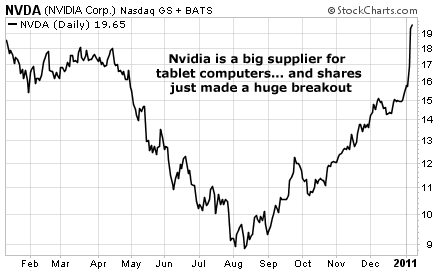 Regardless whether the tablet boom continues... or turns into another 3D-TV-like debacle, the big manufacturers are going to keep ordering parts for their gadgets.
Good investing,
Larsen
Further Reading:
Last month, Larsen noted semiconductor stocks were outperforming the market by a large margin. The growth in iPods, iPhones, iPads, and tablet computers, has given us a "low-risk approach that could generate an easy 25% return over the next six months." Read more here:
Tech Investors Are Ignoring the Start of a Big Bull Market
.