It's Time to Take Profits on One of Wall Street's Favorite Stocks
Alcoa has suddenly become one of Wall Street's most loved stocks.
According to Yahoo, 17 institutional analysts provide research on the aluminum maker. Only one has a sell rating. Last week, CNBC's Jim Cramer said, "I predict Alcoa will be the best performer in the S&P 500 in 2011."
Based on the stock's recent price action, I understand the optimism. Shares of Alcoa are up nearly 60% in four months.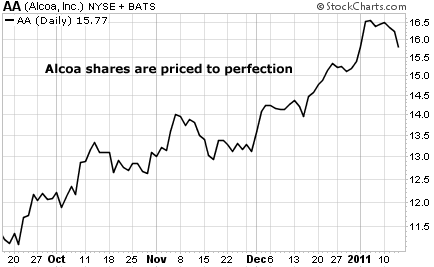 Last week, Alcoa reported its latest earnings results. These are some of the headlines following the company's press release...
"Futures rise after strong Alcoa earnings" – Reuters
"Alcoa's earnings shine" – Nightly Business Report
"Higher aluminum prices boost Alcoa's profits" – Zacks
But after taking a closer look at Alcoa's quarter, I suggest you ignore these fawning headlines. In fact, I suggest you take profits right now.
According to Thompson One Analytics, analysts predicted Alcoa would post earnings of $0.19 a share. The company reported earnings of $0.21 cents a share, two cents better than consensus.
Here's the thing: On the conference call, Alcoa said its effective tax rate was 22%. That was 10% lower than consensus estimates. Management didn't give a reason for this favorable tax treatment. Without this tax break, Alcoa would have missed earnings estimates by one cent.
A one-cent earnings miss may not seem like a big deal. But shares surged 14% in the 30 days leading up to its earnings report. Based on this price action, Alcoa should have crushed earnings expectations.
Alcoa posted $5.6 billion in sales for the quarter. This was also short of consensus estimates and amounts to only a 7% increase from its last comparable quarter. Alcoa trades for 17 times next year's earnings. I'd expect a higher growth rate to support this expensive valuation.
With a market cap of $16 billion, Alcoa may look cheap. But the company has over $8.5 billion in net debt. In other words, its enterprise value is over $25 billion. If a mining giant like BHP Billiton or Anglo American made an offer to buy Alcoa, they would have to assume this $8.5 billion in debt. Any bulls who expect a takeover may be waiting a while.
Looking ahead, the road will get tougher. Management said higher energy prices, surging raw material costs, and a weaker dollar pressured earnings for the current quarter. I know few analysts or economists who see a higher dollar or weaker commodity prices in 2011. That means earnings will likely be pressured in future quarters.
Most of Alcoa's sales come from the U.S. and Europe. These two markets are struggling to grow. In fact, management said it expects demand from these two areas to be flat in 2011. (It expects demand from China, a smaller market for the company, to fall 6%.)
The last time Alcoa traded at the $16 level was last January. Back then, optimism was sky-high. There was even talk about the company raising its dividend. By July, the stock had collapsed to $10. One year later, its yield is still less than 1%.
We may not see the same percentage pullback this time around. But at current levels, Alcoa is priced for perfection. I'd rather put my cash in BHP or Vale. These mining giants are cheaper and pay a higher dividend. They are also leveraged to commodities like copper, coal, and potash – products that are in high demand.
Good investing,
Frank Curzio
Further Reading:
"After seeing huge gains in such a short time, it's tempting for us to walk around feeling like geniuses," Matt writes. "But in the resource investment business – which produces enormous booms AND enormous busts – simply counting your money and feeling brilliant, while ignoring risk, is a recipe for disaster." Learn more here:
The Key to Investing in Commodities in 2011
.
One year ago, resource specialist Matt Badiali gave readers "a short list of interesting junior mining companies with emerging discoveries." By following his advice and sticking to his simple rules, you could have booked an average gain of 94% on the stocks he recommended. Read more about Matt's predictions
here
.