It's Not Too Late to Buy Oil Insurance
As I expected back in July, the price of insurance is getting more expensive these days...
In this essay
, I passed on some wisdom from one of the world's best resource investors. The wisdom was to keep a portion of your portfolio in "oil insurance"... in shares of companies operating in the Canadian tar sands.
The idea here is that much of the world's oil lies in the unstable Middle East... and a shooting war in Iran could cause a disaster with that supply. Canada, however, is home to the world's second-largest oil reserves. It's a stable country next to the world's mightiest military power. If trouble arises in the Middle East, as it has regularly for the past 1,000 years, Canadian energy assets will skyrocket in value.
Actually, any problem with the world's conventional oil supplies leads to higher valuations for Canadian energy assets. So you can think of owning shares of Canadian oil operators as owning oil insurance.
I told readers of the
S&A Resource Report
about this idea in March 2010. We bought Canadian tar sand giant Suncor for our portfolio... and it's a good thing we did.
As you can see from this one-year chart, crude oil prices are marching higher right now...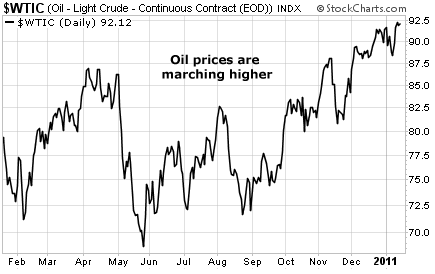 A leak shut down the Trans-Alaska pipeline, which carries 15% of U.S. oil production from Prudhoe Bay to the Port of Valdez and on to the lower 48. In addition, troubles in the North Sea cut European supplies.
The crude oil market is tight... and getting tighter. According to the Energy Information Agency, world oil demand grows by 1.5 million barrels per day, while non-OPEC supply grows at just 0.1 million barrels per day. Right now, any supply disruption will cause the price to spike.
S&A Resource Report readers are up 34% on their oil insurance investment in Suncor. But shares of Suncor and its Canadian colleagues will go much higher if oil prices break $100 per barrel.
If you haven't bought your oil insurance yet, now is the time to do so.
Good investing,
Matt Badiali