Jan 24, 2011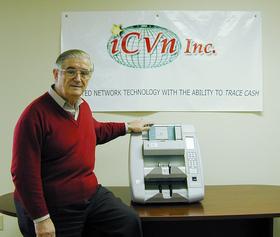 iCVn
stands for Intelligent Currency Tracing & Validation Network. iCVn is intended to eliminate the anonymity of cash transactions in order to thwart crime that involves cash.  iCVn Patent
The system uses optical character recognition technology to scan and record unique characters on the bills.
[. . . ]"The idea is that we take the anonymity out of the criminal use of cash by recording serial numbers and tagging that serial number electronically with transaction information such as time, location, date, agency number, or case number," Cramer said. Targeting the drug enforcement agents, iCVn aims to alleviate the task of manually tracking drug money.
"This network-based system allows for information sharing on the state, federal and local levels –domestically and internationally," Cramer explained.
Read more IACP Products: Follow the money
I reported on the promotion of iCV by our subversive pals at the IACP back in March 2010. It looks like it is time for an update.
.
 "iCVn-IT'S LIKE BIOMETRICS FOR CASH!"
Once again proving that the IACP is at the forefront of forfeiting Americans' most essential liberties, the IACP pushes a new currency tracking system.
The iCVn system also provides transaction history information for individual currency notes, enabling the authorities to trace the path of any suspect bill or, by use of specially designed software applications, obtain a variety of statistical information
The International Association of Chiefs of Police
The IACP is an international, non-governmental organization, partners with the UN since the 1970's, is responsible in large part for the bewildering changes taking place in the way the American justice system and policing works. They have managed to inject a policy of Intelligence Led Policing throughout the nation which has required a remodeling of long established legal protections of US citizens' civil liberties and inherent rights.
Intelligence Led Policing is preemptive in nature, which jeopardizes the presumption of innocence and uses social and behavioral engineering techniques to induce the behavior they desire in people.  Fusion Centers, Americas new spy centers, were born of IACP policy.   Read more about the IACP
Funny thing about the IACP, they are always two steps ahead of the DoJ and Homeland Security.  If you follow these guys closely, you can amaze your friends with uncanny technocratic police state tactics predictions. 
Contract Awarded
On July 16, 2010 iCVn was awarded a contract by the Department of Homeland Security.
Contract Award Number:
HSCEMD10P00234
This acquisition is for 2 currency counters, USD/Euro, as part of a total currency management and counting solution to include the following Intelligent Currency Tracing & Validation Network Inc (iCVn) brand name or equal equipment and software (emphasis mine)
Contractor Awarded Name:
Intelligent Currency & Validation Network  
The Government requires delivery of all items on or before September 1, 2010 and anticipates awarding a purchase order for these items on or about mid-July, 2010. LINK
The Department of Homeland Securities language in this recent contract award with iCVn focuses upon the system's use for law enforcement purposes.  That should be of little comfort to you.  We are operating under a new paradigm now and that means we are guilty until proven otherwise and the devices that capture the data from the currency to enable tracking is intended to be "installed Banks, Airports, Mega/Super/Mini markets, gas stations and every possible point of sale" link
But wait.  There's more-
Check out the bells and whistles on this thing!
It has a gizmo for snapping your picture and even a little behavioral engineering built in to trick you into pressing a button which will capture your naughty little fingerprint.
SYSTEM AND METHOD FOR INTELLIGENT CURRENCY VALIDATION
Here is how it works:
Currency is validated by comparing identifying information extracted from the currency, such as a serial number associated with the currency, to identifying information in a list corresponding to invalid currency, such as counterfeit currency. If the extracted identifying information matches identifying information on the list, the currency is deemed invalid. A photograph or thumbprint image can be obtained by a person using the invalid currency to help in later identification of that individual. Optical character recognition techniques can be used to extract the identifying information.
In addition to extracting unique identification information from the currency, an electronic ID (TAG) can be added to every bill passed through an embodiment of the present invention. The tag can identify country, time, special place where transaction occurs, or whether the specific bill was a part of a bigger amount or if it was passed alone. (Emphasis mine)
Further, in an embodiment of the present invention, a hidden camera is configured to automatically photograph a patron when the currency used by the patron fails authentication. Alternatively, or in addition to the photograph, the patron can be prompted to push a specific button. Coupled to the button is a special camera to record the patron's fingerprint or part thereof when the currency used by the patron fails authentication. (Emphasis mine)
The list of uses for this technology goes on and on.  Naturally it can "even help prevent tax evasion" Read more
The inventor is Ted Paraskevakos ,the President, Chief Technology Officer and founder of iCVn.  He invented Caller ID, and Smart Meters and more.
Brief History
In 1972, Theodore George "Ted" Paraskevakos, while working with Boeing in Huntsville, Alabama, United States developed a sensor monitoring system which used digital transmission for security, fire and medical alarm systems as well as meter reading capabilities for all utilities.
This technology was a spin off of his patented automatic telephone line identification system, now known as Caller ID. In, 1974, Mr. Paraskevakos was awarded a U.S. Patent for this technology.
At the request of the Alabama Power Company, Mr. Paraskevakos developed a load management system along with automatic meter reading technology. In doing so, he utilized the ability of the system to monitor the speed of the watt power meter disc and, consequently, power consumption, creating a "Smart Meter." This information, along with the time of day, gave the power Company the ability to instruct the individual meters to manage water heater and air conditioning consumption in order to prevent peaks in usage during the high consumption portions of the day. For this approach, Mr. Paraskevakos was awarded multiple Patents.
2003 Timonium-based ICVN Inc., spearheaded by longtime inventor Ted Paraskevakos, is developing technology to track down counterfeiters.
While the system -- known as the Intelligent Currency Tracing Validation Network -- is under development, it is gaining attention from financial institutions, federal agencies and international law enforcement officials who believe that crime follows money.
Read more: Inventor reveals the names behind numbers | Baltimore Business Journal
INTERPOL looked into the technology back in 2007
 Lausanne, Switzerland
22 May 2007
The Chief of INTERPOL CSDB participated in a one-day meeting in Lausanne, Switzerland with twenty (20) representatives from the law enforcement, central banking, and gaming community, in order to vet Intelligent Currency Tracing and Validation Network (ICVN) Technology. This was the first time the ICVN technology was formally presented within the European community in order to assess its ability to combat counterfeit currency as well as money laundering.
http://www.interpol.int/public/financialcrime/counterfeitcurrency/recentEventsArchives.asp
The majority of law abiding people must be wondering if this will mean the end of our freedom to buy and sell without the government looking over our shoulders. If it works as well as advertised and is utilized widely as intended-my verdict is yes.
---