Falcon Heavy w
ill lift more than twice as much as any other launch vehicle

WASHINGTON – Today, Elon Musk, CEO and chief rocket designer of Space Exploration Technologies (SpaceX) unveiled the dramatic final specifications and launch date for the Falcon Heavy, the world's largest rocket.

"Falcon Heavy will carry more payload to orbit or escape velocity than any vehicle in history, apart from the Saturn V moon rocket, which was decommissioned after the Apollo program. This opens a new world of capability for both government and commercial space missions," Musk told a press conference at the National Press Club in Washington, DC.

"Falcon Heavy will arrive at our Vandenberg, California, launch complex by the end of next year, with liftoff to follow soon thereafter.  First launch from our Cape Canaveral launch complex is planned for late 2013 or 2014."

Musk added that with the ability to carry satellites or interplanetary spacecraft weighing over 53 metric tons or 117,000 pounds to orbit, Falcon Heavy will have more than twice the performance of the Space Shuttle or Delta IV Heavy, the next most powerful vehicle, which is  operated by United Launch Alliance, a Boeing-Lockheed Martin joint venture.

Just for perspective, 53 metric tons is more than the maximum take-off weight of a fully-loaded Boeing 737-200 with 136 passengers. In other words, Falcon Heavy can deliver the equivalent of an entire airline flight full of passengers, crew, luggage and fuel all the way to orbit.

View the launch simulation video at www.spacex.com/multimedia/videos.php?id=59 or on YouTube at http://www.youtube..com/watch?v=UTwRxtmQ9IY 

Falcon Heavy's first stage will be made up of three nine-engine cores, which are used as the first stage of the SpaceX Falcon 9 launch vehicle.  It will be powered by SpaceX's upgraded Merlin engines currently being tested at the SpaceX rocket development facility in McGregor, Texas.  Falcon Heavy will generate 3.8 million pounds of thrust at liftoff.  This is the equivalent to the thrust of fifteen Boeing 747s taking off at the same time.

Above all, Falcon Heavy has been designed for extreme reliability.  Unique safety features of the Falcon 9 are preserved, such as the ability to complete its mission even if multiple engines fail. Like a commercial airliner, each engine is surrounded by a protective shell that contains a worst case situation like fire or a chamber rupture, preventing it from affecting other engines or the vehicle itself. 

Anticipating potential astronaut transport needs, Falcon Heavy is also designed to meet NASA human rating standards, unlike other satellite launch vehicles.  For example, this means designing to higher structural safety margins of 40% above flight loads, rather than the 25% level of other rockets, and triple redundant avionics.

Falcon Heavy will be the first rocket in history to do propellant cross-feed from the side boosters to the center core, thus leaving the center core with most of its propellant after the side boosters separate. The net effect is that Falcon Heavy achieves performance comparable to a three stage rocket, even though only the upper stage is airlit, further improving both payload performance and reliability.  Crossfeed is not required for missions below 100,000 lbs, and can be turned off if desired.

Despite being designed to higher structural margins than other rockets, the side booster stages will have a mass ratio (full of propellant vs empty) above 30, better than any vehicle of any kind in history.

Falcon Heavy, with more than twice the payload, but less than one third the cost of a Delta IV Heavy, will provide much needed relief to government and commercial budgets. In fact, Falcon Heavy at approximately $1,000 per pound to orbit, sets a new world record in affordable spaceflight.

This year, even as the Department of Defense budget was cut, the EELV launch program, which includes the Delta IV, still saw a thirty percent increase.

The 2012 budget for four Air Force launches is $1.74B, which is an average of $435M per launch. Falcon 9 is offered on the commercial market for $50-60M and Falcon Heavy is offered for $80-$125M. Unlike our competitors, this price includes all non-recurring development costs and on-orbit delivery of an agreed upon mission. For government missions, NASA has added mission assurance and additional services to the Falcon 9 for less than $20M.

Vehicle Overview

Mass to Orbit (200 km, 28.5 deg):      53 metric tons (117,000 lbs)
Length:                                            69.2 meters (227 ft)
Max Stage Width:                             5.2 m (17 ft)
Total Width:                                     11.6 meters (38 ft)
Weight at Liftoff:                               1,400 metric tons or 3.1 million lbs
Thrust on Liftoff:                                1,700 metric tons or 3.8 million lbs

Please note that Falcon Heavy should not be confused with the super heavy lift rocket program being debated by the US Congress.  That vehicle is intended to carry approximately 150 tons to orbit.  SpaceX agrees with the need to develop a vehicle of that class as the best way to conduct a large number of human missions to Mars. 
Falcon Heavy, the world's most powerful rocket
Interested in learning more about SpaceX?
 Become a Fan on Facebook
 Follow us on Twitter
 Watch us on YouTube
Thanks for your support and we look forward to seeing you online! 
Elon Musk Press Conference on Tuesday, April 5th
Elon Musk, CEO and Chief Technical Officer of SpaceX, held a press conference on Tuesday, April 5th at 11:20am EST to discuss SpaceX's latest venture.
The video of the press conference can be viewed at:
http://www.visualwebcaster.com/spacex
.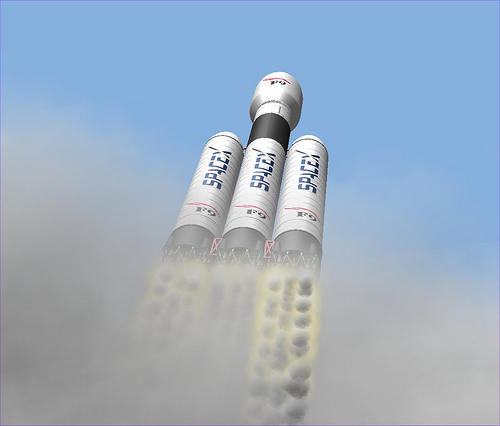 Highlights of the press conference were:
SpaceX CEO Elon Musk announces it is building the first Falcon Heavy rocket at its own expense  which has more than twice the capacity of either the Space Shuttle or the Delta IV Heavy rocket (currently the two biggest capacities in US) for a 2012-2013 launch. 
Falcon Heavy (FH) is a two stage rocket, essentially a Falcon 9 (F9) with two additional lower (first) stage 9 engine cores attached for 27 engine first stage total.  It should be capable of lifting at least 117,000 lbs (53,000 kg) into orbit.  That is more weight than a fully loaded and fueled Boeing 737 being lifted into orbit.  That is more lifting capacity than any vehicle except the Saturn V rocket.
The initial launch will take place from Vandenberg AFB, CA (at SpaceX's #4 launch pad) next year at the earliest but probably 2013.  This is being done at SpaceX's own cost (because it is a test flight) though they may have some small (secondary payload) satellites onboard (
here is your chance to beg
student satellite developers!!!!).  If a primary satellite customer wants to go at greatly reduced price contact SpaceX.
Launches will also occur subsequently from their Cape Canaveral facility in Florida.  Mr. Musk says they expect to be launching a lot of Falcon Heavys as they estimate around half of their market will be for this capacity.  Falcon 9 covers the other half.
Cost is about 1/3rd the cost of a Boeing Delta IV Heavy launch to orbit with more than twice the cargo.  Which says a lot for a private developer versus a defense contractor.
New low cost record has been set of around $1,000 a pound into orbit. [This is predicated on selling a minimum 4 FH/ yr]  "We want to continually reduce the costs of getting to orbit because this is the limiting gate factor in getting humanity to become a true space faring civilization," said Elon Musk.
Both Falcon 9 and Falcon Heavy are designed for the human rating standard: 40% above the safety structural design limits the rockets are expected to encounter during a mission so it can carry people safely. 
It is designed so that if multi-engines fail it can still complete its mission.
It can cross feed its fuel between the cores (a first)...this allows the outer stages to fuel the inner first stage and then drop (separation) their mass when empty leaving the inner first stage fully fueled and continuing on its way without the mass of the outer stages.
Triple redundant avionics.
Mars return mission quite possible using multiple FH launches.  [Old NASA estimates were 455,000kg needed for human Mars return flight]

Leaving earth orbit: 1/4 low earth orbit (LEO) payload to Mars; Moon about 1/3rd LEO payload.
Merlin engine upgrade (1D) coming up from 95,000 lbs thrust sea level to
140,000 lbs. at sea level.
Estimating 20 launches a year; half F9's, half FH's
They are contemplating designing an assembly area 180 degrees apart from a single launch pad in which F9 assembled in one, FH in the other and they are rolled out to the pad.
Building 400 booster engines per year more than the planet combined.; currently building 50-60/yr now
40 cores/ year  = 10 F9; 10FH = 20 launched per year  (10 launches per year already booked into the future for the F9)

$100 million cost per FH
A "Super Heavy" (150 tons to orbit=50% bigger than the Saturn V)
  [editor's note: Which must be six cores, because I ballparked a seven core version, if possible, at 173 tons lifting capacity.
Plus there may be tricks that can be done such as using fuel from some of the cores to power other cores until you can drop some of the empty ones (shedding mass) and continue on the way after setting the remaining mass into motion, and throttling down or even cycling some engines after a time to increase travel distance.
]
-------------------------
Falcon Heavy in the News: