Fernando Antonio Salguero (Survivalist and Firefighter from Philly) Arrested After Appearing in Court for Traffic Ticket - James Babb - Freedom's Phoenix' New Project... you heard it here first. MP3 & Video Loaded
Media Type: Audio • Time: 121 Minutes and 0 Secs
---
Hour 1 - 3
Media Type: Audio • Time: 121 Minutes and 0 Secs
Hour 1 & 2 -- Fernando Antonio Salguero (Survivalist and Firefighter from Philly) Arrested After Appearing in Court for Traffic Ticket James Babb joins the conversation in the 2nd hour on his perspective of the case.

Hour 3 -- Freedom's Phoenix Headline News

CALL IN TO SHOW: 602-264-2800
February 18th, 2013

Declare Your Independence with Ernest Hancock
9 a.m. - Noon (EST)

Studio Line: 602-264-2800
Hour 1
2013-02-18 Hour 1 Fernando Antonio Salguero
"I am a sovereign entity. Proud father of two bright children. Sturdy man for my beautiful woman. Self employed Air and Water purifier. Volunteer firefighter, and deadly serious Survivalist. There are many issues that I stand for and against."
Webpages:
http://www.meetup.com/SURVIVE-AND-THRIVE-Philadelphia-region/
http://mikesalvisworld.com/%20DONATIONS
"Survive and Thrive" Founder Fernando Salguero Arrested After Appearing in Court for Traffic Ticket
February 15, 2013
As a vocal activist in his community, Fernando Antonio Salguero has had to deal with an unfortunate amount of legal trouble, simply for exercising his natural rights and promoting freedom.
Just a few months ago, Fernando was arrested for handing out jury nullification flyers outside of a court house.
Now he is in trouble again after the Philadelphia police made a scene outside of his car and conducted an illegal search. At the time his car was parked and he was visiting the court house to dispute traffic tickets. The police are claiming that he had tear gas and "rocket propelled flares", while reliable local activists close to the situation have clarified that it was just pepper spray and road flares that were in the vehicle.
"A Pennsylvania man who set up a survivalist meet-up group was arrested Tuesday on weapons charges after he showed up at a Camden County municipal court to challenge a traffic violation, police said Wednesday.
Fernando Antonio Salguero, 39, had illegally parked his 2005 Ford Crown Victoria – equipped like a police car, with an antenna and lights – in front of the Somerdale municipal court, said Jason Laughlin, a spokesman for the Camden County Prosecutor's Office.
Police checked the license plate and requested the assistance of the Camden County Sheriff's Department's bomb squad after discovering a weapons charge against Salguero out of Hopewell and recent Somerdale offenses, including driving with a revoked license, officials said.
A police dog indicated explosive materials in the car, but police found none. The Bridgeport, Pa., resident was arrested after police found teargas canisters and rocket-propelled flares. He was held in the Camden County Jail on $32,500 bail. A phone number for Salguero could not be immediately located."
A second article from the same website gave another side of the story, interviewing activist Mike Salvi. The article stated that:
Mike Salvi, a "libertarianish" activist and longtime friend, said that Salguero had pepper spray and road flares in his car, not weapons.

"They put this huge scene there and to have him walk away with no charges would have looked bad," said Salvi, 35. "He's one of the most stand-up people I've ever met in my life."

Salvi said that Salguero would be out by the end of the night Wednesday.
Fernando was also involved in the relief effort for hurricane sandy, where he traveled to some of the worst hit areas to help deliver supplies.
---
Hour 2
Hour 2
2013-02-18 Hour 2 Fernando Antonio Salguero
and James Babb
2013-02-18 Hour 2 Fernando Antonio Salguero and James Babb from Ernest Hancock on Vimeo.
Fernando Antonio Salguero
(Cont'd)
James Babb joins the conversation
CBS 5 - KPHO

Date: 2013-02-16
TV5 CBS Coverage of Trash Flier - the rest of the story
Letter Written by: Ernest Hancock
Date of Letter: 2013-02-17
Subject: Activism


Comment by: Ernest Hancock (#001003)
Entered on: 2013-02-17 08:53:20


Donna and I were visiting with friends in Florida this past week and knew we were going to miss all the fun :)
I did get a call from the reporter which I returned and left a message but it might had been after the story ran. I didn't even know there was a story until a week later when I posted it here from an email that was sent to me by a friend with the link.
The message I left for the reporter was that the project was self explanatory and that all of the information on the flier was REAL. The claim that Total Information Awareness was "bogus" is untrue. That logo was created just after 9/11 by DARPA (I thought it was a spoof at the time too but got _concerned_ when I found out the all seeing eyed pyramid watching the planet was their view of how they saw the Earth's population,... I don't get mad :)
I'll bet that the reporter got a lesson from people commenting about his naivety.
He took a lot of 'effort' to find me but if he looked at the bottom of ANY FreedomsPhoenix page he'd see my home address (...'cause I want the good guys to know where I live too :)
I saw in the piece that he went to a house I lived in two years ago and then to my oldest (25 yrs old) son's house. My other son was visiting yesterday and told me that last weekend while we were gone his brother was visited by TV10 with cameras rolling. Q: Is Ernest Hancock here? A: No - Q: Do you know him? A: Yes - Q: Have you ever seen these fliers? A: Yes - Q: Have you been distributing these Tempe? A: Tempe?... No :) He's been exposed to news crews and their BS his whole life and knew not to get flustered and that we are not secretive about this stuff. But he knew they'd have to talk to me to get any real information and told them that we were out of state but that they could just call me, which is likely what I was trying to get them to do anyway. They left and didn't include any of his footage.
I asked my son why he didn't call me to let me know what happened and he said "you were on vacation" (good boy???.. I suggested that next time he at least text me with the guy's information)
It just demonstrates my family's attitude towards activism/media/government agents etc.
Previous versions of the flier always had at least two phone numbers to two separate newsrooms of TV/Radio/Print media for people to call for more information. By not including them and not sending them a packet of information including a copy of the flier, we got more attention, typical :)
Five minutes and a computer would have made it very clear what is going on but they are soooooo 'Lame-Stream Media,... Media that is soooo Last Century' that even if they understood our intent (which I'm certain that they did) they have no understanding of even how to tell the story or what the real issues are. This is why we started to eliminate the media contacts from the fliers and not communicate with them anymore what we are doing. The police have been contacted by us before about what we are doing and why and this method of communication is no secret (first use during the Super Bowl of 2008 http://www.freedomsphoenix.com/Article/029600-2008-02-01-government-invasion-of-garbage-cans-causing-ruckus-near-superbowl.htm?EdNo=002&From= )
The CBS TV5 news piece brought the attention needed to make sure that politicians and government agents know that we have other effective means of communicating with the population directly and at a very base emotional level that they can't counter without proving our points. But I must be prepared for such an attack on free speech anyway… sooner or later? What they don't know is that I personally didn't distribute a single flier. They were passed out at gun rights events and distributed by dozens if not hundreds of people (the main message inside all of the information is that Gun Registration is coming via a database expansion etc.) and this was an effective tool in communicating that via an immediate emotional reaction that was accurate and enduring.
I responded to an email from the reporter that this is a continuing effort and that I would be happy to answer his questions on camera now that I am available. But without a government official on camera willing to say how they are going to kick my ass or something I doubt he'll want to allow me to communicate to the people via their TV station the clear intent of our project.
The DVDs produced are another part of this project but that's another part of the story. The day before the distribution of the fliers every member of the Az State Legislature and Phoenix City Council got a DVD we produced full of videos about gun rights that were produced by Aaron Zelman from Jews for the Preservation of Firearms Ownership before he passed away in 2010 www.JPFO.org. So the politicians know what our rhetoric is and that the Internet and street activism can and DOES bypass the Olde' Media (that no one I know watches anymore anyway).
Now you know the rest of the story.
Peace,
Ernie
Original Post: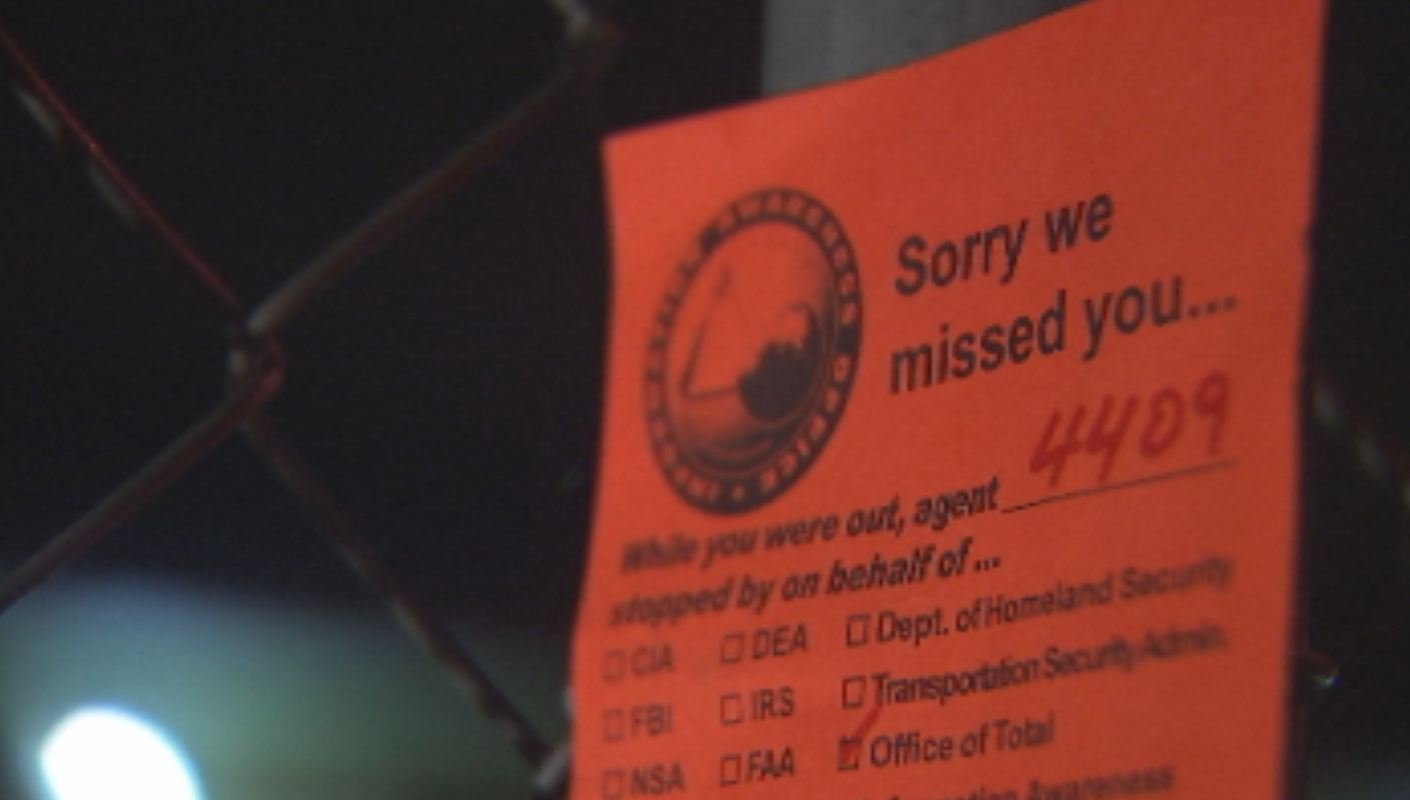 TEMPE, AZ (CBS5) -
A bogus flier from the fictional "Office of Information Awareness" is being taped to trash cans in Tempe, and it has some neighbors worried.
"(The flier) says 'Sorry we missed you,' and it's from the Office of Total Information Awareness," said Carmen Febus, whose 88-year-old father first spotted the official-looking orange flier.
"Then it said (the 'agent' who posted the flier) checked my waste for suspicious purposes," she continued.
Febus said she wanted to simply
throw away the flier, but her father was worried.
"He basically told me 'You're going to jail,'" said Febus.
So Febus called Tempe police, who told her it was likely just a solicitation. CBS 5 News checked out the website listed on the flier. Posted on the website are instructions on how to download and mass produce the flier. The site says the flier can be used as an anti-government activist tool. Calls and emails
to the website operator were not returned.
"I think it's a scare tactic, and I don't think that's appropriate because we have enough stress in our lives. We don't need more stress onto our lives," said Febus.
A spokesperson from the city of Tempe suggested residents that find the flier on their trash cans call the city at 480-350-4311. If you spot someone taping a flier on the trash can, which goes against city code, contact the non-emergency number for Tempe police at 480-350-8311.
==================
(The Flier)
---
---