Jonathan Jaech (Voluntary Law Development Association or VLDA.Org) aims to distribute law-making power to the very atom of society: the individual - Jonathan Lockwood (Professional Voice Talent) on moving to Mexico
Media Type: Audio • Time: 141 Minutes and 0 Secs
---
Hour 1 - 3
Media Type: Audio • Time: 141 Minutes and 0 Secs
THERE WILL BE NO VIDEO BROADCAST OR VIDEO ARCHIVE OF THE SHOW TODAY DUE TO TECHNICAL DIFFICULTIES WITH THE VIDEO COMPUTER - Video will resume Thurs. 9/5/2013)

Hour 1 -- Freedom's Phoenix Headline News
Hour 2 -- Jonathan Jaech (Voluntary Law Development Association or VLDA.Org) aims to distribute law-making power to the very atom of society: the individual

Hour 3 -- Jonathan Lockwood (Professional Voice Talent) on moving to Mexico
CALL IN TO SHOW: 602-264-2800
September 4th, 2013

Declare Your Independence with Ernest Hancock
9 a.m. - Noon (EST)

Studio Line: 602-264-2800
Hour 1
Ernest Hancock

Freedom's Phoenix Headline News
Epic 2014 is the original flash online movie made by Robin Sloan for the Museum of Media History

Set in 2014 epic charts the history of the Internet, the evolving mediascape and the way news and newspapers were affected by the growth in online news.

It coined the word "Googlezon" from a future merger of Google and Amazon to form the Google grid, and speaks of news wars with the Times becoming a print only paper for the elite culminating in EPIC Evolving Personalised Information Construct

As a flash animation, this film is extraordinary, not just for it's use of technology but for it's fantastic perception looking forward.

Epic 2015 is an updated vision of the future set in 2015.
EPIC 2015:

---
Hour 2
Hour 2
Jonathan Jaech
Voluntary Law Development Association
Just Words Can Change The World

The Voluntary Law Development Association is dedicated to building, maintaining, and growing a detailed system of alternative laws designed for voluntary adoption by individuals, using community-based development models similar to those used for open-source software. Rather than imposing laws by political fiat or concentrating capital, VLDA aims to distribute law-making power to the very atom of society: the individual. By concurring in the selection of preferred laws, individuals coalesce into communities, here called "voluntary law societies" (VLSs). This radical grass-roots approach to law entails numerous complexities and issues that VLDA aims to bring to light and develop solutions for, as part of laying groundwork for a more equitable, free, and peaceful future society.
VLDA Brochure Page 1: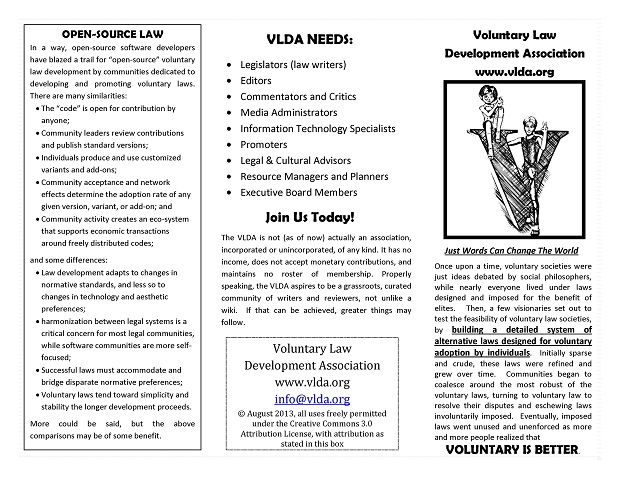 VLDA Brochure Page 2: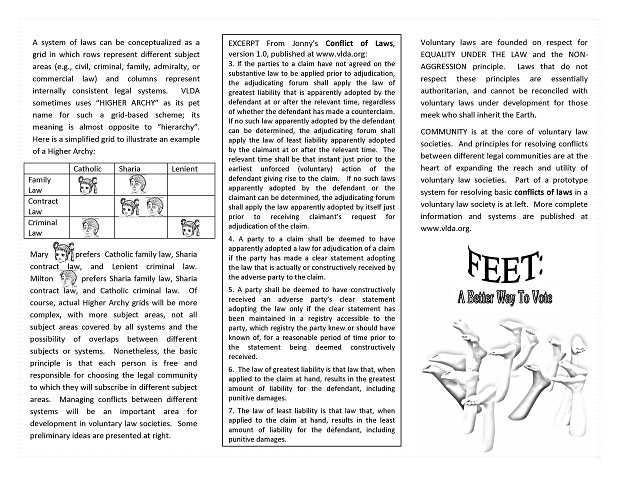 ---
Hour 3
Hour 3
Jonathan Lockwood
Professional Voice Talent
We met up with Jonathan at Libertopia 2013 - he is emigrating to Mexico and talks about the benefits and challenges of the move