Guests: Ernest Hancock
Topics: Freeedom's Phoenix Headline News
Hour 1
2014-05-23 Hour 1 Freedom's Phoenix Headline News
(Video Archive):
2014-05-23 Hour 1 Freedom's Phoenix Headline News from Ernest Hancock on Vimeo.
ÂÂÂÂ 
ÂÂÂÂ 
ÂÂÂÂ 
Hour 2
2014-05-23 Hour 2 Freedom's Phoenix Headline News
(Video Archive):
2014-05-23 Hour 2 Freedom's Phoenix Headline News from Ernest Hancock on Vimeo.
Ernest Hancock
Freedom's Phoenix Headline News
ÂÂÂÂÂÂ 
FRONTLINE Presents
United States of Secrets
Part One: Tuesday, May 13, 2014, at 9 p.m. on PBS
Part Two: Tuesday, May 20, 2014, at 10 p.m. on PBS
(Check local listings)
pbs.org/frontline/united-states-of-secrets
www.facebook.com/frontline | Twitter: @frontlinepbs #USofSecrets #frontlinepbs
Instagram: @frontlinepbs
Press Release | "United States of Secrets": How the Government Came to Spy on Millions of Americans
ÂÂÂÂÂÂ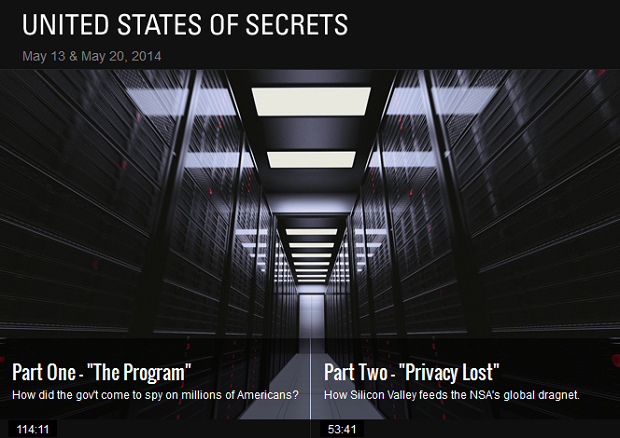 ÂÂÂÂÂÂ 
ÂÂÂÂÂÂ When NSA contractor Edward Snowden downloaded tens of thousands of top-secret documents from a highly secure government network, it led to the largest leak of classified information in history — and sparked a fierce debate over privacy, technology and democracy in the post-9/11 world.
Now, in United States of Secrets, FRONTLINE goes behind the headlines to reveal the dramatic inside story of how the U.S. government came to monitor and collect the communications of millions of people around the world—including ordinary Americans—and the lengths they went to trying to hide the massive surveillance program from the public.
"This is as close to the complete picture as anyone has yet put together — and it's bigger and more pervasive than we thought," says veteran FRONTLINE filmmaker Michael Kirk (League of Denial, Bush's War).
In part one, a two-hour film premiering Tuesday, May 13 at a special time (9 p.m.), Kirk goes inside Washington and the National Security Agency, piecing together the secret history of the unprecedented surveillance program that began in the wake of September 11 and continues today – even after the revelations of its existence by Edward Snowden.
Then, in part two, premiering Tuesday, May 20 at 10 p.m., veteran FRONTLINE filmmaker Martin Smith (The Untouchables, To Catch a Trader) continues the story, exploring the secret relationship between Silicon Valley and the National Security Agency, and investigating how the government and tech companies have worked together to gather and warehouse your data.
"Through in-depth interviews with more than 60 whistleblowers, elected officials, journalists, intelligence insiders and cabinet officials, we have woven together the secret narrative that reveals the scale and scope of the government's spying program," says Kirk. "We've gone deep inside the story, from what really happened at the NSA and the White House in the days after 9/11, through the Bush and Obama administrations, directly into the stunning revelations from Edward Snowden."
With extraordinary access to key participants, the series exposes what came to be known as the "The Program": a massive domestic surveillance dragnet designed to disrupt terrorist attacks before they occurred by collecting the communications of American citizens. From the start, "The Program" sparked outrage inside the NSA and Justice Department, and has since been attacked as unconstitutional and illegal.
Insiders like congressional intelligence committee staffer Diane Roark took their concerns directly to leaders in Washington and NSA Director Michael Hayden: "I said it was unethical, immoral, politically stupid, illegal and unconstitutional, and should stop — and when this comes out, all hell is going to break loose," Roark tells FRONTLINE.
ÂÂÂÂÂÂ 
_________________________________________________________
ÂÂÂÂÂÂ 
Polygraph
Artist/Maker: John Isaac Hawkins (1772-1855); Charles Willson Peale (1741-1827)
Created: 1806
Origin/Purchase: Philadelphia
Materials: mahogany, brass, green baize
Dimensions: 25.4 x 61.3 x 43.2 (10 x 24 1/8 x 17 in.)
Location: Cabinet
Provenance: Thomas Jefferson; by descent to Thomas Jefferson Randolph; by gift to the University of Virginia; on loan to the Thomas Jefferson Foundation.
Accession Number: 1949-10
Historical Notes: Marked "Hawkins & Peale's Patent Polygraph No. 57," this machine was used by Jefferson from 1806 until his death. Jefferson first acquired the letter-copying device he called "the finest invention of the present age" in March of 1804. Invented and named by Englishman John Isaac Hawkins, the polygraph used the principles of the pantograph, a draftsman tool for reducing and enlarging drawings. The writer's hand moves one pen whose action is duplicated by the second one, producing a copy strikingly like the original.
Before he returned to England in 1803, Hawkins assigned his American patent rights to Charles Willson Peale, who developed and marketed the invention. Jefferson was one of his most eager clients, purchasing one for the President's House and one for Monticello. He soon exchanged these machines for new ones, as Peale continued to perfect the design—often according to Jefferson's suggestions. By 1809 Jefferson wrote that "the use of the polygraph has spoiled me for the old copying press the copies of which are hardly ever legible. . . . I could not, now therefore, live without the Polygraph."
A second Jefferson Polygraph, made in England for Hawkins, survives at the American Philosophical Society. It was given by Jefferson's grandson-in-law and last secretary, Nicholas P. Trist.