President of the New Hampshire Free State Project
Webpages:
FreeStateProject.Org
Porcfest.Com


Weare Settles Lawsuit for $57,500
MANCHESTER — The town of Weare has agreed a $57,500 settlement in a lawsuit filed by a woman who said her First Amendment rights were violated when she was arrested for video recording police during a traffic stop.

Carla Gericke, president of New Hampshire's Free State Project, was arrested in March 2010 and initially charged with illegal wire tapping. Although the charge was dropped, Gericke filed a lawsuit in U.S. District Court against the town, police department and arresting officers, saying her arrest was retaliatory.

"I'm thrilled the case is settled," Gericke said in an email Friday. "It was a long road, but the payoff is that we now have binding precedent affirming the First Amendment to record police traffic stops. I also am cautiously optimistic that the settlement will cause law enforcement to be more hesitant to arrest videographers exercising their rights. I think we've already seen positive change come out of this case in that regard."

Charles Bauer, the attorney representing the town, was not available to comment on the settlement filed Thursday in U.S. District Court in Concord. According the settlement, the agreement to end the litigation is not an admission of "liability, wrongdoing or culpability."

A federal judge denied a motion by Weare to dismiss the case in October 2012. The defendants appealed and on May 23, Judge Kermit V. Lipez of the 1st Circuit Court of Appeals ruled against a police claim that the officers had "qualified immunity" in charging Gericke, saying she was not compromising safety during the stop on March 24, 2010.

"It was clearly established at the time of the stop that the First Amendment right to film police carrying out their duties in public, including a traffic stop, remains unfettered if no reasonable restriction is imposed or in place," Judge Kermit V. Lipez wrote in his decision.

Bauer said after the ruling that he would review the decision and consider appealing to the U.S. Supreme Court. However, under the settlement, both sides agree to end the litigation.
_____________________________________________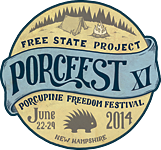 The Porcupine Freedom Festival is an annual liberty camping event organized by The
Free State Project
. This year marks our 11th PorcFest. We hope you will join us for the festivities in Northern New Hampshire at Roger's Campground for the most exciting liberty event of the year! See you there!