Guests: Ernest Hancock
Topics: Freeedom's Phoenix Headline News
Hour 2
2014-09-24 Hour 2 Freedom's Phoenix Headline News
(Video Archive):
2014-09-24 Hour 2 Freedom's Phoenix Headline News from Ernest Hancock on Vimeo.
Ernest Hancock
Freedom's Phoenix Headline News
TOPICS COVERED:
Defense Distributed - October Surprise:
MAKERS OF THE LIBERATOR PISTOL
Defense Distributed is a nonprofit digital publisher and 3D Printing R&D firm that has developed some of the world's first and most popular 3D Printable gun components Defense… [read more]
____________________________________
Cody Wilson interview by Sophie Shevardnadze of RT - Sept 15, 2014...
3D printed gun creator: I looked at modern society and saw that it's a constantly derailed train: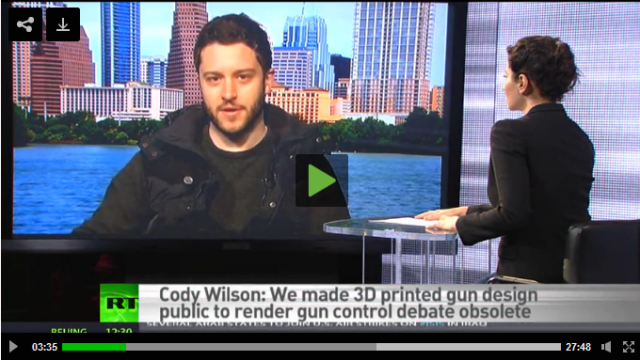 The issue of gun control divides public opinion - each side has many followers, each having its own respectable arguments. But the modern world of technology adds fuel to the fire, as now everyone, even in countries that forbid guns for their citizens, can have their own firearms - printed on a 3D printing machine. How will the invention tip the balance between society and power? Will it unleash havoc, or bring freedom? And the man who created it - what personal ideals does he hold? Well, we ask him himself. Cody Wilson, the creator of the 3D-printed firearm dubbed "The Liberator" is on Sophie&Co today.
Follow @SophieCo_RT
Sophie Shevardnadze: Cody Wilson, the man behind the design of first-ever functioning 3d-printed gun. Cody, it's really great to have you on our show today. So, just in a nutshell, why did you make this gun?
Cody Wilson: The gun was, I guess, a really great & visual example of political thought-practice. We didn't just wanna talk about the way we imagine the future, we want to invent that future, and then project it into Internet and have the world to deal with it.