Radio/TV • Bitcoin
Program Date:
01-20-15 Cody Wilson - Bruce Fenton - Bitcoin Foundation Election Debate (VIDEO & MP3 LOADED)
Cody Wilson (Defense Distributed & Dark Wallet) and Bruce Fenton (Consultant; Economic Advisor; President of the Bitcoin Associaton) a 3 hour debate. Should the Bitcoin Foundation exist and if so, for what purpose. +1 hr BONUS
Media Type: Audio • Time: 212 Minutes and 0 Secs
---
Hour 1 - 3
Media Type: Audio • Time: 212 Minutes and 0 Secs
Hour 1-3 -- Cody Wilson (Defense Distributed & Dark Wallet) and Bruce Fenton (Consultant and Economic Advisor) come on the show for a 3 hour debate to discuss Bitcoin, and their individual opinions and reason on running for Board positions of the Bitcoin Foundation
Hour 4 - BONUS INTERVIEW AFTER SHOW (End of 3rd Hr Video and attached to Full MP3 file)
Radio/TV • Declare Your Independence with Ernest Hancock
Declare Your Independence with Ernest Hancock - Radio
Host: Ernest Hancock
01-21-15 Wednesday: Andreas Antonopoulos (MP3 & VIDEO LOADED)
Program Date: 2015-01-21
Andreas Antonopoulos (Coder, Entrepreneur, Commentator, Speaker, Writer) comes on the show to discuss the debate between Cody Wilson and Bruce Fenton and their run for the Board of the Bitcoin Foundation
CALL IN TO SHOW: 602-264-2800
January 20th, 2015
Declare Your Independence with Ernest Hancock
on LRN.FM / Monday - Friday
9 a.m. - Noon (EST)
Studio Line: 602-264-2800
(No callers during Debate but you can send questions and comments that will be checked during the breaks at Publisher@FreedomsPhoenix.com)

Hour 1
2015-01-20 Hour 1 Cody Wilson, Bruce Fenton (Video Archive):
2015-01-20 Hour 1 Cody Wilson, Bruce Fenton from Ernest Hancock on Vimeo.
Cody Wilson (https://disband.it/) and Bruce Fenton (BruceFenton.com) are both running for the Board of the Bitcoin Foundation and we will hear their perspective on why they are running...
Cody Wilson Speaks Out on Campaign to Dismantle Bitcoin Foundation
January 2, 2015
Anarchist activist Cody Wilson has officially launched his candidacy for the upcoming Bitcoin Foundation board elections, and reaffirmed his intention to try and disband the organization from within if successful.
Wilson nominated himself with a post on the foundation's forums on 20th December and has also launched a website to support his campaign.
A staunch opponent of bitcoin regulation or centralization, Wilson is also best known for co-founding Defense Distributed, a donor-funded nonprofit organization that designs and distributes plans for the 3D-printed 'Liberator' pistol and 'Ghost Gunner' CNC milling machine.
He was also part of the founding team of DarkWallet, the project to make bitcoin transaction anonymization easy for everyday users.
"I will run on a platform of the complete dissolution of the Bitcoin Foundation and will begin and end every single one of my public statements with that message," Wilson said in November when he first announced his intention to run.
Notably, the Bitcoin Foundation's November announcement that it would wind down its education, outreach and public policy efforts to focus on developing bitcoin's software core appears not to have weakened his campaign.
Wilson's recently posted manifesto also does not hold back on its combative rhetoric and disdain for the foundation, with its introduction that states:
"This Bitcoin Foundation ... was always an embarrassing exercise in bad faith and state philosophy. It was always a vessel for frauds and second-rate minds to collude against the public. I invite you now to its ritual sacrifice."
--------------------------------------------------------------------------------------------
Hi Reddit R/Bitcoin -- I'm Bruce Fenton -- running for election to the Bitcoin Foundation board seat. Any election questions - AMA.
Background: I'm a 22 year veteran financial professional and founder of an investment firm. I focus on emerging tech and emerging markets and travel quite a bit. I was an early web pioneer and see similarities to this tech. I've done about $5 billion in investments over the years and worked with some large clients.
I became active in Bitcoin in 2013 and work as an advisor and investor in the space. I am the organizer of Dubai Bitcoin Conference and have a couple other events coming up - the Satoshi Roundtable private retreat and the New England Bitcoin Conference which will be announced soon. I also am president and one of the founders of the Bitcoin Association, a decentralized group. I'm a member of the Global Bitcoin Alliance. I am a lifetime member of the Bitcoin Foundation.
I am an outspoken critic of excessive regulation and I have spoken at about 15 Bitcoin events this year.
I think the Bitcoin Foundation has some areas in need of improvement. It is unfortunate that some people have become upset with or left the foundation and this shows that there are areas which could be improved. Some of the challenges have been due to standard growing pains we should expect in an emerging space, some criticism is unwarranted, some is valid that we can learn from.
Overall I think that there is an important place in the ecosystem for the Bitcoin Foundation and that the organization can do more help to the space than if it didnt exist.
I'm running because I believe in the space and believe the Foundation can help the space and I'd like to help the Foundation be as good of an organization as it can be.
---
Hour 2
Hour 2
2015-01-20 Hour 2 Cody Wilson, Bruce Fenton (Video Archive):
2015-01-20 Hour 2 Cody Wilson, Bruce Fenton from Ernest Hancock on Vimeo.
Cody Wilson (DefDist.Org) and Bruce Fenton (BruceFenton.com) Cont'd
Cody Wilson Bio
From Wikipedia...
Cody Rutledge Wilson (born January 31, 1988) is an American crypto-anarchist,[1][2] free-market anarchist, and gun-rights activist,[3] best known as a founder/director of Defense Distributed, a non-profit organization that develops and publishes open source gun designs, so-called "wiki weapons", suitable for 3D printing.[4][5] He is a co-founder of the Dark Wallet bitcoin storage technology.[6]
Defense Distributed gained international notoriety in 2013 when it published plans online for the Liberator, a functioning pistol that could be reproduced with a 3D printer.[7][8][9] Wilson is regarded as one of America's most influential gun rights advocates, and Wired Magazine's "Danger Room" has named him one of "The 15 Most Dangerous People in the World."[10][11]
On January 1, 2015 Wired named Wilson the fifth most dangerous person on the Internet.[12]
Wilson claims an array of influences from anti-state and libertarian political thinkers,[24] including leftist market anarchists like the mutualist scholar Pierre-Joseph Proudhon,[22][25] capitalist libertarians such as the Austrian School scholar Hans-Herman Hoppe, and classical liberals including Frederic Bastiat.[3][24] Wilson is against intellectual property rights which is a common view of radical libertarians, but generally seen as foundational within the mainstream libertarian movement. He has also indicated that although his primary goal is the subversion of state-structures he also hopes that his contributions may help to dismantle the existing system of capitalist property relations. [26]
Bruce Fenton Bio
Bruce Fenton is the President of the Bitcoin Association (bitcoinassociation.org) an industry group focused on education and advocacy for Bitcoin and related technologies with individuals, businesses, charities and governments. He is also a lifetime member of the Bitcoin Foundation and active in other industry organizations.
Bruce is also founder and Managing Director of Atlantic Financial, which, in 1994, became the first full service investment firm to use the Internet. For over 22 years Bruce has focused on emerging markets and emerging technologies and has completed over $4.5 billion in investment sales. Bruce spends about half the year traveling internationally to locations such as Asia and the Middle East and serves as an advisor to large organizations. Bruce has been quoted in the New York Times, Bloomberg, Investor's Business Daily, Fortune Magazine and many other publications and is an active speaker at Bitcoin and related conferences.
Lifetime Member of the Bitcoin Foundation and Candidate for the Board Seat in the 2015 Election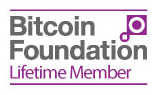 I believe the Bitcoin Foundation can be an organization which can benefit Bitcoin. Please consider voting for me.
---