Guests: James Corbett

Topics: The Corbett Report
OTHER METHODS TO CONTRIBUTE TO FREEDOM'S PHOENIX (INCLUDING PAYPAL/CREDIT CARDS) CLICK HERE
Hour 1 -- James Corbett (The Corbett Report) on the media wars, Anarchist Ideologies, EU update/Italy/Renzi, Cell 411 and decentralized platforms
Hour 2&3 -- Nick Sarwark (Chairman of the Libertarian National Committee) talks about libertarian issues/campaigns/elections, and what's next for the party...
CALL IN TO SHOW: 602-264-2800
-30-
December 7th, 2016
Declare Your Independence with Ernest Hancock
on LRN.FM / Monday - Friday
9 a.m. - Noon (EST)
Studio Line: 602-264-2800
Hour 1
James Corbett
The Corbett Report
Webpage: CorbettReport.Com
James talks about the Central Banksters and Trump, Elections vs Reality, Soros, r3VOLution, India's Cash Crunch, and more
James's previous interviews on the Declare Your Independence with Ernest Hancock Radio Show:
https://www.freedomsphoenix.com/Guest-Page.htm?No=01092
============================
JAMES CORBETT'S LATEST VIDEOS…
Solutions: Cell 411 with Virgil Vaduva
Corbett • 12/06/2016

The state has trained us to believe that we are weak, powerless and vulnerable without their monopoly on violence, but this is a lie. Today we are joined by Virgil Vaduva of GetCell411.com to talk about Cell 411, an app that helps to expose that lie. Combining a real-time, decentralized response management system with live streaming, dispatching functions, truly decentralized ride sharing and many other features, Cell 411 is a valuable tool for families and friends, activists, CopBlockers, volunteer fire departments, community organizations, those looking to get or give rides, and just about everyone else.
Media Wars: Controlled Orwellian vs. Independents
James Corbett joins Dan Schultz of New Culture Radio to discuss the new Fake News and Russian propaganda memes by which the establishment is fighting back against the independent media. But as the independent media rises, can it resist the lure of power, or will it just be absorbed by the powers-that-shouldn't-be? And what role does the public have to play in this?
Rule 41, Forget Paris, Juncker Cries Uncle – New World Next Week
Corbett • 12/02/2016

This week on the New World Next Week: the FBI expands powers with Rule 41; France plans to drop carbon tax proposal; and Juncker begs EU members to stop having referendums.
James Corbett on The Anarchist Ideologies
Corbett • 12/01/2016

In this conversation, recorded in 2014, James Corbett talks to Jay of the Our Troubled Times podcast about anarchy. We discuss the real meaning of the term and its the historical development of the idea, as well as its practical application and future prospects. Join us as we discuss what it means to live in voluntary association with other human beings and the revolution of thought which must occur in order to bring about a world without rulers.
============================
JAMES CORBETT'S LATEST ARTICLES…
Next EU Domino Falls as Italy Rejects Renzi
Corbett • 12/07/2016 • 4 Comments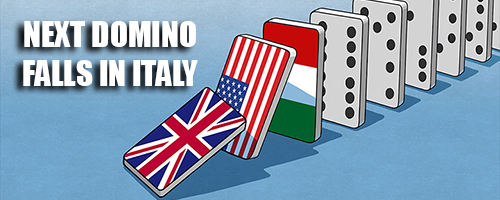 The scene is becoming familiar, even if the actors change from stage to stage: A political establishment is overturned by a wave of populist anger. Markets panic and a sell-off looks imminent. And then…things stabilize. The government changes, but things carry on.
The latest version of this performance is taking place in Italy where Prime Minister Matteo Renzi has just been unseated after Italians overwhelmingly voted "No" on a constitutional referendum upon which Renzi had staked his political career. The proposed law would have made a series of changes to the composition of Italy's government, but it was not the technicalities of the proposed changes themselves that motivated over 65% of registered Italian voters to the public, and it was not some great interest in the composition and role of the Italian senate that led 59% of those voters to reject the new rules. Instead, this was seen as a referendum on Renzi and the political status quo in Italy itself.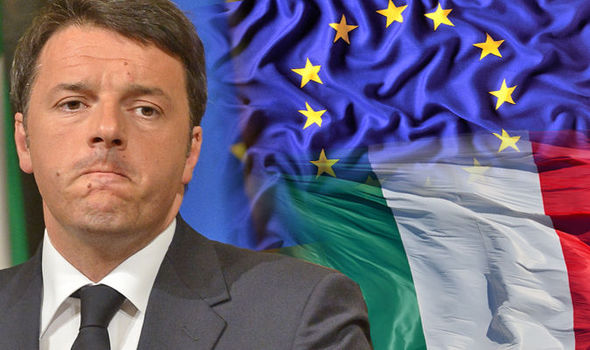 Renzi's loss is the end of Renzi's brief (but not so brief by Italian standards) tenure as prime minister, but it is also a blow to the EUrocats in Brussels, who were hoping that the notoriously recalcitrant Italian public might be persuaded to engage in some mild political reform as an entree to more EU-friendly reforms in the future. The vote is a win for Beppe Grillo's Five Star Movement, a non-party party that has rode a wave of populist support to go from a joked about internet-only phenomenon at its founding in 2009 to a growing force in Italian politics today. This is also bad for the EU as both the Five Star Movement and the Lega Nord, an anti-immigration party that also helped spearhead the "No" vote, are very much anti-EU and talk about withdrawing Italy from the eurozone and re-issuing the lira.
Market response to the fall of Renzi's government and the rise of chaos should be familiar to those who watched the same responses play out post-Brexit and post-Trump. Markets panicked and sold off, with the euro hitting a 2-year low as the results poured in, with signs that the contagion would spread to stocks as markets opened Monday morning…
…But then, as with Brexit and Trump, the sky failed to fall and the doom-and-gloomers were left scratching their heads. Italy's FTSI MIB index tumbled 2.0 points on the news and bonds rose slightly, but the market is now exploding back upward. Even Italy's banking sector — still in a precarious situation, staged a comeback on the Milan exchange.
In reality, none of these numbers are important. Markets are responding to perceptions and fancies, not facts, and the fact is that there's no clear sign yet of what this means for Italy's political future, its banking crisis, or anything else.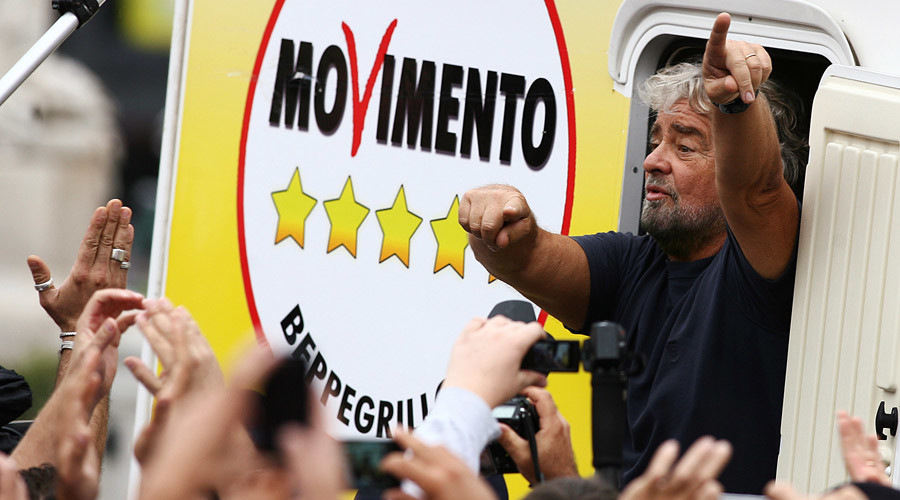 What is clear is that yet another populist movement is knocking on the doors of power and preparing to overturn the status quo. The roots of the Italian people's anger with the EUrocrats can be traced back to the so-called "PIIGS" disgust at the treatment of Greece during the first bailout "negotiations" in 2010 and the silent coup that parachuted Goldman Banker and Bilderberger extraordinaire Mario Monti into the prime minister's office in 2011 as a sort of fait accompli by Brussels. The Italian people are increasingly fed up with the dictates of the EU and are looking to shake up a political, business and banking establishment that has thoroughly failed them and left the country teetering on a fiscal precipice.
Tellingly, the Five Star Movement has now entered the crosshairs of the same establishment media that brought its guns to bear on the Brexiteers and the Trumpeters. Just as Trump's election was brought to you by #FakeNews and Kremlin propaganda, Buzzfeed has just written an article blaming Grillo's surging Five Star Movement's success on…you guessed it, "Fake News and Kremlin propaganda"! Hey, if the talking points work, why not use them again (and again and again and again and again)?
It's still too early to know how this will play out politically, or even when an election is likely to be called. Italians could be heading to the polls right away if a snap election is called; others suggest the election will wait until February. As Bloomberg notes in their own hit piece on Grillo, this biding of time may be necessary to give the establishment time to rig the election against the Five Star Movement:
"The current electoral law automatically gives bonus seats to the leading party in the lower house, to boost stability. That's spooking mainstream parties, which plan to get together and change the rules before Five Star can benefit in the next election. If the next set of rules favors coalitions rather than individual parties, Five Star may struggle to find the allies required to control the legislature."
Whatever the case, Europe continues to be pulled apart at the seams even as it continues to reach toward total centralization. This weekend's referendum results have only added to that tension.
Why Economists Are Always Wrong
Corbett • 12/03/2016 • 31 Comments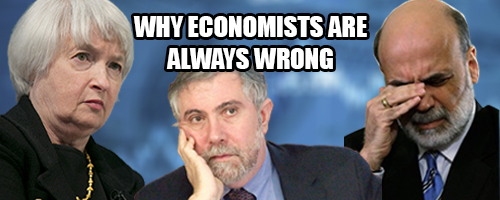 Quick. When I say the word "economist," what comes to mind? Fearless truth-teller? Sage wise man? Someone whose deep understanding of the complex web of billions upon billions of daily interactions in the sphere of human activity enables them to predict the outcome of those interactions years in advance with near certainty?
…Or do you think of Paul Krugman?
Be honest now. It's Krugman, isn't it?
Why is that? How can it be that a profession that likes to call itself a science (even a dismal science) and whose practitioners are entrusted with steering the economies of entire nations can be so consistently, horribly, laughably wrong? (Case in point: Paul Krugman.)
It is not just that there are some equations here and there that need refining. It is not an incomplete theorem that is getting closer and closer to the truth with every approximation. The field of economics is in fact built on an entirely false premise and thus cannot yield anything but results that are only coincidentally related to reality…
For free access to this editorial, please CLICK HERE.
For full access to the subscriber newsletter, and to support this website, please become a member.