Freedom's Phoenix Headline News - PPM Silver - Phranq Tamburri, NMD, The Trump Report - Gene Ho (Donald Trump's 2016 campaign photographe; Author of TRUMPography) joins The Trump Report
Media Type: Audio • Time: 296 Minutes and 0 Secs
Media Type: Audio • Time: 43 Minutes and 45 Secs
Media Type: Audio • Time: 205 Minutes and 0 Secs
---
Hour 1 - 3
Media Type: Audio • Time: 296 Minutes and 0 Secs
Hour 1 - Freedom's Phoenix Headline News - PPM Silver
Hour 2 - Phranq Tamburri, NMD, The Trump Report
Hour 3 - Phranq Tamburri (Cont'd)...Gene Ho (Donald Trump's 2016 campaign photographe; Author of TRUMPography) joins The Trump Report
CALL IN TO SHOW: 602-264-2800
-30-
(We are transitioning all of the videos from the show to be posted on Flote, but you can find some of the older shows on DTube or Bitchute as well):
VIDEOS ON FLOTE
VIDEOS ON DTUBE
VIDEOS ON BITCHUTE
Hour 1
Ernest Hancock
Freedom's Phoenix Headline News
==============

I've heard various people on the show describe how they thought colloidal silver killed microbes in response to your questions. Dr Judy came close when she described how silver ions do this, but did not address silver nanoparticles, which are much more effective,and more so as they become smaller. Actually, silver kills bacteria, fungus and virus in different ways.
Bacteria are stopped and killed when the silver nanoparticles enter the cell and disrupt its movement, reproduction and respiration.
Fungi are stopped when the silver nanoparticles damage the cell wall, enter the cell and disrupts reproduction by stopping production of spores and killing them.
Virus have the silver nanoparticles attach to sulfur on the surface, making it difficult to bind to proteins. Those that do manage to bind and deposit their DNA or RNA into the protein also have the silver nanoparticles enter. The nanoparticles then attack the virus genetic material and interfere with the virus reproductive process within the protein.
In all cases, smaller nanoparticles more easily enter to be more effective. Silver nanoparticles are able to deposit an atom of silver at many different locations of attack, unlike silver ions which are individual atoms which attach and then can't attack other locations (one and done). Also, silver ions are reactive with salts in the body and mostly combine with those, not allowing them to attack microbes effectively. Whereas, silver nanoparticles persist in the presence of salt in the body and then can attack multiple microbes of various types.
Attached are some papers you may find interesting which address this. To save time you can look for the things I highlighted. There are also some good illustrations. See PDF's below...
Peace,
Mike Swatek
ppmSilver.com
1. Silver Nanoparticles as Potential Antiviral Agents PDF
2. Advances in Biogenic Nanoparticles and the Mechanisms
of Antimicrobial Effects PDF
3. Research Journal of Microbiology - Antifungal Activity of Silver and Copper Nanoparticles on Two Plant Pathogens, Alternaria alternata and Botrytis cinerea PDF
---
Hour 2
Media Type: Audio • Time: 43 Minutes and 45 Secs
Hour 2 - Phranq Tamburri, NMD, The Trump Report
-30-
Anti-Plague Formula
Garlic
Red Onion
Horse Radish Root
Apple Cider Vinegar
(Equal Amounts blended to a consistency of Applesause)
Cayenne pepper (pinch)
Take a Spoonful 4 times a day
Hour 2
Dr. Phranq Tamburri, NMD (The Trump Report)
Dr. Phranq Tamburri is a naturopathic physician specializing in men's health with a sub-specialty in prostate cancer. In tandem to these fields, Dr. Tamburri treats male hormone deficiency, low energy, and sexual performance. Although naturopathic medicine is a specialty in itself, Dr. Tamburri has garnered recognition as an expert in the field of prostate cancer assessment, diagnosis, and treatment; each of the preceding from a balanced natural and allopathic perspective. His training in this area has been varied and wide in scope. As Chief Resident from his Alma Mater, he trained under Mayo trained urologist Bernard Gburek, M.D. at Scottsdale North Hospital while at the same time apprenticed under CMO and Physician of the Year Thomas Kruzel, N.D. who specialized in natural urology. Dr. Tamburri later was director of the Men's Health Clinic at his local teaching clinic. Currently he is long term professor of Clinical Urology at the Southwest College of Naturopathic Medicine and also sits as a member of the AZNMA and is the only naturopathic physician on the AZ State Funded SW Prostate Cancer Awareness Council. Dr. Tamburri has been published in this area along with multiple lectures to fellow physicians at yearly professional conventions. Recently he has been asked to serve as expert witness for the State of Arizona Board of Medical Examiners with regard to the management of natural prostate cancer assessment and treatment.
Dr. Tamburri, on his limited down time, loves to study Early American and World History in both didactics and in travels. He has taught inline skating for many years, hikes often with fellow doctors, and recently began pursuit as a poi practitioner! Webpage: http://www.longevitymedical.com/
Prostate Cancer Risk Assessment
Dr. Phranq Tamburri November 2008 NDNR article
Dr. Phranq Tamburri September 2007 NDNR article
Phranq's previous interviews on the Declare Your Independence with Ernest Hancock Radio Show:
https://www.freedomsphoenix.com/Guest-Page.htm?No=00672
=========================================
Judge Napolitano: Here we go again on Hillary Clinton's emails
A federal judge orders Hillary Clinton to be deposed over the use of her private email server; Fox News senior judicial analyst Judge Andrew Napolitano reacts on 'Fox & Friends.' #FoxNews
---
Hour 3
Media Type: Audio • Time: 205 Minutes and 0 Secs
Hour 3 - Phranq Tamburri (Cont'd)...Gene Ho (Donald Trump's 2016 campaign photographe; Author of TRUMPography) joins The Trump Report
-30-
Hour 3
Dr. Phranq Tamburri, NMD (The Trump Report) - Cont'd
Gene Ho (Donald Trump's 2016 campaign photographe; Author of TRUMPography) joins The Trump Report...
https://www.trump-ography.com/
Gene is going to be doing 6 or 7 events in the Phoenix area from March 11-18th, a few of them private, but most of them open to the public.
He is speaking at the Full Gospel Businessman's Fellowship International - Dinner - Banquet Style on Saturday, March 14th, but he has another public event prior to that one which is listed below:
Free Event
Gene Ho Presents: Speed Date Your Candidate
(with members from the Arizona Republican Asian Coalition)
Join Legendary Trump Campaign Photographer Gene Ho, as well LD17 and CD9 neighbors, friends, and Candidates
Mingle and "Speed- Date Your Candidate" Format- Including Light Appetizers and Beverages
When: Thursday, March 12, 2020
Time: 6:00 PM- 8:00 pm MST - Doors Open at 5:30 pm
Itinerary: Mingle from 6:00 - 7:00pm - "Speed Date Your Candidate" from 7:00 - 8:00 pm
Location: 413 W. Bentrup St., Chandler, 85225 (cross-streets: AZ Ave and Elliot Rd)
Suggested Donations to LD17 are greatly appreciated, for hosting the event - as always Donations to Candidates is Kind
Gene Ho Author, Speaker and Emcee
Gene was President Trump's personal photographer before and during the 2016 Presidential campaign whose book TRUMP-ography became a bestseller several times over.
https://www.trump-ography.com/
Gene is known to be a one-man MAGA Rally. His humorous anecdotes and high-energy vibe have made him a big hit as he crisscrosses the nation, entertaining and educating crowds while encouraging people to call forth on their courage to stand and support President Donald Trump!
For a list of his many upcoming events see here:
https://www.trump-ography.com/see-gene-live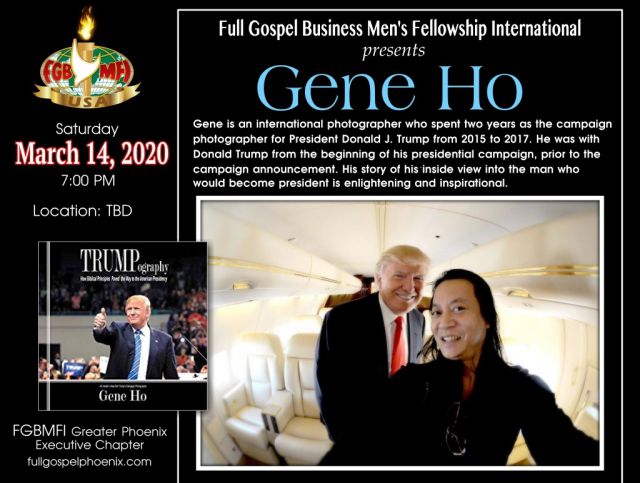 Gene walked away from the Democrat Party and encourages other minorities, in particular Asian Americans and Latinos to rediscover their true conservative natures and walk away!
He recently appeared on the Rev. Jesse Lee Peterson Show, the Eric Metaxas Radio Hour, and the Huckabee Show among many others:
https://www.youtube.com/watch?v=CoKJWhN5ycM
The event takes place at a private home so only registered (Eventbrite Ticket) Attendees will be allowed in:
Eventbrite Link: https://www.eventbrite.com/e/gene-ho-presents-date-your-candidates-ld17-cd9-tickets-94898432767

Doors open at 5:30, mingle and eat then Gene Ho will speak at 6:45, introduce all candidates in attendance and then everyone will settle in their seats for the candidates to circulate. Attendees will stay at their tables while candidates rotate every 5 min, introduce themselves and answer questions.

The event ends at 8:00 pm but people are welcome to hang around afterward to talk.
TRUMP-OGRAPHY PRESS RELEASE
Because he was so close to Trump over the course of the entire campaign, he got to have and view countless interactions with candidate Trump and his family and can speak to a few media myths better than most.
The book is a first-hand account of the campaign, containing one-of-a-kind behind-the-scenes anecdotes as seen through the eyes and lens of Donald Trump's personal campaign photographer from its earliest days when Trump's audiences were as small as 50 people to the end of the entire two year campaign where that first trickle soon became a river of enormous stadiums full of common Americans, brimming with enthusiastic energy.
These common men and women had long been held in wanton disregard by the Globalists, abandoned by the political establishment and mischaracterized by the media. In Donald J. Trump they saw a champion for the working person and a beacon of hope in lifting their prospects, rejecting the endless wars and bringing American Greatness into full bloom.
This book reveals the principles that drove the campaign and empowered Trump to become the 45th President of the United States of America. Gene shares a great number of personal anecdotes about Donald Trump and those in his close circle during the campaign as well as many of his positive personal qualities and character traits and he shines a blinding light on many of the disparaging narratives espoused by the mainstream media.
What photographers see is often overlooked by everyone else. Gene Ho, a successful Chinese-American photographer who was not at the time a Trump supporter, was catapulted into the national limelight yet as an innocuous fly-on-the-wall witness to history, a view that few people get to experience.
Not only does he share the view from this unique vantage point but he also shares some of his own highs and lows in his personal struggles during the campaign and how he used Old Testament parables as guideposts of inspiration in order to bring to his life and to the life of his readers, a path to personal freedom.
"He who has ears, let him hear." - Matthew. 13:9
==================================================
Letters of Marque Paperback
AVAILABLE ON AMAZON NOW BY CLICKING HERE!
Letters of Marque Paperback – September 25, 2018
by Marque dePlume (Author)
"The Crown calls it 'piracy' to explore frontiers beyond its grasp. So the time has come to define the conduct among pirates." Captain Marque
http://pirateswithoutborders.com/
Join us 'Above the Grid'
IPFS:
Freedom's Phoenix - https://ipfs.io/ipns/QmW6iyZ27fYAwd15CQ9nDkLhZPa5QsfbZ8EuSoncHgwA8Y/
Pirates without Borders - https://ipfs.io/ipns/QmTHfBRjU826uZxDvwfV9ZzM7pCg71bMYVTgLFVvsZZwPJ/
The Corbett Report - https://ipfs.io/ipns/QmNqHuSVuufkBKK1LHtoUmKETobZriC1o5uoiXSoLX2i3K/
================================