Dr Judy Mikovits on vaccines, recap of AutismOne Conference, mask/vaccine/shot mandates, where is this going, etc...Mona Patton (Yavapai Rising) on communities, prepping, activism, patriotism, etc...
Media Type: Audio • Time: 124 Minutes and 0 Secs
Media Type: Audio • Time: 44 Minutes and 18 Secs
---
Hour 1 - 3
Media Type: Audio • Time: 124 Minutes and 0 Secs
LIVE STREAM ON FREEDOM'S PHOENIX, FLOTE, and DLIVE
Front page of Freedom's Phoenix (player only active when we are live, and it's located under Roberts & Roberts Banner ad)
https://flote.app/LoveBusLibertyTour
https://dlive.tv/ErnestHancock
PODCASTS
1 - Dr Judy Mikovits on vaccines, Ivermectin, Front Line Doctors, mandates, recap of AutismOne Conference, etc...
2 - Mona Patton (Yavapai Rising) on communities, prepping, activism, patriotism, etc...
-30-
ClearUnited Affiliate Link: https://www.clearunited.com/pages/r/freedomsphoenix
PODCAST 1
Dr. Judy Mikovits, PhD
Judy A. Mikovits, PhD has spent her life training to be a research scientist to honor her grandfather who died of cancer when she was a teenager. Dr. Mikovits earned her BA from University of Virginia and PhD in Biochemistry and Molecular Biology from George Washington University. In her 35-year quest to understand and treat chronic diseases, she has studied immunology, natural products chemistry, epigenetics, virology and drug development. In just over twenty years she rose from an entry-level lab technician to become director of the lab of Antiviral Drug Mechanisms at the National Cancer Institute before leaving to direct the Cancer Biology program at EpiGenX Pharmaceuticals in Santa Barbara, California where she had met and married David Nolde in 2000. There in 2006, she became attracted to the plight of patients with Chronic Fatigue Syndrome and Autism. In only five years she developed the first neuroimmune institute from a concept to a reality and is primarily responsible for demonstrating the relationship between immune based inflammation and these diseases. She has published over 50 scientific papers. http://www.plaguethebook.com/
Dr. Judy A. Mikovits founded MAR Consulting Inc. with her collaborator Dr. Frank Ruscetti.
To contact Judy: marcinc0224@gmail.com
Judy testified on a lawsuit for Racketeering and conspiracy against the CA legislators who passed the SB277 mandating toxins be inoculated in their children under the guise of vaccination and she will re-cap her testimony...Lawsuit: First-Amended-RICO-Complaint--img20160817_09071194.pdf
Donate here:
2733 Madison Street, Apt B; Carlsbad, CA 92008
Or via PayPal using marcinc0224@gmail.com
Other references and webpages: http://vaxtruth.org/; http://www.truthrx.org/
Judy's previous interviews (For links to books, articles, data) here
SHOW NOTES...
1. ENDING PLAGUE: A Scholar's Obligation in an Age of Corruption
by Francis W. Ruscetti, Judy Mikovits, Kent Heckenlively
AVAILABLE NOW from Skyhorse Publishing; Amazon
IT'S LIKELY TO BE BANNED AND PULLED OFF THE SHELVES!
From the authors of the New York Times bestselling Plague of Corruption comes the prescription on how to end the plague infecting our medical community.
Ending Plague continues the New York Times bestselling team of Dr. Judy A. Mikovits and Kent Heckenlively with legendary scientist, Dr. Francis W. Ruscetti joining the conversation. Dr. Ruscetti is credited as one of the founding fathers of human retrovirology. In 1980, Dr. Ruscetti's team isolated the first pathogenic human retrovirus, HTLV-1. Ruscetti would eventually go on to work for thirty-eight years at the National Cancer Institute.
Dr. Ruscetti was deeply involved in performing some of the most critical HIV-AIDS research in the 1980s, pioneered discoveries in understanding the workings of the human immune system in the 1990s, isolating a new family of mouse leukemia viruses linked to chronic diseases in 2009, and offers his insights into the recent COVID-19 pandemic. In 1991, Ruscetti received the Distinguished Service Award from the National Institutes of Health.
Dr. Ruscetti offers a true insider's portrait of nearly four decades at the center of public health. His insights into the successes and failures of government science will be eye-opening to the general public. You will read never-before-revealed information about the personalities and arguments which have been kept from view behind the iron curtain of public health. Can we say our scientists are protecting us, or is another agenda at work? For most of his decades at the National Cancer Institute, Dr. Ruscetti has been in almost daily contact with his long-time collaborator, Dr. Mikovits, and their rich intellectual discussions will greatly add to our national discussion. Science involves a rigorous search for truth, and you will come to understand how science scholars are relentless in their quest for answers.
2. Declaration of Medical Independence - created by Tony Tangalos (White Mountain Lake Airpark; Homesteaders Haven):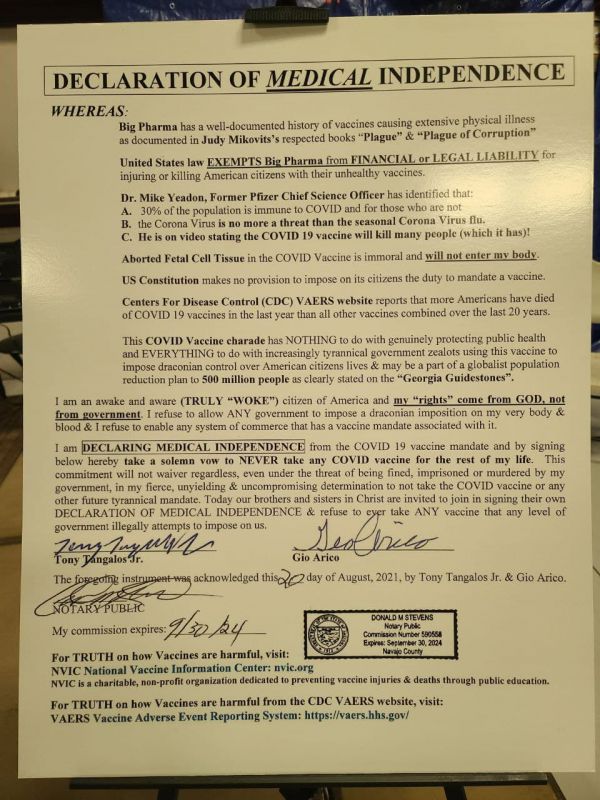 3. Environmental Causes of Autism - Mokovits AutismOne 2014 PDF
4. Mikovits Autism One 20210902.pptx 2.zip
(this may not open to a document, but you should be able to save the file to your device and then open in powerpoint)
5. Mikovits-Autism-One-20150223.key.zip
(ALSO - this one may not open to a document either, but you should be able to save the file to your device and then open it there)
---
Hour 2
Media Type: Audio • Time: 44 Minutes and 18 Secs
2 - Mona Patton (Yavapai Rising) on communities, prepping, activism, patriotism, etc...
-30-
PODCAST 2
Mona Patton
Taught honor and duty by a career Marine father. He had a tremendous impact on my life.
Love my country: disgusted with my government!
Have been a Yavapai County resident for 17 years.
Founded Prescott Tea Party in 2009. Then later formed Yavapai Tea Party.
Started Yavapai Patriots in July 2020. Made some significant changes and reorganized as Yavapai Rising in May 2021.
We hold monthly meetings on 3rd Saturday of each month. Organization is growing greatly and we are starting to dig into local issues to enact change.
Our goal is to build a strong, united community in Yavapai County; to educate and motivate constitutional conservatives.
Yavapai Rising - https://yavapairising.org/
About Yavapai Rising...
We Are:
A united band of independent thinking, conservative citizens who are bound by our love for our country and our God.
Freedom beats strongly in our hearts and every breath fills us with the desire to live a better life and create a better world.
The current actions of our leaders deeply disturb us.
We refuse to be ruled by force, deceit, suppression, coercion or intimidation.
We recognize that those in power have eroded our laws, distorted policy and blurred the lines of justice.
We seek to address and correct those abuses of power.
Our Mission:
Advocate non-violent, conservative, Judeo-Christian values.
Honor the U.S. Constitution & Rule of Law.
Demand personal medical choice & human dignity.
Insist our elections are legitimate.
Support border security & law enforcement.
Believe in principles over politics, in honesty & integrity.
Value individual freedom & liberty.
Expect transparency in government.
Provide timely, in-depth information about pertinent issues.
~~~~~~~~~~~~~~~~~~~~~~~~~~~~~~~~~~~~~~~~~~~~~~~~~~~~~~~~~~~~~~
Letters of Marque Paperback
AVAILABLE ON AMAZON NOW BY CLICKING HERE!
Letters of Marque Paperback – September 25, 2018
by Marque dePlume (Author)
"The Crown calls it 'piracy' to explore frontiers beyond its grasp. So the time has come to define the conduct among pirates." Captain Marque
http://pirateswithoutborders.com/
Join us 'Above the Grid'
IPFS:
Freedom's Phoenix - https://ipfs.io/ipns/QmW6iyZ27fYAwd15CQ9nDkLhZPa5QsfbZ8EuSoncHgwA8Y/
Pirates without Borders - https://ipfs.io/ipns/QmTHfBRjU826uZxDvwfV9ZzM7pCg71bMYVTgLFVvsZZwPJ/
The Corbett Report - https://ipfs.io/ipns/QmNqHuSVuufkBKK1LHtoUmKETobZriC1o5uoiXSoLX2i3K/
https://ipfs.io/ipns/QmNqHuSVuufkBKK1LHtoUmKETobZriC1o5uoiXSoLX2i3K/mp4
All James Corbett audio files:
https://ipfs.io/ipns/QmNqHuSVuufkBKK1LHtoUmKETobZriC1o5uoiXSoLX2i3K/mp3
The Highwire with Del Bigtree - https://ipfs.io/ipns/k2k4r8pkk8wevtty3rpqw8mh2njz0snop5xpha1ybafquvb7dcgayh4j/
============================================