Kristie Harper (RegeneratioNation) on Empowering People to Create Community and Restore Agriculture
Media Type: Audio • Time: 118 Minutes and 3 Secs
---
Hour 1 - 3
Media Type: Audio • Time: 118 Minutes and 3 Secs
Front page of Freedom's Phoenix (player only active when we are live, and it's located under Roberts & Roberts Banner ad)
https://flote.app/LoveBusLibertyTour
https://dlive.tv/ErnestHancock
PODCASTS
1 - Kristie Harper (RegeneratioNation) on Empowering People to Create Community and Restore Agriculture
-30-
ClearUnited Affiliate Link: https://www.clearunited.com/pages/r/freedomsphoenix
PODCAST 1
Kristie Harper - https://rnation.us/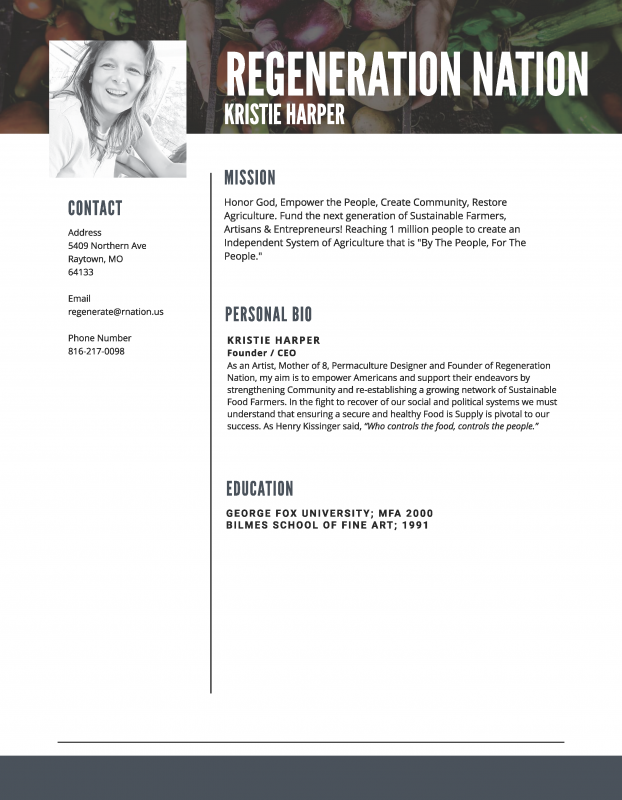 Fund The Next Generation of Micro-Farmers
Create Food Security in sustainable, rural Subdivision Communities with Sponsored Micro-Farmers, Artisans & Entrepreneurs, Healthy Food Systems, Education Centers, Community Recreation & Private Ownership- Regenerate America.
Hi friends, it's time to Honor God, Empower the People, Restore Agriculture & Establish Community- through Sustainable Subdivision Design centered around dedicated, Community Sponsored Micro-Farmers creating Produce/ Profit Shares for Lot Owners, creating abundant Food Security for the local community. Farms operate as private businesses that give back half of their production to Community Shares. The Design also incorporates Sustainable Artisans, Entrepreneurs, Education Centers and Community Recreation.
Join us in reaching 1 Million People with an Agricultural and Community Restoration that is "By The People, For The People!"
~~~~~~~~~~~~~~~~~~~~~~~~~~~~~~~~~~~~~~~~~~~~~~~~~~~~~~~~~~~~~~
Letters of Marque Paperback
AVAILABLE ON AMAZON NOW BY CLICKING HERE!
Letters of Marque Paperback – September 25, 2018
by Marque dePlume (Author)
"The Crown calls it 'piracy' to explore frontiers beyond its grasp. So the time has come to define the conduct among pirates." Captain Marque
http://pirateswithoutborders.com/
Join us 'Above the Grid'
IPFS:
Freedom's Phoenix - https://ipfs.io/ipns/QmW6iyZ27fYAwd15CQ9nDkLhZPa5QsfbZ8EuSoncHgwA8Y/
Pirates without Borders - https://ipfs.io/ipns/QmTHfBRjU826uZxDvwfV9ZzM7pCg71bMYVTgLFVvsZZwPJ/
The Corbett Report - https://ipfs.io/ipns/QmNqHuSVuufkBKK1LHtoUmKETobZriC1o5uoiXSoLX2i3K/
https://ipfs.io/ipns/QmNqHuSVuufkBKK1LHtoUmKETobZriC1o5uoiXSoLX2i3K/mp4
All James Corbett audio files:
https://ipfs.io/ipns/QmNqHuSVuufkBKK1LHtoUmKETobZriC1o5uoiXSoLX2i3K/mp3
The Highwire with Del Bigtree - https://ipfs.io/ipns/k2k4r8pkk8wevtty3rpqw8mh2njz0snop5xpha1ybafquvb7dcgayh4j/
============================================