Into the mind of Jerry Lewis
The East Valley Republican talks about his effort to unseat Senate President Russell Pearce in the Nov. 8 recall election in Mesa's Legislative District 18. Read... Read More
Interview with Pearce Recall Election candidate Jerry Lewis
KPHO Channel 5–Interview with Jerry Lewis. Watch Read More
Russell Pearce Recall Committee Holds Fundraiser August 25
-August 22, 2011, Phoenix New Times–Citizens for a Better Arizona, the committee that has forced a recall of state Senate President Russell Pearce, has announced a fundraiser for this Thursday, August 25,... Read More
Russell Pearce Lobbyist Shindig Crashed by Citizens for a Better Arizona
-August 18, 2011, Phoenix New Times–Four hundred clams. That's what some lobbyists may have paid to attend a fundraiser held for embattled state Senate President Russell Pearce Wednesday night... Read More
==========================================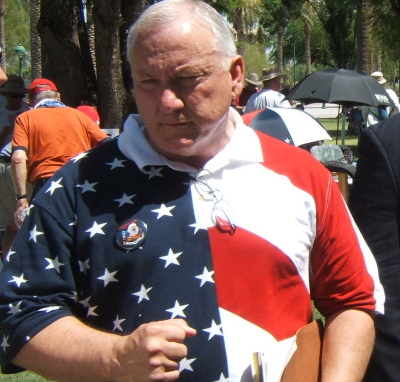 Russell Pearce web site

==========================================

Declare Your Independence
radio show with Ernest Hancock

Friday, March 28, 2003
(mp3 download)
Russell Pearce, Arizona State Representative, and Chairman of the Appropriations Committee in the Arizona House of Representatives.
Russell wants to be public about his support of my lawsuit, and tell the tales of a State Government out of control (if he repeats half of the things said to me during an hour long phone conversation then it'll be a very interesting show).
Saturday, June 7, 2003
(WMA download)
At the Arizona Breakfast Club at Beefeaters Restaurant.
Debate: Illegal Immigration? What are the issues, and what to do?
Guest: Russell Pearce, Emilia Vanuelos
Tuesday, July 15, 2003
(mp3 download)
Arizona House Appropriations Chairman (R) Russell Pearce, Community Activist Rusty Childress, and anti-Immigration Activist Henry Esparza will be on the radio show for 2 hours describing the their opposition to immigration into the United States. This is the show you would want to listen to. We'll see how well these three can argue against the open border positions of a libertarian.
Tuesday, December 16, 2003
(mp3 download)
Bond... Ken Bond is on a mission to fix government by eliminating publicly funded lobbyist.
Departments of the government have taxpayer funded lobbyist, paid to lobby for yet more taxpayer money. Ken Bond is spearheading a bill that will eliminate this conflict-of-interest practice. (Russell Pearce comes up)
Monday, March 29, 2004
(mp3 download)
Russell Pearce is the House Appropriations Chairman in the Arizona State Legislature and is a leader in the battle to pass the initiative PAN Protect Arizona Now. This initiative would require ID to be shown to vote and to prove eligibility to get government services. The hope is to save taxpayers billions in in services given to Illegal Immigrants.
Ernest and the Republican leader share each their opinions on the what the real issues are and how best to address the problems. It was a very interesting and spirited conversation that was very informative.
It was a proud day when
Sen. Russell Pearce declared Ernie Hancock
to be a domestic terrorist on the Senate floor. (
Google it
)
Monday, August 29, 2011
(mp3 download)
Phoenix New Time's Columnist Stephen Lemons discusses the Russell Pearce Recall Election (LD18)