Alma and Scott just called and the Forest Service has been up to Baca Meadow looking for Jackalopes...
WARNING: The link below helps you understand one of the new revenue sources for the Government... $300 fine if you do not have both a License Registration for your Off Road Vehicle AND a new Off Road Decal from the State of Arizona. This is only one of the revenue sources that is certain to be attempted as punishment for not asking permission to camp in the King's Forest :)
We are all Alma...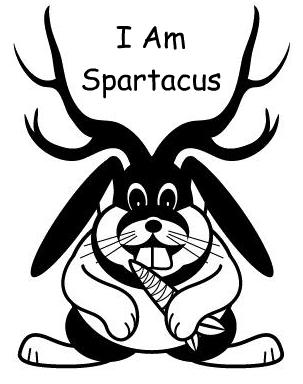 http://www.azgfd.gov/outdoor_recreation/ohvFAQ.shtml#1
28-2533. Registration; violation; additional civil penalty; disposition of civil penalty
A. In addition to all other penalties prescribed by law, an owner of a motor vehicle that is or was registered in another state, territory or foreign country who knowingly fails to register the vehicle for the first time in this state as required by law is, notwithstanding any other law, subject to a civil penalty of three hundred dollars.
(BECAUSE THEY CAN!)

B. A court shall not dismiss an action brought under this section merely because the defendant has obtained the appropriate registration after violating this section.
C. The law enforcement agency that cites the owner for a violation of this section shall retain twenty per cent of the civil penalty provided by this section. The court shall deposit, pursuant to sections 35-146 and 35-147, any remaining monies collected under this section in the Arizona highway user revenue fund.
WHERE SPONTANEOUS ORDER HAPPENS NATURALLY, WITHOUT ANY FORCE, COERCION, OR AGGRESSION.
Jackfest "The Jackalope Freedom Festival" WHERE SPONTANEOUS ORDER HAPPENS NATURALLY, WITHOUT ANY FORCE, COERCION, OR AGGRESSION. The camping festival is held on National Forest Land. Entrance to Black Canyon Lake is at the corner of Rim Road (260) and Forest Road 300 Sitgreaves National Forest, Forest Lakes Estates, AZ 85931. The Jackalope is going Camping: August 2nd-4th There are no immediate ba
throoms or showers in the area. There is no water or electricity access. Bring your generators and RV's if you need electricity! Humans are encouraged to bring things others traveling from far away might need access too. Any extra generators/toilet and shower equipment/cooking equipment etc. The elevation is 7,600 ft there, it averages at 82 degrees! All artists, activists, people who are self sustainable and any other freedom loving person following the (NAP) non aggression principle is welcome. The Jackalope Freedom Festival is where liberty loving individuals come to be left alone to connect with each other. The Jackalope would also like to encourage any cob home specialists, natural builders, land patent specialists and agorists to come. Live music should be playing at all times, so bring it on musicians! See you all there!

For more information visit:
www.jackalopefreedomfestival.com
www.freedomsphoenix.com
Join the group:
http://www.facebook.com/groups/scorpupine/
Interactive Google Map:
https://maps.google.com/maps/ms?msid=216238494357511956295.0004c02cf995ac27f3db6&msa=0
Twitter:
https://twitter.com/Jackfest
Sites are picked on a first come first serve basis.
Supported by www.agoristmarketplace.com
---