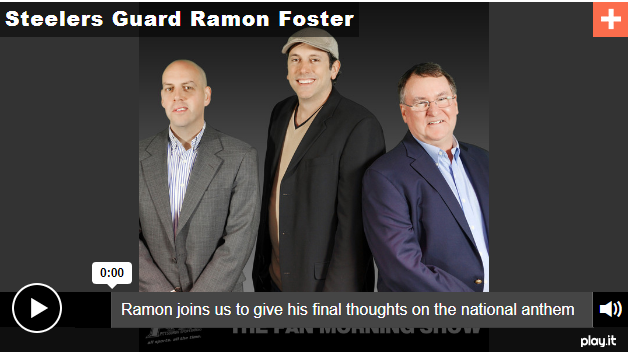 PITTSBURGH (93-7 The Fan) – The Steelers lost in overtime this past Sunday to a winless Chicago Bears team while giving up 220 yards rushing.
Of course, that wasn't the story that has grabbed headlines in the fallout.
Steelers guard Ramon Foster joined "The Fan Morning Show" in his weekly spot on the show and gave what he calls his final thoughts on the teamdeciding to stay in the tunnel for the national anthem and how fellow linemate Alejandro Villanueva was the only player seen saluting the flag.
Foster said he was upset because he felt that the Steelers were being dragged into something they didn't want any part of.
"I was kind of pissed at how people reacted to it," said Foster. "In a sense, that we didn't ask for that. We were thrown into this by some comments outside of the business and the sport of football. To see the backlash that I'm getting from back home, from people in my hometown on something I had no idea was going to go over like this or to have to warn my kids about certain stuff that hey, if somebody says something at school you have to let me and your mom know. We didn't ask for that, we didn't ask for this whole situation."
MORE COVERAGE:
Steelers Alejandro Villanueva: 'I Threw My Teammates Under The Bus Unintentionally'
Sales Of Alejandro Villanueva Jerseys Skyrocket
Angry Fans Burn Gear Over National Anthem Protest
Foster says that he and the team just want to put this whole thing behind them and focus on football.
"For the fans that criticize us, bring it back to football. Take your political views somewhere else," said Foster. "If you choose not to watch it, we hate to lose you but we want to play football right now. We'll deal with everything else when we can."
As communicated through a press conference on Monday, there was a discrepancy between what was seen and what the players talked about before Sunday's game.
"I texted Al [Villanueva] yesterday evening and told him I was like, 'I appreciate you clearing it up.' But the majority of the people that have been criticizing us and saying what they want to about us, they won't take the time to actually read what he said, they just want to go with the initial diagnosis which was that we were all segregated from him," said Foster. "It wasn't meant to be like that, man."