Propaganda fliers presumed to be from North Korea and calling US President Donald Trump a "mad dog" have turned up across central Seoul, including near the presidential Blue House, according to posts on social media and people who found them.
"Death to old lunatic Trump!" reads one poster, with a North Korean soldier with rifle in hand, crushing what looks to be Trump's head with his tongue dangling out of his mouth. Near the soldier's head is the line: "Complete obliteration."
Another poster shows Trump with the body of a dog being decapitated by an axe. Blood is shown splattered on the axe in the poster, which states: "Let's behead mad dog Trump for the future of a peaceful and warless world and mankind!"
Both were in colour.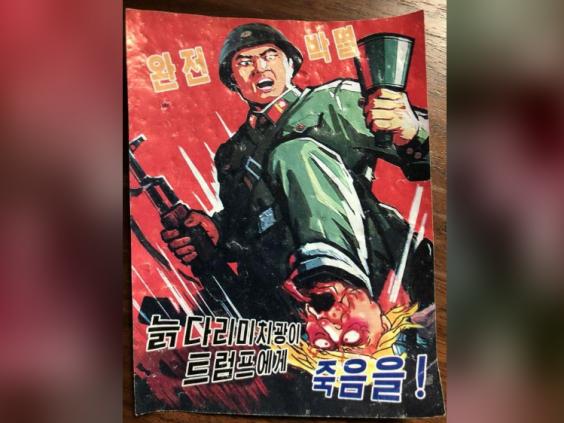 An anti-Trump leaflet believed to come from North Korea by balloon reads "Death to an old crazy guy Trump!" (NK News/Reuters)
It is not difficult to find North Korean propaganda posters in South Korea, usually flown by balloon over the highly fortified demilitarised zone. Military images and anti-US threats are common in North Korea propaganda as Pyongyang demands the United States cease what it says is its preparations for invasion.