News Link • Bitcoin • Cryptocoins News
Recently, on Twitter, the project's developer team stated that its website was under a "massive DDoS attack," which managed to take it down.
Bitcoin Gold, as bitcoin developer Jimmy Song explained, was introduced rather abruptly by China-based bitcoin miner Jack Liao. Its goal is to create an ASIC-resilient mining ecosystem wherein the gap between GPU/CPU mining and ASIC mining is smaller.
As some have pointed out, however, similar alterations to Bitcoin's protocol has been made in the past by altcoins that weren't exactly successful. Following the hard fork, BTG now plans to distribute the cryptocurrency to anyone holding bitcoin when it occurred.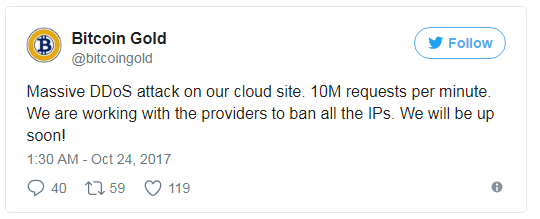 Those who wish to keep track of the cryptocurrency's problems have been unable to because of the attack on its website, as the blockchain is not yet public and there are no block explorers yet – information on BTG is now scarce. At press time, despite a tweet from the team stating the attack has been handled, CCN couldn't access Bitcoin Gold's website.