Exclusive: Self-flying vehicle firms got $2m last year, as military envisions taxis as more Blade Runner than Back to the Future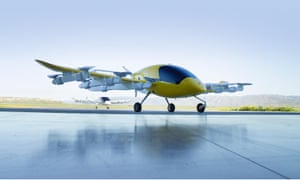 Kitty Hawk's experimental air taxi, Cora, 'is about the time you save soaring over traffic'. Photograph: Kitty Hawk
Two start-ups leading the race to build the first self-flying taxis are using money from the US military.
Last year, Kitty Hawk and Joby Aviation received a total of nearly $2m from the Defense Innovation Unit Experimental (DIUx), a Pentagon organization founded to help America's military make faster use of emerging technologies. Neither company, nor the DIUx, disclosed the funding at the time.
The website for Cora, Kitty Hawk's experimental air taxi, emphasizes its role in solving urban transportation challenges: "Cora is about the time you could save soaring over traffic. The people you could visit. The moments that move you."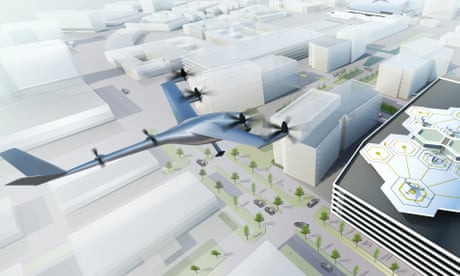 Uber signs contract with Nasa to develop flying taxi software
The DIUx's vision for small electric aircraft is less Back to the Future and more Blade Runner, according to a document that detailed the personal aerial vehicles funding program. It reads: "These vehicles will … offer a niche capability for specific tactical applications with a low acoustic signature, near instantaneous start/stop, ability to spread an assault force across multiple vehicles, and automated systems."
Joby Aviation received $970,000 from the DIUx in January last year, with Kitty Hawk receiving $1m a few months later, according to government contracting websites.
Neither company appears to have been running short of money, though. The billionaire Google co-founder Larry Page is bankrolling Kitty Hawk, while Joby closed a fresh $100m investment round in February this year, using traditional venture capital companies.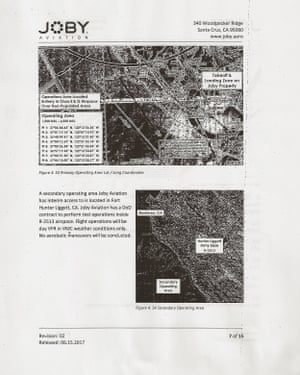 A portion of Joby's FAA application.
Although there are many startups and established aerospace companies competing to develop electric vertical take-off and landing (e-VTOL) taxis – including Uber, Airbus and Boeing – Kitty Hawk and Joby are among the furthest along.