News Link • Venezuela • https://www.zerohedge.com
As part of the continued jostling over the contentious issue of the US intent to deliver foreign aid to Venezuela, which embattled president Nicolas Maduro has controversially banned — going so far as to post troops along potential border access points — opposition leader Juan Guaido announced on Monday that his team had received its first shipment of external humanitarian aid cargo, yet he didn't specify how it was received or which country or organization was the source.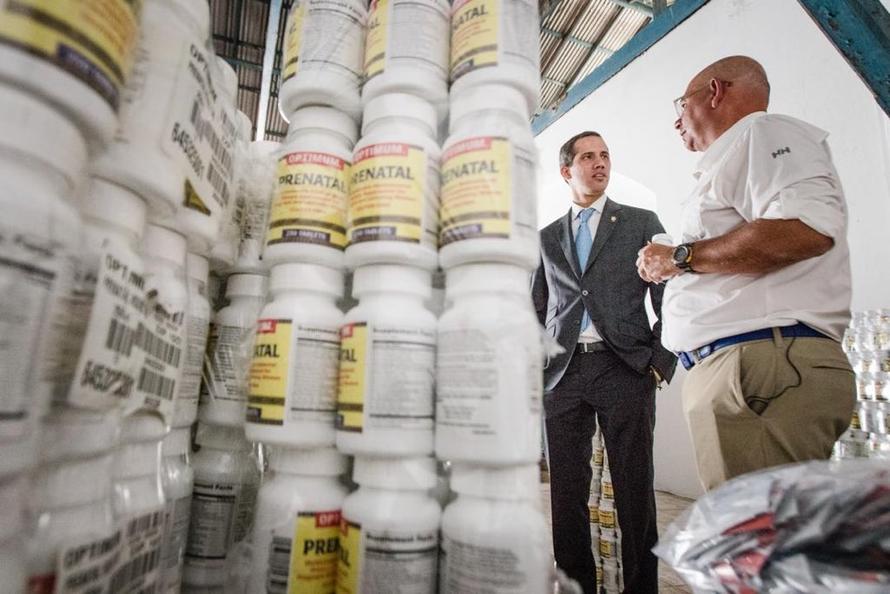 US-backed opposition leader Juan Guaido standing with humanitarian cargo from an unknown external source. via Guaido's official Twitter account
As self-declared and US-recognized "Interim President" Guaido further said he delivered it to opposition areas in an online statement included with a tweeted photo of himself standing amidst stacks of containers of vitamin and nutritional supplements. But given the timing, he appears to be signaling his previously stated intent to defy Maduro's blockade of such US aid entering the country. 
In televised remarks in Caracas on Monday evening, also published to Twitter, Guaido said, "Today we delivered the first donation, or the first cargo of humanitarian aid, albeit on a small scale, because you know they have blocked the border for the time being."
Esta entrega representa 20 raciones para cada beneficiario, y corresponde a la primera fase de atención a las poblaciones más vulnerables como consecuencia de la crisis humanitaria que estamos enfrentando. pic.twitter.com/nwSRsK6gA2

— Juan Guaidó (@jguaido) February 11, 2019