After two gloomy days for stocks at the start of the month which led to the worst December for the S&P since 2008, markets rebounded around the globe following an unsourced Bloomberg report that said the trade negotiations with China are still very much on track "according to people who wish to remain anonymous" (such as Larry Kudlow), yet who apparently are too worried to reveal that they have a different agenda than the president. In any case, the lack of new trade deal pessimism coupled with a report that Chinese Ministry of Commerce spokesman said officials are in "close contact" with U.S. counterparts, even though China officially reiterated that the US must rollback existing tariffs to agree to a Phase 1 deal, was sufficient for global stocks to extend their levitation for a second day and for Reuters to proclaim that...
Indeed, the latest batch of headlines around trade suggested the world's two largest economies were closer to agreeing how many tariffs would be rolled back in a "phase one" trade deal, while President Donald Trump said talks with China were going "very well". This more optimistic tone around trade helped Wall Street's main indexes snap a three-day losing streak in the previous session, putting the benchmark S&P 500 index just 1% away from an all-time high hit last week. Of course, things could turn sour fast: if no agreement is reached soon, around $160bn in tariffs on Chinese goods would come into effect from Dec. 15.
Or as DB's Jim Reid put it:
We are living in a pre-December 15th world where one headline or tweet on trade has the ability to turn a good day into a bad one and visa-versa. The same story has the ability to wipe or add hundreds of billions (even trillions) from/to the value of global financial assets. That's what we're dealing with at the moment.
At 7am, Dow e-minis were up 104 points, or 0.38%; S&P 500 e-minis were up 11 points, or 0.35% and Nasdaq 100 e-minis were up 37 points, or 0.45%.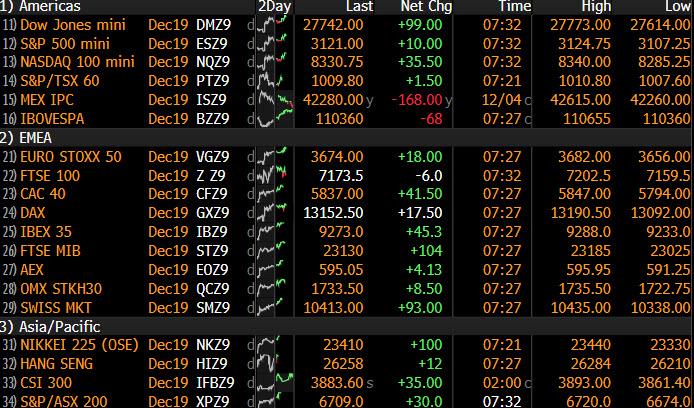 In the US, shares of tariff-sensitive semiconductor companies looked set to rise for the second straight day, with Micron Technology, Advanced Micro Devices and Nvidia gaining between 1% and 1.3% in premarket trading. Among stocks, Dollar General Corp jumped about 5% after the discount store chain raised its full-year profit forecast.  Nike shares climbed 2% after a report said Goldman Sachs upgraded the sportswear maker's stock to "buy" from "neutral", while Tiffany which is being bought by Louis Vuitton owner LVMH, nudged 0.5% lower after the luxury jeweler fell short of analyst's estimates for quarterly sales.