AMD Reportedly Wants to Revive "FX" Moniker for Desktop Chips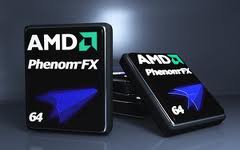 Advanced Micro Devices, the world's second largest supplier of x86 microprocessors, reportedly wants to return the FX moniker to its microprocessors aimed at performance-minded consumers. If the rumour is true, it may indicate that AMD expects its next-generation desktop central processing units (CPUs) to offer very high performance in desktop applications.
Personal computers based on the high-end eight-core microprocessors featuring Bulldozer micro-architecture will carry "Vision Black FX" label, systems with quad-core or six-core chips will sport "Vision Ultimate FX" label, according to a news-story published by Donanimhaber web-site. In case the information is correct, the new chips will be AMD's first FX-class processors with top performance since 2006, when the company lost its performance lead on the CPU market after the launch of Core 2 Extreme.
AMD introduced its FX family of chips back in 2003 with the launch of the Athlon 64 FX-50 microprocessor. The chip outperformed
Intel
Corp.'s Pentium 4 Extreme Edition CPU, but required a special platform as it featured dual-channel memory controller, a technology not available on the rest of Athlon 64 family. Eventually AMD's microprocessors transited to one types of mainboards, but the FX chips still offered extreme performance and a number of other features. Unfortunately for AMD, Intel launched its Core 2-series chips, which outperformed both normal Athlon 64 and the FX families of microprocessors. As a consequence, the FX-moniker was canned since it no longer marked significant performance advantages.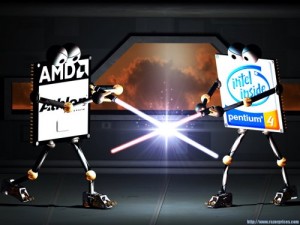 It is still unclear whether AMD plans to use "Phenom" or other brands for its chips powered by Bulldozer micro-architecture. It is known that desktop-class Bulldozer-based CPUs are code-named Zambezi.
AMD did not comment on the news-story.
Engineering samples of code-named Zambezi chips became available for AMD's partners for testing in December, 2010. Production candidates should be ready by February '11 and the initial production of the company's first desktop microprocessors powered by the long-awaited Bulldozer micro-architecture is scheduled to start in April next year. Probably, the launch of the chip will occur around the same timeframe.
Chekib Akrout, senior vice president of technology group at AMD, confirmed the company's intention to start revenue shipments of Bulldozer-based processors for desktops in Q2 2011 and for servers in Q3 2011. 
The first Zambezi microprocessors to be launched are expected to be eight-core products with 95W and 125W thermal design power as well as 8MB L3 cache. Later in the second quarter of 2011 AMD, according to sources with knowledge of the company's roadmap, will release six-core chips with 8MB L3 cache and four-core products with 4MB cache. All of the processors will feature TurboCore 2.0 technology, dual-channel DDR3 memory controller with up to 1866MHz memory support and will be compatible with AM3+ mainboards.
Eight-core Zambezi/Orochi features four dual-core Bulldozer modules, each of which is believed to have 2MB of shared level-two cache, that will share 8MB L3 cache. In total, the whole chip will pack in whopping 16MB of SRAM, a 77% increase from the current six-core microprocessors that have 9MB of cache in total.
AMD Orochi design is the company's next-generation processor for high-end desktop (Zambezi) and server (Valencia) markets. The chip will feature eight processing engines, but since it is based on Bulldozer micro-architecture, those cores will be packed into four modules. Every module which will have two independent integer cores (that will share fetch, decode and L2 functionality) with dedicated schedulers, one "Flex FP" floating point unit with two 128-bit FMAC pipes with one FP scheduler. The chip will have shared L3 cache, new dual-channel DDR3 memory controller and will use HyperTransport 3.1 bus. The Zambezi chips will use new AM3+ form-factor and will require brand new platforms.
The Sunnyvale, California-based chip designer plans to introduce AMD 900-series chipsets compatible with Zambezi processors in Q2 2011. The Bulldozer processors, Radeon HD 6000 "Northern Islands" discrete graphics cards  and AMD 900-series core-logic sets will power AMD's next-generation enthusiast-class platform code-named Scorpius.