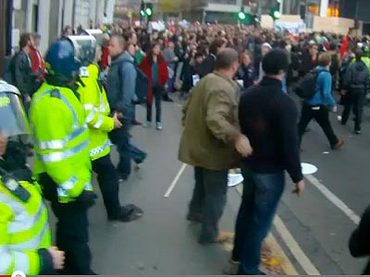 A YouTube video shot during the November 9 student rally in London allegedly shows plainclothes police acting as agents provocateurs among the protesting crowds.
The video uploaded by the user "noshockdoc" shows two people who first engage in rough handling of one of the rally protesters. Then, reportedly, the same people are shown along with six others detaining someone behind a police cordon.
RT got in touch with the creator of the video, a 40-year-old managing director of his own start-up company, who preferred to remain unnamed.
Not your stereotypical protester, as "noshockdoc" calls himself, he went to the demo to protest against the policy, which is bound to divide British education system into two tiers, based on wealth, not merit.
He says the episode shown on the video occurred during the end of the march and is very disturbing. It looked like a fight was provoked by plainclothes policemen, while their uniformed colleague turned a blind eye to it.
"A young member of the British public had been attacked and left visibly shaken, and the very person he would have expected to help him turned away. And on top of that it was a police officer that attacked him,"
he told RT.