Words Eye View
More About: Religion: Believers
Senator Grassley's Probe of TV Ministries Spells Trouble for America's Churches
Senator Chuck Grassley (R) from Iowa, ranking member of the Senate Finance Committee, has concluded investigating six prominent TV ministries for possible financial misconduct, amassing literally hundreds of pages of information on these and other television ministries that will go into those big government computers to be used in years to come by the IRS and other government agencies to pass laws and regulations governing public religion in America and around the world. You can just read the news reports, without reading through the entire 61 page final report, to see the obvious as to where Big Brother is heading with all of this.

Senator Grassley's investigations may lead to severe restrictions on all churches
Each of the six, along with all of the other TV and radio gurus, are religious czars controlling either large or small religious fiefdoms. The only difference is, some are honest, and some are crooks. Some are quirky, and some are quacks. Some are true prophets of God, and others are Satan's profiteers. But one thing is clear: there is nothing resembling these types of ministries in the Bible. All of these "ministers" are disobedient to the heavenly calling in that the Lord's church is not a 501 (c)(3) tax exempt, para-church organization, created by government edict, and dependent on the support of government subsidy, such as the not-for-profit gift.
Before we explore this issue further, let me make a couple of observations. Please be assured that this probe was not Sen. Grassley's idea. This has the hand prints of the not-for-profit division of the IRS all over it. They have been licking their chops for years to get into the inner sanctum of these ministries and to rein them in.
The press was filled with stories back in late 1988 and early '89 of the IRS probes into the ministry of the TV preachers; in fact the number then was six. In fact, according to the Dec. 12, 1988 Indianapolis News, two of the investigations at that time were criminal in nature. Ms. Murphy, IRS Director of Public affairs, did not identify the six ministries. Through various sources, including admissions by some, five of the six were identified and have been confirmed that they included Jerry Falwell's Liberty University and TV show, the "Old Time Gospel Hour." Pat Robertson and Oral Roberts have confirmed that the IRS had audited their operations, Jim Bakker also was a part of the investigations, as was Jimmy Swaggart ministries. In fact, Swaggart installed a compliance committee, to keep him from saying anything on his TV or radio program that would be contrary to IRS rules.
Falwell said that his organization had been audited twice and received a clean report, and the other ministries were never charged criminally nor civilly with any significant IRS penalties or ever lost their tax exemption; even though Bakker served time for personal infractions.
The second observation is, Sen. Grassley is a conservative Republican and a Baptist from Iowa. Does anyone think that it is an accident that this probe was given into his hand? Who could accuse him of being on some kind of liberal witch hunt, or trying to hinder the gospel? To the contrary, he made it clear that he was trying to elevate Christianity and the gospel by helping these ministries lift their public image, etc.
Senator Grassley in the Beginning Pulls No Punches
The six ministries currently under investigation by Grassley's committee are led by: Paula White, Joyce Meyer, Creflo Dollar, Eddie Long, Kenneth Copeland and Benny Hinn. Three of the six - Benny Hinn, Kenneth Copeland and Creflo Dollar – also sit on the Board of Regents for the Oral Roberts University. The "ministries" are being examined for possible financial misconduct to determine whether or not these ministries are improperly using their tax-exempt status as churches to shield lavish lifestyles. In the IRS code, the legal term is inurement. Preachers, you better learn to pronounce this word because it's going to become a part of your vocabulary for the rest of your lives. It simply means that no one serving in a non profit organization is allowed to receive more compensation than is reasonable for the work that they are doing based on the income of the organization they serve.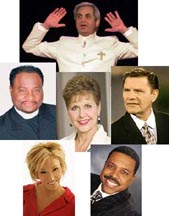 The Finance Committee investigation centers on the lavish expeditures of Benny Hinn, Eddie Long, Joyce Meyer, Kenneth Copeland, Paula White, and Creflo Dollar.
For the most part, all cooperated except for Kenneth Copeland, who basically told Grassley to "go fly a kite." He "told Senate investigators that the church is only required to answer to the IRS and indicated they would welcome an IRS audit." However, apparently Oral Roberts University saw the light when they felt the heat, because Kenneth Copeland is no longer a member of the board of ORU and his son-in-law is now the "former chairman" of the ORU board.
Televangelists: Who's Accountable?
Notice that Copeland used the word, "church." Hinn uses the same in describing his ministry, "World Healing Center Church." Eddie Long said, "New Birth Ministries has several safeguards put in place to ensure all transactions are in compliance with laws applicable to churches." Creflo Dollar noted that the inquiry raised questions that could "affect the privacy of every community church in America." The CBS report stated, "Because they have tax status as churches, the ministries do not have to file IRS 990 (annual) forms like other non-profit organizations - leaving much financial information largely behind closed doors" [parenthesis mine]. In other words, because the IRS makes a distinction between religious organizations and churches, they can say that they are a church and then they don't have to file the financial disclosure 990 form annually. Nice trick, right? Now some of these ministries do operate through churches, but their media ministries are separately incorporated and have separate boards of directors.
"Churches like these are ruled as a dictatorship," says Rod Pitzer, who directs research at Ministry Watch in North Carolina. My question is very simple. What are their boards of directors doing when they are buying their million dollar homes, corporate jets, yachts, costly jewels, furs, etc?
Why No Indictments?
Some are asking why, after 13 years (since 1988) of spending an incredible amount of funds investigating these ministries, NO ONE is indicted, or in trouble, not even a citation? Not one ministry is even close to losing their precious tax-exemption. Not even any penalties for the pastors, like Copeland who thumbed their noses at Grassley and his committee? He doesn't even get a Senatorial contempt violation? The report raised questions about the personal use of church-owned airplanes, luxury homes and credit cards by pastors and their families. Grassley talked publicly over CBS news on 1/6/11 about Rolls Royces and $23,000 marble commodes. His actual quote was, "That's a lot of money down the toilet."
The report also expressed concern about the lack of oversight of finances by boards often packed with the televangelists' relatives and friends. Now we are talking about clear violations of the law, crimes. CRIMINAL ACTIVITY! The infractions that the committee uncovered were not just a few instances; counting some of the others that were investigated years ago, it is just the tip of the iceberg. These "ministries" are only a peek through the foggy window of the tax exempt world, including churches.
In the final report released on Jan. 6, it said that only Benny Hinn and Joyce Meyer had made "significant reforms" to their operations, but four others provided incomplete or no responses. But here is the real reason for the entire effort in our opinion, "Grassley asked the Evangelical Council on Financial Accountability (ECFA) to conduct a formal study of issues raised by his staff, including whether churches, like other nonprofits, should be required to file detailed financial disclosure forms to the Internal Revenue Service [emphasis mine].
Up until now in the IRC non-profit regulations, religious organizations have been treated differently than churches. Even though they have been required to meet the same requirements as far as the matter of "federal public policy issues", churches do not have to file a form 1023 to qualify for tax exemption; they have a mandatory exception. Neither do they have to file an annual 990 financial disclosure form. So in the matter of inurement and other financial activity such as political spending, the IRS has had no way to monitor the churches.
But since the ministries couldn't discipline themselves they will now be turned over to the religious Pharisees (ECFA) and be assured they (ECFA) will be more than happy to come forward with their pious suggestions, in the name of Jesus, as to how this problem should be solved. Most of the para-church organizations are already voluntarily submitting financial disclosure forms to ECFA already and receiving annual "gold stars" to show their donors (for a little cash from each ministry of course.)
And just as Pilate and the Roman government had clean hands when it was the people that gave the solution as to what they should do with Jesus when they cried "crucify him," so it will be when ECFA recommends that all churches file financial disclosure forms: of course it won't be a violation of the First Amendment, because they will be happy to provide the service just like they do for the religious organizations. After all, we need to make sure that we have a good testimony. Sen. Grassley and the IRS will have clean hands; the churches will have been delivered up by their own. Excuse me while I go look for another Nexium.
The same thing happened when the Florida Accreditation and American Accreditation of Christian Schools took over the accrediting responsibility for the Christian Schools, and in 1984 when Sen. Dole's Finance Committee allowed the Christian Law Association and other "Christian" law advocacy groups to work out a compromise on the FICA tax legislation. Between the two, I would rather answer to the state than state religion. At least Ceasar will cut your head off with honor, without quoting scripture as to why he's doing it.
Our unregistered churches bit this bullet in giving up our tax exemption and functioning with the not for profit gift thirty years ago. It's been pretty tough at times, but I believe every pastor would say that it's been worth it.