If you support conservative patriots isn't Senate President Russell Pearce number one on your list? We have joined Larry Wendt, owner of the Buffalo Chip Saloon and Steakhouse (BCS&SH) in sponsoring a fund raiser for Russell Pearce.

Pearce, as you know, is facing a recall election, unless his court challenge wins, with early voting beginning on Oct. 13 and the election on Nov. 8. As author of the famous SB 1070 law he has gained nationwide acclaim and many states have followed his courageous lead.
In a meeting last week with Pearce, his son Sean and Wendt early details were decided with lots more to come.

The fund raiser will be held at the BCS&SH on Saturday, Sept. 17. It will be open from 5 p.m. - 9 p.m. Tickets are $25 and will pay for a barbeque dinner with music. The proceeds will go to Pearce. Campaign volunteers will be available for accepting larger contributions.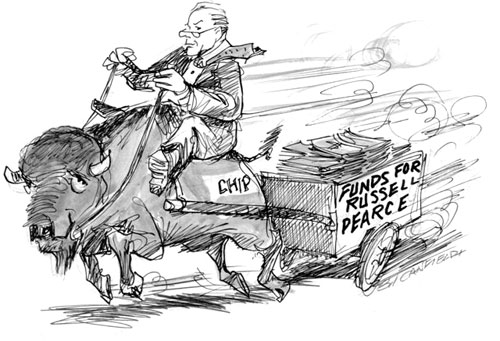 So far, MCSO Sheriff Joe Arpaio has agreed to be there for the entire event and he and Pearce will speak and be available for discussions. We invite the public and will inform Tea Party members. Watch for new information about who you may meet at the event. We are seeking luminaries, Republican leaders and will report on others you may want to meet.
The BCS&SH is at 6811 E. Cave Creek Road.
---