Stephen Lendman comes on the show to provide an update on Obama's plan to confront the Islamic State more forcefully and why doing so is lawless aggression - Jordan Page (Musician, r3VOLutionary) talks about his new radio show on Liberty Movement Ra
Media Type: Audio • Time: 150 Minutes and 0 Secs
---
Hour One
Media Type: Audio • Time: 150 Minutes and 0 Secs
Hour 1 -- Stephen Lendman comes on the show to provide an update on Obama's plan to confront the Islamic State more forcefully and why doing so is lawless aggression
Hour 2 -- Jordan Page (Musician, r3VOLutionary) talks about his new radio show on Liberty Movement Radio, and updates us on what he has been up to and upcoming events
or on player below (M-F, 9-Noon EST):
September 10th, 2014

Declare Your Independence with Ernest Hancock
9 a.m. - Noon (EST)

Studio Line: 602-264-2800
Stephen Lendman

Webpage: SJLendman.blogspot.com
Stephen comes on the show to talk about Obama's plan to confront the Islamic State more forcefully and why doing so is lawless aggression

____________________________


Movie night at ASU: Thirteenth Anniversary of 9/11
Movie night at ASU: Thirteenth Anniversary of 9/11

Hosted by 9/11 Studies and Outreach Club at ASU

When: Thursday, Sept. 11 at 7:00pm

Where: ASU Memorial Union, Room 230 [PDF Map; at MU 6C]

The 9/11 Studies & Outreach Club at Arizona State University will honor the victims and heroes of the 2001 attacks with a documentary presentation, Anatomy of a Great Deception by Dave Hooper.
The deeply moving and informative film follows one man's personal story of conflict with his wife and friends over the "impos
sible" truth about 9/11. Audiences will identify with the developing journey and struggle depicted in the film, which has received winning endorsements from Architects & Engineers for 9/11 Truth founder Richard Gage, AIA.

Come join more than one hundred 9/11 Studies & Outreach Club members. If necessary, overflow viewing will be available at the cinema at Vista Del Sol apartments.

Suggested parking is at the Apache structure. [south of Memorial Union]

Watch the trailer here: http://bit.ly/YarSF5

More information about the film can be found here: http://bit.ly/1BhWunb

---
Hour Two
Jordan Page

Webpage: JordanPageMusic.Com

Jordan's New Radio Show:
Page Against the Machine on
LibertyMovementRadio.Com



____________________________________


The Anatomy of a Great Deception - THE 2:11 TRAILER
__________________________________________________________________
UK Man Wins Court Case Against BBC For 9-11 WTC 7 Cover Up (Video)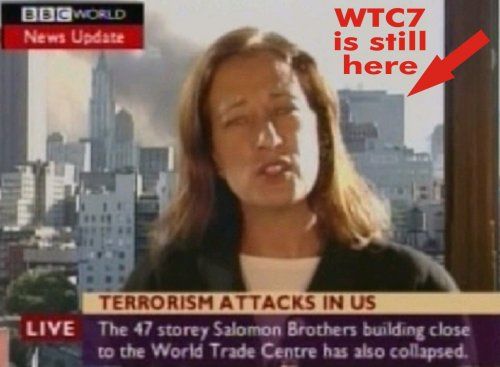 Tony Rooke refused to pay a TV license fee because
the BBC intentionally misrepresented facts about the 9/11 attacks
, he alleged. It is widely known that the BBC reported the collapse of World Trade Center Building 7 over 20 minutes before it occurred. WTC 7 was a 47-story skyscraper that was not hit by a plane on 9/11 but collapsed at free-fall speed later that day.
So Rooke said the BBC had to have had prior knowledge to a terror attack making them complicit in the attack. He presented the BBC footage to the judge along with a slew of other evidence, and the judge agreed that Rooke had a reasonable case to protest. Rooke was found not guilty and he was not fined for failure to pay the licensing fee.
For all intents and purposes a UK ccourt has just ruled that the BBC was complicit in the september 11th, 2001 attacks in the United States. Fantastic. A small victory but a huge symbolic victory and one you would have never otherwised have heard of. So I suggest to you the reader to get the word out on this one. Spread it far and wide. This is big ifonly symbolic. -Mort
____________________________________________________
Jordan Page New Song Building Number 7:
---
Hour Three

__________________________________________________________________

Freedom Activism 101
The following aphorisms are the work of libertarian novelist L. Neil Smith. They have been the bedrock for libertarian activism in Arizona for the last 10 years (since 1994 - now going on 18 years, this was written a while ago) and are the best explanation I can provide for the tactics of our past/future. Enjoy.
*Never soft-peddle the truth. It's seldom self-evident and almost never sells itself, because there's less sales resistance to a glib and comforting lie.
*Understand from the minute the fight begins that you're going to take damage. Accept it. (You'll always suffer more from the idiots and cowards on your own side than from any enemy.) Keep your overall goal in mind above all. Those who swerve to avoid a few cuts and bruises defeat themselves.
*If you're not a little bit uncomfortable with your position, it isn't radical enough. How can you be too principled? Take the most extreme position you can. You're claiming territory you won't have to fight for later, mostly against your "allies."
*Go straight to the heart of the enemy's greatest strength. Break that and you break him. You can always mop up the flanks and stragglers later, and they may even surrender, saving you a lot of effort.
*Know, down to the last cell in your body, that the other guy started it. He's the one who put things in an ethical context where considerations like decency and mercy have no referent. The less pity moves you now, the sooner you can go back to being a nice guy.
*If you lose, go down fighting. It costs nothing extra, and now and again ...
*Remain the judge of your own actions. Never surrender that position by default. When the enemy screams "Foul!" the loudest, you know you're doing him the most damage. Those who help him scream are also the enemy.
*Second thoughts, failures of confidence, nervous last-minute course-changes are all detours and recipes for defeat. The time to think is before the battle - if possible, before the war - not in the heat of it.
*It is moral weakness, rather than villainy, that accounts for most of the evil in the universe – and feeble-hearted allies, far rather than your most powerful enemies, who are likeliest to do you an injury you cannot recover from.
*Know, otherhandwise, that the easiest, most humiliating path to defeat is thinking that to beat the enemy you must be like him. Avoid the temptation to set your values aside "for the duration." What's the point of fighting if you give up what you're fighting for? If remaining consistent with your values leads to defeat, you chose the wrong values to begin with.
*Never aim at anything but total achievement of your goal: the utter capitulation of the enemy. Every effort involves inertia and mechanical losses, so adopting any lesser objective means partial defeat. Total victory means you don't have to fight the same fight again tomorrow.
*The most dangerous and successful conspiracies take place in public, in plain sight, under the clear, bright light of day – usually with TV cameras focused on them.
*Ever notice how those who believe in animal rights generally don't believe in human rights?
*The function of government is to provide you with service; the function of the media is to supply the Vaseline.
*"Wake up America ," you demand? America doesn't need to "wake up" – by which of course, you mean pay attention to whatever you think is important. If America weren't already awake, paying attention to what each individual thinks is important, your milk wouldn't have gotten delivered this morning, and you wouldn't have any electricity this afternoon.
*You cannot force me to agree with you. You can force me to act as though I agree with you – but then you'll have to watch your back. All the time.
*You may never convince the other guy, but it's often worthwhile to keep arguing for the effect it has on bystanders, especially his allies.