Ian Freeman, Program Director LRN.FM, talks about the new LRN.FM app for Android/iPhone - Matt Heineman (Director: Cartel Land) on the Mexican Drug Cartels - Devon Read and Ryan Taylor of Blocktech talk about the Decentralized Library of Alexandria
Media Type: Audio • Time: 231 Minutes and 0 Secs
---
Hour 1 - 3
Media Type: Audio • Time: 231 Minutes and 0 Secs
Hour 1 -- Ian Freeman, program director for LRN.FM and co-host of Free Talk Live, comes on the show to talk about some of the new features on the station, including the new LRN.FM app for Android/iPhone
Hour 2 -- Matt Heineman (Director: Cartel Land) on the Mexican Drug Cartels
Hour 3+BONUS -- Devon Read (CEO of Blocktech) and Ryan Taylor (Developer at Blocktech), talk about the Decentralized Library of Alexandria
CALL IN TO SHOW: 602-264-2800
July 28th, 2015
Declare Your Independence with Ernest Hancock
on LRN.FM / Monday - Friday
9 a.m. - Noon (EST)
Studio Line: 602-264-2800
Hour 1
2015-07-28 Hour 1 Ian Freeman from Ernest Hancock on Vimeo.
Ian Freeman
Program Director - LRN.FM and co-host of Free Talk Live
Webpages:
================================
Apps for Android/iOS
Now you can download the official LRN.FM listening app for Android and iOS! While these are not the only way to listen to LRN.FM on your Android or iOS device, they are pretty cool, and so deserve their own page. Not only can you tune all our different bandwidth streams, but you can also share that you're listening on various social platforms, check the latest from our facebook and twitter feeds, and tune the Free Talk Live 24/7 streams if you like.
They are free, so please download, rate five stars, and share the download link on your social media:
==================================================
Additional topics discussed on the show:
Keenevention - http://keenevention.info/
Speakers & Panels
There's no other event as focused on activism as Keenevention. Please come and enjoy our experienced NH activist speakers and panel discussions, but don't just sit back and watch! Every speaker and panel has an open mic for Q&A, so if you have a question for anyone on stage, please step up and ask!
Keenevention 2015
Keenevention 2015 panelists and keynote speakers are still being announced. Stay tuned to this website or our Facebook for further event announcements!
Keynote speakers:
Darryl W Perry – Darryl is a tireless activist for liberty. He hosts multiple radio shows including Peace, Love, Liberty Radio and the seven-day-a-week FPP Radio News, edits and publishes books and a newspaper, blogs on his own site and Free Keene, and is part of the board of directors of Cheshire TV and the Shire Free Church: Monadnock. Darryl's been an organizer of Keenevention since the first year and has run the very popular yearly raffle each year. If he's awake, he's probably doing liberty activism of some sort.
Christopher Cantwell – If you've been paying attention to the liberty movement, you probably know who Christopher Cantwell is and you probably have an opinion about him. Whatever your opinion of him, he's a passionate advocate for liberty and an excellent speaker. He might have things to say that may surprise you about his first year back in Keene.
Panel Discussions:
New Movers Panel: Get a fresh perspective on NH activism from a panel of people who've moved within the last year, hosted by new-mover-to-Peterborough, and author Dr. Tarrin Lupo. Panelists to be announced.
Old School Panel: Free State Project early mover Denis Goddard has lived in New Hampshire since 2005 and has been heavily involved in the political scene. He served as Selectman in his town, is Emeritus Director of Research for the New Hampshire Liberty Alliance, and hosted a cable access show in Concord for years. He and his panel of experienced New Hampshire activists will share their perspectives on how we got to where we are on this year's Old School Panel. Panelists to be announced.
Tickets:
The Keenevention isn't your typical liberty convention. We don't want you to spend the whole time cooped up in a hotel. You are encouraged to meet new and old friends and hit Keene's restaurants for your meals and get a taste of the town. Not having hotel banquet luncheons and dinners really keeps the ticket price down.
Plus, we're not inviting any fancy big-name liberty speakers from around the country. All Keenevention speakers are NH-based activists. That keeps our costs down, too. We're passing the savings on to you and have priced the full event tickets at just $60 for the whole weekend! You can also purchase VIP tickets below. VIP passes will get you a special VIP dinner (or luncheon) and a guess pass for the HALLOWKEENE costume dance party.
Online registration for Keenevention shuts down at 12pm Eastern on 10/27, or sooner if we sell out. This year pre-event ticketing will be limited to 100! Keenevention is an intimate, yet affordable event, so lock in your tickets now and order below with USD or BTC!
If you buy your tickets at-the-door, it will be $75 for the whole weekend or $30 per day. UNLESS you arrive early. Anyone showing up before 9am on any day (in time for the first panel) will only need to pay $25 for the day pass or you can get the $60 price point for the whole weekend with "Rise-and-Shine" pricing!
You can order tickets with USD now via Eventbrite – they make it easy: (or keep scrolling down for Bitcoin ticketing)
Online event registration for Keenevention 2015 powered by Eventbrite
Bitcoin Tickets!
Eventbrite doesn't do BTC, so please use these links to pay for your ticket in BTC via BitPay: (You'll be sent a registration confirmation from Eventbrite once we put you in their system manually.)
Full Access Ticket – just $60 USD worth of BTC
VIP Ticket – $120 USD worth of BTC
Volunteers
If you can't afford the ticket, we may be looking for a few good volunteers. In return for your services, you'll get access to the event. Apply for the position by sending us an email to keenevention at freekeene.com or use the "send message" option on our facebook page.
==========================================================
Satellite (Free-to-Air)
Why pay monthly for satellite radio, when you can get LRN.FM on satellite for free? On 2010-07-01 LRN.FM launched on Free-to-Air Ku-Band Satellite. LRN.FM is able to provide you with this free 24/7 service thanks to Bitcoin! If you'd like to chip-in some bitcoins, you'll find the widget in the right column of this website.
If you are in one of the signal patterns below and can see one of the satellites below from your location (check with Dishpointer), you only need to get a Ku-band dish and Free-to-Air receiver, hook it up, and you've got LRN.FM (and a bunch of other free TV and radio channels like RT and Press TV) 24/7 with no subscription fees! Our satellite channels also make for a good audio source with which you can rebroadcast LRN locally on FM or AM.) Here are our current coverage maps: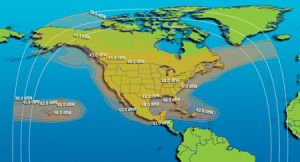 Galaxy 19's Ku-Band Signal
You can find LRN.FM in North America and Central America on Galaxy 19 at 97 degrees West, Transponder 11, 11929 MHz, Vertical Polarization, Symbol Rate: 22000 , SID: 16, APID: 3016.
Click for a detailed signal map with minimum dish width for your location.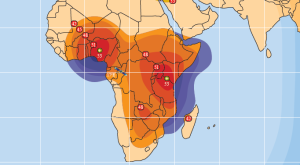 AMOS 5's East-West Ku-band Signal
You can find LRN.FM in East-West Central Africa on AMOS 5 at 17 degrees East, 12335 MHz, Vertical Polarization, Symbol Rate: 27500 , SID: 51, APID: 3051.
Here's a detailed signal map for AMOS-5's East-West beam with clickable signal strength indicators.
---
Hour 2
Hour 2
2015-07-28 Hour 2 Matt Heineman from Ernest Hancock on Vimeo.
Matthew Heineman
Matthew Heineman is an award-winning filmmaker based in New York. He recently directed and produced, with Academy Award nominee Susan Froemke, a feature-length documentary ESCAPE FIRE: The Fight to Rescue American Healthcare. It premiered at Sundance 2012, won numerous awards at festivals across the country, and was released by Roadside Attractions/Lionsgate to critical acclaim in October 2012. The film premiered on CNN in March 2013, with over two million viewers tuning in for the primetime broadcast.
Heineman previously collaborated for two years with a team at HBO on the groundbreaking, Emmy-nominated HBO series, THE ALZHEIMER'S PROJECT, which aired in May 2009. He also directed and produced OUR TIME — a feature documentary about what it's like to be young in today's America.
Director / Producer / Cinematographer / Editor - Cartel Land
Webpage: CartelLandMovie.Com
THE FILM
With unprecedented access, CARTEL LAND is a riveting, on-the-ground look at the journeys of two modern-day vigilante groups and their shared enemy – the murderous Mexican drug cartels.
In the Mexican state of Michoacán, Dr. Jose Mireles, a small-town physician known as "El Doctor," leads the Autodefensas, a citizen uprising against the violent Knights Templar drug cartel that has wreaked havoc on the region for years. Meanwhile, in Arizona's Altar Valley – a narrow, 52-mile-long desert corridor known as Cocaine Alley – Tim "Nailer" Foley, an American veteran, heads a small paramilitary group called Arizona Border Recon, whose goal is to stop Mexico's drug wars from seeping across our border.
Filmmaker Matthew Heineman embeds himself in the heart of darkness as Nailer, El Doctor, and the cartel each vie to bring their own brand of justice to a society where institutions have failed. From executive producer Kathryn Bigelow (THE HURT LOCKER, ZERO DARK THIRTY), CARTEL LAND is a chilling, visceral meditation on the breakdown of order and the blurry line between good and evil. At the 2015 Sundance Film Festival, Heineman received both the Directing Award and Special Jury Award for Cinematography in the U.S. Documentary competition.
=================================================================
SCREENINGS
NOW PLAYING
Cinemas Palme d'Or - Palm Desert, CA
University Town Center 6 - Irvine, CA
Arclight Hollywood - Los Angeles, CA
Sundance Kabuki - San Francisco, CA
San Rafael Regency 6 - San Rafael, CA
Laemmle Playhouse 7 - Pasadena, CA
AMC La Jolla 12 - La Jolla, CA
Laemmle Noho 7 - Los Angeles, CA
Royal - Los Angeles, CA
Plaza De Oro 2 - Santa Barbara, CA
Roseville 14 + XD - Roseville, CA
Mayan Theatre - Denver, CO
Landmark Chez Artiste - Denver, CO
Landmark E Street - Washington, DC
Tara Cinemas 4 - Atlanta, GA
Landmark Keystone Art - Indianapolis, IN
Landmark Kendall Square - Boston, MA
Martha's Vineyard Film Center - Vineyard Haven, MA
ArcLight Bethesda - Bethesda, MD
Celebration - Woodland 14 - Grand Rapids, MI
Landmark Edina - Edina, MN
Devargas Mall Cinema 6 - Santa Fe, NM
High Ridge Theatre 8 - Albuquerque, NM
Sag Harbor Cinemas - Sag Harbor, NY
Cinemart Cinemas - Forest Hills, NY
Magic Lantern Carlton Cinema - Toronto, ON
Regal Fox Tower - Portland, OR
Landmark Ritz at the Bourse - Philadelphia, PA
Arbor Cinemas at Great Hills - Austin, TX
Sundance Cinemas Houston - Houston, TX
Cinemark 16 + XD - Brownsville, TX
Cinemark Cielo Vista Mall 14 + XD - El Paso, TX
Grand Prairie 15 - Grand Prairie, TX
Grapevine Mills 30 DIT with IMAX - Grapevine, TX
Cinemark Harker Heights - Harker Heights, TX
Studio 30 Houston with IMAX - Houston, TX
Alamo Drafthouse Marketplace 12 - New Braunfels, TX
Hollywood Usa 20 - Pasadena, TX
Angelika Film Center Plano - Plano, TX
ALLIED - Guadealupe Cultural Arts - San Antonio, TX
Bijou at Crossroads - San Antonio, TX
Broadway Centre Cinemas - Salt Lake Ctiy, UT
Sundance Cinemas Seattle - Seattle, WA
OPENS JULY 24
Laemmle Town Center - Encino, CA
Summerfield Cinemas - Santa Rosa, CA
Regency Rancho Niguel 8 - Laguna Niguel, CA
Regency The Plant 16 - Van Nuys, CA
Four Star Twin - San Francisco, CA
New Parkway - Oakland, CA
Belltower 20 - Fort Myers, FL
Gainesville Cinema Stadium 14 - Gainesville, FL
Sunset Place 24 with IMAX - South Miami, FL
Veterans 24 with IMAX - Tampa, FL
Tara Cinemas 4 - Atlanta, GA
Cinema Center - Fort Wayne, IN
Cinetopia Overland Park 18 + GXL - Overland Park, KS
Fine Arts Theatre - Glenwood arts - Overland Park, KS
Landmark Plaza Frontenac - St. Louis, MO
Landmark Tivoli - St. Louis, MO
Park Terrace Stadium 6 - Charlotte, NC
Gateway Film Center 8 - Columbus, OH
AMC Quail Springs Mall 24 - Oklahoma City, OK
Bryn Mawr Film Institute - Bryn Mawr, PA
Downtown West Cinema 8 - Knoxville, TN
Tower Theater - Salt Lake City, UT
OPENS JULY 29
Alamo Drafthouse - Winchester, VA
Naro Expanded Cinema - Norfolk, VA
OPENS JULY 31
SIE Film Center - Denver, CO
Tropic Cinema - Key West, FL
Cinema Le Clap - Quebec City, QB
Dragonfly Cinema - Port Orchard, WA
OPENS AUGUST 6
South Bay Film Society - Torrance, CA
OPENS AUGUST 7
Cleveland Cinemas - Cedar Lee - Cleveland Hts, OH
OPENS AUGUST 13
Garde Arts Center - New London, CT
OPENS AUGUST 14
Darkside Cinema - Corvallis, OR
Tin Pan Theater - Bend, OR
OPENS AUGUST 21
The Loft - Tucson, AZ
PAST SCREENINGS
Jan 23 - Sundance Film Festival
Jan 24 - Sundance Film Festival
Jan 26 - Sundance Film Festival
Jan 28 - Sundance Film Festival
Jan 29 - Sundance Film Festival
Jan 30 - Sundance Film Festival
Mar 6 - True/False Film Festival
Mar 7 - True/False Film Festival
Mar 8 - True/False Film Festival
Mar 21 - Martha's Vineyard Film Festival
Mar 22 - Martha's Vineyard Film Festival
Apr 10 - Ashland Independent Film Festival
Apr 11 - Full Frame Documentary Film Festival
Apr 11 - Dallas International Film Festival
Apr 11 - Ashland Independent Film Festival
Apr 12 - Dallas International Film Festival
Apr 12 - Florida Film Festival
Apr 12 - Ashland Independent Film Festival
Apr 16 - Sarasota Film Festival
Apr 16 - Florida Film Festival
Apr 16 - Sarasota Film Festival
Apr 18 - Sarasota Film Festival
Apr 22 - Tribeca Film Festival
Apr 24 - Tribeca Film Festival
Apr 26 - Tribeca Film Festival
Apr 27 - Independent Film Festival Boston
May 2 - Docville, Belgium
May 5 - Documenta Madrid
May 6 - Docville, Belgium
May 7 - Documenta Madrid
May 9 - Louisiana International Film Festival
May 9 - Docville, Belgium
May 16 - Little Rock Film Festival
May 22 - MountainFilm Telluride
May 23 - MountainFilm Telluride
May 29 - Berkshire International Film Festival
May 30 - Berkshire International Film Festival
May 30 - Mammoth Lakes Film Festival
Jun 1 - Seattle International Film Festival
Jun 2 - Seattle International Film Festival
Jun 6 - Sydney Film Festival
Jun 6 - Sheffield International Film Festival
Jun 9 - Sheffield International Film Festival
Jun 10 - Champs Elysee Film Festival
Jun 11 - Human Rights Watch Film Festival
Jun 12 - Champs Elysee Film Festival
Jun 16 - Champs Elysee Film Festival
Jun 18 - AFI Docs
Jun 19 - AFI Docs
Jun 27 - Nantucket Film Festival
Jun 28 - Nantucket Film Festival
Jun 28 - Aspen Ideas Festival
July 3 - Sundance Cinema - Madison, WI
---
Hour 3
Hour 3+BONUS
2015-07-28 Hour 3 Devon Read, Ryan Taylor from Ernest Hancock on Vimeo.
Devon Read and Ryan Taylor
Blocktech - The Decentralized Library of Alexandria
Webpage: http://blocktech.com/
Devon Bio: Founder of the Decentralized Library of Alexandria. Former Hollywood visual effects artist, dial-up ISP support tech, Apple creative, USMC infantryman and anti-war activist. Supporter of all things decentralized, open source and collaborative. Trying to live a zero-waste lifestyle in a consume and throw away world.
Ryan Bio: creative supporter of humanity, front-end developer and
livestreamer. Always exploring and connecting to help catalyze
grassroots movements and promote free speech for everyone.
===============================
Start with "Why?"
Sharing content on the web is currently an imperfect process. Content creators must depend on centrally-controlled servers, generating revenue based on ineffective, outdated, and restrictive advertising and DRM models. Governments censor what the people can watch, and creators often have their content deleted from the Internet without their consent. We can do better.
In keeping with open-source and peer-to-peer ideologies, Alexandria is a crowdfunded project. Building a decentralized, indelible peer-to-peer library is no small undertaking. The team building Alexandria is committed to making this a reality for the world and we are asking for your help. With your support, this lofty goal becomes attainable.
What is Alexandria?
An open-source distributed library for sharing and preserving art, history and culture. Imagine a platform like Youtube, Soundcloud, or Netflix - without any of the costly server or bandwidth overhead. Users can self-publish anything, including videos, music, books, 3D-printables, recipes, and more. Content creators have complete control over how their work is published with several different monetization options. Only the publisher has the power to remove her/his content from the library.
What Bitcoin did for money, Alexandria will do for digital content publishing and distribution by removing central points of failure and financially incentivizing users around the world.
How does it work?
Alexandria harnesses the power of distributed technologies, including IPFS and the Bitcoin and Florincoin blockchains. IPFS, based on BitTorrent technology, allows for the library to hold an inconceivable amount of content, while ensuring that content is delivered efficiently when demand is highest. Bitcoin is optionally used for audience-to-publisher payments. The Florincoin blockchain provides a permanent, publicly accessible publishing ledger and payments layer creating data permanence and financial incentive for users to contribute to the growth and security of the platform.
v0.5 Private Beta for Mac, Win & Linux
Distributed, persistent and unalterable library of art, history and culture
Media artifact publishing at low cost (~$0.01 currently)
Browse and search the entire library
Supported artifact types: Movies, Videos, Musics, Podcasts, Books, Documents, Things
In-app embedded and streaming artifacts
Share links to artifacts and publishers
Publisher choice to receive tips and use a "pay what you want" wall
In-app Bitcoin to Florincoin trade
APIs open-sourced on GitHub
v0.6 Open-Source Public Beta
Seed-as-a-Service (Librarian background app)
Crypto-Market-Historian (Librarian background app)
Library-Node (Librarian background app)
In-app IPFS file publishing
New artifact types: Recipes, Software, Games, Webpages
User purchase and tip history
Artifact comments via Florincoin tips
Free encrypted peer-to-peer messaging
First "Artifacts" app: San Francisco Bitcoin Meetup
All code open-sourced on GitHub with GPL license
v0.7 Open-Source Public Beta
Raspberry Pi client (open source set-top box)
Android app
v0.8 Open-Source Public Beta and Web Client:
Twitter-Historian (Librarian background app)
Browsable, searchable Tweet archives in Library
Subscribe to publishers to auto download and seed new artifacts
First web release at Alexandria.media and TOR hidden service
Users to seed while watching
"Publisher" app (streamlined, publisher-features-only)
v0.9 Release Candidate:
Zero-knowledge web wallet
ProTip integration for subscription-based payments to publishers
iOS app
v1.0 The Distributed Library of Alexandria
The Alexandria Team
Devon Read - Project Management
Ryan Taylor - Development
Joey Fiscella - Development
Niv Sardi - Development
Ryan Jordan - Design
Alan Tran - Comm. & Social Media
Loring Small - Engineering
Joe Peck - Legal
Nathan Stevens - Advising
Want to help with development or have some ideas you want to discuss? We'd love to hear from you! Contact the team to get involved.