Dr. Phranq Tamburri (Local Activist) comes on the show to give 'The Trump Report" - Ernest goes over the headline news on Freedom's Phoenix
Media Type: Audio • Time: 173 Minutes and 0 Secs
---
Hour 1 - 3
Media Type: Audio • Time: 173 Minutes and 0 Secs
Hour 1 -- Freedom's Phoenix Headline News
Hour 2&3 -- Dr. Phranq Tamburri (Local Activist) comes on the show to give 'The Trump Report"
CALL IN TO SHOW: 602-264-2800
October 1st, 2015
Declare Your Independence with Ernest Hancock
on LRN.FM / Monday - Friday
9 a.m. - Noon (EST)
Studio Line: 602-264-2800
Hour 1
2015-10-01 Hour 1 Freedom's Phoenix Headline News from Ernest Hancock on Vimeo.
Ernest Hancock
Freedom's Phoenix Headline News
---
Hour 2
Hour 2
2015-10-01 Hour 2 Phranq Tamburri from Ernest Hancock on Vimeo.
Dr. Phranq Tamburri, NMD
In Studio
Webpage: http://www.longevitymedical.com/physicians-staff/dr-phranq-tamburri-nmd/
==========================
TOPIC: The Trump Report - Update on Donald Trump's Campaign
==========================
Phranq's previous interviews on the Declare Your Independence with Ernest Hancock Radio Show:
https://www.freedomsphoenix.com/Guest-Page.htm?No=00672
==========================
Topics discussed...
CNBC raises the bar for upcoming GOP debate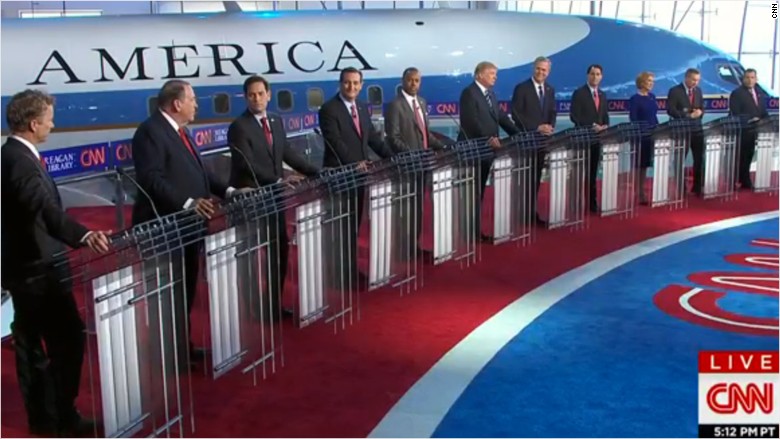 Low-polling Republican presidential hopefuls like Rand Paul and Chris Christie will need to clear a higher bar in order to make the main stage at next month's GOP primary debate.
CNBC announced Wednesday that candidates must have an average of at least 3% among recognized national polls in order to participate in their primetime debate on Oct. 28. Candidates who can't clear 3% will be relegated to the undercard debate.
That is a departure from the first two Republican contests, which took the top 10 or 11 candidates for the main stage based on an average of national polls, including some candidates who had less than 3% support.
It's not clear how many candidates would clear the 3% mark, but it is expected to put Paul, Christie and Mike Huckabee at risk of being relegated to the undercard. All three of those candidates are currently hovering around the 3% mark in an average of recent national polls.
Related: Donald Trump's economy vs. Jeb Bush's: Who wins
The fact that CNBC is even holding an undercard debate is surprising, given that Republican National Committee officials have said privately that the Sept. 16 debate would be the last to feature two rounds.
======================================
Ted Cruz snags former Ron Paul supporters
http://www.washingtonpost.com/news/post-politics/wp/2015/09/29/ted-cruz-snags-former-ron-paul-supporters/

Ted Cruz is siphoning off Rand Paul supporters. (Photo by Drew Angerer/Getty Images)
For months, the presidential campaign of Sen. Ted Cruz (R-Tex.) has quietly been courting libertarian-leaning supporters -- people who once supported Ron Paul and ostensibly would have been inclined to back his son, Sen. Rand Paul (R-Ky.) in the 2016 race.
On Tuesday, Cruz released a video showing eight former Ron Paul liberty movement supporters -- a number of them from Iowa -- who are now backing Cruz. The campaign announced that former Congressman Bob Barr will chair a Liberty Leaders for Cruz" coalition comprised of libertarian-leaning Republicans.
As Paul's campaign has floundered and Cruz remains in the middle of the pack, Cruz's campaign has made the case to Paul supporters that the Texas Republican can remain in the race for a long time -- and that while he does, he will espouse libertarian principles. At rallies this summer, Cruz has evoked the Fourth Amendment, railed against the Fed and talked about his efforts to end the bulk government collection of metadata.
In the video, Cruz's supporters talk about how both Pauls endorsed Cruz's 2012 Senate run and said they believe he has held positions consistent with the liberty movement, including a reluctance to send boots on the ground to Syria and support for Rand Paul's bill calling for an audit of the Fed.
"He's really picked up the mantle of Ron Paul in many ways," Joel Kurtinitis, a co-founder of Liberty Iowa and Ron Paul's 2012 regional director, says in the video.
---
Hour 3
Hour 3
2015-10-01 Hour 3 Phranq Tamburri from Ernest Hancock on Vimeo.
Dr. Phranq Tamburri, NMD
In Studio (Cont'd)
==========================
Topics discusses...
Bill O'Reilly Donald Trump FULL Interview. Trump ENDS Fox News Boycott
Donald Trump returned to Fox News tonight, effectively ending his boycott of the network, and faced a somewhat combative Bill O'Reilly, who told him he needs to be more "mature." After O'Reilly had on two contributors critical of Trump, The Donald lashed out on Twitter, called him "negative," and told him to stop having "Trump haters" on. This and other less-than-glowing coverage led Trump to announce a Fox News boycott that started last week and ended today. O'Reilly's criticized Trump since then, but when Trump ended his boycott tonight, Trump immediately told O'Reilly he's always considered him a fair person. The first segment was solely policy-focused, but the second segment was all about Trump's relationship with the press and O'Reilly specifically. O'Reilly asked, "Am I fair to say that in order for you to win the Republican nomination that you're going to have to change your style and be a bit kinder and more mature?"
Donld Trump sat with Bill O'Reilly Tonight ending his boycott on fox news. Bill O'Reilly asked Donald Trump tonight about his policy positions, including how he would deal with Russian President Vladimir Putin and Russia's growing presence in Syria. Trump said that in terms of leadership, he would give Putin an 'A,' while Obama isn't doing very well. He said that the U.S. invested trillions of dollars and thousands of American lives in the Middle East, and Putin is now taking over what we started. "He, frankly, wants to fight ISIS, and I think that's a wonderful thing," Trump said. "If he wants to fight ISIS, let him fight ISIS. Why do we always have to do everything?" O'Reilly said the downside of Putin fighting ISIS is that Russia will keep Syrian President Bashar al-Assad in power and then effectively control Syria. "We have given the Middle East to Putin and Iran, and they will run it for the foreseeable future," O'Reilly said. "I believe that's true," Trump said, pointing to incompetent U.S. leadership. Watch more from the "Factor" interview above.