Dave Hodges (The Common Sense Show) comes on the show to talk about GOP POTUS Circus, update on our civil liberties, the police state and the new world order - James Corbett (The Corbett Report) provides World News Update; topics range from the polit
Media Type: Audio • Time: 157 Minutes and 0 Secs
Media Type: Audio • Time: 56 Minutes and 48 Secs
Media Type: Audio • Time: 42 Minutes and 14 Secs
---
Hour 1 - 3
Media Type: Audio • Time: 157 Minutes and 0 Secs
Hour 1 -- Dave Hodges (The Common Sense Show) comes on the show to talk about GOP POTUS Circus, update on our civil liberties, the police state and the new world order
Hour 2 -- James Corbett (The Corbett Report) provides World News Update; topics range from the political circus, vaccinations, wars, etc...
Hour 3 - Ernest and Donna talk real estate and the coming bubble...
CALL IN TO SHOW: 602-264-2800
-30-
September 14th, 2016
Declare Your Independence with Ernest Hancock
on LRN.FM / Monday - Friday
9 a.m. - Noon (EST)
Studio Line: 602-264-2800
Hour 1
2016-09-14 Hour 1 Dave Hodges from Ernest Hancock on Vimeo.
Dave Hodges
The Common Sense Show
Dave Hodges — Host
The Common Sense Show features a wide variety of important topics that range from the loss of constitutional liberties, to the subsequent implementation of a police state under world governance, to exploring the limits of human potential. The primary purpose of The Common Sense Show is to provide Americans with the tools necessary to reclaim both our individual and national sovereignty.
Webpage: http://www.thecommonsenseshow.com/
============================
Dave's previous interviews on the Declare Your Independence with Ernest Hancock Radio Show:
https://www.freedomsphoenix.com/Guest-Page.htm?No=01043
============================
Latest Articles...
Gov. Documents Reveal The Take Down of America Could Be over In Two Years by Dave Hodges
09-14-2016 • The Common Sense Show - Dave Hodges
The CSS reader asked me a question and I thought this sounded suspect and I subsequently investigated. Here is what I found which was the result of this accurate tip.
When one follows the advertise of this FEMA position, one will observe the bolded SELECTIVE SERVICE Registration Requirement for the seemingly insignificant job of what looks like a glorified secretary position (i.e. administrative assistant).
Presently the gob opening is now closed to applicants. However, there is a very strange notation which include a requirement for the "Draft for all males up to age 56 who work for FEMA"
You must be a U.S. citizen to be considered for this position.
You must successfully pass a background investigation.
Travel will be required.
You must be able to obtain and maintain a Government credit card.
Selective service registration is required for males born after 12/31/59.
Administrative Support Assistant
FEDERAL EMERGENCY MANAGEMENT AGENCY
1 vacancy in the following location:
Winchester, VA
Work Schedule is Full Time – Temporary – Not to Exceed 2 Years
Opened Friday 9/9/2016 (5 day(s) ago)
Closed Monday 9/12/2016 (2 day(s) ago)
Salary Range
$43,684.00 to $56,790.00 / Per Year
Series & Grade
IC-0303-07/07
Promotion Potential
07
Supervisory Status
No
Control Number
450077300
Job Announcement Number
FEMA-16-AH-117544-CORE
The Devil Is In the Details
This seemingly innocuous job ad is very revealing if one knows that they are looking for. On the surface, this job advertisement would appear to be just another another boring civil service job, being offered by FEMA. However, there are a couple of very key phrases that should tip the readers off the fact that this is not your typical federal civil service position:
Selective service registration is required for males born after 12/31/59.
The United States suspended the draft in the mid-1970's and I have literally looked at dozens of advertised federal jobs and not one of them had a mandatory selective service registration is required for males born after 12/31/59. Let's compare this FEMA job advertisement to another sensitive job advertisement.
UWEX 16 Job Ad for Crisis Actors
In the first week of February, I published several documents pertaining to UWEX
What Will Be the Next False Flag?
September 11th, 2016
The JFK assassination, the Oklahoma City Bombing, the Boston Marathon Bombing, the London Subway Bombings and the events of 9/11, nothing ever changes. The public is looking at either a massive series of cover-ups or unwarranted secrecy with regard to the evidence leading to each crime.
The ink is dry on each on of these investigations, however, the government still withholds the evidence from public scrutiny like we are a bunch of little children too emotionally fragile to handle the truth. In each case, the actions of the government, related to needless secrecy, invites conspiracy theories. Therefore, once again, I add my voice in unison with the other voices who demand transparency in order that the public can determine if they agree with the government's findings in each one of these cases.
The Clinton Campaign Is Falling Apart
It is appropriate that on the anniversary of the 911 false flag event that we take stock of the topic of false flag events.
Clinton is on death's doorstep. She cannot physically compete with Donald Trump in a debate. I estimate, from honest polls, that she is behind, in real votes, by at least 25-30%. However, with massive voter fraud that looms over this election, that may not be enough. However, if the Trump lead continues to grow over the couple of weeks, there will be a false flag attack that will stop the election and return Obama to the White House.
What Form Will the Next False Flag Take?
1. Will we see a repeat of 911? Will we have the newest day that will live in infamy in which we lost over 3,000 countrymen and 15 years later, the victim's families have still not received closure because the facts are being held under lock and key by the government.
We will experience a cyber-attack upon our infrastructure and economic institutions? After all, in the Grid EX drills,we allowed the Russians and the Chinese to observe. In effect we handed them the keys to the car and showed them how to take down our grid. A grid down scenario would indeed bring our country to a standstill and provide the globalists an excuse to cancel the elections.
Will the next attack be nuclear, chemical or biological? Certainly, the CIA created ISIS has the ability to secure such weapons. This is a completely believable set of scenarios. I detailed nearly four years ago that a retired FEMA agent went into hiding with like-minded people because of what they felt was going to happen. In his departing message to me, he was quite clear, if the globalists cannot control the citizens of this country they were going unleash horrible weapons of mass destruction and blame the latest terrorist organization. We know that ISIS has been streaming into the country among the immigrants in the Refugee/Resettlement program. It is only a matter of time.
On this anniversary of 911, I think it is appropriate to keep asking question of the administration. Our insistence on the truth may buy us sometime for our eventual fate.
Youtube Is Hiding This Video! The Economy Is Collapsing — Martial law & Fema camps & NW- Ron Paul's Stern Warning
September 10th, 2016

Youtube Is Hiding This Video! The Economy Is Collapsing — Martial law & Fema camps & NWO
Youtube is trying to hide this video as they have already removed it! This is reminiscent of what Youtube did with the Jesse Ventura Conspiracy Theory TV show when he produced a stunning account of the prevalence of FEMA Camps across America.
I am shocked about how the social media ghetto has drawn in America to blatant censorship. There is more censorship in the social media than there is the Main Stream Media. There is none worse than Facebook. An "Assassinate Donald Trump" page is defended by Facebook on an ongoing basis as a "First Amendment right". However, thousands of posts which details Hillary Clinton's criminality, and now, her life-threatening health are removed by left wing ultra-liberals. Facebook has the audacity to demand some users send them their drivers license of they will terminate their account for false impersonation. Facebook is a disgusting piece of garbage and they need to be replaced. There is on glimmer of hope. A new site, Seen.life has emerged and has a similar platform to Facebook only without the censorship and blatant leftist, anti-American views. Seen.life boasts in excess of 110,000 members. If you are as disgusted by Facebook, an agent for obscuring the truth about Hillary, then you might want to give Seen.life a try.
Youtube is giving Facebook a run for its money when it comes to censorship. I became active in Youtube this past summer. Youtube is used to house the archives of The Common Sense Show. Also, I have discovered that some like listening and watching a 5 to 6 minute video as to reading an article. Our podcasts, which serves as a type of op-ed page are growing more popular. Yet, Youtube has initiated new terms of service in which they will demonitize or remove any video that is conservative. Pro-Hillary videos will never be tampered with. However, Pro-Trump, World War III, martial law, economic collapse videos are increasingly censored by Youtube. I know one person who make a video about a Fox News interview and it was removed. How did America get trapped in these social media ghettos? The Independent Media needs someone to step forward begin a media/video platform and compete with Youtube in the same manner as seen.life does with Facebook.
Over the past several years, I have detailed the presence of foreign troops on our soil. I have written volumes of material on FEMA Camps. I have covered the beliefs and statements of Ron Paul up until his retirement. All of these topics are forbidden on the liberal, left-wing, "let's hide the truth about the destruction of America".
The following graphic is my Youtube banner. My stories on Hillary's health, the unmanageable national debts and potential military conflict around the planet have all been censored by Youtube and Facebook.
The Hillary Files: How special interests that violate health, human rights and the environment have pre-purchased the Clinton presidency
September 10th, 2016


by Mike Adams, the Health Ranger
Natural News
(NaturalNews) NewsTarget.com has just launched a high-impact new White Paper called The Hillary Files.
You can download it instantly and read the full paper yourself (or cite it in your blog posts, articles, or films).
The paper details how a Hillary Clinton presidency has already been pre-purchased by powerful globalist corporations and political class "corporatists" who promote clear cutting forests, Big Oil interests, GMOs, pesticides, fracking, Big Pharma, widespread environmental pollution with biosludge and much more.
Click here to download the Hillary Files now from NewsTarget.com (our sister site that covers politics and tech).
The paper contains 312 cited references and provides an overwhelming mountain of evidence that Hillary Clinton is not just dangerous to America's liberties and economy, but also dangerous to America's environment, health freedoms and organic industry.
This paper is a call for both conservatives and progressives to reject Hillary Clinton on election day.
Here's the executive summary of the white paper:
EXECUTIVE SUMMARY of The Hillary Files
• From early in Clinton's career to the present day, she has been viewed as dishonest, self-serving, secretive, mired in scandal and beholden to special interests, and that pattern of behavior is well-documented in this paper.
• Her attempt as first lady to reform American healthcare failed, but she has embraced Obamacare's more socialistic trappings, such as broad government control over the healthcare market and a top-down, heavily regulated industry which has become more expensive and less serving to the American public.
• Clinton has shifted her positions on major regulatory and policy issues throughout her careers as a U.S. senator and two-time candidate for president, being heavily influenced by campaign contributions and foreign government access.
• Though she now claims to be an opponent of the oil and gas extraction technique known as hydraulic fracturing, or "fracking," as secretary of state she worked to expand the practice throughout the world.
• Clinton, her husband and the Clinton Family Foundation have been greatly enriched by domestic and foreign benefactors to whom she has granted special treatment and access while serving in an official capacity, rather than looking out for constituents and taxpayers.
• One of Clinton's most frequent benefactors is also one of the world's worst environmental offenders – Monsanto – whom she has consistently supported in practice, leading many to believe that, if she is elected president, the agri-business giant will control farming and environmental policy.
• Clinton backs an Environmental Protection Agency rule that allows for hazardous biosludge to be used as a fertilizer that poisons family gardens and other small agriculture endeavors.
• Clinton believes in, and touts, the phony global warming/climate change agenda, which will mean more regulations aimed at "curbing" its effects that will cost jobs, stunt the economy and result in heavy-handed governmental interference in daily lives.
• While claiming to be an opponent of Big Pharma, Clinton has taken millions in donations from the pharmaceutical industry and therefore is beholden to it, not to the American health consumer.
• A long-time advocate for vaccines, Clinton has been pushing for mandatory vaccination since her time as first lady with a program begun in 1993.
• As a Monsanto backer, Clinton also supports genetically modified crops and foods and will use her influence with other world leaders to expand damaging GMOs all over the world, while opposing mandatory GMO food labeling laws being pushed or passed by several states.
• She supports Obama's virtual "open-door" immigration policies that defy her position as champion of women's health and rights, since many women are victimized by illegal immigrants every day.
• Clinton voted in favor of the Iraq War and has a poor record of foreign policy management, as evidenced by that vote and the unrest she helped foment all across the Middle East.
Stay informed about Hillary Clinton news at Clinton.news, and use GoodGopher.com to search the alternative news universe for breaking stories that are censored in the mainstream media. This white paper was written by the editors of NewsTarget.com.
Click here to download the Hillary Files now from NewsTarget.com (our sister site that covers politics and tech)
Learn more by clicking here
American Health Under Attack by the FDA
September 10th, 2016
Only Congress has the power to make law. The FDA has granted itself powers above and beyond Congress
On the show Sunday we covered a variety of breaking topics in the health world and here are a few.
Kratom-Gun Rights & Medical Marijuana-Zika Spraying Activism
*There is a battle going on once again between the powers of nature and the powers that be. A miraculous medicinal plant called Kratom is being captured by the overlords of health all in the name of the best interest of our good. We all know that is code for "we, the drug companies are going to steal this natural plant made for mankind, and we will somehow make a profit off it and make sure nothing interferes with our billion dollar drug industry." Like the battle with Marijuana, this too is on the front burner and not going away. The people got involved this time and shut down the DEA from this absurd move to make it illegal….for now.
*The next report is about these same powers that be who have this notion they have the power to inform us that our God given right to defend ourselves and exercise our 2nd amendment rights should be taken away because we may need the utilize the healing properties of a medicinal plant called Marijuana? But using dangerous synthetic pharmaceuticals is just dandy. Out of my cold, dead hands!
*In our final story, we cover the decimation of 2.5 million honey bees in NC from the spraying of Naled over the population all in the name of the ZIKA fraud! Spraying thousands of pounds of neurotoxins above the city without the people's consent much less their awareness is criminal. My suggestion on the show was to get involved! Let your city council know you're watching them! Show up and give them the facts on this toxin and say hell no! Sure enough, in Miami last Wednesday, a group of about 100 protesters did just that. They showed up at their local city counsel meeting and voiced their indignation at this criminal act. The drones in government were given their marching orders to spray but not before an angry public let them know what they thought. The spraying was postponed for two days. It's a start! The politicians are on notice!
Public activism is alive and well and growing by the day.
Enough is Enough!
---
Hour 2
Media Type: Audio • Time: 56 Minutes and 48 Secs
Hour 2 -- James Corbett (The Corbett Report) provides World News Update; topics range from the political circus, vaccinations, wars, etc...
-30-
Hour 2
2016-09-14 Hour 2 James Corbett from Ernest Hancock on Vimeo.
James Corbett
The Corbett Report
Webpage: CorbettReport.Com
James Corbett (The Corbett Report) provides World News Update; topics range from the political circus, MSM liars, technocracy, etc...
James's previous interviews on the Declare Your Independence with Ernest Hancock Radio Show:
https://www.freedomsphoenix.com/Guest-Page.htm?No=01092
============================
Latest Videos...
Interview 1209 – James Corbett on Lions of Liberty
Corbett • 09/14/2016 •
via LionsOfLiberty.com: In today's episode of Lions of Liberty, recorded in August 2016, host Marc Clair welcomes in independent journalist James Corbett of The Corbett Report to take a look at the recent release of the "28 pages" and how it relates to research he has done on the subject of September 11, 2001.
Smashing the Lies With 9/11 Truth
Corbett • 09/13/2016 •
Thank you for your help in spreading the word about the 9/11 Suspects series. Christine Todd Whitman is now issuing her first (non) "apology" in 15 years, just days after the release of the Whitman suspect video. Can we get any other responses?
9/11 Suspects: Dancing Israelis
Corbett • 09/11/2016 •
TRANSCRIPT
DAN RATHER: "Some evil is just … it can't be explained."
DAVID LETTERMAN: "Are these people happy? Are they joyous now? Are they celebrating? Thank God?"
DAN RATHER: "Oh absolutely, they're celebrating. There's one report, this has not been confirmed but there is several eye[witness] reports that there was a cell, one of these cells across the Hudson River. And they got on the … this is the report and I emphasize that I don't know this for a fact but there's several witnesses who say this happened. They got on the roof of a building to look across, they knew what was gonna happen. They were waiting for it to happen and when it happened they celebrated. They jumped for joy."
(SOURCE: The Late Show with David Letterman – 09/17/01)
In the days after 9/11, while Ground Zero continued to smoulder, millions heard Dan Rather and various media outlets repeat vague and unconfirmed reports of arrests that took place that day. These rumors held that Middle Eastern men, presumably Arabs, were arrested in explosive-packed vans in various places around the city on September 11th, and that some had even been photographing and celebrating those events. What most do not realize is that those reports were not mere rumors, and we now have thousands of pages of FBI, CIA and DOJ reports documenting those arrests.
MARIA: "I grabbed my binoculars and I'm trying to look at the Twin Towers but what caught my attention was down there I see this van parked and I see 3 guys on top of the van. They seemed to be taking a movie and I could see that they were like happy and laughing. They didn't look shocked to me, you know what I mean? They didn't look shocked."
(SOURCE: The Five Dancing Israelis – 9/11/2001 – Our Purpose Was To Document The Event)
The men were spotted shortly after 8:46 AM, yet somehow at this early stage, just minutes after the first plane strike on the World Trade Center, they were already positioned in a parking lot in Liberty State Park, taking pictures of the towers and celebrating. They left the scene shortly after being spotted and at 3:31 PM the FBI issued an all points bulletin advising officers in the Greater New York area to be on the lookout for a "White, 2000 Chevrolet van…with 'Urban Moving Systems' sign on back."
At 3:56 PM, the van was spotted traveling eastward on State Route 3 in New Jersey and pulled over by Officer Scott DeCarlo and Sgt. Dennis Rivelli of the East Rutherford police department. Inside they found five men: Sivan Kurzberg and his brother, Paul, Yaron Shmuel, Oded Ellner, and Omar Marmari.
Corbett • 09/09/2016 •
TRANSCRIPT
According to the official story of September 11, 2001, four hijacked airliners flew wildly off course over the most sensitive airspace in the United States for 109 minutes without being intercepted by a single fighter jet. As Commander-in-Chief of the North American Aerospace Defense Command on 9/11, General Ralph Eberhart was in charge of the largest failure to defend North American airspace in history.
Rather than accepting blame for his command's complete lack of response that morning, however, or even expressing regret about what had occurred, General Eberhart instead spent the rest of his career attempting to pin the blame for this failure squarely on the FAA.
GEN. EBERHART: You've read a lot over the last two and a half years about what NORAD did and did not do that morning and should have done in the years and months leading up to that attack. Ground truth is that NORAD was charged to support the FAA in the event of a hijacking. Our role was to respond to the request from FAA to get airborne, fly, shadow the hijacked airplane, say whether the hijacked airplane was following the instructions of the air traffic controller, of FAA. And in a terrible situation that that plane crashed, or that airplane exploded in mid-air, document that tragedy.
(Source: Homeland Defense in the Global War on Terrorism)
Although Eberhart's version of events was cemented into place as the official story of 9/11 propounded by the 9/11 commission, they are in fact self-serving lies.
In Eberhart's version of events, NORAD is completely subordinate to the FAA. In reality, however, NORAD is specifically tasked with dealing with such events itself, not waiting passively for FAA orders. NORAD's own regulations for dealing with hijacked jets specifically state that "FAA Authorization for Interceptor Operations is not used for intercept and airborne surveillance of hijacked aircraft within the [continental United States]."
These standard operating procedures were not merely theoretical, or some obscure regulation that would have been unfamiliar to the four-star general in charge of defending American airspace. In the year 2000 alone, NORAD scrambled fighters in response to "unknowns"–pilots who didn't file or diverted from flight plans or used the wrong frequency–129 times.
Perhaps even more remarkable, however, is that Eberhart and NORAD offered not one, not two, not three, but four separate timelines of their complete lack of response that morning. The first, offered by Chairman of the Joint Chiefs of Staff Richard Myers just two days after the attacks during his confirmation hearings in the Senate, claimed that not a single fighter was scrambled to intercept any of the airliners until after the incident at the Pentagon. One week later, NORAD released a partial timeline that indicated they had in fact received advance notification about three of the planes with as much as 20 minutes warning, more than enough time for the planes to have been intercepted. A third story emerged in May 2003; this time, NORAD was only contacted about Flight 175 at 9:05, 3 minutes after it crashed into the south tower. The official story, found in the 9/11 Commission's final report, was that NORAD received no advance notice of any of the flights. Eberhart and the military were completely exonerated.
==============================
Latest Articles...
Clinton's Email Scandal Is Much Bigger Than Clinton
Corbett • 09/14/2016 •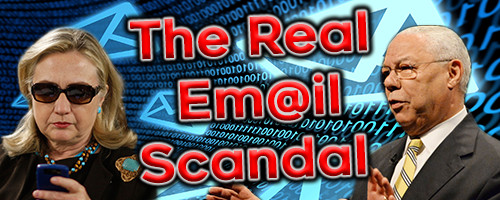 In yet another sign that the establishment media has completely lost any semblance of a grounding in reality, the Washington Post just opined that "The Hillary Clinton email story is out of control," whining about how much attention the story of Clinton's homebrew email system is receiving in this campaign. This despite the fact that the facts on the ground here are incontrovertible:
Hillary Clinton used a private (and unsecured) email server for official State Department communications during her time as Secretary of State.
She asked aides to "wipe her servers" after the State Department finally got around to asking her for emails related to her public record; they responded by smashing her 13 blackberries with hammers.
She withheld 17,500 work related emails from FBI agents.
She lied about receiving classified material over the server.
The best the FBI could do in deciding not to prosecute her (after the mysterious tarmac meeting between Loretta and Bill) was to say she was too stupid to know that "c" meant classified and that her actions were extremely careless.
If she had been anyone else, Hillary Clinton would have been in jail by now.
But never mind all of that; the Washington Post has decided that the public is too concerned about the issue so I guess it's time to move on, right?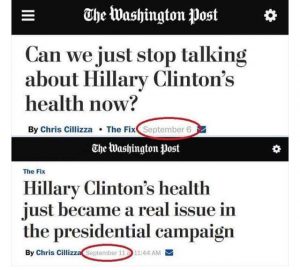 Wrong. Thankfully this is 2016 not 1966, and the dinosaur media no longer dictates the news cycle like they used to. CNN and the NYT can call it a "stumble" all they want, but we've seen the video; we know that Clinton's feet didn't move at all and she was literally dragged into that van. Similarly, we don't have to take the talking heads word for it; we know that Clinton broke the law with the emails, tried to lie her way out of it, and has only gotten away with it because of her political connections (and the body count, of course; let's not forget the body count).
But as it turns out, there's an even bigger story here than Clinton's illegal activities or the establishment media's willingness to cover it up.
A new email exchange between Clinton and former Secretary of State Colin Powell has just been released. In it, Powell is remarkably frank about how he defied CIA/NSA and State Department orders not to use personal computers and how to avoid leaving a data trail that could become part of the public record (and thus subject to FOIA):
"I didn't have a BlackBerry. What I did do was have a personal computer that was hooked up to a private phone line (sounds ancient.) So I could communicate with a wide range of friends directly without it going through the State Department servers. I even used it to do business with some foreign leaders and some of the senior folks in the Department on their personal email accounts
"However, there is a real danger. If it is public that you have a BlackBerry and it is government and you are using it, government or not, to do business, it may become an official record and subject to the law. Reading about the President's BB rules this morning, it sounds like it won't be as useful as it used to be. Be very careful. I got around it all by not saying much and not using systems that captured the data."
Shocking, right? Well, it's much worse. It's not just Secretaries of State pulling these kinds of shenanigans to evade potential FOIAs and cover up whatever they're trying to cover up when "do[ing] business with some foreign leaders." It's all of government trying to do this.
As TechDirt points out, it wasn't until 2014 that the DC Circuit Court finally ruled that city officials couldn't use private servers to hide information from the public record anymore.
And as long-time Corbert Reporteers will remember, the FBI goes to remarkable lengths to create separate storage devices for investigatory material that they use to keep information from being FOIA-ed.
The point here is not in any way to exonerate Clinton, of course. She is vile, corrupt, a criminal, a neocon warmonger, and, oh yeah, a threat to all of humanity.
The point is that if the powers-that-shouldn't-be truly don't want you to know about a piece of sensitive information then it isn't going to be available via FOIA.
But if you're reading this, then you probably already knew that. And if you didn't know it, maybe it's time to put down The Washington Post and spend more time with the alt media.
Only 9/11 Truth Can Smash The 9/11 Lies
Corbett • 09/11/2016 •
by James Corbett
corbettreport.com
September 11, 2016
15 years. 15 long years, unfolding with the inevitability of a horror film.
The PATRIOT Act.
The Department of Homeland Security.
The NSA panopticon.
The militarization of Police State USA.
The occupation of Afghanistan.
The ongoing war in Iraq.
The continuing disintegration of the Middle East in line with the neocon's long-term plans.
All of this, and so much more, is all justified by the grandstanding politicians and their mouthpiece media by the events of 9/11, "the day that changed everything."
9/11 is a blank check for the sociopaths to further the technocratic control grid and to wage war in whichever square of the chessboard they place their terrorist boogeymen. And there is only one way to cancel that check: 9/11 truth.
Yes, you know that 9/11 was not the work of 19 men with box cutters. But your friends and coworkers don't. And maybe you can't paint the picture for them yourself. But there are plenty of ways to help explain it to people.
Most people have erected a mental barrier to 9/11 truth. Here's a sledgehammer with which to smash that barrier:
Most people have no idea about the 9/11 money trail. Enlighten them with this:
Most people don't know about who really engineered the 9/11 attacks. Show them this:
Most people couldn't name any of the suspects who could be indicted tomorrow for their part in the crimes and cover up of 9/11. Bust their ignorance with this:
Only 9/11 truth can truly stop the never-ending wars and the ever-encroaching police state of the post-9/11 world. Do your part in spreading the word. There is still much work left to be done.
The Corbett Report has been working on 9/11 truth and other issues that the mainstream media won't touch for 9 years. This work is a labour of passion and dedication, but I need your support to continue making this website possible. If you haven't signed up for a Corbett Report membership, please consider doing so via the Support page, or please become a patron of this website on my new Patreon account. Thank you.
=============================
TOPICS DISCUSSED ON THE SHOW...
Censored: Israeli software spying on US - AmDocs Comverse Infosys Carl Cameron Dec 2001 :
Published on Jul 25, 2013
All 4 parts of this subsequently censored Fox News report from December 2001
Fox News Special Report. Part One. BRIT HUME, HOST: It has been more than 16 years since a civilian working for the Navy was charged with passing secrets to Israel. Jonathan Pollard pled guilty to conspiracy to commit espionage and is serving a life sentence. At first, Israeli leaders claimed Pollard was part of a rogue operation, but later took responsibility for his work. Now Fox News has learned some U.S. investigators believe that there are Israelis again very much engaged in spying in and on the U.S., who may have known things they didn't tell us before Sept. 11. Fox News correspondent Carl Cameron has details in the first of a four-part series."

"Since September 11, more than 60 Israelis have been arrested or detained, either under the new patriot anti-terrorist law, or for immigration violations. A handful of active Israeli military were among those detained, according to investigators, who say some of the detainees also failed polygraph questions when asked about alleged surveillance activities against and in the United States. There is no indication that the Israelis were involved in the 9/11 attacks, but investigators suspect that the Israelis may have gathered intelligence about the attacks in advance, and not shared it. A highly placed investigator said there are 'tie-ins' ... Numerous classified documents obtained by Fox News indicate that even prior to September 11, as many as 140 other Israelis had been detained or arrested in a secretive and sprawling investigation into suspected espionage by Israelis in the United States." Carl Cameron 14Dec2001

According to Carl Cameron of Fox News -- in a series of reports that have subsequently disappeared from the Fox News website -- in 1997 the Israelis organized "cocaine and ecstasy trafficking, and sophisticated white-collar credit card and computer fraud... the bad guys had the cops beepers, cell phones, even home phones under surveillance. Some who did get caught admitted to having hundreds of numbers and using them to avoid arrest." An investigation revealed the Israeli crime network possessed "extensive access to database systems to identify pertinent personal and biographical information" of law enforcement officers. How did a network of drug dealers get this sensitive information? "When investigators tried to find out where the information might have come from, they looked at Amdocs, a publicly traded firm based in Israel," Cameron reported. "Amdocs generates billing data for virtually every call in America, and they do credit checks." But it seems Amdocs was not only involved with Israeli drug dealers. "More than two dozen U.S. intelligence, counter-intelligence, law-enforcement and other officials have told Insight [magazine] that the FBI believes Israel has intercepted telephone and modem communications on some of the most sensitive lines of the U.S. government on an ongoing basis," write J. Michael Waller and Paul Rodriguez. "The worst penetrations are believed to be in the State Department. But others say the supposedly secure telephone systems in the White House, Defense Department and Justice Department may have been compromised as well. The problem for FBI agents in the famed Division 5, however, isn't just what they have uncovered, which is substantial, but what they don't know yet." Amdocs "helped Bell Atlantic install new telephone lines in the White House in 1997... [and] a senior-level employee of Amdocs had a separate T1 data phone line installed from his base outside of St. Louis that was connected directly to Israel... investigators are looking into whether the owner of the T1 line had a 'real time' capacity to intercept phone calls from both the White House and other government offices around Washington, and sustained the line for some time, sources said. Sources familiar with the investigation say FBI agents on the case sought an arrest warrant for the St. Louis employee but [Clinton] Justice Department officials quashed it." Waller and Rodriguez quoted one senior government official as saying: "It is a politically sensitive matter. I can't comment on it beyond telling you that anything involving Israel on this particular matter is off-limits. It's that hot."
http://www.newsfollowup.com/amdocs.ht...
---
Hour 3
Media Type: Audio • Time: 42 Minutes and 14 Secs
Hour 3 - Ernest and Donna talk real estate and the coming bubble...
-30-
Hour 3
2016-09-14 Hour 3 Donna Hancock from Ernest Hancock on Vimeo.
Ernest and Donna Hancock
=====================
Donna went to a real estate housing bubble class yesterday and here is some of the information from the class
Presenter was Lee Honish, a former bank asset manger who was not happy with his job in life during the last bubble. So....as a real estate agent, he created a way to capitalize on the next bubble that he sees coming.Here is is webpage|:
and his system is Monster Marketing:
https://honish.com/monster-webinar-replay-lee-honish-real-estate-marketing/