L Neil Smith (Libertarian Author) comes on the show to give us an update on what he has been doing of late, new novel coming soon - Scott Horton (Scott Horton Radio) on the Russia, Turkey, South China Sea, Elections, - Steve Miller (Investigative Jou
Media Type: Audio • Time: 173 Minutes and 0 Secs
Media Type: Audio • Time: 56 Minutes and 06 Secs
Media Type: Audio • Time: 56 Minutes and 53 Secs
---
Hour 1 - 3
Media Type: Audio • Time: 173 Minutes and 0 Secs
Hour 1 -- L Neil Smith (Libertarian Author) comes on the show to give us an update on what he has been doing of late, new novel coming soon
Hour 2 -- Scott Horton (Scott Horton Radio) on the Russia, Turkey, South China Sea, Elections, etc..
Hour 3 - Steve Miller (Investigative Journalist) on elderly abuse
CALL IN TO SHOW: 602-264-2800
-30-
September 16th, 2016
Declare Your Independence with Ernest Hancock
on LRN.FM / Monday - Friday
9 a.m. - Noon (EST)
Studio Line: 602-264-2800
Hour 1
2016-09-16 Hour 1 L Neil Smith from Ernest Hancock on Vimeo.
L Neil Smith
Libertarian Author
L. Neil Smith was born in Denver, Colorado on May 12th, 1946. His father was in the Air Force, so he grew up all over the North America in places like Waco, McQueenie, and La Porte, Texas; Salina, Kansas; Sacramento, California; and Gifford, Illinois -- all before he was in 5th grade -- and then St. John's, Newfoundland and Ft. Walton Beach, Florida where he graduated from high school.
Along the way, Neil acquired a deep interest in science and history, and studied Latin and German. He began shooting when he was around 11 years old, through a joint program of the National Rifle Association and the Boy Scouts of America. Ultimately, he won the rank of Eagle Scout and "more sharpshooter bars than I can remember".
Music -- primarily guitar and banjo -- has always been a large part of Neil's life. (Lyrics to several of his songs may be found in his novel The WarDove.) In high school and college, he led a number of small groups and bands including the Shady Grove Singers, The Roughriders, and the Original Beautiful Dreamer Marching Jug Band. His first "real" job was as a banjo player at a Shakey's pizza parlor.
Greatly preferring science fiction to anything else, Neil's boyhood favorites were Arthur Clarke, Theodore Sturgeon, Isaac Asimov, Richard Wilson, Robert Scheckley, and of course, Robert Heinlein. It was through his interest in science fiction that he encountered the works of Ayn Rand in 1961, when he read Anthem, The Fountainhead, and Atlas Shrugged and knew he had found the worldview that would guide him the rest of his life. He also recognized the unique way the ideas of Rand and Heinlein compliment each other, and it was this direction he began to take philosophically and politically.
Neil joined the Libertarian Party in 1972 (serving on the national platform committee in 1977 and 1979) and became a life member of the NRA in 1974. It was in 1972 that he met the great libertarian teacher Robert LeFevre. In 1977, frustrated by the course American politics was taking, Neil began work on a highly polemic science fiction novel, originally titled The Constitution Conspiracy, which he hoped would do the same thing for libertarianism that Harriet Beecher Stowe's Uncle Tom's Cabin did for Abolitionism or Edward Bellamy's Looking Backward and the works of H.G. Wells did for socialism.
That novel was published in December of 1979, by Random House, the first publisher that read it, under the more familiar title The Probability Broach. It was the first of 21 L. Neil Smith books (so far), including The Crystal Empire, Henry Martyn, Pallas, Bretta Martyn, Star Wars: The Lando Calrissian Adventures, and most recently The Mitzvah, with Aaron Zelman. At the moment he's working on three books, one with famous cartoonist and humor writer Rex F. "Baloo" May. A highly prophetic author, Neil's writings have predicted, among other things, the collapse of the Soviet Empire, the internet as we now know it, and the digital watch.
For several years, Neil was an enthusiastic competitive shooter, favoring NRA Hunter's Pistol, the half-scale version of international handgun metallic pistol (he used a S&W 10m/m revolver and shot in the mid 20s). He plans to resume competition when he can find the time. At present and for the foreseeable future, he lives in Fort Collins, Colorado with his wife Cathy, his daughter Rylla, and two cats, Amber and Ambrose.
Webpages:
===============================
L Neil Smith's Books:
http://lneilsmith.org/lns_books.html
The Probability Broach (Del Rey, 1980) (see below for the 1996 re-issue) image size: 50,198-bytes
The Venus Belt (Del Rey, 1980) image size: 56,526-bytes
Their Majesties' Bucketeers (Del Rey, 1981) image size: 55,063-bytes
The Nagasaki Vector (Del Rey, 1983) image size: 46,131-bytes
Lando Calrissian and the Mindharp of Sharu (Del Rey, 1983) image size: 42,023-bytes
Lando Calrissian and the Flamewind of Oseon (Del Rey, 1983) image size is 50,174-bytes
Lando Calrissian and the Starcave of ThonBoka (Del Rey, 1983) image size: 37,806-bytes
Tom Paine Maru (Del Rey, 1984) image size is 36,560-bytes
The Gallatin Divergence (Del Rey, 1985) image size is 52,985-bytes
The Wardove (Ace, 1986) image size is 45,725-bytes
The Crystal Empire (Tor, 1986) image size is 74,746-bytes
Brightsuit MacBear (Avon, 1988) image size is 69,720-bytes
Taflak Lysandra (Avon, 1989) image size is 57,925
Henry Martyn (Tor, 1989) image size is 44,663-bytes
Contact and Commune (Warner/Questar, 1990) image size is 49,645-bytes
Converse and Conflict (Warner/Questar, 1990) image size is 57,548-bytes
Concert and Cosmos (not [yet!] published)(Coming April 2000!)
Open Space, a Marvel comic, contains an story scripted by L. Neil Smith image size is 87,562-bytes
Pallas (Tor, 1991) image size is 54,410-bytes
The Probability Broach -- Republished, in unexpurgated form, by TOR Books in October, 1996. image size is 66,578, and 50,198 bytes
Bretta Martyn -- published in August, 1997. image size is 121,134-bytes
Free Space contains a story by L. Neil Smith image size is 100,216-bytes
Bretta Martyn -- paperback, published in October, 1998. image size is 49,070-bytes
The Mitzvah -- paperback, published in 1999. image size is 42,841-bytes
Forge of the Elders -- published April 2000 (image size is 58,683-bytes)
Lever Action -- published April, 2001 (image size is 53,039-bytes)
Hope -- paperback, published in August, 2001 (image size is 41,301-bytes)
The American Zone -- published Nobember, 2001 (image size is 74-279-bytes)
The Probability Broach -- Republished, in a trade paperback edition, by TOR Books in December, 2001. (image size is 54,404-bytes)
The Probability Broach: The Graphic Novel
(with Scott Bieser). Published by Bighead Press, November 2004. (image size is 82,866-bytes)
Tom Paine Maru (eBook, 2005) image size: 84,518-bytes)[New!]
======================
TOPICS REFERENCED ON SHOW...
Why trust the politicians who take your guns?
http://www.wmsa.net/legacy-wmsa/news/ArizonaRepublic/ar-020601_trust_politicians.htm
By Ernest Hancock
June 01, 2002
I am often associated with the gun-rights issue but most in the media and public service know that my main interest is freedom.
Between my IRS tax-day protests, lawsuits, campaigns, freedom initiatives, Diamondback rattlesnake barbecues and helping desperate people deal with oppressive governments, there has always been attention to gun rights.
Why is this issue such a touchstone for freedom lovers?
Even politicians who want to be known as "pro-gun" hate having to discuss the issue with reporters or be too specific, even with supporters. They hate it because it is an MRI into their character.
It is a Vulcan mind-meld, as my friend and gun-rights author L. Neil Smith calls the gun issue. It is the ultimate test by which any politician or political philosophy can be evaluated.
If a politician isn't comfortable with any individual being able to walk into a hardware store, pay cash for any firearm without producing identification or signing a single scrap of paper (and that individual being able to carry that protection concealed or open), then that politician does not support freedom.
Gun-control laws only disarm potential victims, thus creating a safe work environment for criminals - kind of like an OSHA for felons. And criminals won't be deterred from getting a weapon because of a law. Criminals don't follow laws. Any attempt to rid the world of a tool that would give my 130-pound wife a fighting chance against a 230-pound man would be immoral.
This test is very revealing about how someone seeking your vote really feels about you. If he doesn't want you to have the means to defend your life, do you want him in a position to control it?
If a politician thinks that the highest law of the land, the Bill of Rights, is nothing more than a guideline for government, do you want to entrust him with anything?
Try it yourself: if a politician won't trust you, why should you trust him?
If he's a man, what does his lack of trust tell you about his real attitude toward women? If "he" happens to be a woman, what makes her so eager to render her fellow women helpless on the mean and seedy streets her policies helped create?
Should you believe politicians who claim they stand for freedom, but drag their feet and make excuses about repealing limits on your right to own and carry weapons? What does this tell you about their real motives, when they ignore voters and ram through legislation actively opposed by a majority of their constituents?
Makes voting simpler, doesn't it? You don't have to study every issue. Just use this X-ray machine, this Vulcan mind-meld, to find out how politicians really feel. About you. That, of course, is why they hate it.
And that's why I'm accused of being a single-issue activist, thinker and voter.
But it isn't true, is it?
Ernest Hancock is a Phoenix restaurant owner and Libertarian. Since 1990, he has run for secretary of state, Congress (District 4) and state House of Representatives (District 18). In a suit filed May 14 with the state Supreme Court, he asked for a ruling that the state can't tell him whether he can carry a gun on public property.
---
Hour 2
Media Type: Audio • Time: 56 Minutes and 06 Secs
Hour 2 -- Scott Horton (Scott Horton Radio) on the Russia, Syria,Turkey, South China Sea, Elections, etc..
-30-
Hour 2
2016-09-16 Hour 2 Scott Horton from Ernest Hancock on Vimeo.
Scott Horton
TOPICS: Scott Horton (Scott Horton Radio) provides a world news update...
==========================
Scott's previous interviews on the Declare Your Independence with Ernest Hancock Radio Show:
https://www.freedomsphoenix.com/Guest-Page.htm?No=00040
==========================
TOPICS AND REFERENCES...
---
Hour 3
Media Type: Audio • Time: 56 Minutes and 53 Secs
Hour 3 - Steve Miller (Investigative Journalist) on elderly abuse
-30-
Hour 3
2016-09-16 Hour 3 Steve Miller from Ernest Hancock on Vimeo.
Steve Miller
Investigative Journalist
Webpage: http://www.guardianabusecases.com/
Guardianship: An American Horror Story by M Larson
A Must-Read new Book that Details an Epidemic of Abuse of the Elderly
Guardianship: How Judges and Lawyers Steal Your Money is a must-read about a greedy plague among our elderly and disabled. Appointed by courts for various reasons, guardianships strip an otherwise sane, engaged older adult of their freedom while depleting their resources in an ugly loop that seems to mostly benefit lawyers. It is the definitive roadmap of solutions for concerned relatives who try to correct the crimes against a loved one's estate, health and even life. Guardianship is a compilation of articles written by journalist, attorneys, and other advocates across the nation (with permission). Our collective goal is to make this serious crime public since the process needs to be changed.
Exploitive Guardians are a very real threat to the Boomer generation, the last of our financially secure generations, a group of some 76 million individuals. 76 million people who, at the whim of a court, can have their personal freedoms stripped away, have their assets taken forcibly, and are subject to abuse in many cases. As a society, we have allowed for the active victimization of a massive segment of our population.
"Professional guardians are a cottage industry that is becoming more organized and powerful as lawyers and probate judges realize what a gold mine it is to take over the lives and assets of elderly Americans to the detriment of their heirs. Once a court ordered guardianship is established, the elderly person's finances are under complete control of the appointed guardian who may or may not be a loving family member," says Dr. Sam Sugar from South Florida, on behalf of Americans against Abusive Probate Guardianship (AAAPG). "It's just another indication of how this racket has infiltrated and corrupted our most sacred judicial process and turned it into a cash cow for the stakeholders in this predatory legal system, which threatens every single older adult in America."
The Government Accountability Office (GOA) identified hundreds of allegations of abuse, neglect, and financial exploitation by guardians in 45 states and the District of Columbia between 1990 and 2010. In another study, the GAO found that in 20 cases, guardians "stole or improperly obtained $5.4 million in assets from 158 incapacitated victims."
Consider this:. A businessman accused of orchestrating a $1 billion Medicare and Medicaid fraud scheme in South Florida will be staying in jail until his trial. Court records show a Miami federal judge on Friday denied bail for 47-year-old Philip Esformes, finding he was a flight risk and might obstruct the ongoing investigation. Esformes faces a potential life prison sentence if convicted of multiple fraud, conspiracy and other charges. Authorities say Esformes ran 30 nursing homes and assisted living facilities that used a network of corrupt doctors and hospitals to refer thousands of patients to the facilities even though they did not qualify for services. Esformes and others also allegedly got kickbacks for steering patients to other health centers. The Justice Department says it's the largest health fraud case in U.S. history.
Steve Miller, a former Las Vegas City Councilman, former Clark County Regional Transportation Commissioner, Chairman Emeritus of Goodwill Industries of Southern Nevada, and President Emeritus of Opportunity Village, a charity, has been writing about guardianship fraud for over ten years. One of his stories prompted a television ad in a highly charged political race in Nevada. The story is about a "guardian" Jared E. Shafer who is being sued for "embezzling" $420,000.00 from a 95 year old former "ward" by his daughter. Guadalupe Olvera was a WWII veteran; fortunately his daughter was warned to get her father out of Nevada by any means in the dead of night. Shafer came after her and the person who helped her in a legal fight to avoid relinquishing control by claiming the daughter "kidnapped" her father. Olvera's daughter wrote to Catherine Cortez Masto in December 2011, asking for help terminating the guardianship relationship. When the family pleaded directly with then Attorney General Cortez Masto for help, according to the daughter, Cortez Masto turned them away.
The laws surrounding guardianship are well intended, in that they were written to discourage the predatory behavior of a greedy family member and others seeking a family's inheritance. But the loopholes in the courts have made it possible for the unscrupulous to join hands in exploitation. Efforts to contest these rulings in court do nothing more, usually, than trap people in a loop of legal fees and costs, where they can never escape and end up destitute as a result.
Even more troubling are the isolating and abusive tendencies of guardians. Accusations of elder abuse have jumped, as well as claims from family that they no longer get to interact like before. Elders, unable to execute their lives independently, having been shackled to their court appointed guardian, are not able to live their final years in peace. They are forbidden to move to another state to be closer to their children. They cannot, in some states, settle their own affairs. We must close these loopholes in our system. We must protect our vulnerable.
Since Michael Larsen now resides in Japan, Guardianship expert and esteemed investigative journalist Steve Miller will do all the interviews.
Guardianship: How Judges and Lawyers Steal Your Money has been given the prestigious eLit Book Awards Gold: Guardianship, Michael Larsen. Ed., 2016; Self-published; ISBN: 9780692586211; 191 pages. Priced at $13.38. Available through Amazon, CreateSpace, Kindle. www.GuardianAbuseCases.com
==============================
TOPICS REFERENCED...
http://www.americanmafia.com/Inside_Vegas/8-29-16_Inside_Vegas.html

Grave Robbery Under Color Of Law!
http://www.americanmafia.com/inside_vegas/11-18-13_Inside_Vegas.html
Did "Guardian" Jared E. Shafer sacrifice Patience Bristol to
save himself? Documents show Shafer blew the whistle
on his protégé' ripping off one of his wealthiest wards
Additional documents show Shafer is still bleeding the
assets of a millionaire ward paying himself a total of
$432,043.00 in fees five years after ward's death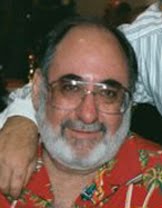 .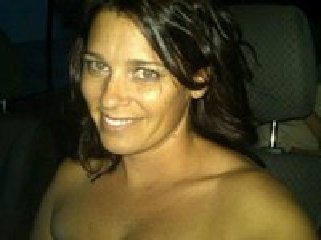 "Guardian" Jared Shafer "Guardian" Patience Bristol
INSIDE VEGAS by Steve Miller
AmericanMafia.com
November 18, 2013
LAS VEGAS - Talk about the pot calling the kettle black, private guardian Jared E. Shafer's attractive protégé' Patience Bristol is sitting in a cell at the Clark County Detention Center awaiting trial while her mentor may be breathing a sigh of relief allegedly knowing his cooperation with authorities may exonerate him from being prosecuted for many of the same crimes Bristol is accused of committing against the elderly or vulnerable.
On pages of the following confidential 32 page fax obtained by INSIDE VEGAS, Shafer informs another of his protégés, Clark County Public Guardian Kathleen A. Buchanan, that "Guardian" Patience Bristol has not provided receipts, explanations, or backup to validate transactions Bristol made on behalf of ward Jean Dutton whose fortune Bristol and Shafer were responsible for overseeing. In his incriminating fax Shafer includes eighteen checks Bristol wrote on Shafer's Professional Fiduciary Services of Nevada, Inc. (PFSN) checking account that he pretends to know nothing about: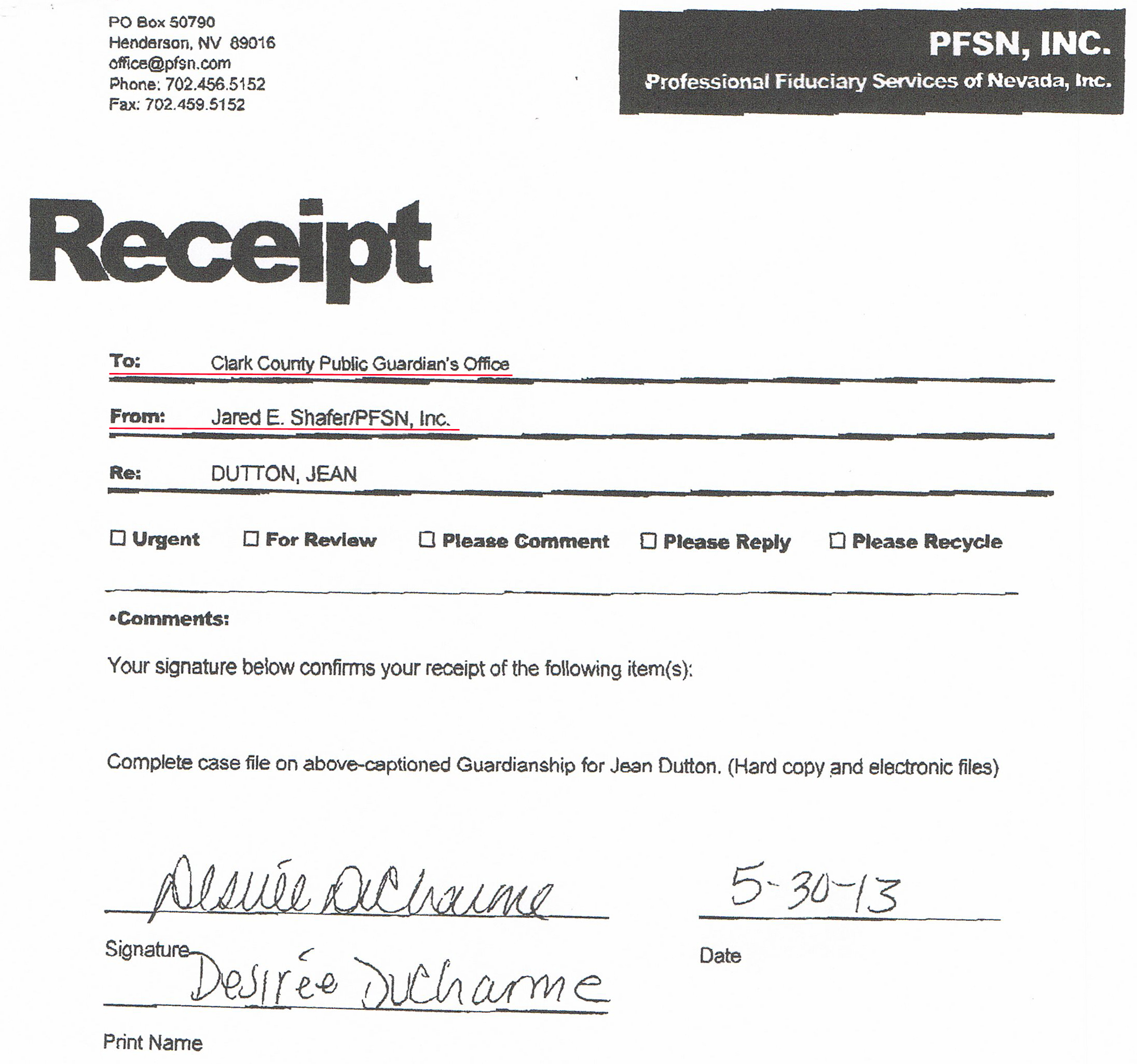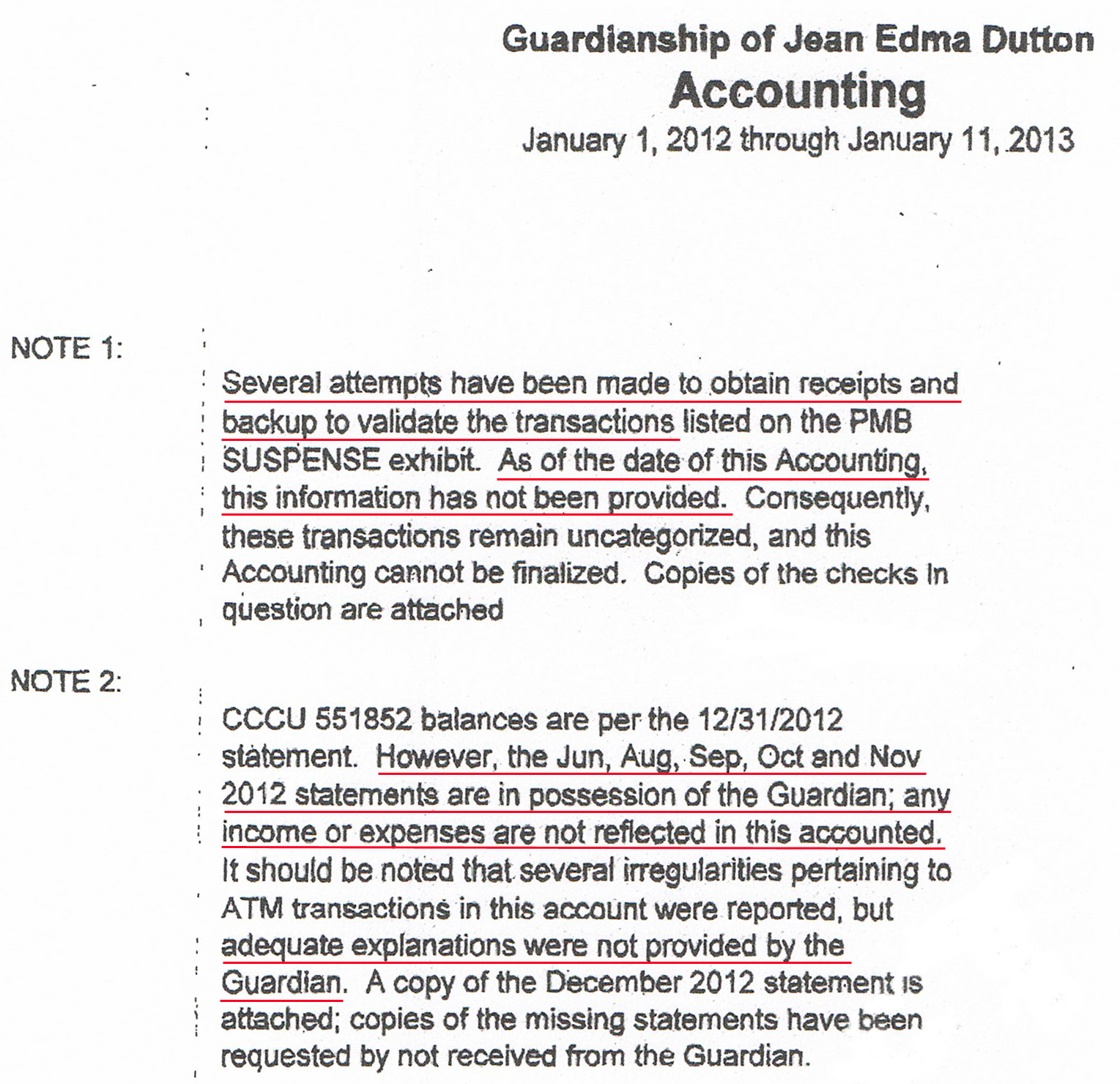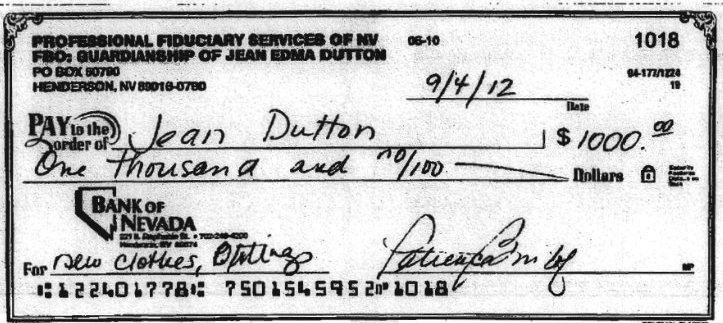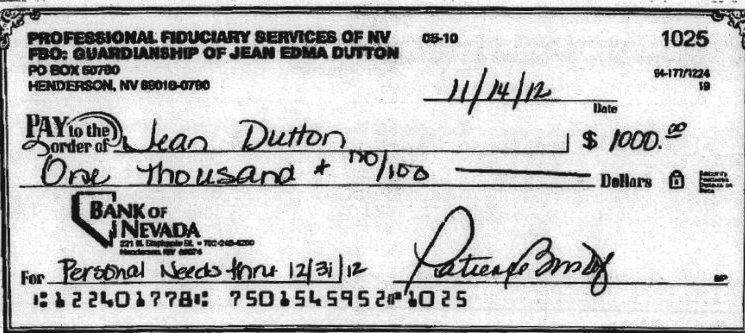 Examples of checks cashed by Bristol for ward's "clothes," "outings," and "personal needs"
Bristol cashed eighteen bogus checks drawn in the name of ward Jean Dutton from Shafer's PFSN, Inc. checking account between September 4 and December 28, 2012 totaling $12,850.00. If Shafer truly knew nothing about these transactions, he is also in need of a guardian! As Dutton's co-fiduciary, Shafer is as responsible as Bristol for protecting a ward's assets.
Patience Bristol is in custody charged with twenty felony counts of bilking the elderly and vulnerable. Her Preliminary Hearing is scheduled for November 25.
Jared Shafer has not (yet) been charged with a crime.

The Grave Robbers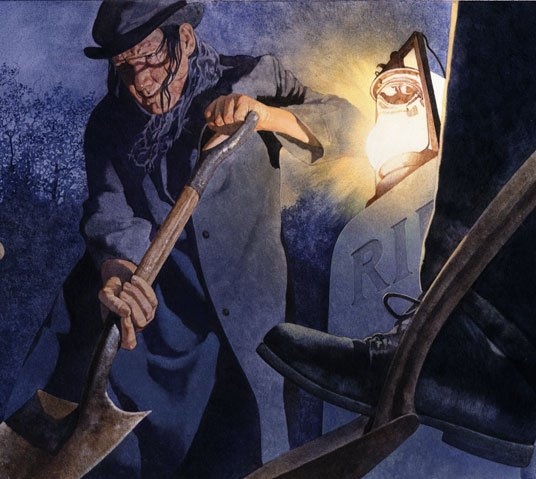 "We were told that Mr. Shafer is an attorney, and he's looking out for Leann's son's best interest." - Peccole family member
"We have one really rich ward whose been dead for over five years." - Patience Bristol, PFSN, Inc.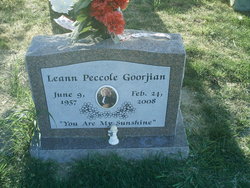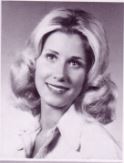 Jared Shafer's deceased-current ward, Leann Marie Peccole Goorjian (1957 - 2008)
Leann Goorjian lived to be only 51. She was the daughter of Wanda Lamb Peccole and William "Bill" Peccole. Leann's mother was the sister of former Nevada State Senator Floyd Lamb, Clark County Commissioner Darwin Lamb (portrayed in the movie Casino), and legendary former Clark County Sheriff Ralph Lamb. Leann married Greg Goorgian and together had two sons, Gavin and Camden, now in their late twenties and working for the family business Peccole Nevada Corporation.
Three years before Leann died on February 24, 2008 leaving a multi-million dollar fortune, she was placed into the guardianship of Jared E. Shafer. That was in 2005 when she was deemed a "vulnerable person." Since her death, Shafer has not been required to relinquish guardianship over her estate, and continues to this date draining it of hundreds of thousands of dollars each year.
Even though Leann has two adult sons who are her natural heirs, Shafer also took possession of her million dollar home at 9409 Queen Charlotte Drive in Henderson.
Below is one "Custom Transaction Detail Report" out of fifty-six obtained by INSIDE VEGAS that detail deposits and expenditures Shafer made between 2009 and 2013 on behalf of the deceased woman.
The reports include a total of $432,043.00 Shafer paid to himself in "fees" starting with his first self-payment of $294,543.00 on August 4, 2009, eighteen months after Leann passed away, and ending with two payments of $12,500.00 each, one on March 28, 2013, and another on April 19, 2013, again for "fees." This does not include tens of thousands of dollars Shafer paid over the five year period to his personal attorneys, accountants, business partners, and other cronies for their "services" to the deceased woman.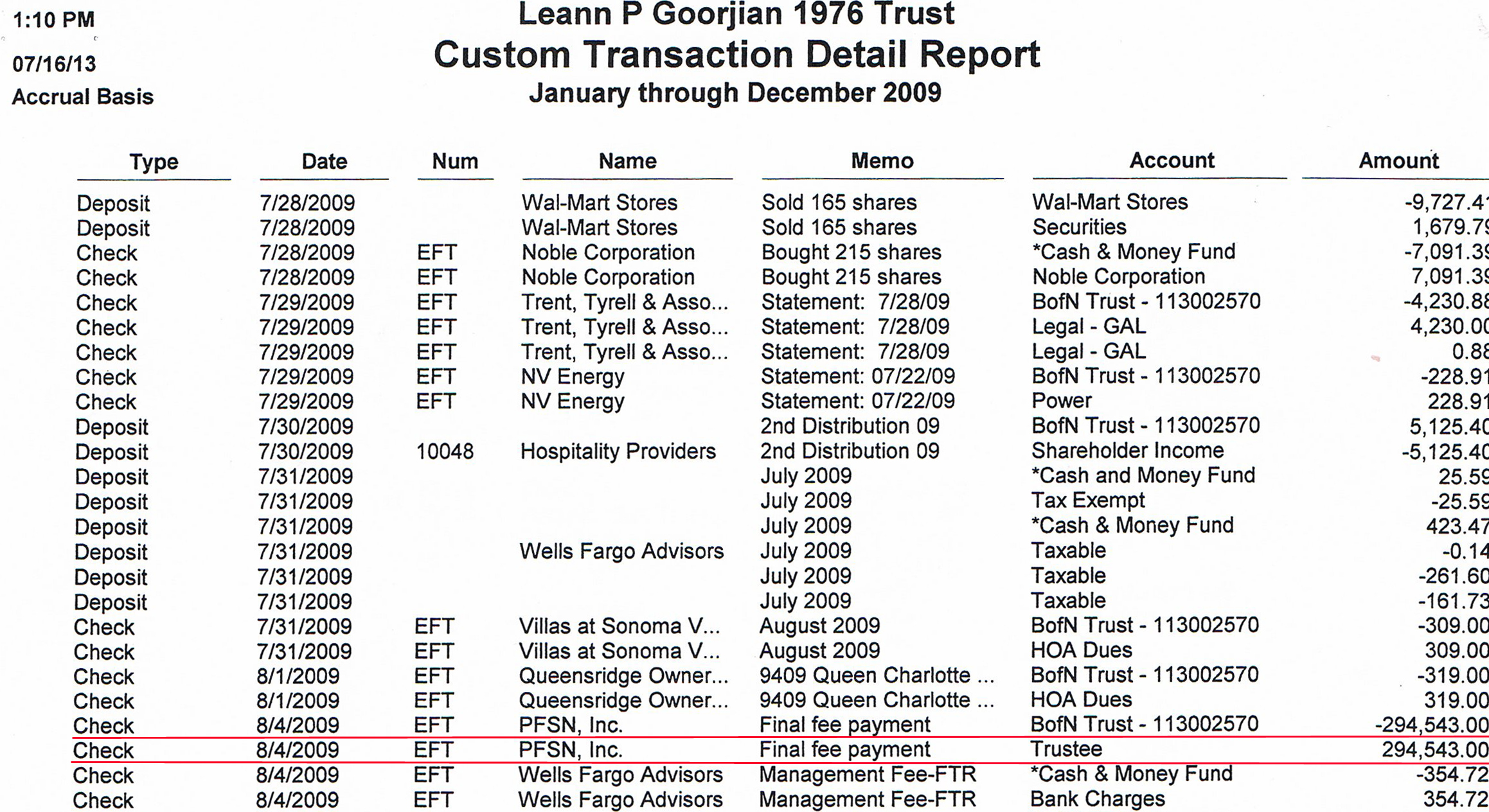 Shafer continued writing checks on Leann's account through July 16, 2013 including an additional $137,500.00 to himself for additional "fees." I have the hardcopy, and have offered to share it with authorities or Leann's family members.


Here is the Quitclaim Deed where Shafer took possession of Leann's house: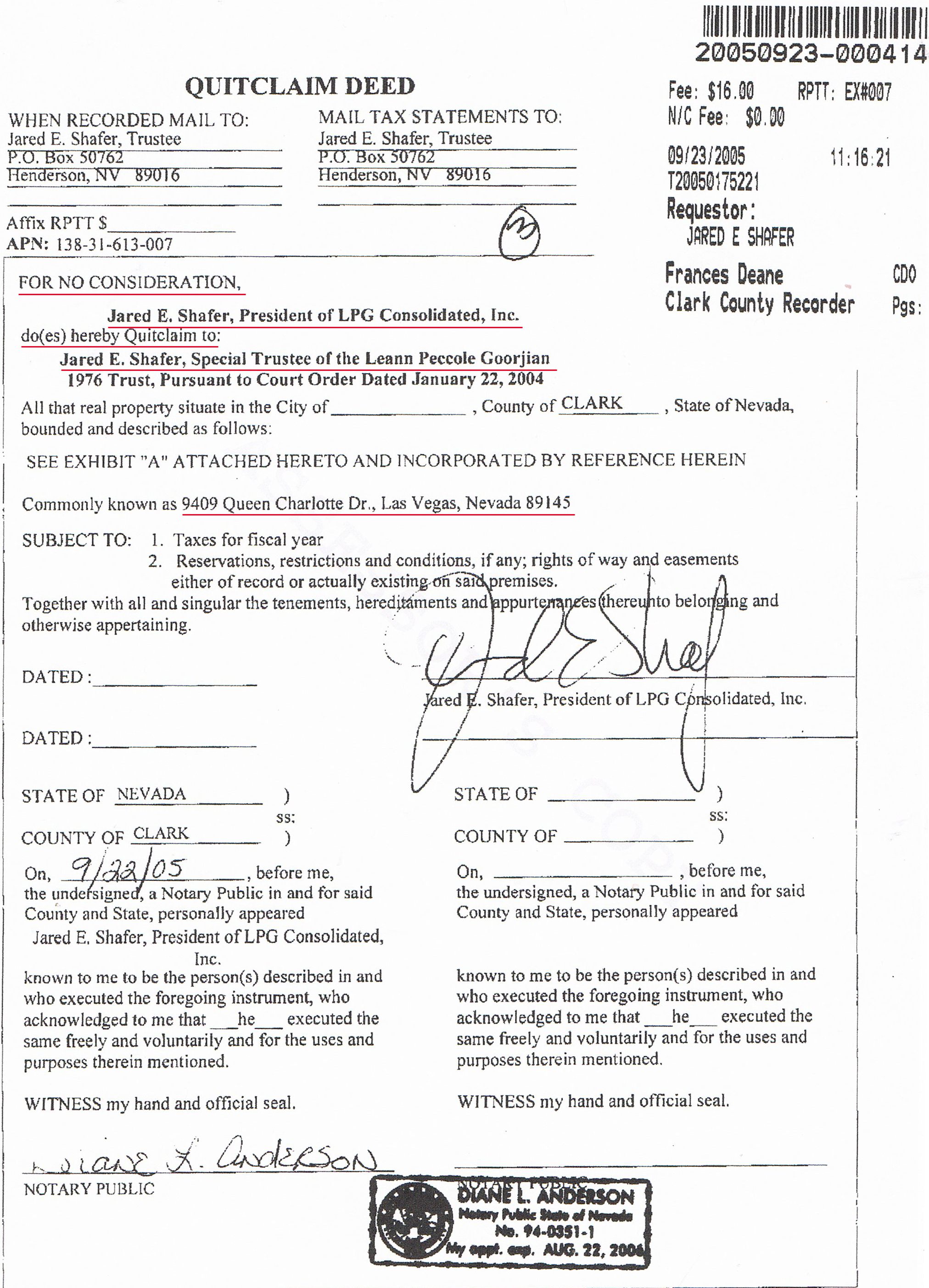 Here are the rules and laws under which guardians are supposed to operate:

The HANDBOOK FOR GUARDIANS, compiled and edited by the Guardianship Office, Clark County, Nevada states:

RESPONSIBILITIES OF THE GUARDIAN OF THE ESTATE: As guardian of the estate, you will manage and use your ward's property primarily for his or her benefit. Your secondary consideration will be the benefit of your ward's legal dependents (such as a spouse or minor children).

A Model Code of Ethics for Guardians published by the National Guardianship Association states:

Rule 5 - Management of the Estate:
THE GUARDIAN OF THE ESTATE SHALL PROVIDE COMPETENT MANAGEMENT OF THE PROPERTY AND INCOME OF THE ESTATE. IN THE DISCHARGE OF THIS DUTY, THE GUARDIAN SHALL EXERCISE INTELLIGENCE, PRUDENCE AND DILIGENCE AND AVOID ANY SELF-INTEREST.
Rule 5.5 - There shall be no self-interest in the management of the estate by the guardian; the guardian shall exercise caution to avoid even the appearance of self-interest.

NRS 159.193 Winding up affairs:
1. The guardian of the estate is entitled to retain possession of the ward's property already in the control of the guardian and is authorized to perform the duties of the guardian to wind up the affairs of the guardianship:
(a) Except as otherwise provided in paragraph (b), (c) or (d), for not more than 180 days or a period that is reasonable and necessary as determined by the court after the termination of the guardianship;
(b) Except as otherwise provided in paragraph (d), for not more than 90 days after the date of the appointment of a personal representative of the estate of a deceased ward;
(c) Except as otherwise provided in paragraph (d), for not more than 90 days after the date of the appointment of a successor trustee of a trust of the deceased ward and upon request by the trustee; or
(d) Upon approval of the court, for more than 180 days or 90 days, as applicable, if the guardian is awaiting certification from the appropriate authority acknowledging that the guardian has no further liability for taxes on the estate.
Could it be more clear?
Leann Goorjian died in 2008. According to Nevada Revised Statute 159.193, Shafer had "not more than 180 days" to wind up her affairs.
What Clark County Family Court Judge is allowing him to continue Leann's "guardianship" postmortem for over five years - or longer if not stopped? Most likely Guardianship Commissioner Jon Norheim or Judge William O. Voy. Both jurists have been observed doing favors for Shafer in the past. How else could this travesty be allowed to drag on for so long in direct violation of Nevada law?
And why haven't Leann's heirs demanded a termination of the exploitation?
When I first learned of this unending "guardianship," I contacted a member of the Peccole family. She said that Leann and Greg's sons were told that Shafer is an attorney and that he has their best interests at heart.
Shafer is not an attorney! The only record I could find regarding his educational background is that he's a 1961 graduate of Las Vegas High School.
Unfortunately, the story of Leann Goorjian is not the first time Shafer, et. al. have manipulated money from elderly or vulnerable people. On February 8, 2008, the SEC filed a civil action against him and others for having "fraudulently offered and sold approximately $180 million in unregistered notes to more than 800 investors, many of whom were senior citizens." Shafer and others were accused of operating a Ponzi Scheme "in which investor funds were used, among other things, to pay promised returns to earlier investors and for family living expenses." Had he not returned the money to his wards, he probably would have been prosecuted and convicted.
Fifty years ago, I was the afternoon DJ at a radio station located in the window of the Bank of Nevada on Water Street in Henderson. Next to the station was the small office of Peccole Insurance Agency. Each day when Bill Peccole visited the bank, he would wave at me through the window. Everyone in Henderson liked and respected Bill. Not known at the time was that for decades Bill used his savings to buy thousands of acres of raw land in the Las Vegas valley for a few hundred dollars per acre, the basis of his family's present wealth and the inheritance he bequest his daughter Leann. Having known and respected Bill and members of the Lamb family, I feel obligated to try to put an end to a robbery of a portion of this pioneer family's hard earned wealth.
I first attempted to inform the Goorjian family of the documented information I have in my possession. That was several weeks ago, and I'm still awaiting their call. In the meantime, I contacted Greg Goorjian's attorney Gus Flangas, and he forwarded my concerns to his client along with the question, "Why is Jared Shafer still controlling Leann's estate?"
I also posed this question to the two detectives with the Las Vegas Metropolitan Police Organized Crime and Intelligence Unit who investigated Patience Bristol. I don't expect them to tell me whether they have included Shafer in their investigation, or possibly given him a pass for allegedly ratting on Bristol.
There's something missing in this story, and I do not wish to embarrass a wonderful family, but unless Leann's sons are oblivious to this obvious grave robbery under color of law, or there's an arrangement I'm not aware of, Gavin and Camden Goorjian need to claim what is rightfully theirs and put an end to Shafer's unending "guardianship" of their late mother.
If they don't need the money, they can donate it to charity, or a non-profit such as the National Association to Stop Guardian Abuse, instead of to Shafer, et. al.
In my opinion, for a prominent family and local authorities to sit back and do nothing and allow a "guardian" to steal $432,043.00 in "fees," encourages future exploitation of elderly and vulnerable people in Clark County. The sons of the late Leann Goorjain have the moral responsibility to take immediate action.
MORE INFORMATION on "guardian" Jared Shafer:
http://www.stevemiller4lasvegas.com/ShaferFinancialRecords2.html
MORE INFORMATION on "guardian" Patience Bristol:
https://www.google.com/#q=Patience+Bristol+Jared+Shafer
* If you would like to receive Steve's frequent E-Briefs about Las Vegas' scandals, click here: Steve Miller's Las Vegas E-Briefs
Copyright © Steve Miller

email Steve Miller at: Stevemiller4lv@aol.com