James Corbett (The Corbett Report) provides World News Update; topics range from the political circus - Michael Haggard (family friend, pastor, libertarian activist) comes on the show to talk about his time in mission work in Taiwan and his recent re
Media Type: Audio • Time: 221 Minutes and 0 Secs
Media Type: Audio • Time: 168 Minutes and 0 Secs
---
Hour 1 - 3
Media Type: Audio • Time: 221 Minutes and 0 Secs
Hour 1 -- James Corbett (The Corbett Report) provides World News Update; topics range from the political circus, GMO's, Media Bias
Hour 2&3 -- Michael Haggard (family friend, pastor, libertarian activist) comes on the show to talk about his time in mission work in Taiwan and his recent return to the U.S. and why
CALL IN TO SHOW: 602-264-2800
-30-
September 21st, 2016
Declare Your Independence with Ernest Hancock
on LRN.FM / Monday - Friday
9 a.m. - Noon (EST)
Studio Line: 602-264-2800
Hour 1
2016-09-21 Hour 1 James Corbett from Ernest Hancock on Vimeo.
James Corbett
The Corbett Report
Webpage: CorbettReport.Com
James Corbett (The Corbett Report) provides World News Update; topics range from the political circus, MSM liars, technocracy, etc...
James's previous interviews on the Declare Your Independence with Ernest Hancock Radio Show:
https://www.freedomsphoenix.com/Guest-Page.htm?No=01092
============================
Latest Videos...
The Purge: Election Year – FLNWO (video)
Corbett • 09/20/2016
BayerSanto, President Dimon, EU Army – New World Next Week
Corbett • 09/16/2016
Yes, Mainstream Media Bias is Getting Ridiculous…But Why?
Corbett • 09/15/2016 •
============================
Latest Articles...
BayerSanto: What the Merger Means For You
Corbett • 09/17/2016 •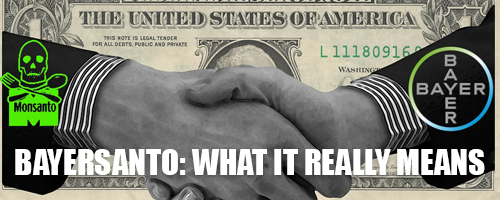 If you had told someone a few decades ago that by 2016 the company that brought aspirin to the world and the company that brought Agent Orange to Vietnam were going to team up to control a quarter of the world's food supply, chances are you would have been labeled a loony.
Unless your name was Robert B. Shapiro. He was CEO of Monsanto from 1995 to 2000, and in 1999 he told Business Week that the company's goal was to wed "three of the largest industries in the world–agriculture, food and health–that now operate as separate businesses. But there are a set of changes that will lead to their integration."
With this week's announcement that Bayer had finally succeeded in its quest to acquire Monsanto, it is hard to deny that Shapiro's vision has been realized. Too bad for all of us that that vision is a nightmare.
To continue reading this editorial, as well as view this month's subscriber video on the meaning of fireworks, please sign up for a website membership.
For free access to this editorial, please CLICK HERE for the Steemit post or CLICK HERE for The International Forecaster website.
==============================
Multiple Philadelphia Eagles Players Protest National Anthem During Monday Night Football Game
http://abcnews.go.com/US/multiple-philadelphia-eagles-players-protest-national-anthem-monday/story?id=42207664
The Philadelphia Eagles have joined in on growing protests nationwide in which NFL players refuse to stand during the national anthem before the start of football games during the 2016 season.
During a Monday Night Football game against the Chicago Bears at Soldier Field, multiple Eagles players stood with one fist raised in the air during the anthem. An American flag was held on the field by a local police and two fans in the stands held a sign reading, "Stand up."
Eagles safety Malcolm Jenkins said after practice Saturday that he believes there will "definitely" be Philadelphia players who will show their feelings about social injustice prior to kickoff, following San Francisco 49ers quarterback Colin Kaepernick and other players around the league's lead, ESPN reported. Jenkins was among the players who raised their firsts.
"Last week, we talked about doing some stuff, but we wanted to make sure that we didn't do anything to take away from the families that suffered from 9/11," Jenkins said. "We didn't want to mess with that day, so we left last week alone. But moving forward, I'm sure there will be guys that will probably join in."
Jenkins said the protest "has nothing to do with this country or the flag or the anthem itself," adding that it is a meant to "push forward the conversation about social injustice."
CLICK HERE for the rest of the story
---
Hour 2
Media Type: Audio • Time: 168 Minutes and 0 Secs
Hour 2 -- Michael Haggard (family friend, pastor, libertarian activist) comes on the show to talk about his time in mission work in Taiwan and his recent return to the U.S. and why
-30-
Hour 2
2016-09-21 Hour 2 Michael Haggard from Ernest Hancock on Vimeo.
Michael Haggard
Family friend, libertarian activist, and pastor of First Christian Church (Disciples of Christ) in Erie, Kansas, Michael returns to the U.S. after many years on a mission from Taiwan
Webpage: https://www.facebook.com/Thehaggard1
=======================
---
Hour 3
Hour 3 -- Michael Haggard (family friend, pastor, libertarian activist) comes on the show to talk about his time in mission work in Taiwan and his recent return to the U.S. and why
-30-
Hour 3
2016-09-21 Hour 3 Michael Haggard from Ernest Hancock on Vimeo.
Michael Haggard (cont'd)
=========================
Topics referenced...
FLUX CREATIVE
EUPHORIA
FLUX Is About
the Passion for Creation
We are profoundly fascinated with the movement from inspiration to creation. The sublime feeling of creating something is what we call the FLUX Creative Euphoria.
FLUX Delta
Where Inspiration Becomes Creation
flux /fl?ks/ n. The flow over a certain time period.
delta /'delt?/ n. The change of a quantity.
The FLUX Delta helps keep creativity flowing by making it easy to move from design, idea, or inspiration to creation. FLUX Delta empowers you to rapidly bring digital creations to life.
PRINTING
FLUX Delta's excellent 3D printing makes it easy to experience the fun of creating.
ENGRAVING
FLUX Delta enables creators to laser engrave any pattern on different materials, such as wood, leather, or even PCB.
DRAWING
FLUX Delta provides creators with a brand new experience by allowing them to attach brushes or other writing instruments to the drawing toolhead.
SCANNING
and MONITORING
FLUX Delta allows you to scan objects with simple shapes. Also, it provides the convenience of monitoring a project anytime, anywhere.
FLUX STUDIO
FLUX Studio, our companion application, gives creators full control over every function of FLUX Delta. Moreover, we made FLUX Studio open source, making it possible for developers and creators to work collaboratively.
1
Printing Toolhead
2
Filament
3
Pen Holder
GALLERY