Cara Trujillo (Cosplay AZ Powergirl; Candidate for AZ Legislature Dist 26 AZ Leg) comes on the show to talk about her campaign - James Corbett (The Corbett Report) provides World News Update; topics range from the political circus, Snowden 2.0, Afgha
Media Type: V • Time: Minutes
Media Type: V • Time: Minutes
Media Type: V • Time: Minutes
---
Hour 1 - 3
Media Type: V • Time: Minutes
OTHER METHODS TO CONTRIBUTE TO FREEDOM'S PHOENIX (INCLUDING PAYPAL/CREDIT CARDS) CLICK HERE
Hour 1 -- Cara Trujillo (Cosplay AZ Powergirl; Candidate for AZ Legislature Dist 26 AZ Leg) comes on the show to talk about her campaign
Hour 2 -- James Corbett (The Corbett Report) provides World News Update; topics range from the political circus, Snowden 2.0, Afghanistan, Syria
Hour 3 -- Troy Ontko (Founder/CEO of Skipstone) talks about their video platform designed to emulate normal human conversation.
CALL IN TO SHOW: 602-264-2800
-30-
October 12th, 2016
Declare Your Independence with Ernest Hancock
on LRN.FM / Monday - Friday
9 a.m. - Noon (EST)
Studio Line: 602-264-2800
Hour 1
2016-10-12 Hour 1 Cara Nicole Trujillo from Ernest Hancock on Vimeo.
Cara Nicole Trujillo
Cara Nicole Trujillo first discovered a passion for politics early in her life but it was not until she witnessed the devastation of men, women and children by an unbalanced family law system that she became immersed in legislative work. Cara has worked with family rights advocates, legislators, court liaisons, the media and support groups to help AZ families. Her work to support good legislation and to prevent bad bills from passing has been instrumental in maintaining the progressive momentum that now allows many children to have both their parents in an increasing shift towards equality. Cara sought out to run for office as green party in response to the great demand for non-partisan choices in state politics. Having major support of members of the Democrat and Republican parties, Cara has had a lot of success in legislative work, has proposed (and passed) an education initiative and is now running a strong campaign that advocates for our freedoms, education, economy and civil rights.
Webpages:
https://www.facebook.com/AzPowergirl4U/
Other webpages:
https://www.facebook.com/AZPowergirl/
http://183degree.storenvy.com/
http://www.azpowergirl.com/
https://azpowergirl.wordpress.com/
http://azpowergirl.tumblr.com/
https://www.indiegogo.com/projects/2017-calendar-cara-nicole-az-powergirl-cosplay#/
============================
State House Candidate and 'AZ Powergirl' Cara Nicole Trujillo Brings Politics to Phoenix Comicon 2016
http://www.phoenixnewtimes.com/news/state-house-candidate-and-az-powergirl-cara-nicole-trujillo-brings-politics-to-phoenix-comicon-2016-8338950
Faster than a spinning lobbyist, more powerful than a strike-all amendment — it's AZ Powergirl, celebrity cosplay model, swooping in to save the Arizona Legislature!
Or so voters of Tempe's Legislative District 26 can imagine, now that Cara Nicole Trujillo is officially in the race for the Arizona House of Representatives.
On the heels of a successful signature drive and filing two weeks ago with the Arizona Secretary of State's Office, Trujillo's name will appear on the November ballot as a Green Party candidate in the district, which also captures slivers of Scottsdale, Mesa, and the Salt River Pima-Maricopa Indian Community. This week, Trujillo will make her regular appearance at Phoenix Comicon. But unlike years past, this time she'll be armed with campaign buttons and soliciting donations for her first-ever bid for public office.
Trujillo will hold her "first campaign rally and fundraiser" at 3 p.m. on Thursday at Phoenix Comicon's Booth AA400/AA402 inside the Phoenix Convention Center, her spokesman, Scott Kelly, announced Tuesday. "Campaign T-shirts as well as posters and pictures with the candidate will be available to the public."
She'll be in a costume, she tells New Times, but hasn't decided yet what she'll wear.
CLICK HERE for the rest of the article
============================
Issues
Parenting Rights – Children need both parents.
For the last 3 years I have been active in legislation that benefits families, specifically children, in Arizona. We have had some majorly deficiencies in the way we handle children's rights in divorce situations. We let money and a presumption that Mothers deserve the children create situations which harm children, Fathers, step parents and extended family. We currently suffer from Family Court related suicides, incarcerations and dire financial situations for parents with lawyer price tags in the hundreds of thousands. And the children are under incredible amounts of stress and psychological harm when denied a parent.
I have worked with Michael Espinoza and Arizona Family Rights in passing intelligent legislation that will provide a stable situation for Arizonans. Mr. Espinoza, a carpet layer from Apache Junction, ran a bill that passed and awarded more parents equal parenting time 4 years ago and we have been building on that premise. Children need both parents in their lives. They should not be used as pawns in legal battles. The court's job should be to help both parents achieve equal rights and maximize time for children with both parents and stay out of the way unless there is actual criminal, drug abuse or mental health history.
To that point, we need to battle the increase in false allegations as a leveraging tool in court. Many lives are being ruined because of Family Court's enabling of accusations without evidence, no consequences when lies are found out, and offering a monetary motive for people to do this. This needs to stop. False accusations are a crime and they need to be handled as such. No, this is not disregarding actual victims nor will it prevent reporting, but it will bring justice back to the courtroom.
Many countries have successfully fixed their Family Court issues. Most of that has been with taking the money out of the equation. When it no longer means having two people fighting over a monetary gain, the children themselves become the focus. Family Rights needs to not be a business where lawyers, psychologists, parenting coordinators, court appointed advisers, etc make their living off of children.
Immigration – We, on the state level, are yelling at each other about immigration, which really is not a state issue, we have to follow Federal procedures. However, both parties have had in excess of five decades to cure the alleged immigration problem, but have specifically chosen not to. I am absolutely 100% against profiling in any way based on skin color or ethnicity. SB1070 was a prejudicial bill that didn't appropriately handle our immigration issues. Although you are required to identify yourself (give your legal name) to an officer who asks you to, you are not required to carry identification on your person.
*Personal Story– As I was walking home late one night with my Mexican-American husband, we encountered police officers with a man in cuffs on the sidewalk. They stopped us and asked for my husbands identification claiming he resembled a suspect in a crime. Let's stop right there and think about that for a moment. Showing police identification is now proof that one did not commit a crime? I call BS. He was stopped for walking while brown.
Legalization of Marijuana – Legalization of marijuana solves many problems. It creates good paying jobs that take people away from the welfare system and on the path to security and stability. It removes our citizens from jails and prisons saving the government (i.e. us) quite a bit of money. That's just the beginning. Industrial hemp could be a huge industry that would give us renewable resources rather than cutting down trees that take many years to regrow. The medicinal properties alone are worth its legalization. For those that believe that marijuana leads to harder drugs—it leads to gardening, baking, holistic medicine, carpentry, glass blowing, and so much more. I would also prefer that we keep our money in the United States instead of sending it to other countries through criminal cartels.
*Personal Story – I used to take meals to an elderly woman who was enduring chemotherapy for her cancer. We would often chat and one day she revealed to me that her nephew would make her cannabutter. For those of you unaware, it is marijuana simmered in butter for 4-6 hours and then usually strained. This is added to recipes or used in other various foods. She requested that I keep quiet about it due to the illegal nature of this product. It was the only thing that would give her any appetite as well as keep down the nausea and pain. Should this sweet old lady retired in her trailer park really be subjected to possible incarceration over a bit of food used to ease her suffering? It's time to get real.
Health Care – I would like to see everyone have access to good health care, not just have health insurance. I know many people who have a credit card sized piece of paper in their wallet that they pay monthly for yet never actually get to see a doctor when they are sick or can't afford the medication when they do.
*Personal Story – A good friend of mine was recently hospitalized with cellulitis. He spent a week in the hospital on IV antibiotics and then another at home on IV antibiotics and then about a month of oral. The co-pays and deductible were so high that he had to not only pawn many of his belongings, he had to get a roommate and work 2 jobs. The only thing treated was his cellulitis while his other medical issues that led to his condition were ignored. He now can not afford to get regular preventative care and will likely end up back in the ER and hospitalized again where the cycle will continue. This is not affordable health care.
Marriage Equality – I am a firm believer that gay people should have the right to lose half of their stuff in a divorce just like everyone else. Kidding aside, I would like to see the government out of our romantic unions altogether. The decision has been made by the Supreme Court of the United States and our officials need to follow the law as anyone else.
LGBTQ Protections – It is shameful that in what is supposed to be "the land of the free" we need to have protections in place for any group of people. Everyone is different and our liberties are supposed to be for EVERYONE not everyone except. Until everyone can be treated fairly I will stand up for anyone being discriminated against. I hope that one day (sooner than later) we won't need laws in place for this.
*Personal Story- Over the years I have worked with the LGBTQ community. This past summer I even walked in a fashion show for Colorado Aids Walk. I have quite a few trans-gendered friends and my only complaint is that I can't get my make-up to look that fabulous.
Education – Our teachers are some of the lowest-paid in the nation with a high student to teacher ratio. We rank 47th in the nation on a recent poll. Our schools are underfunded to the point where some of the poorest neighborhoods have had to switch to a four-day school week. This not only takes away from the education of the children but also puts a burden on the families who now have to supplement with daycare (many times they use government funded daycare which just passes the buck). Some families have resorted to moving away from those schools, which receive funding per student, causing even bigger financial problems. Why do our students only receive a measly $3300 (aprox) while the national average is $12,500? Money doesn't solve all of our problems but in this case our schools are starving. Our classrooms need pencils, paper, books, crayons, tablets, computers, and so much more. We bicker about whether or not to teach cursive while our teachers qualify for food stamps.
Year Round School- We no longer need children to work the fields. Studies show that students have better retention of their school work when they have a year round school schedule. It gives students more classroom time that they desperately need. Teachers would receive higher wages as they would be paid for more time as educators. Low income families would save on daycare expenses and their children would have access to meals during the day. Many schools offer breakfast as well as lunch. Our disabled students would also be able to maintain their school provided therapies that are neglected during summer break. Let's make some real changes and educate Arizona's children!
Right to Work– Let's be clear on this. In Arizona it's more like "right to be fired". Our country was built on people joining together to fight for the common good. That ability has been removed here in Arizona. How can anyone say that workers joining together to ask for fair wages and benefits is wrong? It is not only in our best interest to be able to stand up for ourselves in the workplace, it should be our right.
Taxation – We all have to pay our taxes. I understand and respect that. It's how we care for our roads, schools, military, police, firemen, etc. I believe that many times our government officials forget that tax money is collected off the backs of our hard working citizens. Taxes should be spent responsibly and with care. It's not just endless funds to be used recklessly. Those in positions of spending should be doing everything they can to work within a budget and maximize our tax dollars. No more wasteful spending. When we create new programs, work existing programs, and distribute funds, we need a way to measure such success when releasing funds for said programs. We need to ensure the people are not spending 1 billion dollars for education with no success in educating our kids because the funding is going to multiple different agencies and departments, who start fighting each other for those funds, and ultimately our children pay the cost. I really want to bring back taxation with representation.
Abortion- This is a very touchy subject. This issue has already been decided on with the Supreme court case Roe v. Wade. It is not our place to manipulate and twist laws in an attempt to thwart federal regulation. Let us focus on pregnancy prevention through affordable and accessible birth control options.
Private Prisons – I am 100% against the privatization of prisons. These corporations are contracted to receive a minimum number of inmates opening the door to excessive corruption and abuse of our already fragile criminal court system. It is slavery and it is wrong. To hand over the life of anyone in this country to a private party for profit is disgusting and un-American.
---
Hour 2
Media Type: V • Time: Minutes
Hour 2 -- James Corbett (The Corbett Report) provides World News Update; topics range from the political circus, Snowden 2.0, Afghanistan, Syria
-30-
Hour 2
2016-10-12 Hour 2 James Corbett from Ernest Hancock on Vimeo.
James Corbett
The Corbett Report
Webpage: CorbettReport.Com
James provides World News Update; topics range from the political circus, the surveillance state, Deutsche Bank and what this all means, Special Drawing Rights, 'U.N. takeover of the internet', etc...
James's previous interviews on the Declare Your Independence with Ernest Hancock Radio Show:
https://www.freedomsphoenix.com/Guest-Page.htm?No=01092
============================
Latest Videos...
What You Are Not Being Told About the Afghanistan War
Corbett • 10/12/2016 •

15 years after NATO's invasion and occupation of Afghanistan, the 9/11 and Al Qaeda lies that were used to justify the war have disappeared. Now the truth about oil and gas, mineral wealth, opium and naked imperial ambition are all that remain.
MSM Syria Lies Need to Be Exposed
Corbett • 10/09/2016 •

In the sick world of the would-be warmongers, child beheading terrorist scum are now the heroes. The blood of the innocents that spill from here on in covers the hands of the mainstream media propagandists.
Snowjob 2.0, WWIII Prep, PubPeer – #NewWorldNextWeek
Corbett • 10/07/2016

This week on the New World Next Week: the Equation Group hacker gets nabbed; WWIII will be lethal and fast; and peer review vigilantes take matters into their own hands.
===================================
Latest Articles...
Off Again, On Again: Russia and Turkey Revive Turkish Stream
Corbett • 10/12/2016 •
by James Corbett
corbettreport.com
October 12, 2016
When Russian President Vladimir Putin and Turkish President Recep Tayyip Erdo?an shared a stage this week at the World Energy Congress in Istanbul, it marked the latest turn in a story so fraught with drastic ups and downs that it would give the most battle-hardened roller coaster enthusiast motion sickness.
To recap:
-In early 2014 the EU effectively killed Russia's plan to run a "South Stream" gas pipeline across the Black Sea and through Bulgaria into southern Europe (much to the chagrin of the southeastern European states).
-Russia responded by announcing an alternative pipeline dubbed "Turkish Stream" that would send the gas through Turkey and on into southern Europe.
-Following the Turkish shootdown of a Russian SU-24 Fencer bomber over Syria in November 2015 the project was put in limbo when it became subject to Moscow's retaliatory "restrictive measures."
-Erdo?an responded to these restrictive measures by formally shelving the project in December 2015.
-The two presidents appeared at the World Energy Congress together on Monday before inking the long-awaited deal to begin work on the pipeline.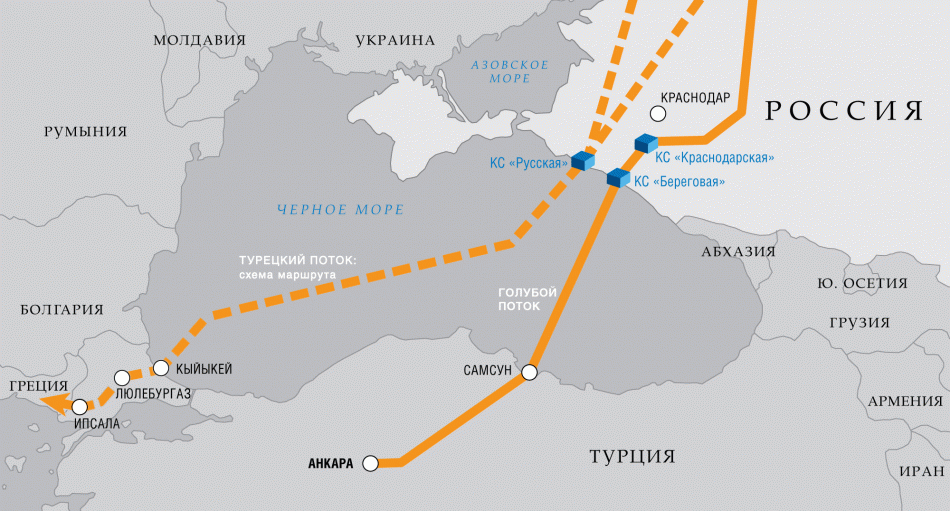 Proposed Turkish Stream route. (Click to enlarge)
Clear as mud? Good.
So here's the question: why? Yes, pipelines make strange political bedfellows. We all know that by now. But why all the off again, on again theatrics? Why the grandstanding and tough talking and back slapping and deal signing?
Although it doesn't seem to add up at the surface level, it's actually much clearer when we take into account the various deep state forces at work in this story. In fact, the deal was almost inevitable when you discover it's a win-win-win for (almost) everyone.
Firstly, the Russians' interest in Turkish Stream has always remained the same: It provides a route for Russian gas into Europe through the "backdoor," an EU-affiliated country that can act as an intermediary hub for transporting that gas through southern Europe. This is why Russia has insisted all along that Turkish Stream wasn't dead, per se, just on hold.
Turkey wins because it reaps the political benefits (not to mention the economic ones) of becoming an energy hub. Not only does Turkish Stream bring enormous amounts of Russian gas into the country, but Ankara has simultaneously been in talks with Anglo-Dutch Oil and Royal Dutch Shell and with Algeria to begin construction of an "integrated energy complex." This would make Turkey into an energy exporting powerhouse, increasing its bargaining position with the EU and its relative position over regional rivals, partners and suppliers (like Azerbaijan).
And the EU wins because, frankly, it needs Russian gas. With Nabucco-West dead and the Trans-Adriatic Pipeline expected to have 1/6th the capacity of Turkish Stream, dreams of a Caspian Sea source to quench western Europe's gas thirst are just that: dreams.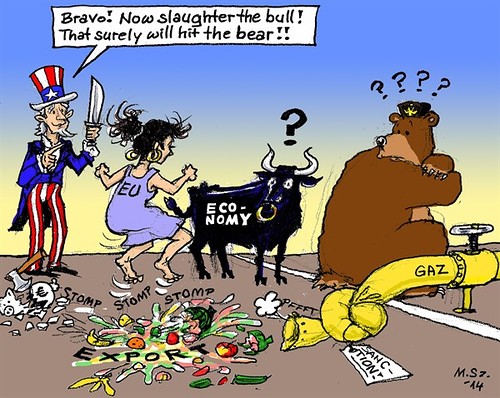 The deal makes perfect sense. So why did the EU resist South Stream in the first place? Because of the (largely US-engineered) destabilization of Ukraine and the subsequent (US-led) pressure to impose retaliatory sanctions on Russia. It's entirely possible that the crew in Brussels is being played like a lute by Uncle Sam in all of this anti-Russian hysteria and perhaps even the bureaucrats in Brussels (or at least some uppity EU members) are finally figuring that out.
And what of the Russia-Turkey tiff? That one is intriguing. Here's what we do know: the pilots who shot down the Russian jet were detained after the coup. Although the Turkish government wouldn't connect the two events, the mayor of Ankara did in no uncertain terms: "These rascals caused the rift between Russia and us. Why? Because they wanted to isolate us in world politics. Yesterday I had a guest from Russia, an adviser for Putin. He agrees with me."
And so the narrative is that the same deep state elements that plotted against Erdo?an this summer were in fact plotting to undermine his rule quite a bit before then as well, a plausible assumption and one that was pointed out by myself and analysts like Sibel Edmonds at the time. Of course, this doesn't explain why Erdo?an seemed to go along with it at the time, neither denouncing the shootdown or apologizing to Russia but doubling down with inflammatory rhetoric. Was he just stringing the coup plotters along until they made their move so he could counter-attack with the pre-planned purge?
Such loose ends seem to have been hidden under the carpet for now at least, as Putin and Erdo?an are all smiles in public and only too happy to announce their big deal. Still, the underlying tensions are still there. Moscow and Ankara remain on different sides of the Syria divide, with Russia supporting Assad and Turkey supporting the mercenaries that have been brought in to destroy Assad's country. Aleppo remains an obvious flashpoint for this tension, one addressed directly by the two in a joint news conference about the deal. According to Reuters:
Both men said they had agreed on the importance of delivering aid to the city of Aleppo, whose opposition-held eastern sector has been encircled by Russian-backed Syrian forces for all but a short period since July. "We have a common position that everything must be done to deliver humanitarian aid to Aleppo. The only issue is … ensuring the safety of aid delivery," Putin said, adding he had agreed with Erdogan to intensify military contacts.
The other interesting thing about the timing of this deal is that it comes exactly as Russia is becoming the focal point of a new round of international demonization. Moscow's veto of a Security Council resolution on Aleppo brought by France has led to some serious diplomatic fallout: Earlier this week the Kremlin confirmed that Putin's scheduled visit to France next week has been canceled. Russian ties with the EU may be at an all time low.
So given widespread disgust with Erdo?an in the EU population these days and the hysteric demonization of Putin, all eyes have to be on the EU right now. Now EU leaders may differ on the relative merits of Russian gas imports, but the real question is: Will they attempt to decrease reliance on gas from Turkey knowing that it's sourcing from Putin? Do they have any alternative? At the moment, they don't.
And so the oiligarchs (as well as Putin and Erdo?an) will be laughing all the way to the bank. As long as it's not Deutsche Bank, this deal might work out well for them.
Al Qaeda Videos Aren't the Only Media the US Has Faked
Corbett • 10/08/2016 •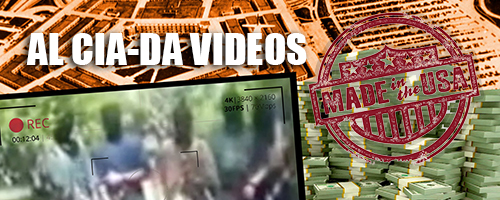 When a joint investigation by The Sunday Times and the Bureau of Investigative Journalism is headlined "Fake News and False Flags" you know that something is so rotten in the state of Denmark (or the District of Criminals) that the stench can no longer be ignored.
Long story short:
"The Pentagon gave a controversial UK PR firm over half a billion dollars to run a top secret propaganda programme in Iraq, the Bureau of Investigative Journalism can reveal. Bell Pottinger's output included short TV segments made in the style of Arabic news networks and fake insurgent videos which could be used to track the people who watched them, according to a former employee."
So does all of this sound hauntingly familiar to you? It should. Every single feature of this story has happened before. Multiple times. Let's go through the checklist.
To continue reading this editorial and for full access to the subscriber newsletter, please become a member.CLICK HERE.
---
Hour 3
Media Type: V • Time: Minutes
Hour 3 -- Troy Ontko (Founder/CEO of Skipstone) talks about their video platform designed to emulate normal human conversation.
-30-
Hour 3
2016-10-12 Hour 3 Troy Ontko from Ernest Hancock on Vimeo.
Troy Ontko
Founder and CEO of Skipstone
Troy Ontko is in the process of launching his third startup.
Skipstone Interactive Video is a patent-pending video platform designed to emulate normal human conversation.
The result: we can now get our information right from the source. We can talk to politicians and hear, in their own words, their positions and the reasons behind them. We can hear from brands about the products and services they offer. We can hear from corporate and government administrators about how to use and apply for benefits and services.
The first major Skipstone Customer, Gary Johnson 2016 Presidential Campaign is showing the benefits of this revolutionary way of sharing information.
Join our show to discover how this technology puts new information and the change that goes with it back into the hands of the people!

Webpage: http://goskipstone.com/
=================================
Written by Ernest Hancock Date: 10-07-2016 Subject: Politics: Libertarian Campaigns
Instructions | Skipstone Interactive Video
This is an interactive Skipstone™. You can ask questions at any time. No need to wait for it to finish playing.
Ask your Questions.
Type your question into the input field and tap the Ask! button or tap the button to speak it. Your Answer video will play.

Can't think of a question? Just tap the button to see available answers.
Get your Answers.
When your answer video finishes playing, the main video will resume right where it left off or tap to go back. If no answer video is available, you can still have your question answered by submitting the form presented. A representative from Johnson / Weld will receive it. We do not share your information with anyone else.