James Corbett (The Corbett Report) on government death squads, Goldman Sachs, CIA & the drug trade, encryption - Ricardo Valenzuela (Mexican cattle rancher, libertarian economist, agro investment banker) on relations between the U.S. and Mexico
Media Type: Audio • Time: 170 Minutes and 0 Secs
Media Type: Audio • Time: 119 Minutes and 0 Secs
---
Hour 1 - 3
Media Type: Audio • Time: 170 Minutes and 0 Secs
OTHER METHODS TO CONTRIBUTE TO FREEDOM'S PHOENIX (INCLUDING PAYPAL/CREDIT CARDS) CLICK HERE
Hour 1 -- James Corbett (The Corbett Report) on government death squads, Goldman Sachs, CIA & the drug trade, encryption?
Hour 2&3 -- Ricardo Valenzuela (Mexican cattle rancher, libertarian economist, agro investment banker) on relations between the U.S. and Mexico
CALL IN TO SHOW: 602-264-2800
-30-
February 8th, 2017
Declare Your Independence with Ernest Hancock
on LRN.FM / Monday - Friday
9 a.m. - Noon (EST)
Studio Line: 602-264-2800
2017-02-08 Hour 1 James Corbett from Ernest Hancock on Vimeo.
Hour 1
James Corbett
The Corbett Report
Webpage: CorbettReport.Com
James talks about FBI/China/Trump, Technocracy, The Fed, and more
James's previous interviews on the Declare Your Independence with Ernest Hancock Radio Show:
https://www.freedomsphoenix.com/Guest-Page.htm?No=01092
============================
JAMES CORBETT'S LATEST VIDEOS…
https://www.corbettreport.com/category/videos/
JAMES CORBETT'S LATEST ARTICLES…
https://www.corbettreport.com/category/articles/
======================================
JAMES CORBETT'S LATEST VIDEOS…
Corbett • 02/07/2017 •
NOTE: This video was produced for BoilingFrogsPost.com on October 14, 2011. It is being made available in its entirety here for the first time.
Just as the British Empire was in part financed by their control of the opium trade through the British East India Company, so too has the CIA been found time after time to be at the heart of the modern international drug trade. From its very inception, the CIA has been embroiled in the murky underworld of drug trafficking…
The Past, Present and Future of Goldman Sachs
Corbett • 02/07/2017

Of all the investment banks on Wall Street, Goldman Sachs enjoys the most incestuous relationship with Washington, where it has a revolving door at the Treasury Department. As a former managing director at the firm, Nomi Prins is uniquely situated to discuss that relationship and what makes the revolving door so insidious. She joins us today to outline the firm's past and explore its future with her latest article, "On The Goldmanization Of President Trump."
Corbett • 02/05/2017
With promises to "drain the swamp!" still ringing in our ears, we have watched Trump appoint nothing but Goldman banksters, Soros stooges, neocon war hawks and police state zealots to head his cabinet. Join us this week on The Corbett Report as we examine the swamp-dwellers with which Trump has filled his swamp.
Assad Alive, Hotel Hack, PigMan – New World Next Week
Corbett • 02/04/2017
This week on the New World Next Week: Trump pushes for Syrian kill zones and murders children in Yemen; a hotel gets ransomed when hackers lock all the doors; and pig-human hybrids are now officially a thing.
Trump's Attorney General Vows War on Encryption
Corbett • 02/03/2017
Jeff Sessions has been approved as Attorney General by the Senate Judiciary Committee and his confirmation is now a foregone conclusion. But he is a proponent of the phony war on drugs, a supporter of mass government surveillance, and has vowed to mandate encryption backdoors for "national security." Today we talk to Derrick Broze about the latest man to head the Department of Injustice.
How Government $ach$ Won The (s)Election
Corbett • 02/02/2017
After appointing Goldman bankers to head the Treasury and the SEC and key economic advisory positions, it looks like the Trump era will be business as usual for Government Sachs. Today Carey Wedler of TheAntiMedia.org joins us to discuss her recent article, "Actually, Goldman Sachs 'Hacked' the Election."
Douglas Valentine on the Resurrection of the Phoenix Program
Corbett • 02/01/2017
As The Corbett Report reported last year, Erik Prince, the founder of Blackwater, has slithered out from his hiding place and re-emerged as a figure on the political stage. He is now advocating for a rebirth of the US' infamous "Phoenix Program" to target the ISIS terrorists the US created, and he is advising Trump from the shadows. Today Douglas Valentine, author of The Phoenix Program and The CIA As Organized Crime joins us to discuss what The Phoenix Program is and why its resurrection is so ominous.
========================================
The New CIA Records Archive: An Open Source Investigation
Corbett • 02/08/2017 •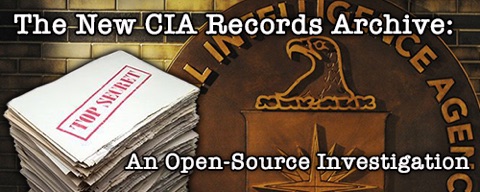 by James Corbett
corbettreport.com
February 8, 2017
As Corbett Reporteers will know by now, the Central Intelligence Agency is one of the organs through which the deep state manipulates the overt government in Washington. It is not without good cause that the initials "CIA" have been said to refer to "Criminals In Action."
And so the latest "release" of 930,000 documents from the CIA's archives needs to be treated with a healthy dose of realism. Criminals generally do not advertise their criminality, let alone put those advertisements in neatly organized, web-accessible databases for the public to peruse.
For those not in the know, President Clinton issued Executive Order 12958 in 1995 mandating the automatic declassification of all historically valuable government records older than 25 years (with "exemptions" for all sorts of "national security" reasons, of course). This includes the CIA, which in 2000 set up a system called "CREST" (CIA Records Search Tool) that the public can use to browse its declassified documents.
One problem with CREST: It has only ever been available to researchers at the National Archives at College Park, Maryland. This seemed rather unfair to researchers elsewhere, what with this being the internet age and these documents being electronic, so in 2005 people started agitating for internet access to these documents.
Maybe Government Death Squads Are A Bad Idea
Corbett • 02/05/2017 •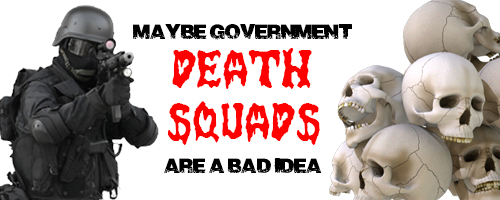 Remember when I warned about the worrying signs that Filipino President Rodrigo "Dirty Harry" Duterte was setting up a police state, including deputizing the public to kill suspected criminals, threatening martial law if the judiciary tried to stop him and endorsing the killing of journalists? Well, to adopt the parlance of the millennial Buzzfeed set, you won't believe what happened next!
Actually, you will believe it. The Philippines has turned into a police state.
Specifically, Duterte himself had to halt his own self-declared war on drugs earlier this week because (who could've guessed it?!) the Filipino police had taken it as carte blanche to go on a kidnapping, murder and theft spree. A new report on the killings alleges that the police "have behaved like the criminal underworld they are supposed to be suppressing, taking payments for killings and delivering bodies to funeral homes." It goes on to accuse the Filipino "authorities" of a "systematic, planned and organized" campaign of killings that could constitute a crime against humanity.
The Biometric ID Grid: A Country-by-Country Guide
Corbett • 01/31/2017 • 96 Comments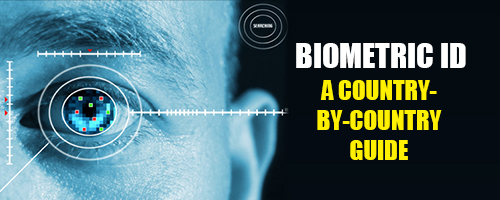 by James Corbett
corbettreport.com
January 31, 2017
In last week's report on India's demonetization disaster I began to connect the dots between demonetization, the push for a cashless society, and the biometric identification schemes that will eventually tie everyone's fingerprints, iris scans, and other identifying details to every transaction they ever make.
Well, that game of "connect the dots" just became even easier to play.
First, it was reported last week that a key panel advising the government on its implementation of the "digital payments ecosystem" (that is being pushed and funded by USAID) is now recommending that India links its national biometric ID database directly to tax returns.
And now comes word that India is "working on a biometrics-backed payment system that will be connected to a user's unique ID number, or Aadhaar." (Who could have seen that coming?)
No, it doesn't take a Nostradamus to understand where this is all heading: From the cashless society and the biometric ID grid to the cashless biometric grid. And we already know about the cashless society. Now it's time to collect the data on the biometric ID grid.
And let's not be naive: As I've demonstrated before, this is a coordinated plan to institute a worldwide biometric id system to track every human on the planet.
Dow 20,000! What Could Go Wrong?!!
Corbett • 01/29/2017 •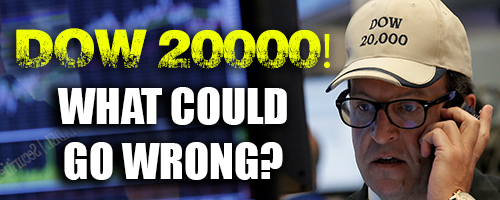 Congratulations, America! The Dow Jones Industrial Average has just rolled past 20,000 for the first time ever! Let the fireworks fly, because the ticker tape parade is about to begin!
The Trump administration, wasting no time in chalking this up to "the Trump effect," celebrated.
Asian markets, which lifted as much as 1.8% on the news, celebrated.
European markets, which edged up across the board on the news, celebrated.
Global markets in general, which hit a 19-month high on the news, celebrated.
And why not? Such a momentous event must indicate that the global economic recovery is right on track, right? Surely we can now rest easy in the knowledge that the coming years will bring prosperity and security for all, right?
---
Hour 2
Media Type: Audio • Time: 119 Minutes and 0 Secs
Hour 2 -- Ricardo Valenzuela (Mexican cattle rancher, libertarian economist, agro investment banker) on relations between the U.S. and Mexico
-30-
2017-02-08 Hour 2 Ricardo Valenzuela from Ernest Hancock on Vimeo.
Hour 2
Ricardo Valenzuela
Mexican cattle rancher, libertarian economist, agro investment banker
Webpages:
http://www.asuntoscapitales.com/colaboradores2015.asp?idc=12 (all of Ricardo's articles are published here)
https://www.linkedin.com/in/cherobravo
https://libertarianlair.blogspot.com/
=======================
Ricardo's postings on Freedom's Phoenix:
MEXICAN UNITED STATES RELATIONS
https://www.freedomsphoenix.com/Subjects/00140-0001-mexican-united-states-relations.htm
=======================
Manufacturers of poverty….and immigrants
Libertarian Reflections - Ricardo Valenzuela
A few months ago my friend, Pablo Kleinman, invited me to do a radio interview at Univision in Los Angeles. Pablo is someone who was educated in Europe and the USA so, I immediately accepted knowing that the event would be a real interesting experience.
The goal of the interview was to explore the reasons why the southwest states of the USA, which use to be part of Mexico, are so rich and Mexico so poor and underdeveloped. It was a real tough job to find answers to an unquestionable reality: the states of California, Arizona, Colorado, Nevada, New Mexico, Texas etc report a GNP close to 4 trillion dollars while my country of Mexico can only show less than a trillion.
I received another invitation from Pablo for a new interview. It took me some time to decide whether to participate because of the complexity of the subject now suggested by Pablo: the new immigration law approved by Arizona.
This law is controversial for many reasons. Perhaps the most important one can be found in the appearance of the attorney general before congress to explain why he was about to file a suit against Arizona to block this new law. When one of the senators asked him if he had already read the text of the law, in an unbelievable and shameful way he answered that he had not.
In other words, the attorney general of the USA was about to file a law suit against a law in which he did not know its content.
Well, I have read the law so I know what is in it, but besides that, I want to share other credentials I have which I feel give me the right to express a responsible opinion about it. I was born and grew up in Sonora—the Mexican state border with Arizona—I have been legally residing in Arizona for years and I have always interacted between Sonora and Arizona. For five years I attended college at Tec of Monterrey in a city 100 miles south of Laredo Texas. During college vacations we use to drive Monterrey, Laredo, Del Rio, Eagle Pass, El Paso, Las Cruces, Nogales and then to my home town of Hermosillo. So, I know the border.
I married an Arizonan and I have 3 daughters who were born in Arizona. They married kids from Arizona and it is where they now live. For five generations my family has been a cattle exporter and we have crossed our cattle through all the Arizona—Sonora, and Chihuahua--Texas ports of entrance for more than 100 years. In a partnership with my friend from Sinaloa, Adolfo Clouthier, I participated in a company marketing Mexican produce all over the USA headquartered it in Nogales, Arizona.
I was President of a bank in Mexico with branches all over the border (Tijuana, Mexicali, San Luis Rio Colorado, Nogales, Agua Prieta, Ciudad Juarez) and every month I use to visit at least 3 or 4 of those branches for the meetings of local board of directors to learn about the problems all over the border.
I was governor of Sonora Eduardo Bours' representative in the US residing in Phoenix with big responsibilities about all kind of relations between Sonora and Arizona. So, I know the border.
I am not a lawyer but, in my intellectual formation I had a big influence from a couple of real bright jurists. My father who had a degree of international law from the University of Brussels and my uncle Gilberto Valenzuela, who was jurist of the Mexican Supreme Court and also a jurist of the International Court at Holland. Someone whose life is described in a book title: "Gilberto Valenzuela, a life devoted to the principle of legality." So, I strongly believe that countries with no rule of law are condemned to failure.
As a free market economist I believe that supply and demand will always meet, legally or illegally. And the most dramatic example of it, is the insane war that my country is fighting against an enemy which they will never subdue; the war against drugs. However, I also think, like my good friend Alberto Mansueti say in his book; 'The Bad Laws'; some countries have only real bad laws. But my purpose is not to analyze the legal aspect of the problem; we have another one much more grave and important.
A few weeks ago the Mexican Secretary of State made a real irresponsible affirmation. "The only root of this problem is the refusal of the USA to approve a new immigration reform." Oh, that sounds very simple. What about the one implemented in 1986? Through that process the USA legalized more than 10 million people and was the problem solved, no? Twenty years later the USA has another 20 million undocumented people who, running away from their countries, entered the US illegally and some experts say, in the background are another few million waiting, making this situation a very profitably business for international mafias
The real problem is not to come up with a new immigration reform to document those millions of people. We can find the real problem just asking a question. Why in the last 30 years 40 million people left their countries in Latin America to, illegally, enter the USA?
A few years ago Tony Blair said something really wise. "You can measure the greatness of countries by keeping track of the people leaving them, or people arriving in them". If that is the case, we can affirm that we come from midget countries. We come from countries where they don't want to build the conditions to make their economies grow, the conditions to create jobs because, when people don't find them, they are pushed to go to the USA. We are manufacturers of poverty and misery.
But we have political leaders showing up in Washington scolding congress, because they are not opening the doors for the people we are expelling from our countries because of our corruption, ineptitude and insecurity.
Blind out of fear and irresponsibility, we charge against bad gringos, racists, bullies, unjust. But we don't see that we are the ones providing those miserable human beings as the raw material to build this tragedy. I can't understand those masses of people, from all over Latin America, wearing the war paint to, without respecting the rule of law, demand some imaginary rights when in their countries never had the freedom to do the same thing against the tyrants who expelled them. I can't understand why the whole Latin America's GNP is less than 20% of the USA, and the only solution we have is to demand aggressively that the gringos take the many poor people we manufacture and expel.
We Mexicans will never get it. The new Arizona law doesn't penalize immigration. The law only authorizes and gives the tools to the police force to secure the rule of law. If people enter the USA without the kind of requirements the law demands, they became outlaws and should be prosecuted.
The only thing that Arizona has done, is to approved the laws they consider necessary to promote a civilize way of living for their societies. The only difference with Mexico is that they do enforce the rule of law and we don't know the meaning of those words.
The political correct people in Mexico City went so far, in the middle of their ignorance, to glorify people who penetrate the USA breaking the law, they are just that, people braking the law.
Why don't we abandon that role of beggars armed with big sticks? Why don't we take down that flag of imaginary racism and stop barking to the moon on the water? If we want to find the causes and solutions to this sad and painful problem, we just have to take a look of our faces in the mirror, then make an act of contrition and stop manufacturing poor people and a lot of migrants invading the USA out of desperation.
=======================
Latest articles on webpage:
Tuesday, February 7, 2017 -
America's Next Leftist President: Donald Trump
By Craig Biddle
Another leftist has won the White House.
Yes, President-elect Donald Trump is a leftist. He advocates policies that violate individual rights. That's what it means to be a leftist.
Granted, Trump may not be as far left as Hillary Clinton on certain issues. But, then, neither is President Obama. As Marc Thiessen points out, Trump's presidency will be in many ways "a third Obama term."
Consider the evidence:
Trump promises to spend "at least double" what Hillary would have spent on new infrastructure projects. How will government pay for these projects? It will forcibly seize funds from citizens (via taxation or inflation), thus violating their rights.
Trump aims to increase the federal minimum wage by "some magnitude" so "the people" will have more money. This, of course, will increase rights violations by increasing the extent to which government forbids employers and employees to contract by mutual consent to mutual benefit. It will also increase unemployment by making more would-be employees unaffordable to employers. Wage control is a staple of the left.
Posted by J Ricardo Valenzuela
Ayn Rand's Theory of Rights: The Moral Foundation of a Free Society
By Craig Biddle
What are rights? Where do they come from? One's answers to these questions determine whether one is capable of defending a free society. If one does not know the nature and source of rights, one cannot know whether rights are real or imagined. And if rights are not real, there is no foundation for freedom; governments and societies may do as they please.
The traditional answers to the above questions fall into three categories: (1) Rights are moral laws specifying what a person should be free to do, and they come from God. (2) Rights are political laws specifying what a person is free to do, and they are created by governments. (3) Rights are moral laws specifying what a person should be free to do, and they are inherent in man's nature. But each of these theories is demonstrably false, and a person or society attempting to defend freedom on such grounds will ultimately fail—as Americans are failing today.
Ayn Rand's answers to the above questions, however, are demonstrably true—and those who come to understand her answers thereby equip themselves to defend freedom on solid, philosophic ground.
Toward understanding Rand's theory of rights and its crucial value in the cause of freedom, let us begin with a brief overview of the traditional theories and their essential deficiencies. Then we will turn to Rand's theory, see how it solves the various problems left unsolved by the other theories, and discover how it grounds rights in observable facts.
Posted by J Ricardo Valenzuela
By Craig Biddle
It is widely believed today that our moral, cultural, and political alternatives are limited either to the ideas of the secular, relativistic left—or to those of the religious, absolutist right—or to some compromised mixture of the two. In other words, one's ideas are supposedly either extremely "liberal" or extremely "conservative" or somewhere in between. Ayn Rand's philosophy, Objectivism, rejects this false alternative and offers an entirely different view of the world.
Objectivism is fully secular and absolutist; it is neither liberal nor conservative nor anywhere in between. It recognizes and upholds the secular (this-worldly) source and nature of moral principles and the secular moral foundations of a fully free, fully civilized society.
Posted by J Ricardo Valenzuela
Individualism vs. Collectivism: Our Future, Our Choice
By Craig
The fundamental political conflict in America today is, as it has been for a century, individualism vs. collectivism. Does the individual's life belong to him—or does it belong to the group, the community, society, or the state? With government expanding ever more rapidly—seizing and spending more and more of our money on "entitlement" programs and corporate bailouts, and intruding on our businesses and lives in increasingly onerous ways—the need for clarity on this issue has never been greater. Let us begin by defining the terms at hand.
Individualism is the idea that the individual's life belongs to him and that he has an inalienable right to live it as he sees fit, to act on his own judgment, to keep and use the product of his effort, and to pursue the values of his choosing. It's the idea that the individual is sovereign, an end in himself, and the fundamental unit of moral concern. This is the ideal that the American Founders set forth and sought to establish when they drafted the Declaration and the Constitution and created a country in which the individual's rights to life, liberty, property, and the pursuit of happiness were to be recognized and protected.
Posted by J Ricardo Valenzuela
---