Susan Douglas (Double D Productions) talks about the video documentary What About Me?, an expose inside the dramatic search for a cure for Myalgic Encephalopathy (ME), aka Chronic Fatigue Syndrome (CFS) - John McAfee (Technology Pioneer, CEO of MGT C
Media Type: Audio • Time: 164 Minutes and 0 Secs
Media Type: Audio • Time: 43 Minutes and 38 Secs
Media Type: Audio • Time: 63 Minutes and 30 Secs
---
Hour 1 - 3
Media Type: Audio • Time: 164 Minutes and 0 Secs
Hour 1 -- Susan Douglas (Double D Productions) talks about the video documentary What About Me?, an expose inside the dramatic search for a cure for Myalgic Encephalopathy (ME), aka Chronic Fatigue Syndrome (CFS)
Hour 2 -- Freedom's Phoenix Headline News
Hour 3 - John McAfee (Technology Pioneer, CEO of MGT Capital Investments, Inn) on his new Hack Proof Smart Phone
CALL IN TO SHOW: 602-264-2800
-30-
May 3rd, 2017
Declare Your Independence with Ernest Hancock
on LRN.FM / Monday - Friday
9 a.m. - Noon (EST)
Studio Line: 602-264-2800
Hour 1
2017-05-03 Hour 1 Susan Douglas from Ernest Hancock on Vimeo.
Susan Douglas
Webpage: http://www.doubledproductions.co.uk/
Producer
Born and raised in Wales, Susan is a dual citizen of the UK and the USA. Starting her career in
the fashion business, as a model in London. Going on to produce and direct international
fashion shows in the Middle East and E.Africa. In the U.S.A. she continued producing and
directing regional and national fashion shows for the Kim Dawson agency in Dallas. Susan then
worked as a casting director for the Sarah Norton Agency in Dallas, assisting with casting for
feature films and TV shows.

Susan's career progressed after moving to Kenya in 1990 and Hong Kong in 1996 and
incorporated in those 14 years either chairperson or board positions on a number of committees
for organizations with charitable aims.

She was a key player in Kenya, chair of an association raising funds for street children and
hospitals (Vice President of the Committee) in raising around $5m for a Hong Kong Gala
Concert for the Children in North Korea featuring Jose Carreras. She has most recently held
committee positions in London, where she returned in 2005, raising funds for the National
Gallery and Royal Festival Hall with Act IV (an organization raising money for cultural events in
London). Susan set up Vesta Films after studying screen writing, producing and directing, where
her skills as a fundraiser and event organizer came into play. She produced and directed the
16mm short film 'The Monument' in 2007.

Moving on to own today Double D Productions, where the company has focused on
documentaries, with the first theatrical release being WHO KILLED NANCY?, the story of the
killing of Nancy Spungeon, the girlfriend of Sid Vicious of the Sex Pistols, followed by the online
launch of THE GOONER REVIEW, the insider on a season of the Arsenal football team, as
seen by it's celebrity fans. Then moving to feature films with the release of ST. GEORGE'S DAY,
a British gangster film, which Susan served as co producer and also shot the "making of", for
domestic and worldwide DVD release.

Susan is currently adding to Double D's slate of projects with the feature films, working title
VIVIEN , the story of Laurence Olivier and Vivien Leigh, written and directed by Michael Radford, and SJAMBOK, an adventure/drama set in S. Africa

Susan has completed and sold the documentary WHAT ABOUT ME? on the struggle of the community that is in the world of ME/CFS this year that will be available May 3rd on Amazon in the USA.
===============================
Video Documentary:
Secret blood draws, controversy, no diagnosis, no cure, little funding yet 20 million people suffer with Myalgic Encephalomyelitis.
WHAT ABOUT ME? is a 90 minute feature documentary that takes the audience on a journey to investigate the debilitating condition of Myalgic Encephalomyelitis known as ME/CFS which affects 20 million worldwide. Previously healthy, active, vibrant individuals find themselves racked with head to toe muscle pain, suffering from devastating memory loss, cognitive dysfunction, severe fatigue and for many left bedbound. There is a battle to find the cure and we ask what constantly delays the finding of the cure for this illness?
Double D Productions embarked on a seven year journey to capture the revelations in our documentary to produce a story of intrigue, heartbreak and hope.
Premiering at the Film France Festival in Monte Carlo on May 10th, before going on to be sold at the Cannes Film Festival with Adler & Associates Entertainment.
What About ME? (Official Trailer)
Published on Aug 14, 2016
Adler & Associates Entertainment is proud to present the official trailer for "What About ME?".

"What About ME?" is an expose inside the dramatic search for a cure to ME/CFS. 17 million people around the world suffer from what ME/CFS has been known as a mystery illness, delegated to the psychological realm until now.

Directed by Susan Douglas.
===============================
Available on Amazon...
https://www.amazon.co.uk/What-About-ME-Susan-Douglas/dp/B06XCYJW29/ref=cm_cr_arp_d_product_top?ie=UTF8
"What About ME?" is an expose inside the dramatic search for a cure for Myalgic Encephalopathy (ME), also known as Chronic Fatigue Syndrome (CFS). 17 million people around the world suffer from ME/CFS which, unbelievably, has until now, been treated as a mystery illness or even as a psychological disorder by the medical community.
Starring:
Susan Douglas, Jay Spero, Malcolm Hooper
Runtime:
1 hour, 25 minutes
Available to watch on supported devices.
---
Hour 2
Media Type: Audio • Time: 43 Minutes and 38 Secs
Hour 2 -- Freedom's Phoenix Headline News
-30-
Hour 2
2017-05-03 Hour 2 FP Headline News from Ernest Hancock on Vimeo.
Ernest Hancock
Freedom's Phoenix Headline News
=====================
---
Hour 3
Media Type: Audio • Time: 63 Minutes and 30 Secs
Hour 3 - John McAfee (Technology Pioneer, CEO of MGT Capital Investments, Inn) on his new Hack Proof Smart Phone
-30-
Hour 3
2017-05-03 Hour 3 John McAfee from Ernest Hancock on Vimeo.
John McAfee
An Anti-Virus Pioneer and Privacy Advocate, John comes on the show to talk about his new hack proof smart phone
Webpages:
John David McAfee was born on a U.S. Army base in the United Kingdom, but his parents soon took him to the United States and raised him in Salem, Virginia. In the 1960's, he attended Roanoke College and earned a Bachelor's Degree in Mathematics. Much later, in 2008, the same institution recognized him with an honorary Doctor of Science degree. Throughout his life, McAfee has gravitated towards software programming. He held a number of jobs in that industry after college, until one day, while working at Lockheed Martin, he became inspired to write a program for the elimination of computer viruses – the first of its kind. He founded McAfee associates shortly thereafter, a company that became so successful that he was able to quit his job at Lockheed and run his business full-time. McAfee Associates continued to perform well, and in the 1990's, John McAfee sold his stake in the corporation and became a wealthy man.
John is a Technology Pioneer, and current CEO of MGT Capital Investments, Inc (MGTI) which is in the process of acquiring a diverse portfolio of cyber security technologies.
==============================
TOPICS DISCUSSED...
The world's most hack-proof smartphone to arrive this year
http://www.deccanchronicle.com/technology/mobiles-and-tabs/020517/the-worlds-most-hack-proof-smartphone-to-arrive-this-year.html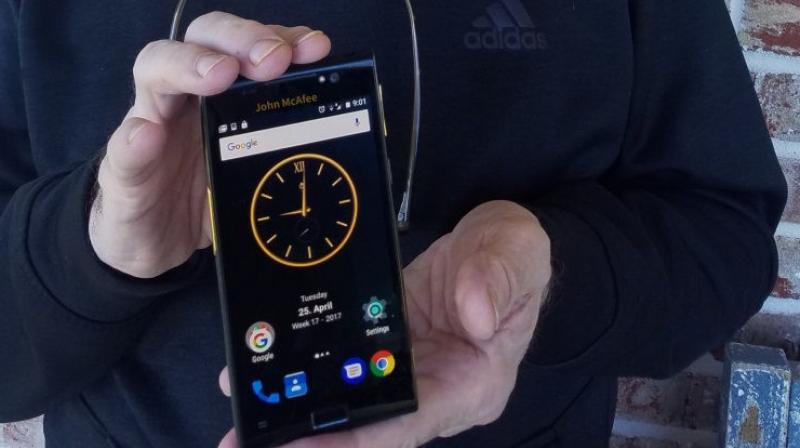 McAfee creator John McAfee is reportedly working on a new smartphone, claimed to be the world's most hack-proof phone. A new report suggests that the device will arrive later this year.
The smartphone is said to feature hardware switches, which will allow users to disconnect the battery, the antennas for Wi-Fi, the camera, Bluetooth, the geo-location and the microphone. The device will be priced at $1,100 (approximately Rs 70,700).
On its announcement blog post earlier this year, MGT said, "The base phone will be procured as an OEM model using the Android operating system, and then modified using the skills of MGT's cybersecurity team."
"It also will not allow the phone to connect to a Stingray or any other IMSI catcher device. In addition, it contains a Web search anonymiser," John McAfee was quoted as saying in the Newsweek report. Notably, McAfee did clarify that even though it will be most hack-proof phone in the world, it will still not be completely hack-proof.
"It is Version 1... It is not hack proof but it does give the user enormous power over his or her privacy and it is light years ahead of the BlackPhone or any other phone claiming to be secure. "Version 2 will be available in the summer of 2018. It will be as hack proof as humanly possible," McAfee was reported as saying.
Other specifications of the smartphone will be released a week ahead of its launch.