Michael Eliot (Founder of Ventive Floathouse) on private cities through seasteading using the modular floathouse concept - Tom DeWeese (President of the American Policy Center) on private property rights in today's world, free enterprise, Red Pill Ex
Media Type: Audio • Time: 157 Minutes and 0 Secs
Media Type: Audio • Time: 52 Minutes and 27 Secs
Media Type: Audio • Time: 57 Minutes and 55 Secs
---
Hour 1 - 3
Media Type: Audio • Time: 157 Minutes and 0 Secs
Hour 1 - Freedom's Phoenix Headline News
Hour 2 - Michael Eliot (Founder of Ventive Floathouse) on private cities through seasteading using the modular floathouse concept
Hour 3 - Tom DeWeese (President of the American Policy Center) on private property rights in today's world, personal privacy, free enterprise, American sovereignty and independence. Tom will also be a speaker at the Red Pill Expo in Spokane (June 21-23, 2018)
CALL IN TO SHOW: 602-264-2800
-30-
May 23rd, 2018
Declare Your Independence with Ernest Hancock
on LRN.FM / Monday - Friday
9 a.m. - Noon (EST)
Studio Line: 602-264-2800
Hour 1
Ernest Hancock
Freedom's Phoenix Headline News
James Corbett was scheduled to be on the show, but ended up under the weather, so here is a list of the recent videos and articles by James as posted on The Corbett Report...
JAMES CORBETT'S LATEST VIDEOS
NGOs Are The Deep State's Trojan Horses
Corbett • 05/22/2018

The Trojan horse was the earliest recorded military psyop. That psyop continues to be deployed on unsuspecting populations and it is just as useful as ever, but today's tricksters have donned the mantle of philanthropy, and their Trojan horses are not wooden statues but non-governmental organizations offering "aid" to foreign nations. In today's edition of The Corbett Report, we'll learn about how NGOs are the deep state's Trojan horses.
Gaza Massacre, Age of Rage, Podcast Patent – #NewWorldNextWeek
Corbett • 05/19/2018

This week on the New World Next Week: Israel celebrates its birthday by spilling the blood of unarmed protesters; a think piece on cliodynamics asks if we are destined for an age of rage; and the EFF defeats the podcast patent.
Chinese World Order Rises in Ashes of Iran Deal
Corbett • 05/15/2018 • 71 Comments

China has just opened a new railway link with Iran and CNPC is set to fill the void left by France's Total if and when they leave the South Pars field. It looks like the US pulling out of the Iran deal is win-win for China and the BRICS world order…and the engineered destruction of the west continues apace.
Social Media Alternatives: Mix-Blockchain
Corbett • 05/15/2018

This week on the Social Media Alternatives series we discuss Mix-Blockchain.org with founder Jonathan Brown.
Financial Survival After the Iran Deal
Corbett • 05/14/2018

James appears for his bi-monthly appearance on Financial Survival to discuss the latest in news, geopolitics and economics. This week he breaks down the US' withdrawal from the Iran nuclear deal and its potential ramifications, including what it means for nuclear negotiations with North Korea.
The REAL Middle East Nuclear Threat
Corbett • 05/12/2018

There is in fact a Middle Eastern nation that is in fact in control of a vast, undeclared stockpile of nuclear weapons. This nation does have the capability of deploying those weapons anywhere in the region. It is not a signatory to the nuclear non-proliferation treaty and its arsenal has never been inspected by any international agency. But this nation is not Iran. It's Israel.
JAMES CORBETT'S LATEST ARTICLES
Corbett • 05/19/2018 • 35 Comments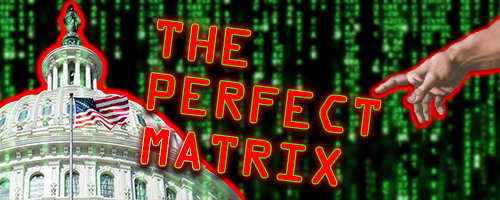 In the beginning was The Program. The Programmer made His creation perfect, and when He looked on it He saw that it was so, and that was good. But then it fell apart.
You see, Matrix v0.1 was just something thrown together on the weekend for a laugh. Real glitch-y, beta release stuff. Like if you tried to program Sim City in Basic and run it on a Commodore 64. Still, it worked. Kind of.
But that was the problem, you see? It worked. Everything just worked. When the Matrix-dwellers wanted food, they got it. It was never too hot or too cold. No disease. Everyone died precisely at 80 years old, having lived identically happy, challengeless, boring lives. Or they would have, if anyone had stayed in long enough to find out how the story was supposed to go. In the end, everyone pulled themselves out of the Matrix.
Pulled themselves out.
Yes, that was the problem with Matrix v0.1. It was too perfect.
Back to the drawing board. Time to roll up sleeves, take things seriously. Add some difficulties, challenges, struggle, achievement. Complexity.
The Fate of the World is in the EU's Hands (God Help Us All)
Corbett • 05/13/2018 • 57 Comments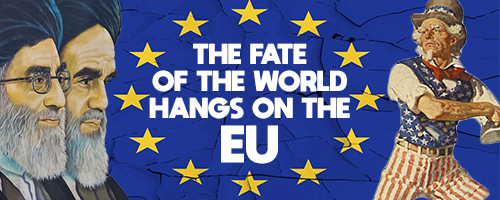 So it's come to this. The fate of the world hangs in the balance…and it's the EU that's going to be the deciding factor.
The EU? Really? Sigh.
You may have heard that the US scrapped the Iranian nuclear deal this week, setting off a series of events that could very likely end up in a regional conflagration. But if that's what you heard, then you heard wrong. In actuality, Trump signed an Executive Memorandum on Tuesday that reaffirmed his October 13, 2017, decision to deny re-certification of the JCPOA that lifted sanction waivers promised under this agreement.
Confused? Don't worry, so is mostly everyone else. But here's the bottom line: The "Iran nuclear deal" was not some treaty between the US and Iran. It was a Joint Comprehensive Plan of Action signed by China, France, Russia, the United Kingdom, the United States, the EU, and Iran. In other words, only one player in this seven-member deal is walking away from the table.
This is not a trivial distinction. What it means is that it is still perfectly possible that the other signatories to the agreement could continue on with the agreement or hammer out some replacement for it. At the very least, Europe could stand up to Washington's sanctions regime…if they followed Mish Shedlock's advice and "Grow a Backbone on Something Important," that is. As Mish points out, billions of dollars of European business are on the line. That money will be lost if the Europeans just roll over and accept US demands to wind down all business in Iran in the next three to six months.
Find out more about how the EU's choice between the American Empire and the Eurasian "alternative" is likely to determine the course of the 21st century (and how both sides are controlled) in this week's edition of The Corbett Report Subscriber.
---
Hour 2
Media Type: Audio • Time: 52 Minutes and 27 Secs
Hour 2 - Michael Eliot (Founder of Ventive Floathouse) on private cities through seasteading using the modular floathouse concept
-30-
Hour 2
Michael Eliot
Webpage: https://ventivefloathouse.com/
Michael Eliot is the founder of Ventive Floathouse and the creator of the floathouse, the single-family seastead. Michael co-founded a construction company in his 20's, and went on to manage a precision engineering and product company. Michael is dedicating himself to the creation of private cities through seasteading using the modular floathouse concept.
Ventive's mission is to build permanent ocean communities for the masses, using modular structures designed to make ocean living safe, comfortable, and affordable.
We're building new types of floating-structures capable of flourishing at sea permanently, to organize them into floating communities and ultimately into independent cities in international waters.
One Structure, Multiple Configurations
Floathouse Configurations
What is a Floathouse?
A floathouse is a new kind of floating home designed to do one thing better than any other floating structure: to stay in one place, comfortably and securely, on the ocean.
The floathouse is a finished home, ready to move in. It is a basic building-block of our more advanced structures. It is designed to be a year-round home for individuals or a family.
The round hull of this structure makes it extremely comfortable for passengers when rolling side to side. Compared to boats you may have been on before with different hull shapes which roll very quickly and tend to make many people seasick, the round hull rolls very slowly and tends not to produce seasickness. When this structure is built into some of our other configurations, like the Maran or Bermuda configs, roll can be reduced even more.
Use Cases
House
Office space
Restaurant
Doctor's office
And more
Impressions
Here we have a CAD drawing of the Floathouse with a cutaway view of the interior, before the walls, power, and accoutrements are added.
Floor Plan
Dimensions single family home:
Top floor for single family home:
Basement for single family home:
Floathouse v1.0 specifications
| | |
| --- | --- |
| Length | 80 feet (24.3 meters) |
| Height | 24 feet (7.3 meters) |
| Diameter | 24 feet (7.3 meters) |
| Beam | 18 feet (5.5 meters) |
| Draft | 4 feet (1.2 meter) |
| Usable square feet | 2300 sf (213 square-meters) |
| Floor(s) | 2 |
| Bedroom(s) | 3 total: 1x master-bedroom, 2x regular bedrooms |
| Bathroom(s) | 2.5 total: 1x master-bathroom, 1x regular-bathroom, 1x half-bathroom |
| Living room(s) | 1 |
| Dining room(s) | 1 |
| Spare room | 1 |
| Shell material | Geopolymer cement |
| Windows | 7 |
| Skylights | 8 |
| External Doors | 2 |
| Floor material | Concrete, polished or textured |
| Wall finishing | Mineral paint |
| Kitchen(s) | 1x kitchen with an Island |
| Kitchen Appliances | Bays for: Electric stove, Microwave, Refrigerator, and Dish Washer |
| Power | 1x 48V service box |
| Shore Power Connector | 1x |
| Emergency Power Batteries | 1x 48V Lithium-ion battery |
| Engine | Optional |
| Waste Storage | 4x Blackwater tanks |
| Exterior Lights | LEDs |
| Interior Lights | LEDs |
Design Information
Made using our standard filament-wound geopolymer process.
Constraints
If purchased by itself, roll-stability needs to be considered. If tied to a dock or to another structure, it can be safe and stable, but should not be used where it will be exposed to large wave activity without support from other structures that will keep it from rolling in waves.
FAQ
Q: I want a custom floor plan or make another change. Is that possible?
A: Yes, that is possible. Contact us for more details.
One Structure, Multiple Configurations
---
Hour 3
Media Type: Audio • Time: 57 Minutes and 55 Secs
Hour 3 - Tom DeWeese (President of the American Policy Center) on private property rights in today's world, personal privacy, free enterprise, American sovereignty and independence. Tom will also be a speaker at the Red Pill Expo in Spokane (June 21-23, 2018)
-30-
Hour 3
Tom DeWeese
Webpage: https://americanpolicy.org/
Tom DeWeese is one of the nation's leading advocates of individual liberty, free enterprise, private property rights, and American sovereignty and independence. Tom DeWeese was one of the first to voice concern over the radical agenda of the environmental movement and to question its motives.
Today he serves as Founder and President of the American Policy Center and editor of The DeWeese Report and author of three books: "Now Tell Me I Was Wrong," "ERASE," a fictional political thriller, and his most recent policy book entitled "Sustainable, the War on Free Enterprise, Private Property and Individuals."
About The American Policy Center
The American Policy Center (APC), located in suburban Washington, D.C., is a privately funded, nonprofit, 501 c (4), tax-exempt grassroots action and education foundation dedicated to the promotion of free enterprise and limited government regulations over commerce and individuals.
APC believes that the free market, through its inherent system of checks and balances, including private ownership of property, is the best method yet devised for creating individual wealth, full employment, goods and services, and protecting the natural environment.
APC's approach to establishing free market policy is rooted in the conviction that a well-informed American public is the best guarantee that U.S. policy will be guided by a keen awareness of the complexity of world politics and America's role in it.
To these ends, the American Policy Center has developed a wide range of programs designed to enhance national awareness of crucial global and domestic developments. In particular, APC focuses on the issues of environmental policy and its effect on private property rights; national federal computer data banks and their effect on individual privacy rights; the United Nations and its effect on American national sovereignty; and federal education policy and its effect on local schools and parental rights.
To promote its positions, APC publishes The DeWeese Report and occasionally special reports. Both are available through subscription. In addition, APC principals regularly appear on radio and television talk shows, and speak publicly before local and national conferences.
The American Policy Center is one of the nation's leading grassroots activist organizations. Its action alert system, Sledgehammer, mobilizes thousands of activists through fax and e-mail when legislative action is required. Regular legislative updates are issued bi-weekly through the APC Newswire.
As a result of its legislative activity, contributions to the American Policy Center are not tax-deductible. APC is funded primarily from small, individual contributions of its supporters and occasional grants from private foundations and businesses. APC does not accept government grants of any kind.
=====================================
Tom has just produced a new booklet entitled Why Property Rights Matter. It is free of charge for listeners! You can download it at www.whypropertyrightsmatter.com.
Tom's new book Sustainable: The WAR on Free Enterprise, Private property and Individuals. It recently hit #1 best seller in its category on Amazon. Details are available at www.sustainabledevelopment.com
Here is a link to their media page that contains some videos, lists of some of the many programs Tom has been on and comments about him by many well known activists.
https://americanpolicy.org/media/
Also, here is one of the videos promoting Tom's new book: