Dr Phranq Tamburri, NMD (Trump Report) on boycotts and why SOLO will not save Star Wars -- Charles Goyette (Author, Commentator) comes in studio to provide an update on the economy
Media Type: Audio • Time: 212 Minutes and 0 Secs
Media Type: Audio • Time: 159 Minutes and 0 Secs
---
Hour 1 - 3
Media Type: Audio • Time: 212 Minutes and 0 Secs
Hour 1 - Dr Phranq Tamburri, NMD (Trump Report) on boycotts and why SOLO will not save Star Wars
Hour 2-3 - Charles Goyette (Author, Commentator) comes in studio to provide an update on the economy; Dr Phranq Tamburri, NMD (Trump Report) joins in the conversation
CALL IN TO SHOW: 602-264-2800
-30-
May 29th, 2018
Declare Your Independence with Ernest Hancock
on LRN.FM / Monday - Friday
9 a.m. - Noon (EST)
Studio Line: 602-264-2800
Hour 1
Dr. Phranq Tamburri, NMD
The Trump Report
Webpages: http://www.longevitymedical.com/
=============================
Phranq's previous interviews on the Declare Your Independence with Ernest Hancock Radio Show:
https://www.freedomsphoenix.com/Guest-Page.htm?No=00672
DR. PHRANQ TAMBURRI BIO
Dr. Phranq Tamburri is a naturopathic physician specializing in men's health with a sub-specialty in prostate cancer. In tandem to these fields, Dr. Tamburri treats male hormone deficiency, low energy, and sexual performance. Although naturopathic medicine is a specialty in itself, Dr. Tamburri has garnered recognition as an expert in the field of prostate cancer assessment, diagnosis, and treatment; each of the preceding from a balanced natural and allopathic perspective. His training in this area has been varied and wide in scope. As Chief Resident from his Alma Mater, he trained under Mayo trained urologist Bernard Gburek, M.D. at Scottsdale North Hospital while at the same time apprenticed under CMO and Physician of the Year Thomas Kruzel, N.D. who specialized in natural urology. Dr. Tamburri later was director of the Men's Health Clinic at his local teaching clinic. Currently he is long term professor of Clinical Urology at the Southwest College of Naturopathic Medicine and also sits as a member of the AZNMA and is the only naturopathic physician on the AZ State Funded SW Prostate Cancer Awareness Council. Dr. Tamburri has been published in this area along with multiple lectures to fellow physicians at yearly professional conventions. Recently he has been asked to serve as expert witness for the State of Arizona Board of Medical Examiners with regard to the management of natural prostate cancer assessment and treatment.
Dr. Tamburri, on his limited down time, loves to study Early American and World History in both didactics and in travels. He has taught inline skating for many years, hikes often with fellow doctors, and recently began pursuit as a poi practitioner!
Prostate Cancer Risk Assessment
Dr. Phranq Tamburri November 2008 NDNR article
Dr. Phranq Tamburri September 2007 NDNR article
==============================
References on the show...
In this video Becker breaks down how while Disney's Star Wars MIGHT seem immediately successful things are not what they seem. The financials are trending downward and Disney is in a big hole. If they do not start turning around their movies they are going to start losing a lot money.
Go Woke, Go Broke: 'Solo' Crash Lands at Box Office
26 May 2018 - Breitbart
Before we go any further, let's dispel with The Nonsense. Solo is not collapsing at this weekend's domestic and international box office over some exotic disease known as Star Wars Fatigue. The idea that the American public is tired of Star Wars because The Last Jedi was released only five months ago, is a heaping-helping of anti-science rubbish.
To begin with, Avengers: Infinity War opened just five [Correction: nine weeks] weeks after Black Panther. Nine. Weeks. In fact, Black Panther was still in theaters when Infinity War opened and Infinity War still delivered the biggest opening in the history of the box office.
Star Wars Fatigue?
Are people actually going with that?
In America?
In a country that, for decades, still tunes in countless times a week to gobble down reruns of various procedural shows (CSI, Law & Order, NCIS) that are indistinguishable from one another?
Americans never tire of anything. Look around, y'all, we hate to tire of stuff. From our cold dead hands will we let something go. We love sameness, the comfort of predictability, the sense that the earth has stopped turning, which means time isn't passing, which means we are not going to die. Good grief, we are so scared of dying, so terrified of change, that sometime in June of 1995 we froze our clothes, hair, and decorating styles in amber.
Fatigue? From Americans? Sorry, no. The only way to get us to move along is if it sucks … which brings me back to Star Wars.
How badly is Solo under-performing?
Oh, it's bad.
Keeping in mind that the trades reporting on Solo's box office tend to suck up to the studios by making things sound better than they really are — and things still look bad. Over this four-day Memorial Day weekend, Solo is belly-flopping at right around $114 million. Solo's three-day take (Friday, Saturday, Sunday) is $93 million.
Comparing apples-to-apples, here are the three-day openings…
Solo: $92 million
The Last Jedi: $220 million
Rogue One: $155 million
When you figure in for inflation, even the dreaded prequels (that opened on a lot fewer screens) will out-perform Solo.
The Phantom Menace opened to $114 million (2970 screens) in 1999, Attack of the Clones opened to $126 million (3161 screens) in 2002, and Revenge of the Sith opened to $153 million (3663 screens) in 2005.
Solo opened on a whopping 4400 screens.
For an even clearer perspective, on its opening Friday, Rogue One earned $71 million. Solomade about half that, $36.5 million.
Internationally, that magical place where most domestic box office bombs go to thrive, Solo is even doing worse. In 43 markets, over two whole days, Solo made a paltry $11.4 million.
So what is happening? Why such a collapse?
Two words: Kathleen and Kennedy.
Kathleen Kennedy is the 65-year-old producer in charge of the Star Wars franchise. She is also a committed left-wing social justice warrior and feminist who is using the Star Warsfranchise to push her obnoxious agenda.
Kennedy undoubtedly believed that with such a beloved and iconic property, she was bulletproof; that she could be as strident and obnoxious as she pleased, and we dumbass Americans would still slavishly get the line because spaceships and laser-guns are cool 'n stuff.
She was wrong, and The Last Jedi was the beginning of the end. It under-preformed big-time at the box office and its overbearing political moments were not only eye-rollingly awful, they damaged the overall story while tainting the entire franchise. Kennedy has placed her dumb agenda over the storytelling, and the result was especially awful in Last Jedi, like that two-hour chase that went nowhere. Worse still, was Kennedy's decision to dumb down Oscar Issac's Poe Dameron into a sexist caveman when he is, by far, the most charismatic new character in the new trilogy.
Solo also has its SJW moments. Who doesn't love watching a five-foot girl who weighs in at about 85 pounds kicking the ass of a grown man? Then there is the feminist droid always harping about equal rights (thankfully, she is killed off quickly). Finally, we are hit with the news that the iconic Lando Calrissian is a "pansexual," and there are a couple moments in Solo where you are given the impression that includes sex with feminist droids.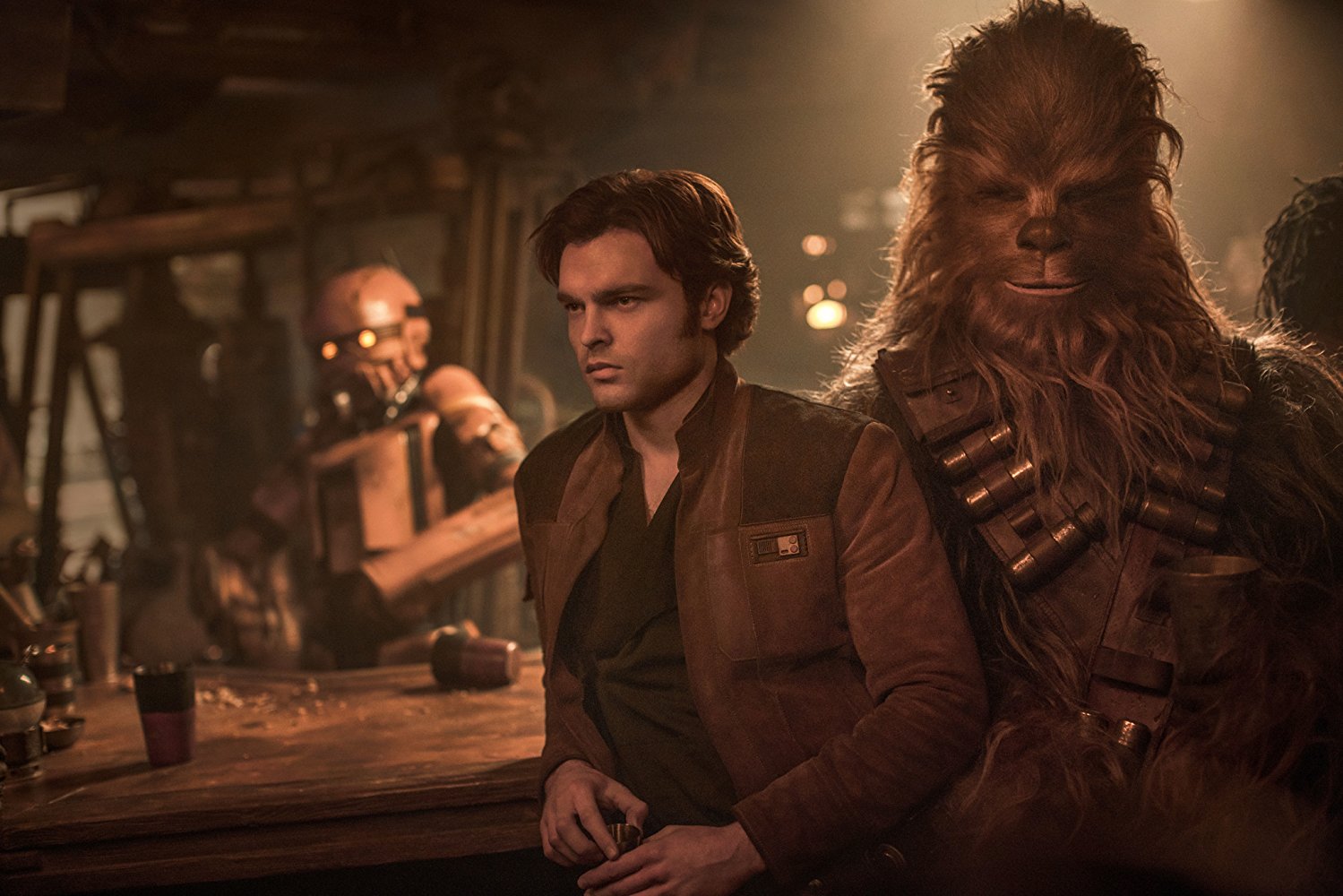 Alden Ehrenreich is Hans Solo and Joonas Suotamo is Chewbacca in Solo: A Star Wars Story (Lucasfilm, 2018)
CLICK HERE for the rest of the article
---
Hour 2
Media Type: Audio • Time: 159 Minutes and 0 Secs
Hour 2 - Charles Goyette (Author, Commentator) comes in studio to provide an update on the economy; Dr Phranq Tamburri, NMD (Trump Report) joins in the conversation
-30-
Hour 2
Charles Goyette - In Studio
Dr Phranq Tamburri, NMD (Trump Report) joins in the conversation
Webpages:
http://www.thedollarmeltdown.com/
https://www.lewrockwell.com/author/charles-goyette/
Charles's previous interviews on the Declare Your Independence with Ernest Hancock Radio Show:
https://www.freedomsphoenix.com/Guest-Page.htm?No=00021
=============================
---
Hour 3
Hour 3 - Charles Goyette (Author, Commentator) comes in studio to provide an update on the economy; Dr Phranq Tamburri, NMD (Trump Report) joins in the conversation
-30-
Hour 3
Charles Goyette Cont'd
In Studio
Dr Phranq Tamburri, NMD (Trump Report) joins in the conversation