James Corbett (The Corbett Report) on a variety of world news headlines - Jordan Page (Artist; Musician, Liberty Activist) on the release of "The Ballad of LaVoy Finicum (A Cowboy's Stand for Freedom)" - Dr Janet Levatin (Pediatrician; Homeopathic Ph
Media Type: Audio • Time: 190 Minutes and 0 Secs
Media Type: Audio • Time: 59 Minutes and 45 Secs
Media Type: Audio • Time: 72 Minutes and 23 Secs
---
Hour 1 - 3
Media Type: Audio • Time: 190 Minutes and 0 Secs
Hour 1 - James Corbett (The Corbett Report) on a variety of world news headlines
Hour 2 - Jordan Page (Artist; Musician, Liberty Activist) on the release of "The Ballad of LaVoy Finicum (A Cowboy's Stand for Freedom)"
Hour 3 - Dr Janet Levatin (Pediatrician; Homeopathic Physician) on alternative medicine and the healthcare system
CALL IN TO SHOW: 602-264-2800
-30-
Letters of Marque Paperback
AVAILABLE ON AMAZON NOW BY CLICKING HERE!
Letters of Marque Paperback – September 25, 2018
by Marque dePlume (Author)
"The Crown calls it 'piracy' to explore frontiers beyond its grasp. So the time has come to define the conduct among pirates." Captain Marque
http://pirateswithoutborders.com/
Join us 'Above the Grid'
================================
November 28th, 2018
Declare Your Independence with Ernest Hancock
on LRN.FM / Monday - Friday
9 a.m. - Noon (EST)
Studio Line: 602-264-2800
Hour 1
James Corbett
The Corbett Report
Webpage: CorbettReport.Com
James Corbett (The Corbett Report) on a variety of news headlines
James's previous interviews on the Declare Your Independence with Ernest Hancock Radio Show:
https://www.freedomsphoenix.com/Guest-Page.htm?No=01092
============================
JAMES CORBETT'S LATEST VIDEOS…
https://www.corbettreport.com/category/videos/
Babies on Bayonets – #PropagandaWatch
Corbett • 11/26/2018 • 3 Comments

In this clip from The WWI Conspiracy (Part Two) we examine the propaganda surrounding the "Rape of Belgium" at the start of WWI and the actions of the baby bayonetting evil Hun savages…
The Tin Foil Ripple Farm Report on WWI
Corbett • 11/25/2018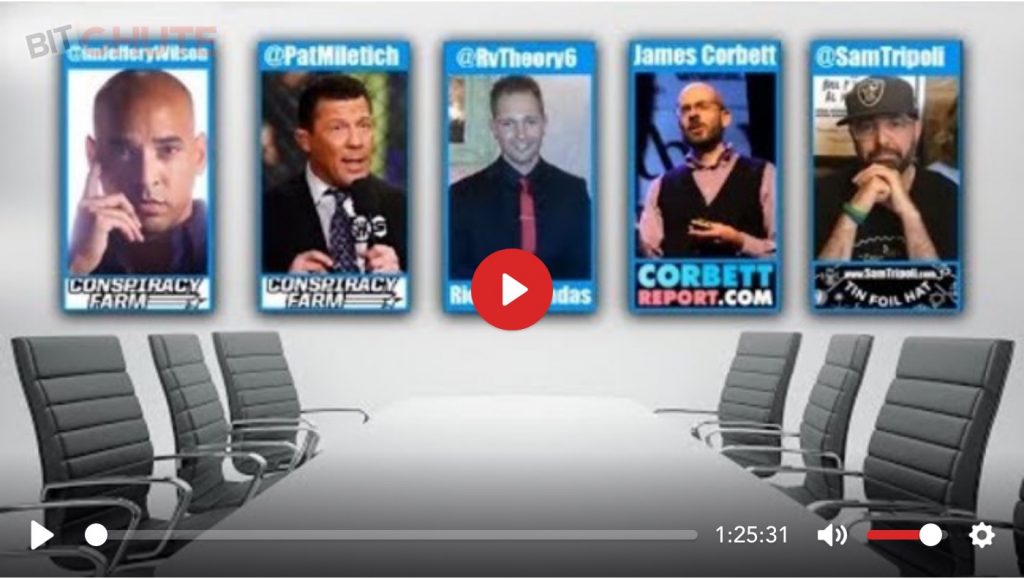 An epic roundtable discussion hosted by Ricky Varandas of The Ripple Effect Podcast and featuring James Corbett from the Corbett Report, Sam Tripoli from the Tin Foil Hat podcast, and Pat Miletich & Jeffery Wilson from The Conspiracy Farm podcast. Need I say more? Enjoy!
Cord Never, deFAANGed, Beard World Order – New World Next Week
Corbett • 11/23/2018

This week on the New World Next Week: The collapse of traditional TV continues; the collapse of Big Tech ensues; and the rise of the beard world order begins.
The WWI Conspiracy – Part Two: The American Front
Corbett • 11/22/2018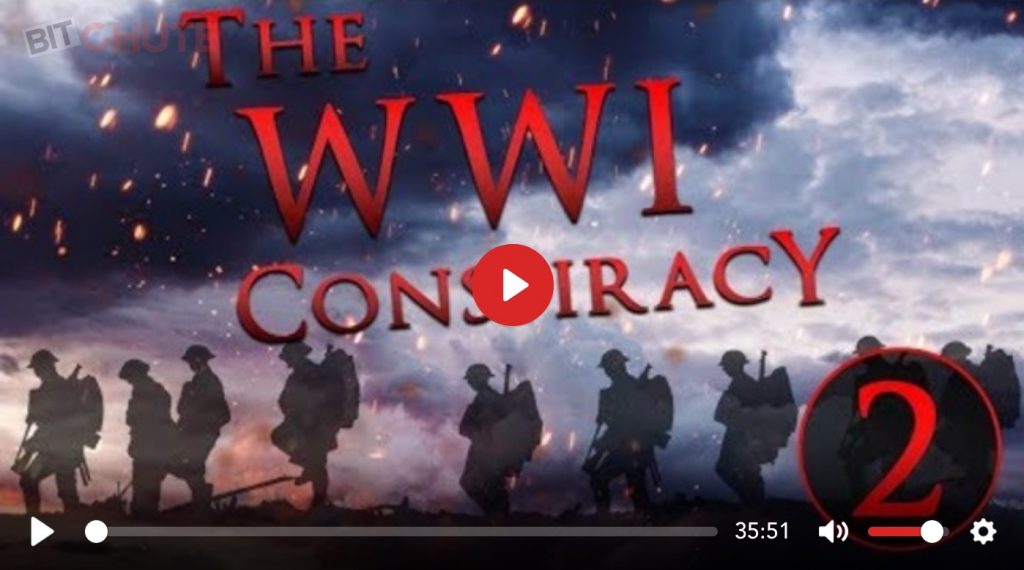 Difficult as it had been for the Round Table to maneuver the British Empire into the war with Germany, it would be that much harder for their American fellow travelers to coax the United States out of its neutrality and into World War One. The cabal was going to have to leverage its control of the press and key governmental positions to begin to shape public perception and instill pro-war sentiment. And once again, the full resources of these motivated co-conspirators were brought to bear on the task. Join The Corbett Report for Part Two of The WWI Conspiracy.
============================
JAMES CORBETT'S LATEST ARTICLES…
https://www.corbettreport.com/category/articles/
Corbett • 11/19/2018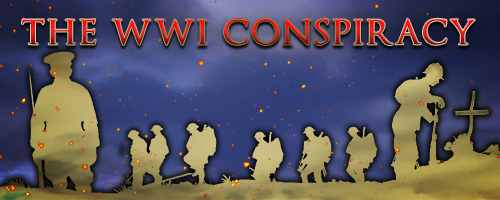 TRANSCRIPT
INTRODUCTION
November 11, 1918.
All across the Western front, the clocks that were lucky enough to escape the four years of shelling chimed the eleventh hour. And with that the First World War came to an end.
From 10 o'clock to 11 — the hour for the cessation of hostilities — the opposed batteries simply raised hell. Not even the artillery prelude to our advance into the Argonne had anything on it. To attempt an advance was out of the question. It was not a barrage. It was a deluge.
[. . .]
Nothing quite so electrical in effect as the sudden stop that came at 11 A. M. has ever occurred to me. It was 10:60 precisely and — the roar stopped like a motor car hitting a wall. The resulting quiet was uncanny in comparison. From somewhere far below ground, Germans began to appear. They clambered to the parapets and began to shout wildly. They threw their rifles, hats, bandoleers, bayonets and trench knives toward us. They began to sing.
—Lieutenant Walter A. Davenport, 101st Infantry Regiment, US Army
And just like that, it was over. Four years of the bloodiest carnage the world had ever seen came to a stop as sudden and bewildering as its start. And the world vowed "Never again."
Each year, we lay the wreath. We hear "The Last Post." We mouth the words "never again" like an incantation. But what does it mean? To answer this question, we have to understand what WWI was.
WWI was an explosion, a breaking point in history. In the smoldering shell hole of that great cataclysm lay the industrial-era optimism of never-ending progress. Old verities about the glory of war lay strewn around the battlefields of that "Great War" like a fallen soldier left to die in No Man's Land, and along with it lay all the broken dreams of a world order that had been blown apart. Whether we know it or not, we here in the 21st century are still living in the crater of that explosion, the victims of a First World War that we are only now beginning to understand.
What was World War One about? How did it start? Who won? And what did they win? Now, 100 years after those final shots rang out, these questions still puzzle historians and laymen alike. But as we shall see, this confusion is not a happenstance of history but the wool that has been pulled over our eyes to stop us from seeing what WWI really was.
This is the story of WWI that you didn't read in the history books. This is The WWI Conspiracy.
PART ONE – TO START A WAR
June 28, 1914.
The Archduke Franz Ferdinand, heir to the Austro-Hungarian throne, and his wife Sophie are in Sarajevo for a military inspection. In retrospect, it's a risky provocation, like tossing a match into a powder keg. Serbian nationalism is rising, the Balkans are in a tumult of diplomatic crises and regional wars, and tensions between the kingdom of Serbia and the Austro-Hungarian Empire are set to spill over.
But despite warnings and ill omens, the royal couple's security is extremely lax. They board an open-top sports car and proceed in a six-car motorcade along a pre-announced route. After an inspection of the military barracks, they head toward the Town Hall for a scheduled reception by the Mayor. The visit is going ahead exactly as planned and precisely on schedule.
And then the bomb goes off.
As we now know, the motorcade was a death trap. Six assassins lined the royal couple's route that morning, armed with bombs and pistols. The first two failed to act, but the third, Nedeljko ?abrinovi?, panicked and threw his bomb onto the folded back cover of the Archduke's convertible. It bounced off onto the street, exploding under the next car in the convoy. Franz Ferdinand and his wife, unscathed, were rushed on to the Town Hall, passing the other assassins along the route too quickly for them to act.
Having narrowly escaped death, the Archduke called off the rest of his scheduled itinerary to visit the wounded from the bombing at the hospital. By a remarkable twist of fate, the driver took the couple down the wrong route, and, when ordered to reverse, stopped the car directly in front of the delicatessen where would-be assassin Gavrilo Princip had gone after having failing in his mission along the motorcade. There, one and a half metres in front of Princip, were the Archduke and his wife. He took two shots, killing both of them.
Yes, even the official history books—the books written and published by the "winners"—record that the First World War started as the result of a conspiracy. After all, it was—as all freshman history students are taught—the conspiracy to assassinate the Archduke Franz Ferdinand that led to the outbreak of war.
That story, the official story of the origins of World War I, is familiar enough by now: In 1914, Europe was an interlocking clockwork of alliances and military mobilization plans that, once set in motion, ticked inevitably toward all out warfare. The assassination of the Archduke was merely the excuse to set that clockwork in motion, and the resulting "July crisis" of diplomatic and military escalations led with perfect predictability to continental and, eventually, global war. In this carefully sanitized version of history, World War I starts in Sarajevo on June 28, 1914.
But this official history leaves out so much of the real story about the build up to war that it amounts to a lie. But it does get one thing right: The First World War was the result of a conspiracy.
To understand this conspiracy we must turn not to Sarajevo and the conclave of Serbian nationalists plotting their assassination in the summer of 1914, but to a chilly drawing room in London in the winter of 1891. There, three of the most important men of the age—men whose names are but dimly remembered today—are taking the first concrete steps toward forming a secret society that they have been discussing amongst themselves for years. The group that springs from this meeting will go on to leverage the wealth and power of its members to shape the course of history and, 23 years later, will drive the world into the first truly global war.
Their plan reads like outlandish historical fiction. They will form a secret organization dedicated to the "extension of British rule throughout the world" and "the ultimate recovery of the United States of America as an integral part of a British Empire." The group is to be structured along the lines of a religious brotherhood (the Jesuit order is repeatedly invoked as a model) divided into two circles: an inner circle, called "The Society of the Elect," who are to direct the activity of the larger, outer circle, dubbed "The Association of Helpers" who are not to know of the inner circle's existence.
"British rule" and "inner circles" and "secret societies." If presented with this plan today, many would say it was the work of an imaginative comic book writer. But the three men who gathered in London that winter afternoon in 1891 were no mere comic book writers; they were among the wealthiest and most influential men in British society, and they had access to the resources and the contacts to make that dream into a reality.
Present at the meeting that day: William T. Stead, famed newspaper editor whose Pall Mall Gazette broke ground as a pioneer of tabloid journalism and whose Review of Reviews was enormously influential throughout the English-speaking world; Reginald Brett, later known as Lord Esher, an historian and politician who became friend, confidant and advisor to Queen Victoria, King Edward VII, and King George V, and who was known as one of the primary powers-behind-the-throne of his era; and Cecil Rhodes, the enormously wealthy diamond magnate whose exploits in South Africa and ambition to transform the African continent would earn him the nickname of "Colossus" by the satirists of the day.
But Rhodes' ambition was no laughing matter. If anyone in the world had the power and ability to form such a group at the time, it was Cecil Rhodes.
Richard Grove, historical researcher and author, TragedyAndHope.com.
RICHARD GROVE: Cecil Rhodes also was from Britain. He was educated at Oxford, but he only went to Oxford after he went to South Africa. He had an older brother he follows into South Africa. The older brother was working in the diamond mines, and by the time Rhodes gets there he's got a set up, and his brother says "I'm gonna go off and dig in the gold mines. They just found gold!" And so he leaves Cecil Rhodes, his younger brother—who's, like, in his 20s—with this whole diamond mining operation. Rhodes then goes to Oxford, comes back down to South Africa with the help of Lord Rothschild, who had funding efforts behind De Beers and taking advantage of that situation. And from there they start to use what—there's no other term than "slave labor," which then turns in later to the apartheid policy of South Africa.
GERRY DOCHERTY: Well, Rhodes was particularly important because in many ways, at the end of the 19th century, he seriously epitomized where capitalism was [and] where wealth really lay.
Gerry Docherty, WWI scholar and co-author of Hidden History: The Secret Origins of the First World War.
DOCHERTY: Rhodes had the money and he had the contacts. He was a great Rothschild man and his mining wealth was literally uncountable. He wanted to associate himself with Oxford because Oxford gave him the kudos of the university of knowledge, of that kind of power.
And in fact that was centered in a very secretive place called "All Souls College." Still you'll find many references to All Souls College and "people behind the curtain" and such phrases [as] "power behind thrones." Rhodes was centrally important in actually putting money up in order to begin to gather together like-minded people of great influence.
Rhodes was not shy about his ambitions, and his intentions to form such a group were known to many. Throughout his short life, Rhodes discussed his intentions openly with many of his associates, who, unsurprisingly, happened to be among the most influential figures in British society at that time.
More remarkably, this secret society—which was to wield its power behind the throne—was not a secret at all. The New York Times even published an article discussing the founding of the group in the April 9, 1902, edition of the paper, shortly after Rhodes' death.
The article, headlined "Mr. Rhodes's Ideal of Anglo-Saxon Greatness" and carrying the remarkable sub-head "He Believed a Wealthy Secret Society Should Work to Secure the World's Peace and a British-American Federation," summarized this sensational plan by noting that Rhodes' "idea for the development of the English-speaking race was the foundation of 'a society copied, as to organization, from the Jesuits.'" Noting that his vision involved uniting "the United States Assembly and our House of Commons to achieve 'the peace of the world,'" the article quotes Rhodes as saying: "The only thing feasible to carry out this idea is a secret society gradually absorbing the wealth of the world."
This idea is laid down in black and white in a series of wills that Rhodes wrote throughout his life, wills that not only laid out his plan to create such a society and provided the funds to do so, but, even more remarkably, were collected in a volume published after his death by co-conspirator William T. Stead.
GROVE: Rhodes also left his great deal of money—not having any children, not having married, dying at a young age—left it in a very well-known last will and testament, of which there were several different editions naming different benefactors, naming different executors.
So in 1902 Cecil Rhodes dies. There's a book published that contains his last will and testament. The guy who wrote the book, William T. Stead, was in charge of a British publication called The Review of Reviews. He was part of Rhodes' Round Table group. He at one time was an executor for the will, and in that will it says that he laments the loss of America from the British Empire and that they should formulate a secret society with the specific aim of bringing America back into the Empire. Then he names all the countries that they need to include in this list to have world domination, to have an English-speaking union, to have British race as the enforced culture on all countries around the world.
The will contains the goal. The goal is amended over a series of years and supported and used to gain support. And then, by the time he dies in 1902, there's funding, there's a plan, there's an agenda, there's working groups, and it all launches and then takes hold. And then not too long later, you've got World War One and then from that you've got World War Two and then you've got a century of control and slavery that really could have been prevented.
When, at the time of Rhodes' death in 1902, this "secret" society decided to partially reveal itself, it did so under the cloak of peace. It was only because they desired world peace, they insisted, that they had created their group in the first place, and only for the noblest of reasons that they aimed to "gradually absorb the wealth of the world."
But contrary to this pacific public image, from its very beginnings the group was interested primarily in war. In fact, one of the very first steps taken by this "Rhodes Round Table" (as it was known by some) was to maneuver the British Empire into war in South Africa. This "Boer War" of 1899–1902 would serve a dual purpose: it would unite the disparate republics and colonies of South Africa into a single unit under British imperial control, and, not incidentally, it would bring the rich gold deposits of the Transvaal Republic into the orbit of the Rothschild/Rhodes-controlled British South Africa Company.
The war was, by the group's own admission, entirely its doing. The point man for the operation was Sir Alfred Milner, a close associate of Rhodes and a member of the secret society's inner circle who was then the governor of the British Cape Colony. Although largely forgotten today, Alfred Milner (later 1st Viscount Milner) was perhaps the most important single figure in Britain at the dawn of the 20th century. From Rhodes' death in 1902, he became the unofficial head of the roundtable group and directed its operations, leveraging the vast wealth and influence of the group's exclusive membership to his own ends.
With Milner, there was no compunction or moral hand-wringing about the methods used to bring about those ends. In a letter to Lord Roberts, Milner casually confessed to having engineered the Boer War: "I precipitated the crisis, which was inevitable, before it was too late. It is not very agreeable, and in many eyes, not a very creditable piece of business to have been largely instrumental in bringing about a war."
When Rhodes' co-conspirator and fellow secret society inner circle member William Stead objected to war in South Africa, Rhodes told him: "You will support Milner in any measure that he may take short of war. I make no such limitation. I support Milner absolutely without reserve. If he says peace, I say peace; if he says war, I say war. Whatever happens, I say ditto to Milner."
The Boer War, involving unimaginable brutality—including the death of 26,000 women and children in the world's first (British) concentration camps—ended as Rhodes and his associates intended: with the formerly separate pieces of South Africa being united under British control. Perhaps even more importantly from the perspective of the secret society, it left Alfred Milner as High Commission of the new South African Civil Service, a position from which he would cultivate a team of bright, young, largely Oxford-educated men who would go on to serve the group and its ends.
And from the end of the Boer War onward, those ends increasingly centered around the task of eliminating what Milner and the Round Table perceived as the single greatest threat to the British Empire: Germany.
DOCHERTY: So in the start it was influence—people who could influence politics, people who had the money to influence statesmen—and the dream. The dream of actually crushing Germany. This was a basic mindset of this group as it gathered together.
Germany. In 1871, the formerly separate states of modern-day Germany united into a single empire under the rule of Wilhelm I. The consolidation and industrialization of a united Germany had fundamentally changed the balance of power in Europe. By the dawn of the 20th century, the British Empire found itself dealing not with its traditional French enemies or its long-standing Russian rivals for supremacy over Europe, but the upstart German Empire. Economically, technologically, even militarily; if the trends continued, it would not be long before Germany began to rival and even surpass the British Empire.
For Alfred Milner and the group he had formed around him out of the old Rhodes Round Table society, it was obvious what had to be done: to change France and Russia from enemies into friends as a way of isolating, and, eventually, crushing Germany.
Peter Hof, author of The Two Edwards: How King Edward VII and Foreign Secretary Sir Edward Grey Fomented the First World War.
PETER HOF: Yes, well from the British perspective, Germany, after their unification in 1871, they became very strong very quickly. And over time this worried the British more and more, and they began to think that Germany represented a challenge to their world hegemony. And slowly but surely they came to the decision that Germany must be confronted just as they had come to the same decision with regard to other countries—Spain and Portugal and especially France and now Germany.
German finished goods were marginally better than those of Britain, they were building ships that were marginally better than those of Britain, and all of this. The British elite very slowly came to the decision that Germany needed to be confronted while it was still possible to do so. It might not be possible to do so if they waited too long. And so this is how the decision crystallized.
I think that Britain might possibly have accepted the German ascendance, but they had something that was close at hand, and that was the Franco-Russian Alliance. And they thought if they could hook in with that alliance, then they had the possibility of defeating Germany quickly and without too much trouble. And that is basically what they did.
But crafting an alliance with two of Britain's biggest rivals and turning public opinion against one of its dearest continental friends was no mean feat. To do so would require nothing less than for Milner and his group to seize control of the press, the military and all the diplomatic machinery of the British Empire. And so that's exactly what they did.
The first major coup occurred in 1899, while Milner was still in South Africa launching the Boer War. That year, the Milner Group ousted Donald Mackenzie Wallace, the director of the foreign department at The Times, and installed their man, Ignatius Valentine Chirol. Chirol, a former employee of the Foreign Office with inside access to officials there, not only helped to ensure that one of the most influential press organs of the Empire would spin all international events for the benefit of the secret society, but he helped to prepare his close personal friend, Charles Hardinge, to take on the crucial post of Ambassador to Russia in 1904, and, in 1906, the even more important post of Permanent Under-Secretary at the Foreign Office.
With Hardinge, Milner's Group had a foot in the door at the British Foreign Office. But they needed more than just their foot in that door if they were to bring about their war with Germany. In order to finish the coup, they needed to install one of their own as Foreign Secretary. And, with the appointment of Edward Grey as Foreign Secretary in December of 1905, that's precisely what happened.
Sir Edward Grey was a valuable and trusted ally of the Milner Group. He shared their anti-German sentiment and, in his important position of Foreign Secretary, showed no compunction at all about using secret agreements and unacknowledged alliances to further set the stage for war with Germany.
HOF: He became foreign secretary in 1905, I believe, and the foreign secretary in France was of course Delcassé. And Delcassé was very much anti-German and he was very passionate about the recovery of Alsace-Lorraine, and so he and the king hit it off very well together. And Edward Grey shared this anti-German feeling with the king—as I explained in my book how he came to have that attitude about Germany. But in any case, he had the same attitude with the king. They worked very well together. And Edward Grey very freely acknowledged the heavy role that the king played in British foreign policy and he said that this was not a problem because he and the king were in agreement on most issues and so they worked with very well together.
The pieces were already beginning to fall into place for Milner and his associates. With Edward Grey as foreign secretary, Hardinge as his unusually influential undersecretary, Rhodes' co-conspirator Lord Esher installed as deputy governor of Windsor Castle where he had the ear of the king, and the king himself—whose unusual, hands-on approach to foreign diplomacy and whose wife's own hatred of the Germans dovetailed perfectly with the group's aims—the diplomatic stage was set for the formation of the Triple Entente between France, Russia and Great Britain. With France to the west and Russia to the east, England's secret diplomacy had forged the two pincers of a German-crushing vise.
All that was needed was an event that the group could spin to its advantage to prepare the population for war against their former German allies. Time and again throughout the decade leading up to the "Great War," the group's influential agents in the British press tried to turn every international incident into another example of German hostility.
When the Russo-Japanese War broke out, rumours swirled in London that it was in fact the Germans that had stirred up the hostilities. The theory went that Germany—in a bid to ignite conflict between Russia and England, who had recently concluded an alliance with the Japanese—had fanned the flames of war between Russia and Japan. The truth, of course, was almost precisely the opposite. Lord Lansdowne had conducted secret negotiations with Japan before signing a formal treaty in January 1902. Having exhausted their reserves building up their military, Japan turned to Cecil Rhodes' co-conspirator Lord Nathan Rothschild to finance the war itself. Denying the Russian navy access to the Suez Canal and high-quality coal, which they did provide to the Japanese, the British did everything they could to ensure that the Japanese would crush the Russian fleet, effectively removing their main European competitor for the Far East. The Japanese navy was even constructed in Britain, but these facts did not find their way into the Milner-controlled press.
When the Russians "accidentally" fired on British fishing trawlers in the North Sea in 1904, killing three fishermen and wounding several more, the British public was outraged. Rather than whip up the outrage, however, The Times and other mouthpieces of the secret society instead tried to paper over the incident. Meanwhile, the British Foreign Office outrageously tried to blame the incident on the Germans, kicking off a bitter press war between Britain and Germany.
The most dangerous provocations of the period centered around Morocco, when France—emboldened by secret military assurances from the British and backed up by the British press—engaged in a series of provocations, repeatedly breaking assurances to Germany that Morocco would remain free and open to German trade. At each step, Milner's acolytes, both in government and in the British press, cheered on the French and demonized any and every response from the Germans, real or imagined.
DOCHERTY: Given that we're living in a world of territorial aggrandizement, there was a concocted incident over Morocco and the allegation that Germany was secretly trying to take over the British/French influence on Morocco. And that literally was nonsense, but it was blown up into an incident and people were told "Prepare! You had better prepare yourself for the possibility of war because we will not be dictated to by that Kaiser person over in Berlin!"
One of the incidents —which I would need to make reference to to get the date perfectly right—referred to a threat. Well, it was portrayed as a threat. It was no more of a threat than a fly would be if it came into your room at the present moment—of a gunboat sitting off the coast of Africa. And it was purported that this was a sign that in fact Germany was going to have a deep water port and they were going to use it as a springboard to interrupt British shipping. When we researched it, Jim and I discovered that the size of that so-called gunboat was physically smaller than the king of England's royal yacht. What? But history has portrayed this as a massive threat to the British Empire and its "masculinity," if you like—because that's how they saw themselves.
Ultimately, the Moroccan crises passed without warfare because, despite the best efforts of Milner and his associates, cooler heads prevailed. Likewise the Balkans descended into warfare in the years prior to 1914, but Europe as a whole didn't descend with them. But, as we well know, the members of the Round Table in the British government, in the press, in the military, in finance, in industry, and in other positions of power and influence eventually got their wish: Franz Ferdinand was assassinated and within a month the trap of diplomatic alliances and secret military compacts that had been so carefully set was sprung. Europe was at war.
In retrospect, the machinations that led to war are a master class in how power really operates in society. The military compacts that committed Britain—and, ultimately, the world—to war had nothing to do with elected parliaments or representative democracy. When Conservative Prime Minister Arthur Balfour resigned in 1905, deft political manipulations ensured that members of the Round Table, including Herbert Henry Asquith, Edward Grey and Richard Haldane—three men who Liberal leader Henry Campbell-Bannerman privately accused of "Milner worship"—seamlessly slid into key posts in the new Liberal government and carried on the strategy of German encirclement without missing a step.
In fact, the details of Britain's military commitments to Russia and France, and even the negotiations themselves, were deliberately kept hidden from Members of Parliament and even members of the cabinet who were not part of the secret society. It wasn't until November 1911, a full six years into the negotiations, that the cabinet of Prime Minister Herbert Henry Asquith started to learn the details of these agreements, agreements that had been repeatedly and officially denied in the press and in Parliament.
This is how the cabal functioned: efficiently, quietly and, convinced of the righteousness of their cause, completely uncaring about how they achieved their ends. It is to this clique, not to the doings of any conspiracy in Sarajevo, that we can attribute the real origins of the First World War, with the nine million dead soldiers and seven million dead civilians that lay piled in its wake.
But for this cabal, 1914 was just the start of the story. In keeping with their ultimate vision of a united Anglo-American world order, the jewel in the crown of the Milner Group was to embroil the United States in the war; to unite Britain and America in their conquest of the German foe.
Across the Atlantic, the next chapter in this hidden history was just getting underway.
PART TWO – THE AMERICAN FRONT
May 7, 1915.
"Colonel" Edward Mandell House is on his way to meet with King George V, who ascended to the throne after Edward VII's death in 1910. Accompanying him is Edward Grey, British foreign secretary and acolyte of the Milner Group. The two speak "of the probability of an ocean liner being sunk" and House informs Grey that "if this were done, a flame of indignation would sweep across America, which would in itself probably carry us into the war."
An hour later, at Buckingham Palace, King George V inquires about an even more specific event.
"We fell to talking, strangely enough, of the probability of Germany sinking a trans-Atlantic liner, . . . He said, 'Suppose they should sink the Lusitania with American passengers on board. . . .'"
And, by a remarkable coincidence, at 2:00 that afternoon, just hours after these conversations took place, that is precisely what happened.
The Lusitania, one of the largest passenger liners in the world, is en route from New York to Liverpool when it is struck by a torpedo from a German U-boat. She sinks to the bottom in minutes, killing 1,198 passengers and crew, including 128 Americans. The disaster—portrayed as a brazen, unexpected attack on an innocent passenger liner—helps to shift public opinion about the war in the US. To the average American, the war suddenly doesn't feel like a strictly European concern.
Every aspect of the story was, as we now know, a deception. The Lusitania was not an innocent passenger liner but an armed merchant cruiser officially listed by the British Admiralty as an auxiliary war ship. It was outfitted with extra armour, designed to carry twelve six-inch guns, and equipped with shell racks for holding ammunition. On its transatlantic voyage the ship was carrying "war materiel"—specifically, more than four million .303 rifle bullets and tons of munitions, including shells, powder, fuses and gun cotton—"in unrefrigerated cargo holds that were dubiously marked cheese, butter and oysters." This secret manifest was officially denied by the British government for generation after generation, but in 2014—a full 99 years after the event—internal government documents were finally released in which the government admitted the deception.
And, most remarkably of all, by Edward Mandell House's own account, both Edward Grey and King George V himself were discussing the sinking of the Lusitania just hours before the event took place.
It's a story that provides a window into the secret society's years-long campaign to draw the United States into World War I. But in order to understand this story, we have to meet Edward Mandell House and the other Milner Group co-conspirators in America.
Strange as it might seem, there was no shortage of such co-conspirators in the US. Some, like the members of the influential Pilgrim Society, founded in 1902 for the "encouragement of Anglo-American good fellowship"—shared Rhodes' vision of a united Anglo-American world empire; others were simply lured by the promise of money. But whatever their motivation, those sympathetic to the cause of the Round Table included some of the wealthiest and most powerful people in the United States at the time.
Many of these figures were to be found at the heart of Wall Street, in the banking and financial institutions revolving around J.P. Morgan and Company. John Pierpont Morgan, or "Pierpont" as he preferred to be called, was the nucleus of turn-of-the-century America's banking sector. Getting his start in London in 1857 at his father's merchant banking firm, the young Pierpont returned to New York in 1858 and embarked on one of the most remarkable careers in the history of the world.
Making his money financing the American robber barons of the late 19th century—from Vanderbilt's railroads to Adolph Simon Ochs' purchase of The New York Times to the buyout of Carnegie Steel—Morgan amassed a financial empire that, by the 1890s, wielded more power than the United States Treasury itself. He teamed up with his close allies, the House of Rothschild, to bail out the US government during a gold shortage in 1895 and eased the Panic of 1907 (which he helped to precipitate) by locking 120 of the country's most prestigious bankers in his library and forcing them to reach a deal on a $25 million loan to keep the banking system afloat.
As we saw in "Century of Enslavement: The History of the Federal Reserve," Morgan and his associates were only too happy to use the banking crises they helped to create to galvanize public opinion toward the creation of a central bank. . . so long as that central bank was owned and directed by Wall Street, of course.
But their initial plan, the Aldrich Plan, was immediately recognized as a Wall Street ploy. Morgan and his fellow bankers were going to have to find a suitable cover to get their act through Congress, including, preferably, a President with sufficient progressive cover to give the new "Federal Reserve Act" an air of legitimacy. And they found their ideal candidate in the politically unknown President of Princeton University, Woodrow Wilson, a man who they were about to rocket straight into the White House with the help of their point man and Round Table co-conspirator, Edward Mandell House.
Richard Grove, TragedyandHope.com.
GROVE: Woodrow Wilson was an obscure professor at Princeton University who, from reading all that I've read about him, wasn't the smartest guy, but he was smart enough to pick up when other people had good ideas and then he bumps into this guy named Colonel House.
Colonel House, he grew up in Beaumont, Texas, and Colonel House's dad was like a Rhett Butler type of smuggler privateer pirate during the Confederate war with the Union. So Colonel House: first of all, he's not a colonel. It's just like a title he gave himself to make him seem more than he was. But he did come from a politically connected family in the South that were doing business with the British during the Civil War. So Colonel House in the early 1900s makes Woodrow Wilson his protegé, and Colonel House himself is being puppeted by a few people in the layers of the Anglo-American establishment above him, and so we are left with the public persona of Woodrow Wilson. And here he is.
And he's got this, you know, this whole new Federal Reserve System that's going to come in during his administration, which was also kind of a precursor to getting America into the war because it changed our financial dependency from being self-reliant and printing our own debt-free money to being indentured to international bankers who charge us as they print money out of thin air and charge future generations for it.
The election of Woodrow Wilson once again shows how power operates behind the scenes to subvert the popular vote and the will of the public. Knowing that the stuffy and politically unknown Wilson would have little chance of being elected over the more popular and affable William Howard Taft, Morgan and his banking allies bankrolled Teddy Roosevelt on a third party ticket to split the Republican vote. The strategy worked and the banker's real choice, Woodrow Wilson, came to power with just forty-two percent of the popular vote.
With Wilson in office and Colonel House directing his actions, Morgan and his conspirators get their wish. 1913 saw the passage of both the federal income tax and the Federal Reserve Act, thus consolidating Wall Street's control over the economy. World War One, brewing in Europe just eight months after the creation of the Federal Reserve, was to be the first full test of that power.
But difficult as it had been for the Round Table to coax the British Empire out of its "splendid isolation" from the continent and into the web of alliances that precipitated the war, it would be that much harder for their American fellow travelers to coax the United States out of its own isolationist stance. Although the Spanish-American War had seen the advent of American imperialism, the thought of the US getting involved in "that European war" was still far from the minds of the average American.
A 1914 editorial from The New York Sun captures the sentiment of most of America at the time of the outbreak of the war in Europe:
"There is nothing reasonable in such a war as that for which Europe has been making ready, and it would be folly for this country to sacrifice itself to the frenzy of dynastic policies and the clash of ancient hatreds which is urging the Old World to its destruction."
The Sun was by no means unique in its assessment. A vote taken among 367 newspapers throughout the United States in November of 1914 found just 105 pro-Ally and 20 pro-German papers, with the vast majority—242 of them—remaining firmly neutral and recommending that Uncle Sam stay out of the conflict.
Once again, just as they did in Britain, the cabal was going to have to leverage its control of the press and key governmental positions to begin to shape public perception and instill pro-war sentiment. And once again, the full resources of these motivated co-conspirators were brought to bear on the task.
One of the first shells in this barrage of propaganda to penetrate the American consciousness was the "Rape of Belgium," a catalogue of scarcely believable atrocities allegedly committed by the German forces in their invasion and occupation of Belgium at the start of the war. In a manner that was to become the norm in 20th century propaganda, the stories had a kernel of truth; there is no doubt that there were atrocities committed and civilians murdered by German forces in Belgium. But the propaganda that was spun from those kernels of truth was so over-the-top in its attempts to portray the Germans as inhuman brutes that it serves as a perfect example of war propaganda.
RICHARD GROVE: The American population at that time had a lot of German people in it. Thirty to fifty percent of the population had relations back to Germany, so there had to be this very clever propaganda campaign. It's known today as "babies on bayonets." So if you have no interest in World War I but you think it's interesting to study propaganda so you don't get fooled again, then type it into your favorite search engine: "babies on bayonets, World War I." You'll see hundreds of different posters where the Germans are bayonetting babies and it brings about emotions and it doesn't give you the details of anything. And emotions drive wars, not facts. Facts are left out and deleted all the time in order to create wars, so I think that putting facts back in might help prevent wars. But I do know that they like to drive people on emotion. The "babies on bayonets" getting America into World War I, that's a key part of it.
GERRY DOCHERTY: Children who had their arms chopped off. Nuns that were raped. Shocking things, genuinely shocking things. The Canadian officer who was nailed at St. Andrew's cross on a church door and left there to bleed to death. These were the great myths peddled in order to defame and bring down the whole image of any justification for German action and try and influence America into war.
Gerry Docherty, co-author of Hidden History: The Secret Origins of the First World War.
DOCHERTY: That's not to say that there weren't atrocities on both sides. War is an atrocious event, and there are always victims. Absolutely. And I offer no justification for it. But the lies, the unnecessary abuse of propaganda.
Even when in Britain they decided that they would put together the definitive volume of evidence to present it to the world, the person they asked to do this just so happened to have been former British ambassador to the United States, a man called Bryce, who was very well-liked in the States. And his evidence was published and put forward and there were screeds of stories after stories. But then later it was discovered that in fact the people who took the evidence hadn't been allowed to speak to any of the Belgians directly but in fact what they were doing is they were listening to a middleman or agents who had supposedly taken these stories.
And when one of the official committee said "Hold on, can I speak to someone directly?" "No." "No?" He resigned. He wouldn't allow his name to be put forward with the [official report]. And that's the extent to which this is false history. It's not even acceptable to call it fake news. It's just disgusting.
The campaign had its intended effect. Horrified by the stories emerging from Belgium—stories picked up and amplified by the members of the Round Table in the British press, including the influential Times and the lurid Daily Mail, run by Milner ally Lord Northcliffe—American public opinion began to shift away from viewing the war as a European squabble about an assassinated archduke and toward viewing the war as a struggle against the evil Germans and their "sins against civilization."
The culmination of this propaganda campaign was the release of the "Report of the Committee on Alleged German Outrages," better known as "The Bryce Report," compiled for "His Britannic Majesty's Government" and presided over by Viscount James Bryce, who, not coincidentally, was the former British Ambassador to America and a personal friend of Woodrow Wilson. The report was a sham, based on 1,200 depositions collected by examiners who "had no authority to administer an oath." The committee, which was not allowed to speak to a single witness itself, was tasked merely with sifting through this material and deciding what should be included in the final report. Unsurprisingly, the very real atrocities that the Germans had committed in Belgium—the burning of Louvain, Andenne and Dinant, for example—were overshadowed by the sensationalist (and completely unverifiable) stories of babies on bayonets and other acts of villainy.
The report itself, concluding that the Germans had systematically and premeditatedly broken the "rules and usages of war" was published on May 12, 1915, just five days after the sinking of The Lusitania. Directly between these two events, on May 9, 1915, Colonel House—the man whom Wilson called his "second personality" and his "independent self"—wrote a telegram, which the President dutifully read to his cabinet and was picked up by newspapers across the country.
"America has come to the parting of the ways, when she must determine whether she stands for civilized or uncivilized warfare. We can no longer remain neutral spectators. Our action in this crisis will determine the part we will play when peace is made, and how far we may influence a settlement for the lasting good of humanity. We are being weighed in the balance, and our position amongst nations is being assessed by mankind."
But despite this all-out propaganda assault, the American public was still largely against entering the war. It was in this context that the same group of Wall Street financiers who had maneuvered Wilson into the White House presided over the 1916 presidential election, one that the country knew would decisively conclude America's neutrality in the war or its decision to send forces to engage in European combat for the first time in history.
The bankers left nothing to chance. Wilson, who would predictably follow House's lead on all matters including war, was still their preferred candidate, but his competitor, Charles Evan Hughes, was no less of a Wall Street man. Hughes' roots were as a Wall Street lawyer; his firm represented the New York, Westchester, and Boston Railroad Company for J.P. Morgan and Company and the Baptist Bible class that he led boasted many wealthy and influential members, including John D. Rockefeller, Jr.
The affable Hughes was stiff competition for the wooden and charmless Wilson, but such was the importance of American neutrality that "He Kept Us Out of War" actually became the central slogan of the campaign that saw Wilson return to the White House.
DOCHERTY: And then, of course, came the famous election of 1916. Wilson wasn't popular, but Wilson, simply—he had no kind of public persona which warmed people. On the contrary, he was a cold fish. He had dubious links with several of those who were powerful in Wall Street. But his propaganda for the election was "He Kept Us Out of War." "He was a man, vote for Wilson, he kept us out of war." And then having promised that he would continue to keep America out of war, and in fact of course within months America was thrown into the war by its own government.
"He Kept Us Out of War." But just as in the British election of 1906—which saw the British public overwhelmingly voting for Henry Campbell-Bannerman's Liberal Party and their platform of peace only to get the Milnerites in the cabinet entering secret agreements to bring about war—so, too, was the American public duped at the ballot box in 1916.
In fact, in the fall of 1915, over one year before the election even took place, Wilson's string-puller, Edward Mandell House, was engaged in a secret negotiation with Edward Grey, the Milnerite heading Britain's foreign office. That negotiation—long hidden from the public but finally revealed when House's papers were published in 1928—shows the lengths to which Grey and House were willing to go to draw America into the war on the si
---
Hour 2
Media Type: Audio • Time: 59 Minutes and 45 Secs
Hour 2 - Jordan Page (Artist; Musician, Liberty Activist) on the release of "The Ballad of LaVoy Finicum (A Cowboy's Stand for Freedom)"
-30-
Letters of Marque Paperback
AVAILABLE ON AMAZON NOW BY CLICKING HERE!
Letters of Marque Paperback – September 25, 2018
by Marque dePlume (Author)
"The Crown calls it 'piracy' to explore frontiers beyond its grasp. So the time has come to define the conduct among pirates." Captain Marque
http://pirateswithoutborders.com/
Join us 'Above the Grid'
================================
Hour 2
Jordan Page
Webpages:
http://www.jordanpagemusic.com/
https://www.patreon.com/jordanpagemusic
Jordan's previous interviews on the Declare Your Independence with Ernest Hancock Radio Show:
https://www.freedomsphoenix.com/Guest-Page.htm?No=00047
================================
TOPICS AND REFERENCES...
Revelushun Records and the Center for Self Governance
are Proud to Announce the Upcoming Release of
Jordan Page's Next Single:
"The Ballad of Lavoy Finicum (A Cowboy's Stand for Freedom)"
Available on 11/26/2018
50% of the proceeds go directly to the Finicum Family
Purchase both versions of The Ballad of Lavoy Finicum at the following links:
CD Baby
https://store.cdbaby.com/cd/jordanpage7
iTunes
https://itunes.apple.com/us/album/ballad-lavoy-finicum-cowboys-stand-for-freedom-single/1443053742
Amazon
https://www.amazon.com/Ballad-Lavoy-Finicum-Cowboys-Freedom/dp/B07KMPMTF5/ref=sr_1_1?ie=UTF8&qid=1543223857&sr=8-1&keywords=jordan+page+lavoy#
Google Play
https://play.google.com/store/music/album/Jordan_Page_The_Ballad_of_Lavoy_Finicum_A_Cowboy_s?id=Bgl7rxgwydwod3d2b3epxkrblmq&hl=en
Please Support the Finicum Family:
https://onecowboystandforfreedom.com/
For more information please visit Jordan Page's website at:
You can support Jordan's music and activism through Patreon:
www.patreon.com/jordanpagemusic
50% of the proceeds will be donated to the Finicum Family
================================
OTHER POINTS OF INTEREST...
Jordan Page Live at Walkaway March 2018
This is the complete performance from Jordan Page at the historic #Walkaway March in Washington D.C. on 10/27/2018. A movement of former liberals and democrats leaving the culture of racism, intolerance, and political insanity of the left in America, #walkaway is now a national phenomenon. On a cold and rainy October morning, over 5,000 people gathered and listened to Jordan Page, renowned liberty artist and activist, perform his songs of freedom. Bittube sponsored Jordan's performance and was celebrated by the attendees as a censorship free platform for free speech. The livestream feeds from which this broadcast originated had nearly 400,000 views within 24 hours. www.jordanpagemusic.com
---
Hour 3
Media Type: Audio • Time: 72 Minutes and 23 Secs
Hour 3 - Dr Janet Levatin (Pediatrician; Homeopathic Physician) on alternative medicine and the healthcare system
-30-
Letters of Marque Paperback
AVAILABLE ON AMAZON NOW BY CLICKING HERE!
Letters of Marque Paperback – September 25, 2018
by Marque dePlume (Author)
"The Crown calls it 'piracy' to explore frontiers beyond its grasp. So the time has come to define the conduct among pirates." Captain Marque
http://pirateswithoutborders.com/
Join us 'Above the Grid'
================================
Hour 3
Dr Janet Levatin, M.D.
Dr. Janet Levatin has been a holistic pediatrician since 1986, since completing medical school at George Washington University and residency at the University of Medicine and Dentistry of New Jersey. During her medical training she was not satisfied with having conventional medical approaches as her only tools. This led her to study a variety of other healing arts and ultimately settle on homeopathy as her primary treatment modality. She treats both children and adults with homeopathy as well as herbs, supplements, nutrigenomics and diet modification. After seeing three babies die of sudden infant death syndrome (SIDS) within 24 hours of being vaccinated, in the 1980s, Dr. Janet embarked on her decades-long, ongoing research into vaccine controversies. She is an outspoken advocate for freedom of choice and full informed consent with respect to all medical procedures, especially vaccination. Currently Dr. Janet works at the Tenpenny Integrative Medical Center in the Cleveland, Ohio area. Dr. Janet has traveled to Haiti once and Tanzania 3 times to provide homeopathic services. She hopes to spend more time in Africa in the future volunteering with Homeopathy for Health in Africa. While traveling, Dr. Janet stays healthy by eating carefully, drinking purified water, and using vitamin C, vitamin D, probiotics, and homeoprophylaxis.
Webpages:
http://tenpennyimc.com/category/dr-janet-blog/
==============================
Dr. Janet's most recent articles on her blog…
Homeoprophylaxis: A Safe and Effective Alternative to Conventional Vaccines
Posted By: Dr. Janeton: July 23, 2018In: blog, Children's health, Dr. Janet's blogs, Homeopathy, Vaccines
Janet Levatin, MD, Holistic Pediatrician Homeopathy is a wonderful healing tool that has been used since the late 1700s for treating numerous types of acute and chronic illnesses and all typ... Read more
Posted By: Dr. Janeton: February 26, 2018In: Children's health, Dr. Janet's blogs
by Janet Levatin, MD, holistic pediatrician One of the biggest weapons used by the vaccine-medical-complex is fear. From the beginning of our children's existence, we are taught to be afraid... Read more
Autism Rates Continue to Increase
Posted By: Dr. Janeton: December 06, 2017In: Dr. Janet's blogs, Vaccines
Janet Levatin, MD, Holistic Pediatrician
The National Center for Health Statistics (NCHS) has released a report on the prevalence of autism and childhood developmental disabilities in the US, based on data from 2014 to 2016.The news is grim, but not unexpected, as these problems have been increasing exponentially in our children for about the last three decades.
Autism is present in 2.76% of children, or 1 in 36. Boys are disproportionately affected with a prevalence of 1 in 27. Developmental disabilities, which include autism spectrum disorders, intellectual disabilities and other developmental delays, are present in 6.99 % of children, or 1 in 14.
Back-to-School Vaccines: Parents, Know Your Right to Refuse
Posted By: Dr. Janeton: August 08, 2017In: Dr. Janet's blogs, Vaccines
Janet Levatin, MD
It is late summer and school will be starting up soon. Parents have a lot to do, from buying their children school supplies and clothes, to taking them to the doctor for their school and sports physicals. For the typical American family, these visits often include vaccines.
By the time they enter kindergarten, the average child will be given the following vaccines: 5 doses of diphtheria, pertussis, tetanus; 2 doses of measles, mumps, rubella; 2 doses of varicella (chickenpox), and 6 doses of influenza vaccine (six months + annually). Doctors may also insist on giving other vaccines, such as hepatitis A or hepatitis B to complete the "schedule," if any doses have been declined or "missed" in the past.
Posted By: Dr. Janeton: July 04, 2017In: Dr. Janet's blogs, Vaccines
Janet Levatin, MD, holistic pediatrician Today is July 4th, Independence Day, the day the United States declared its independence from England over 240 years ago. We celebrate it every year... Read more
What diseases are YOU afraid of?
Posted By: Dr. Janeton: June 19, 2017In: Dr. Janet's blogs, Vaccines
Janet Levatin, MD, Holistic Pediatrician What diseases are you afraid of? Perhaps a better question to ask is what diseases have you been taught to be afraid of?
Disease is defined in the Merriam-Webster dictionary as:
"a condition of the living animal or plant body, or of one of its parts, that impairs normal functioning and is typically manifested by distinguishing signs and symptoms."
Posted By: Dr. Janeton: June 01, 2017In: blog, Dr. Janet's blogs, Opinion Pieces
Janet Levatin, MD One of my assignments as a pediatric resident was working in the weekly continuity clinic. The continuity clinic experience was supposed to simulate the experience of worki... Read more
Healthcare Costs: Acknowledging the Elephants in the Room
Posted By: Dr. Janeton: March 06, 2017In: Dr. Janet's blogs, Nutrition, Vaccines
Janet Levatin, MD The other day I heard a radio talk show about our healthcare system in the US and how costs were escalating and escalating. The host and guests were discussing how to bring costs under control and what type of system could lower costs, especially the costs of insurance premiums for our citizens.
It is not so difficult to see why costs have spiraled out of control. If we want lower costs, we need healthier people. If we want healthier people, we need to eliminate or decrease the things that are making people sick, and thus more expensive to care for.....
Your Health, Your Healthcare, Your Choice
Posted By: Dr. Janeton: January 02, 2017In: Breast Health, Dr. Janet's blogs, Mammograms, Vaccines
Janet Levatin, MD How do you want to approach your health and your healthcare in 2017? Would you like to proactively prevent illness, or reactively treat illness? Do you want to stay well us... Read more