Mike Swatek (PPM Silver Cosmetics) on real colloidal silver and how it can help w/ virus - Dave Ridley (The Ridley Report) on the coronavirus, civil liberties in times of crisis - Ammon Bundy (Bundy Ranch) - Idaho Lockdown Challenge tonight
Media Type: Audio • Time: 186 Minutes and 0 Secs
Media Type: Audio • Time: 60 Minutes and 23 Secs
Media Type: Audio • Time: 68 Minutes and 48 Secs
---
Hour 1 - 3
Media Type: Audio • Time: 186 Minutes and 0 Secs
Hour 1 - Mike Swatek (PPM Silver Cosmetics) on real colloidal silver and how it can help w/ virus
Hour 2 - Dave Ridley (The Ridley Report) on the coronavirus, civil liberties in times of crisis
Hour 3 - Ammon Bundy (Bundy Ranch) on the 2020 election; private property rights
CALL IN TO SHOW: 602-264-2800
-30-
(We are transitioning all of the videos from the show to be posted on Flote, but you can find some of the older shows on DTube or Bitchute as well):
VIDEOS ON FLOTE
VIDEOS ON DTUBE
VIDEOS ON BITCHUTE
Hour 1
Mike Swatek
Webpage: http://ppmsilvercosmetics.com/ERNEST/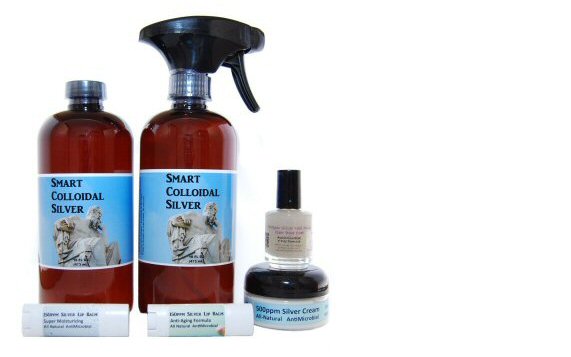 About PPM Silver Cosmetics
This is the story of our new small family business.
As such stories go, it begins with a small family. Leslie and I have been married since 1985. We have a grown daughter and son whom we're very proud of. We make a great team.
Leslie was first a bookkeeper. After our first child was born in 1992, she learned how to manage our personal website and post photos of our kids for the family. When local businesses discovered there was a web designer in town—the first in Claremore, Oklahoma—her web design business was born. It was a perfect situation for a stay-at-home mom. She did this for 20 years, until the technology outpaced her interest in keeping up. Since her retirement, she's been very involved in volunteer activities in the community and looking after her parents.
I'm a semi-retired mechanical engineer. I've helped design storm drainage systems, offshore drilling rigs, industrial manipulator arms, rocket engines, and most recently electric submersible pumps for deep oil/water wells. Throughout my career, I've been heavily involved with quality functions and system design/troubleshooting.
In late 2014, when the deadly Ebola virus was killing thousands in Africa, I became concerned after learning some infected patients were being treated in nearby Dallas, Texas. I happened across an article about Sierra Leone approving colloidal silver as an official treatment after surprising success . That led to some research about colloidal silver. I learned about many non-monetary uses for silver going back thousands of years. Also, colloidal silver was discovered about a century ago and was the most widely used antimicrobial until the 1930's.
Further investigation found that very few "colloidal silver" products are the genuine article, having a significant concentration of silver nanoparticles suspended in pure water alone. Most are water with dissolved ionic silver, which usually reacts and becomes deactivated upon contact and thus has little or no persistent microbe killing ability. Other products use protein or polymers to accelerate the process and suspend more particles. This results in larger, less effective nanoparticles which are also largely isolated from their surroundings by the protein or polymer. The few good colloidal silver products I found were quite expensive, at least from my frugal perspective.
To become well-informed consumers of this product, I dug deeper. I learned about a questionable technology called "colloidal silver generators," which often seemed to do little more than produce silver ions with few (if any) of the far more desirable silver nanoparticles. I determined that if we wanted to produce real colloidal silver, first we'd have to develop a better manufacturing method.
In late 2014, we began creating the process and apparatus to make real colloidal silver we could use around our northeast Oklahoma homestead. Our manufacturing process soon advanced beyond anything else we knew of. I partially retired in mid-2016, limiting my work to part-time consulting, so I could allow more time to further improve our colloidal silver manufacturing method. We continued to refine the process over the next two years, ultimately producing over a hundred test lots. The resulting colloidal silver was as good or better than anything else available, in terms of quality—smaller in particle size and higher in concentration.
During the development, family and friends found additional uses for our colloidal silver, and they began encouraging us to sell it. In mid-2018, we decided to scale up the manufacturing process to support sales for household and cosmetic uses. Smart Colloidal Silver was born.
About that time, we developed processes to include silver in other cosmetic products at concentrations far exceeding anything else available. It was a natural fit. Our 150ppm Silver Lip Balms and 500ppm Silver Cream, joined the product line under our new company name, PPM Silver Cosmetics LLC.
Nearing the end of 2018, we launched our website and several sales channels. Friends are helping find new retail outlets. We're developing another unique, high ppm silver cosmetic product for release soon. It's all quite exciting for this retired couple as we write a new chapter in or lives and keep that young feeling alive. We hope you'll do your own research to learn about the many personal uses of silver and join us on this journey through the later years of our youth.
Leslie and Mike
PPM Silver Cosmetics LLC
near Salina, Oklahoma
Also - side note: I was a co-founder of Oklahoma Scholastic Chess Organization in 2003 to help more kids experience the many benefits of chess. Since then I've been OSCO secretary, webmaster for all but a few years and directed most of the large scholastic chess tournaments in the state.
Mike's previous interviews on the Declare Your Independence with Ernest Hancock Radio Show:
https://www.freedomsphoenix.com/Guest-Page.htm?No=01629
=====================================
Topics discussed on the show
---
Hour 2
Media Type: Audio • Time: 60 Minutes and 23 Secs
Hour 2 - Dave Ridley (The Ridley Report) on the coronavirus, civil liberties in times of crisis
-30-
Hour 2
Dave Ridley
The Ridley Report
Move to New Hampshire for freedom! Meanwhile, "Don't get mad. Get video!" Ridley takes you to the front lines of the peaceful but pistol-packin' struggle for more freedom America's Least Authoritarian State, with ambush interviews of politicians and anti-aggressionist commentary. This is Live Free or Die country, where a hidden history unfolds before your eyes.
Webpages:
https://www.facebook.com/ridleyreport
https://www.facebook.com/Ridley-Report-360153994062131/
Dave's previous interviews on the Declare Your Independence with Ernest Hancock Radio Show:
https://www.freedomsphoenix.com/Guest-Page.htm?No=00849
===========================
TOPICS DISCUSSED...
(Open letter for publication, which I e-mailed to Governor Sununu on 3/24)
Governor: Should you issue a lockdown order similar to the one in New Jersey amounting to a ban on one-man protests, I will (if able and well) exit my home, walk to a nearby intersection and "illegally" demonstrate alone. I will announce the time and location in advance, video-broadcast this innocuous act, issue a public request for all able New Hampshirites to do the same...and invite you to arrest me. If forbidden from engaging in tiny-group outdoor trade, I will attempt something similar in that domain, fully consistent with social distancing.
Having entered no building other than my home since March 13, I am loyally overfollowing your limitation-of-gatherings command, probably better than anyone in your office. But traveling alone, especially on foot, poses no transmission danger to the public. If you decide the right to walk and hold a political sign is non-essential, you may have to put your troops where your mouth is. That right is more essential this New Hampshire Spring than at any time in our lives. My suspicion is that you are better than the power-grabbers of other states and are in harmony with NH traditions of avoiding the more draconian, poverty-friendly measures they impose during crises.
But there is a declining likelihood that people like me, or even half the freedoms we had last month, will still safely exist in the United States of Easily Scared People a year from now. World wars follow the kind of trade and civic restrictions people like you are creating. We can dream we are wrong. But like the wounding of freedom and safety which followed 9/11, all seems to bear the color of a great, long-planned move by authority against individual humanity. If that which we cherish is to face elimination at your hands, and we like the Great War draft resisters are to face feverish deaths in germy gulags anyway, we might as well resist now on our own terms and perhaps be remembered. It is better than waiting for you to come to us...and be forgotten the moment your scythe falls.
Do not issue such an order, Chris. You and I have met and had pleasant conversations; you do not hate me or want me hurt. As outlined above, I intend to *make* you hurt me or make you ignore your own order should you issue this one.
With best wishes,
Dave Ridley
RidleyReport.com
Winchester
---
Hour 3
Media Type: Audio • Time: 68 Minutes and 48 Secs
Hour 3 - Ammon Bundy (Bundy Ranch) on the 2020 election; private property rights
-30-
Hour 3
Ammon Bundy

Son of Cliven Bundy, of the 2014 "Bundy Standoff" over grazing on federal land, Ammon comes on the show to discuss the 2020 election cycle, private property rights, etc...
Ammon's previous interviews on the Declare Your Independence with Ernest Hancock Radio Show:
https://www.freedomsphoenix.com/Guest-Page.htm?No=01164
=============================================
Letters of Marque Paperback
AVAILABLE ON AMAZON NOW BY CLICKING HERE!
Letters of Marque Paperback – September 25, 2018
by Marque dePlume (Author)
"The Crown calls it 'piracy' to explore frontiers beyond its grasp. So the time has come to define the conduct among pirates." Captain Marque
http://pirateswithoutborders.com/
Join us 'Above the Grid'
IPFS:
Freedom's Phoenix - https://ipfs.io/ipns/QmW6iyZ27fYAwd15CQ9nDkLhZPa5QsfbZ8EuSoncHgwA8Y/
Pirates without Borders - https://ipfs.io/ipns/QmTHfBRjU826uZxDvwfV9ZzM7pCg71bMYVTgLFVvsZZwPJ/
The Corbett Report - https://ipfs.io/ipns/QmNqHuSVuufkBKK1LHtoUmKETobZriC1o5uoiXSoLX2i3K/
================================