LIVE from PORCFEST 2020. Guests include: Crosby Peck (Owner of Roger's Campground, site of Porcfest/Forkfest); Etienne de la Boetie2 (Author: Government - The Biggest Scam in History); Dr Phranq Tamburri = Trump Report
Media Type: Audio • Time: 182 Minutes and 0 Secs
Media Type: Audio • Time: 56 Minutes and 22 Secs
Media Type: Audio • Time: 74 Minutes and 21 Secs
---
Hour 1 - 3
Media Type: Audio • Time: 182 Minutes and 0 Secs
LIVE from PORCFEST 2020. Link to schedule here. Guests include:
Hour 1 - Crosby Peck (Owner of Roger's Campground, site of Porcfest/Forkfest)
Hour 2 - Etienne de la Boetie2 (Author: Government - The Biggest Scam in History)
Hour 3 - Dr Phranq Tamburri = Trump Report - Re-cap of Trump Rally (held in Phoenix this week)
-30-
VIDEOS ON FLOTE
VIDEOS ON DTUBE
VIDEOS ON BITCHUTE
Hour 1
Crosby Peck
Owner - Roger's Campground
Crosby's previous interviews on the Declare Your Independence with Ernest Hancock Radio Show:
---
Hour 2
Media Type: Audio • Time: 56 Minutes and 22 Secs
Hour 2 - Etienne de la Boetie2
-30-
Hour 2
Etienne de la Boetie2
Etienne de la Boetie2 is the nom de guerre of a voluntaryist/anarchist author, father, technology entrepreneur, cyclist, runner, hot yogi, racquetballer, scuba-diver, multi-disciplinarian truther, armchair economist, cryptocurrency enthusiast, and neo-abolitionist who is experimenting with large-scale cult deprogramming. Mr. Boetie2 distills 20+ years of research into short, easily-digestible treatises on individual subjects and optimizes them for the 70% of society who are visual learners. https://government-scam.com/
Etienne's previous interviews on the Declare Your Independence with Ernest Hancock Radio Show:
https://www.freedomsphoenix.com/Guest-Page.htm?No=01473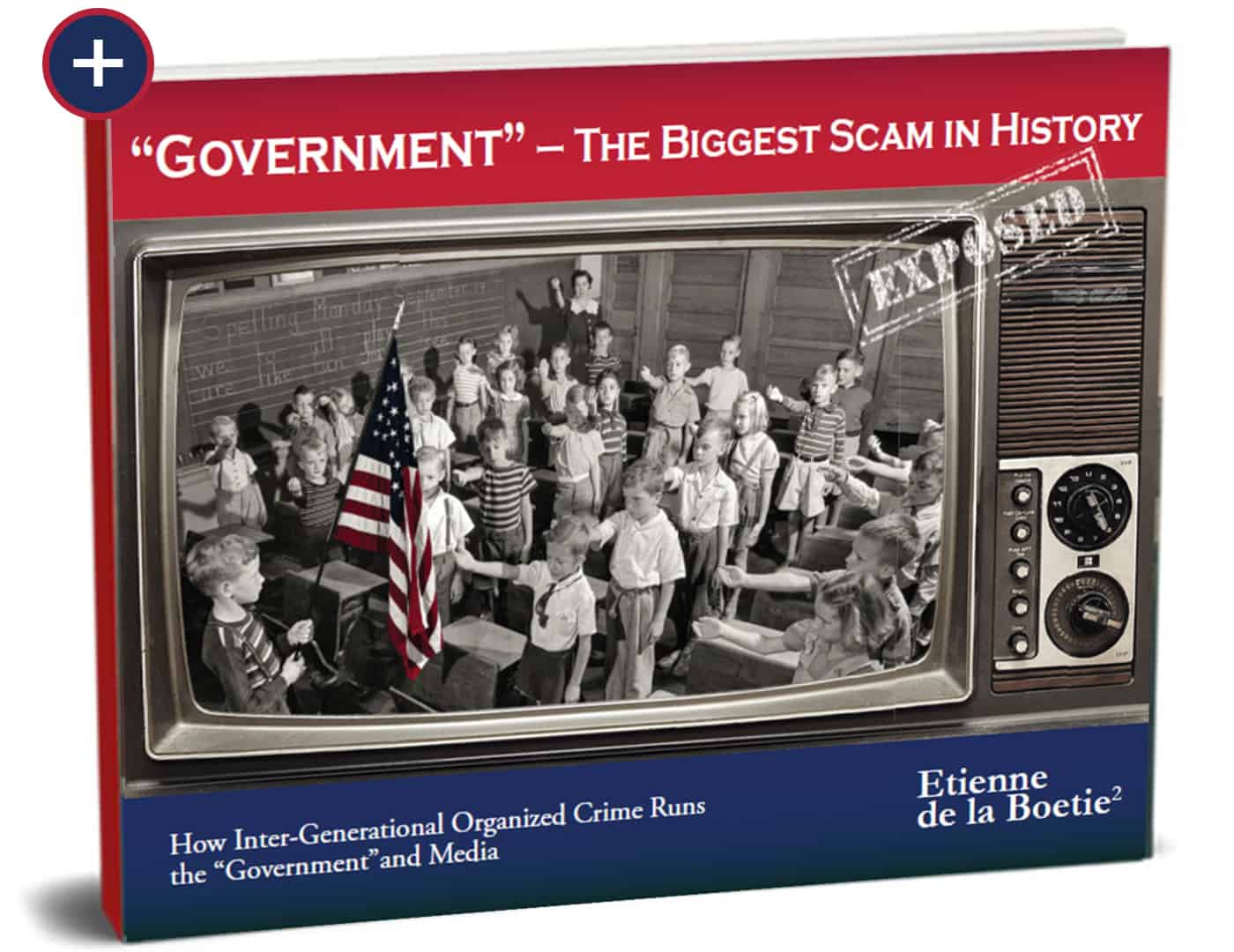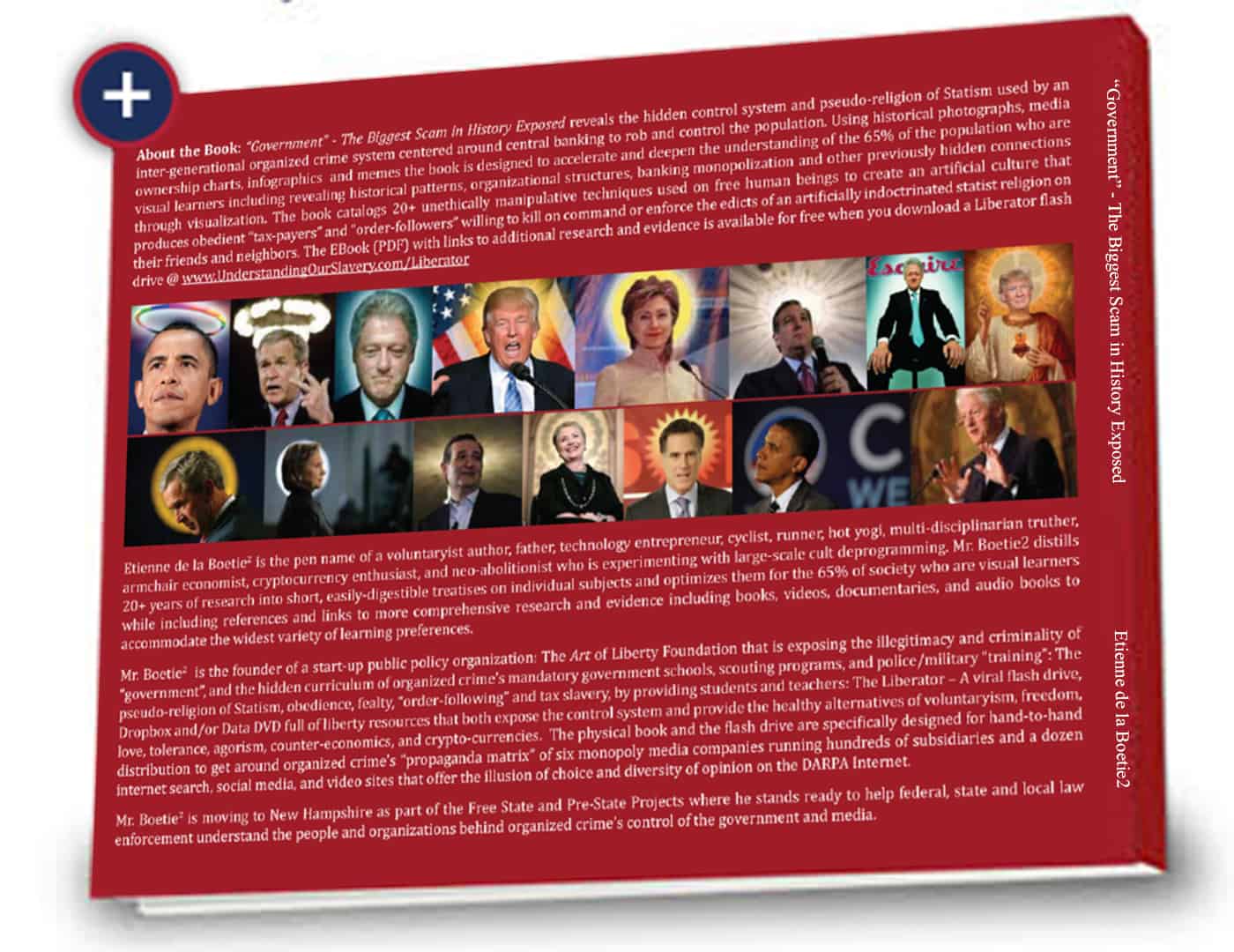 ALSO:
Thick Red Line Movement
https://www.gofundme.com/f/thick-red-line-movement?utm_source=twitter&utm_medium=social&utm_campaign=p_cf+share-flow-1
The Thick Red Line Movement is an effort to restore respect for law enforcement by abolishing victimless crimes. We are concerned for the safety of both the police and the public in the wake of the George Floyd riots. We believe we have a solution that safeguards both and dramatically reduces the amount of violence in society while reducing costs to the taxpayer, dramatically reduces the prison population, and frees up the police to focus on real crime.

Victimless Crimes are Not Really Crimes… And Make the Cops the Criminals

A real crime, by definition, has a perpetrator and a victim: murder, assault, rape, theft, and extortion are all obvious crimes because there is a victim. The "government" frequently institutes illogical, immoral and counter-productive "laws" (politician scribbles) that penalize peaceful, non-violent people for "crimes" that have no victim. Drug possession, gambling, beach fires, and making arrests for ignoring Covid-19 lock down and social distancing orders are examples of victimless crimes where politicians attempt to get police to use violence immorally and preemptively on mostly peaceful people frequently to raise revenue. When the police use violence and coercion against peaceful people for victimless crimes it makes the cops the criminals who are engaged in kidnapping and extortion under the color of law.



The Solution – The Thick Red Line Pledge

To restore the trust and faith in the police, we are suggesting that individual police officers organize their colleagues and departments through their union and/or collectively without the union into a department-wide refusal to enforce any law or regulation that doesn't have a real victim. This would dramatically reduce the violence in society directly committed by the police, reduce the influence of organized crime by getting rid of drug, gambling and prostitution markets, and dramatically reduce the almost 500,000 people incarcerated for victimless crimes who are frequently forced to work as slave labor in for-profit prisons.

The Pledge
I and the officers of this Thick Red Line department recognize natural law, basic morality, the Non-Aggression Principal and understand that it is morally and logically impossible for the "government" and/or our badge to confer rights upon us that the population does not have and cannot delegate.

We pledge to only use violence defensively to protect life, liberty and property

We renounce the use of violence on peaceful people to achieve governmental "goals" and refuse to enforce:

• Victimless crimes including prohibitions on sales of substances or services between consenting adults, gambling, mandated masks, possession of firearms, accidentless-DUIs, accidentless "speeding" or other victimless traffic infractions.

• Mandated medical interventions including forced vaccination, mandated social distancing, or closure of businesses based on alleged public health issues.

• Seizure of money or property through asset forfeiture.

• Mandated tax stickers, emissions testing, insurance regulations and other government-revenue collection where the government does not have a willing voluntary counter-party
---
Hour 3
Media Type: Audio • Time: 74 Minutes and 21 Secs
Hour 3 - Dr Phranq Tamburri = Trump Report - Re-cap of Trump Rally (held in Phoenix this week)
-30-
Hour 3
Dr. Phranq Tamburri, NMD and Joanne Feaster (Joanne was at the Trump Rally in Phoenix on June 23rd, 2020. See pics and videos below)
The Trump Report
Dr. Phranq Tamburri, NMD- Prostate & Naturopathic Specialist
Dr. Tamburri specializes in the assessment of prostate cancer and its numerous treatment options. Anyone who has found themselves thrust into the 'world' of PSA screening, biopsy, and a prostate cancer diagnoses recognizes how incredibly confusing and often conflicting the solutions are.
With over a decade of clinical experience and training both as a naturopathic physician and at an early residency that included training with Mayo certified urologists, Dr. Tamburri is uniquely qualified to interpret and consult what both 'sides' of medicine are telling the patient.
He also is the only integrative physician utilizing the state of the art color Doppler ultrasound (TRUSP) to accurately image the prostate along with providing the PCA3 molecular prostate cancer urine test for a heightened assessment. Dr. Tamburri graduated in 2001 from Southwest College of Naturopathic Medicine in Tempe, Arizona. He has been professor of urology at his Alma Mater since 2002.
He is a member of the Prostate Cancer Research Institute, the American Association of Naturopathic Physicians, and the Arizona Naturopathic Medical Association. He can also be regularly seen and heard on television, radio, and as a professional lecturer on the continuing debate of PSA screening and prostate cancer options.
(480) 767-7119
Webpage: https://rockwoodnaturalmedicine.com/naturopathic-doctors/dr-phranq-tamburri-nmd/
Phranq's previous interviews on the Declare Your Independence with Ernest Hancock Radio Show:
https://www.freedomsphoenix.com/Guest-Page.htm?No=00672
SHOW TOPIC(S):
Some pics, videos, etc. from Trump Rally in Arizona on June 23rd, 2020:
Video of Trump Speech: https://www.pscp.tv/w/1DXGyABBVONGM?t=8m9s
Also, in the post show:
Tim Pool Loses it, Gets Real And Raw.
This is a clip from a recent Timcast IRL podcast, where Tim finally breaks his no swearing rule and gets raw. It's honestly beautiful.
Title of the podcast this was taken: TimcastIRL - Far left CHAZ Is In CHAOS, Another Dude SHOT, "Chazians" Demand Curfew
I am not monetizing this video, obviously that'd be silly. Go and watch Tim and his friends Adam and Lydia who do this Monday-Friday 8pm-10pm-ish.
I thought this was a particularly explosive moment for Tim, who is usually pretty level headed, He explodes here and the feeling is raw.
======================================================
Letters of Marque Paperback
AVAILABLE ON AMAZON NOW BY CLICKING HERE!
Letters of Marque Paperback – September 25, 2018
by Marque dePlume (Author)
"The Crown calls it 'piracy' to explore frontiers beyond its grasp. So the time has come to define the conduct among pirates." Captain Marque
http://pirateswithoutborders.com/
Join us 'Above the Grid'
IPFS:
Freedom's Phoenix - https://ipfs.io/ipns/QmW6iyZ27fYAwd15CQ9nDkLhZPa5QsfbZ8EuSoncHgwA8Y/
Pirates without Borders - https://ipfs.io/ipns/QmTHfBRjU826uZxDvwfV9ZzM7pCg71bMYVTgLFVvsZZwPJ/
The Corbett Report - https://ipfs.io/ipns/QmNqHuSVuufkBKK1LHtoUmKETobZriC1o5uoiXSoLX2i3K/
================================