Paul Rosenberg (Freeman's Perspective) on his recent newsletter, LIFE, GEARED FOR HAPPINESS - Dr Alan Palmer (eBook: 1200 Studies) on Covid-19 Vaccines - Mark Passio (What on Earth is Happening) on One Great Work Network
Media Type: Audio • Time: 117 Minutes and 3 Secs
---
Hour 1 - 3
Media Type: Audio • Time: 117 Minutes and 3 Secs
Hour 1 - Paul Rosenberg (Freeman's Perspective) on his recent newsletter, LIFE, GEARED FOR HAPPINESS
Hour 2 - Dr Alan Palmer (eBook: 1200 Studies) on Covid-19 Vaccines
Hour 3 - Mark Passio (What on Earth is Happening) on One Great Work Network
-30-
Watch live stream:
Front page of Freedom's Phoenix – player on top left: https://www.freedomsphoenix.com/
https://flote.app/LoveBusLibertyTour,
https://dlive.tv/ErnestHancock,
ARCHIVED VIDEOS ON FLOTE (works on Chrome browser), DTUBE, BITCHUTE
Hour 1
Paul Rosenberg
Paul Rosenberg has been deeply engaged with cryptography and cryptography-based projects since the first cypherpunk era. He wrote the first protocols for law in cyberspace, co-authored a foundational paper on private digital economies, and co-founded the Cryptohippie Anonymous VPN.
Paul wrote the highly influential A Lodging of Wayfaring Men, as well as Production Versus Plunder, The Breaking Dawn, and others.
At the same time, Paul has been, and remains, an electrical industry expert.
The Fingerprint of Paul's PGP Key is: E4F1 E883 DA8D 9DFB 9736 FE18 6964 FEE7 9F5C 2CAD
Paul Rosenberg has been featured on or at:
LewRockwell.com
Casey Research
Zero Hedge
RT
QWealth
The Daily Paul
Early to Rise
Story Leak
Expat World
International Man
Strike-The-Root.com
The Burning Platform
Global Wealth Protection
Freedom Fest
Libertopia
Freedom's Phoenix
Paul comes on the show to discuss the re-naming of his
subscriber-based newsletter to Parallel Society,
providing a more outward focus and his hope for the future...
Paul discusses his latest issue #109: LIFE, GEARED FOR HAPPINESS
---
Hour 2
Hour 2 - Dr Alan Palmer (eBook: 1200 Studies) on Covid-19 Vaccines
-30-
Hour 3
Hour 2
Dr Alan Palmer
1200 Studies - Truth Will Prevail PDF
IPFS Link Below - Permanently Archived File
https://ipfs.io/ipfs/Qmefnyg6tFN4wAAWWLPKRTKEUQKEv1NpwKXAJw1aZBUaTo
Dr. Palmer is the founder and director of two national chiropractic professional societies.
He is a health and lifestyle coach and has spent over three decades studying various healing arts and natural treatment options for all kinds of acute and chronic health disorders. He utilizes strategies from the world of clinical nutrition, functional medicine, therapeutics and natural healing. He has an intense and passionate desire to educate the world about the benefits of a natural healthy lifestyle and seeks to identify and treat the cause of a person's disease or condition, not merely treat their symptoms.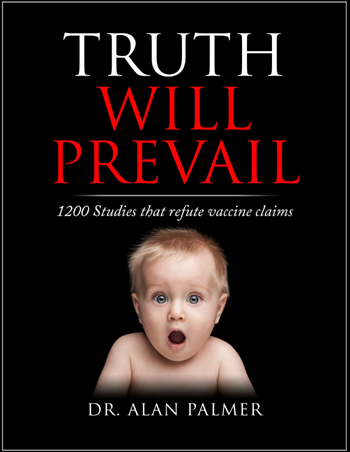 He is the author of 1200 Studies, a free eBook that is the most comprehensive scientific expose of vaccines to date. This research and reference tool contains excerpts from well over 1200 studies, written by thousands of scientists and researchers that contradict what we are being told by the vaccine industry and the media that they control. Published in a PDF format, it provides key word and phrase searching, links accessing each topic pages in the document from the table of contents and links in each subject topic to the original abstract or study online. These unique features make 1200 Studies an invaluable resource for easily accessing vital evidence based information that will bring truth and clarity to this very contentious and controversial topic.
My web site is www.wellnessdoc.com
The FREE eBook can be downloaded from www.1200studies.com Please encourage everyone to download it and share it widely!
SHOW NOTES:
Here are some Questions for Dr. Palmer interview on the COVID-19 vaccines
1. Is it true that these vaccines are considered experimental?
2. How long did they look for adverse reactions in the safety trials before they were approved?
3. What makes these vaccines different than previous vaccines?
4. What is in vaccines that is of concern?
5. What are the short-term concerns?
6. What about the long-term concerns?
7. Is there any recourse if you are vaccine injured?
8. Are the vaccines helping to slow the spread of COVID-19?
9. What about the ability of the vaccines to "protect" someone after the virus continues to mutate?
10. Should people that have had COVID-19 need to get vaccinated?
11. What is the risk for different age, poor-health and ethnic groups?
12. What about other early treatments? Why haven't we heard more about that?
13. What can people do to protect themselves?
To read or download a detailed paper or a 2-page summary on these aspects of the vaccines and more go to Dr. Palmer's website Wellnessdoc.com and click on the Health Topics tab at the top right of the page.
To download his eBook 1200 Studies- Truth Will Prevail or subscribe to his monthly COVID-19 truth newsletter, click on the Educational Portal tab at the top of the page.
And for information on how to protect yourself from viral infections click on the Health Protection Strategies tab at the top
Basically, go to each tab at the top of Wellnessdoc.com and you will find a wealth of health information!
Dr Palmer's previous interviews on the Declare Your Independence
with Ernest Hancock Radio Show:
---
Hour 3
Hour 3 - Mark Passio (What on Earth is Happening) on One Great Work Network
-30-
Hour 3
Hour 3
Mark Passio
Mark Passio is an anarchist, independent researcher, public speaker, radio talk show host, conference organizer, and freedom activist from Philadelphia, PA. Mark has undertaken the task of assembling vast amounts of research in the areas of metaphysics, occultism, spirituality, symbology and consciousness studies. In 2007, Mark began presenting this information in the form of a presentation series entitled What On Earth Is Happening, with the intention of bringing the implications of this body of knowledge to greater public awareness. Mark launched his own web site in 2008 at WhatOnEarthIsHappening.com. In 2010, Mark began hosting his own internet radio show, also called What On Earth Is Happening, which has over 200 episodes to date. Mark was one of the co-founders of the Free Your Mind Conference, the Philadelphia-based conference on consciousness, mind control and the occult. Mark has taught intensive live seminars, including Natural Law: The Real Law Of Attraction & How To Apply It In Your Life, New Age B.S. & The Suppression Of The Sacred Masculine, Street-Wise Spirituality, and De-Mystifying The Occult. Over the years, Mark has worked closely with activist groups in his area such as the Tesla Science Foundation, Truth-Freedom-Prosperity and Survive & Thrive Philadelphia. Mark also is the founding member and lead vocalist of the Philadelphia-based anarchist hardcore-punk band, The Founders. Mark's most recent project is the One Great Work Network, a privately-organized collective of Conscious Individuals, who each create dynamic content for the purpose of spreading the message of Natural Law, Truth, and Freedom to a worldwide audience.
Websites:
Show Notes: One Great Work Network - https://onegreatworknetwork.com/
One Great Work Network is a privately-organized collective of Conscious Individuals, who each create dynamic content for the purpose of spreading the message of Natural Law, Truth, and Freedom to a worldwide audience. The One Great Work Network is actively engaged in the ongoing war against the Dark Occult Ruling Class. Together, this group of Freedom Advocates and Spiritual Warriors continually disseminates empowering information in a tireless effort to free Humanity from the condition of Slavery.
ONE GREAT WORK NETWORK
Ending Slavery, One Mind At A Time.
~~~~~~~~~~~~~~~~~~~~~~~~~~~~~~~~~~~~~~~~~~~~~~~~~
Letters of Marque Paperback
AVAILABLE ON AMAZON NOW BY CLICKING HERE!
Letters of Marque Paperback – September 25, 2018
by Marque dePlume (Author)
"The Crown calls it 'piracy' to explore frontiers beyond its grasp. So the time has come to define the conduct among pirates." Captain Marque
http://pirateswithoutborders.com/
Join us 'Above the Grid'
IPFS:
Freedom's Phoenix - https://ipfs.io/ipns/QmW6iyZ27fYAwd15CQ9nDkLhZPa5QsfbZ8EuSoncHgwA8Y/
https://ipfs.io/ipns/QmTHfBRjU826uZxDvwfV9ZzM7pCg71bMYVTgLFVvsZZwPJ/
The Corbett Report - https://ipfs.io/ipns/QmNqHuSVuufkBKK1LHtoUmKETobZriC1o5uoiXSoLX2i3K/
================================