Dave Ridley (The Ridley Report) update on his 24-day foot voyage around NH - Dr Jessica Rose (IPAKnowledge) on VAERS - Stewart Rhodes (Oath Keepers) on civil unrest, gun rights, Jan 6 demonstration
Media Type: Audio • Time: 123 Minutes and 2 Secs
Media Type: Audio • Time: 41 Minutes and 14 Secs
Media Type: Audio • Time: 41 Minutes and 22 Secs
---
Hour 1 - 3
Media Type: Audio • Time: 123 Minutes and 2 Secs
NO LIVE STREAM TODAY , HOWEVER WE ARE BACK UP AND LIVE ON LRN.FM...
Hour 1 - Dave Ridley ( The Ridley Report) on Civil disobedience notice for Concord, NH Fed building (May 9) and commence a 24-day foot voyage around the state
Hour 2 - Dr Jessica Rose (IPAKnowledge) on VAERS
Hour 3 - Stewart Rhodes (Oath Keepers) on civil unrest, gun rights, Jan 6 demonstration
-30-
ClearUnited Affiliate Link: https://www.clearunited.com/pages/r/freedomsphoenix
Watch live stream (UPDATE - NO LIVE STREAM TODAY)...
Front page of Freedom's Phoenix – player on top left: https://www.freedomsphoenix.com/
https://flote.app/LoveBusLibertyTour,
https://dlive.tv/ErnestHancock,
ARCHIVED VIDEOS ON FLOTE (works on Chrome browser), DTUBE, BITCHUTE
Hour 1
Dave Ridley
Moved to New Hampshire for freedom! Meanwhile, "Don't get mad. Get video!" Ridley takes you to the front lines of the peaceful but pistol-packin' struggle for more freedom America's Least Authoritarian State, with ambush interviews of politicians and anti-aggressionist commentary. This is Live Free or Die country, where a hidden history unfolds before your eyes.
BitcoinGandhi.net
RidleyReport.com (goes to Ridley Report YouTube channel)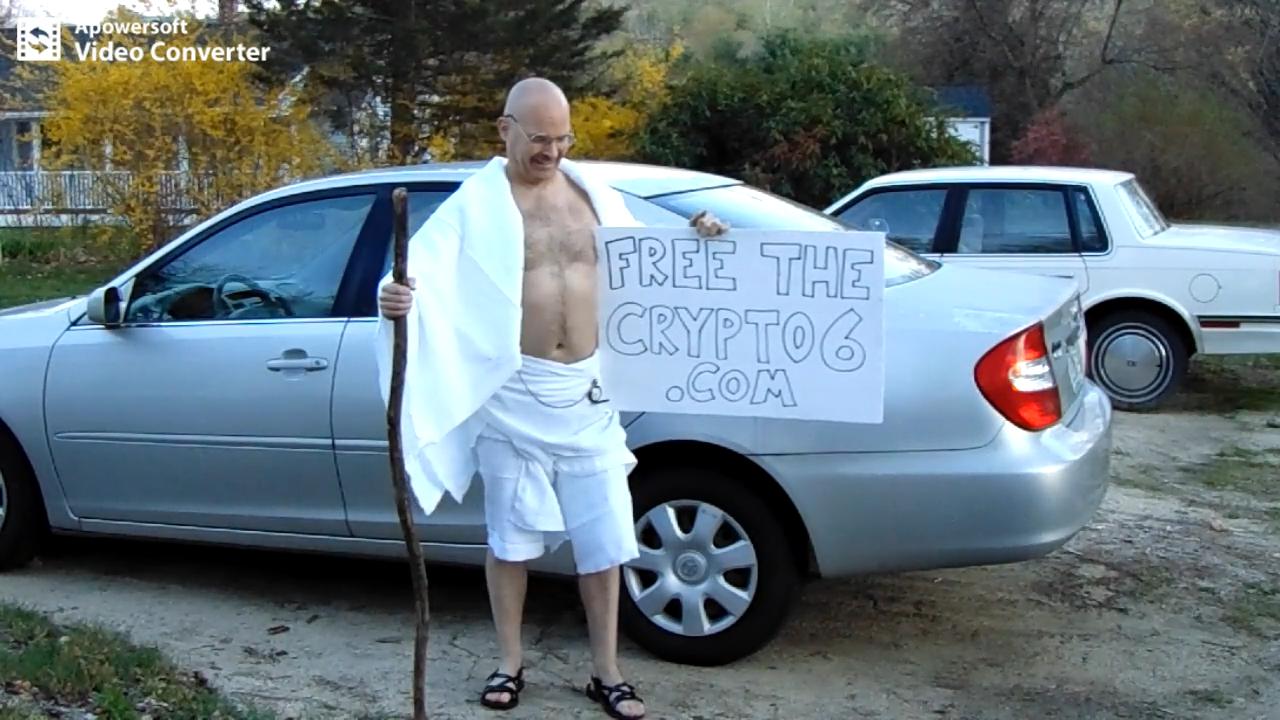 ACTIVISM:
NH: Bitcoiner civil disobedience notice for Concord Fed bldg.
"Atten: Juan Cruz, U.S. General Services Administration, New England
Dear Mr. Cruz:
In March of 1930, Mohandas Gandhi sent a letter to the British viceroy of India, listing a series of grievances, advocating for Indian secession and essentially promising to march across much of the continent in defiance of a hated salt tax. Before discussing my own concerns and plans to disobey your government along similar lines, let us first examine the many areas of agreement and unity, which most of New Hampshire's small but significant "independence faction" shares with your superpower.
We both oppose threats and acts of physical violence against government workers in the U.S. We share opposition toward all foreign actors who would physically harm Americans or interfere with the sovereignty and legitimate interests of the American people. We both want Americans to prosper. From the end of our previous civil disobedience campaigns around 2012...through the early part of 2021, we both generally supported a live-and-let-live disposition toward one another; NH libertarianists and central government operatives largely went about their own projects in relative, mutual tolerance. Most importantly, we surely both worry about a simple fact: The Federal system came with a flaw that threatens every Federal worker, not just every American. Its laws and edicts are relatively easy to create, difficult to repeal and do not automatically expire. They last for centuries and build up like plaque; no individual able to stop them. Its servants are not evil. But it is systemically incapable of shrinking, and the list of mostly-harmless things both you and I are forbidden from doing has grown to at least 200,000 pages. This systematically threatens each of you as individuals; ask any VA victim. It proceeds even as some of you take advantage of the burgeoning restrictions to target your opponents in government...or in the wider community.
Our long and mutually beneficial detente ended on 3/16/2021, a date that now lives in dishonor. On that day this year, your government attacked many of New Hampshire's best Bitcoin activists and businesses. It led a SWAT raid against the largest libertarian talk show in the known universe. Best estimates indicate it shut down four square blocks of residential Keene, New Hampshire...curtailing the movements of bystanders and apparently forcing a young lady to walk in shoes filled with broken glass. On the same day, your operatives seized many Bitcoin machines from struggling New Hampshire businesses, accosted roughly 15 locations statewide and arrested six New Hampshirites. They physically assaulted a videographer attempting to film one of the arrests and largely prevented him from doing so. Enforcers disconnected security cameras which reportedly were filming them and had recorded the first moments of the raid. This part of our video has apparently been confiscated by agents. When detainees appeared before a magistrate, all non-government viewers of the proceedings were prohibited from audio or video recording. Two remain in concrete boxes under false claims that they are insufficiently tied to New Hampshire...a region which they consider their nation and are practically married to. None of the arrestees has been credibly accused of harming others. Washington listed a resident's gun possession as justification for the heavy-handed forced entry and drone deployment at Keene. But lawful gun owners are profoundly common here, and according to
" https://www.sentinelsource.com/news/local/fbi-conducts-investigations-in-keene-this-morning/article_c617d24b-d5af-521a-a1ef-6bb4cafa3103.html "
FBI spokeswoman Kristen Setera declared there is no threat to public safety.
Escalations of this type indicate a Venezuelan-style slide into currency-fascism and a repudiation of New Hampshire's traditional status as the state where Federal winds blow most benignly. They demand a textbook civil-disobedient response.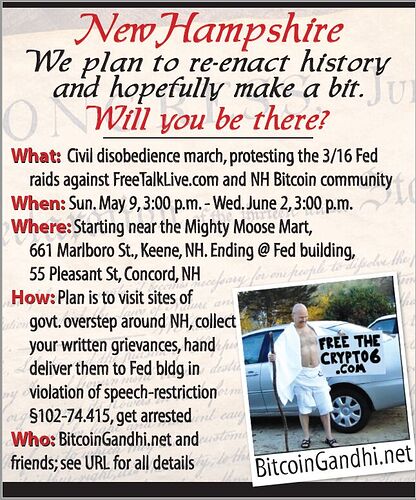 On Sunday, May 9, (in the absence of preventative disaster such as illness or arrest) I will accoutrement an historically accurate Gandhi costume and appear near the Mighty Moose Mart. This is the site of your victimless crime raid in eastern Keene. There, alone if necessary or with such allies as I can inspire, I will commence a 24-day foot voyage around the state. This will imitate the Mahatma's illegal "salt march" opposing British rule. During the endeavor I will pick up litter and collect the peoples' grievances against Washington. I will walk a copy to your main compound at Concord. There on June 2, if still free and able, I will enter Federal property, attempt to pick up litter and attempt to distribute these tragic handbills. This violates Federal speech-prevention edict §102-74.415, as it absolutely should be violated. I do not plan to enter the buildings or encourage others to enter the buildings. I do plan to try and inform you if that changes.
This harmless Forbidden Act and the planned march preceding it, are meant to achieve many small objectives. But these are the ones of obvious relevance to you:
1) Create a suspicion in Federal circles, if it doesn't already exist, that 3/16 was at least partially a mistake. That it created something unintended, regardless of what happens in court.
2) Establish, through this sacrifice, enough unofficial authority within the NH freedom and independence movements to completely enforce nonviolent discipline within it, even as you escalate:
" https://forum.shiresociety.com/t/enforcing-nonviolent-discipline-in-the-nh-liberty-movement-without-reducing-unity/12630 "
3) Inspire two or more public defections by 2022. We ask you who serve the Feds in New Hampshire...to quit your taxpayer-funded jobs and join the NH liberty movement, as Officers Jardis and Tann have done at the local level here. Federal Officer Craig has already joined it and attained state office, but was (to your credit) never forced to quit.
Like Robert Duvall in the Lucasfilm "THX-1138," each of you builds the pieces of an authority you cannot serve in good conscience, cannot safely live under and which will likely expand to consume you. The grotesque system will surely strike me down first, perhaps very soon, perhaps attempting the ancient Balkan game of deniability or invisibility. It may prove itself harsher than the cruel men who let Gandhi's 1930 march proceed. But it is within your power as individuals to support my action, aimed not just at protecting the weak...but ultimately at protecting *you.*
With best wishes,
Dave Ridley
BitcoinGandhi.net
"Independence without Enmity"
Winchester, NH "
-----
Show notes:
1. BITCOIN GANDHI STARTS HIS MARCH THECRYPTOSIX.COM
On May 9th, Dave Ridley from the Ridley Report, began his March from Keene to Concord as Gandhi to support the Crypto 6. The Crypto Six were arrested for trading Crypto currency. Crypto is legal to trade in NH. Biycoin Gandhi will be marching and camping along the route while toting necessities. Gandhi expect to be at Gun Church on May 16 where we meet up again. bitcoingandhi.net
2. BITCOIN GANDHI HALF WAY THERE! Thecryptosix.com #FREEIAN #FREENOBODY
On May 19th, Dave Ridley from the Ridley Report, has made it halfway from king to Concord and gives me an update on his status. bitcoingandhi.net
---
Hour 2
Media Type: Audio • Time: 41 Minutes and 14 Secs
Hour 2 - Dr Jessica Rose (IPAKnowledge) on VAERS
-30-
Hour 2
Dr Jessica Rose
Show Notes:
1. The Lies Vaccinologists Tell Themselves: VAERS Receives Due Scrutiny on Rating and COVID-19 VAERS Patterns Require Explanation (5/17/2021)
Clinical and Translational Research Section
Volume 2
EDITORIAL - James Lyons-Weiler, Editor-in-Chief
The Lies Vaccinologists Tell Themselves: VAERS Receives Due Scrutiny on Rating and COVID-19 VAERS Patterns Require Explanation (5/17/2021) PDF
ARTICLE
Significant Under-Reporting of Quadrivalent Human Papillomavirus Vaccine-Associated Adverse Events in the United States: Time for Change? PDF
Lucija Tomljenovic, Emily Tarsell, James Garrett, Christopher A. Shaw, & Mary S. Holland
Correspondence: chris.shaw [at] ubc.ca
Peer-Reviewed; Published 5/17/2021
Abstract
The Vaccine Adverse Event Reporting System (VAERS) was created in 1990 by the Center for Disease Control and Prevention (CDC) to track adverse events following inoculations (AEFIs). Less than 1% of AEFIs are reported and accurate recording of AEFIs is compromised on many levels. One contributing error to the accurate monitoring of vaccine safety may be the CDC's apparent use of a truncated definition of what constitutes a serious adverse event (SAE) to rate cases rather than the statutory Code of Federal Regulation (CFR) definition. The authors set out to test if this criteria error affected rates of reported SAEs for the quadrivalent human papillomavirus (qHPV) vaccine, Gardasil, in the FDA/CDC's 2009 VAERS-based safety study, which concluded that 6.2% of AEFI reports were "serious" but did not signal a safety concern. A panel of volunteer, licensed physicians were asked to independently rate VAERS reports from the same data pool by applying both the 2009 study definition and the more inclusive CFR definition, respectively. The independent physicians rated 12% of the AEFIs as "serious" using the 2009 study definition and 24.2% of the AEFIs as "serious" using the CFR one, supporting the
conclusion that errant interpretation of Federal Code applied to VAERS data reduced the ability of the 2009 study authors to detect significant SAEs, thereby compromising safety surveillance. Other serious problems with VAERS are also discussed herein.
Keywords: adverse events following inoculations, AEFI , Gardasil, quadrivalent human papillomavirus vaccine, qHPV, SAE, serious adverse event, Vaccine Adverse Event Reporting System, VAERS
Cite As: Tomljenovic, L., E Tarsell, J Garrett, C Shaw and MS Holland 2021 Significant under-reporting of quadrivalent human papillomavirus vaccine- associated serious adverse events in the United States: Time for Change? Sci Publ Health Pol & Law 2:37-58.
Reviewing Editor: James Lyons-Weiler, PhD
ARTICLE
A Report on the US Vaccine Adverse Events Reporting System (VAERS) of the COVID-19 Messenger Ribonucleic Acid (mRNA) Biologicals PDF
Jessica Rose
Correspondence: jrose [at] ipaknowledge.org
Peer-Reviewed; Published 5/17/2021
Abstract
Following the global roll-out and administration of the Pfizer/BioNTech (BNT1 62b2) and Moderna (mRNA-1 273) COVID-1 9 vaccines on December 1 7, 2020 in the United States, and of the Janssen COVID-1 9 Vaccine PF (produced by Johnson & Johnson) on April 1st, 2021, tens of thousands of individuals have reported adverse events (AEs) using the Vaccine Adverse Events Reports System (VAERS). This work summarizes this data to date and serves as information for the public and a reminder of the relevance of any adverse events, including deaths, that occur as a direct result of biologicals as prophylactic treatments. This is especially relevant in the context of technologically novel treatments in the experimental phase of development. Analysis suggests that the vaccines are likely the cause of reported deaths, spontaneous abortions, anaphylactic reactions and cardiovascular, neurological and immunological AEs. The precautionary principle promotes transparency and the adoption of preventative measures to address potential risks to the public in the arena of vaccination programs, and it is vital that individuals are informed of these potential risks before agreeing to participate in any medically involved treatment program. VAERS reporting and recording is essential to the proper functioning of this system. It cannot be over-emphasized that the public should know how to use this system such that they actually do use it, and that once reports are made, responsible individuals enter each report into the database accordingly.
Cite As: Rose, J. 2021. A report on the US Vaccine Adverse Events Reporting System (VAERS) of the COVID-19 messenger ribonucleic acid (mRNA) biologicals. Sci Publ Health Pol & Law 2:59-80.
Reviewing Editor: James Lyons-Weiler, PhD
ARTICLE
A Novel Approach to Treating COVID-19 Using
Nutritional and Oxidative Therapies PDF
David Brownstein, M.D., Richard Ng, M.D., Robert Rowen, M.D., Jennie-Dare Drummond, PA, Taylor Eason, NP, Hailey Brownstein, D.O., and Jessica Brownstein
Peer Reviewed; Published 7/20/2020
Correspondence: info@drbrownstein.com
Abstract
Objective: This report is a case series of consecutive patients diagnosed with COVID-19 treated with a nutritional and oxidative medical approach. We describe the treatment program and report the response of the 107 COVID-19 patients.
Study Design: Observational case series consecutive.
Setting: A family practice office in a suburb of Detroit, Michigan.
Patients: All patients seen in the office from February through May 2020 diagnosed with COVID-19 were included in the study. COVID-19 was either diagnosed via PCR or antibody testing as well as those not tested diagnosed via symptomology.
Interventions: Oral Vitamins A, C, D, and iodine were given to 107 subjects (99%). Intravenous solutions of hydrogen peroxide and Vitamin C were given to 32 (30%) and 37 (35%) subjects. Thirty-seven (35%) of the cohort was treated with intramuscular ozone. A dilute, nebulized hydrogen peroxide/ saline mixture, with Lugol's iodine, was used by 91 (85%).
Main Outcome Measures: History and physical exam were reviewed for COVID-19 symptoms including cough, fever, shortness of breath, and gastrointestinal complaints. Laboratory reports were examined for SARS-CoV-2 results. Symptomatic improvement after treatment was reported for each patient consisting of first improvement, mostly better, and completely better.
Results: There were a total of 107 patients diagnosed with COVID-19. Thirty-four were tested for SARS-CoV-2(32%) and twenty-seven (25%) tested positive. Three were hospitalized (3%) with two of the three hospitalized before instituting treatment and only one requiring hospitalization after beginning treatment. There were no deaths. The most common symptoms in the cohort were fever (81%), shortness of breath (68%), URI which included cough (69%), and gastrointestinal distress symptoms (27%). For the entire cohort, first improvement was noted in 2.4 days. The cohort reported symptoms mostly better after 4.4 days and completely better 6.9 days after starting the program. For the SARS-CoV-2 test positive patients, fever was present in 25 (93%), shortness of breath in 20 (74%) and upper respiratory symptoms including cough in 21 (78%) while gastrointestinal symptoms were present in 9 (33%). The time to improvement in the SARS-CoV-2 test positive group was slightly longer than the entire cohort.
Conclusion: At present, there is no published cure, treatment, or preventive for COVID-19 except for a recent report on dexamethasone for seriously ill patients. A novel treatment program combining nutritional and oxidative therapies was shown to successfully treat the signs and symptoms of 100% of 107 patients diagnosed with COVID-19.
Each patient was treated with an individualized plan consisting of a combination of oral, IV, IM, and nebulized nutritional and oxidative therapies which resulted in zero deaths and recovery from COVID-19.
Keywords: SARS-CoV-2, COVID-19, ozone therapy, hydrogen peroxide therapy, Vitamin A, iodine, Vitamin C, Vitamin D, immune system, antiviral.
Cite As: Brownstein, D, R Ng, R Rowen, J-D Drummond, T Eason, H Brownstein and J Brownstein. 2020. A Novel Approach to Treating COVID-19 Using Nutritional and Oxidative Therapies. Science, Public Health Policy & the Law 2:4-22.

Reviewing Editor: James Lyons-Weiler, PhD
2. VAERS - as of April 30th, 2021 - this is the best (and only) comprehensive analysis of the data
This is an updated version of a short summary of the study I have recently completed and submitted for publication (and had accepted) entitled: "A report on the U.S. Adverse Events Reporting System (VAERS) of the COVID-19 Messenger RNA (mRNA) biologicals". The goal here is make the public aware of the soaring Adverse Event reports in the context of the COVID-19 biologicals being administered en-masse prior to scientifically respectable safety and efficacy studies being completed.
A Fellowship has been created to honor the son of the President of Vaccine Choice Canada who has now passed on following vaccine injury. His name was Joshua Kuntz. Please go to the following link if you wish to make a donation. I didn't know Joshua in life, but his, and all the lives of families affected by vaccine injury need to be acknowledged and honored.
---
Hour 3
Media Type: Audio • Time: 41 Minutes and 22 Secs
Hour 3 - Stewart Rhodes (Oath Keepers) on civil unrest, gun rights, Jan 6 demonstration
-30-
Hour 3
Stewart Rhodes
Webpage: https://oathkeepers.org/
Stewart is the founder and Director of Oath Keepers. He served as a U.S. Army paratrooper until disabled in a rough terrain parachuting accident during a night jump.
He is a former firearms instructor and former member of Rep. Ron Paul's DC staff.
Stewart previously wrote the monthly Enemy at the Gates column for S.W.A.T. Magazine
Stewart graduated from Yale Law School in 2004, where his paper "Solving the Puzzle of Enemy Combatant Status" won Yale's Miller prize for best paper on the Bill of Rights. He assisted teaching U.S. military history at Yale, was a Yale Research Scholar, and is writing a book on the dangers of applying the laws of war to the American people.
Stewart's previous interviews on the Declare Your Independence with
Ernest Hancock Radio Show:
https://www.freedomsphoenix.com/Guest-Page.htm?No=00160
~~~~~~~~~~~~~~~~~~~~~~~~~~~~~~~~~~~~~~~~~~~~~~~~~~~~~~~~~~~~~~
Letters of Marque Paperback
AVAILABLE ON AMAZON NOW BY CLICKING HERE!
Letters of Marque Paperback – September 25, 2018
by Marque dePlume (Author)
"The Crown calls it 'piracy' to explore frontiers beyond its grasp. So the time has come to define the conduct among pirates." Captain Marque
http://pirateswithoutborders.com/
Join us 'Above the Grid'
IPFS:
Freedom's Phoenix - https://ipfs.io/ipns/QmW6iyZ27fYAwd15CQ9nDkLhZPa5QsfbZ8EuSoncHgwA8Y/
Pirates without Borders - https://ipfs.io/ipns/QmTHfBRjU826uZxDvwfV9ZzM7pCg71bMYVTgLFVvsZZwPJ/
The Corbett Report - https://ipfs.io/ipns/QmNqHuSVuufkBKK1LHtoUmKETobZriC1o5uoiXSoLX2i3K/
https://ipfs.io/ipns/QmNqHuSVuufkBKK1LHtoUmKETobZriC1o5uoiXSoLX2i3K/mp4
All James Corbett audio files:
https://ipfs.io/ipns/QmNqHuSVuufkBKK1LHtoUmKETobZriC1o5uoiXSoLX2i3K/mp3
The Highwire with Del Bigtree - https://ipfs.io/ipns/k2k4r8pkk8wevtty3rpqw8mh2njz0snop5xpha1ybafquvb7dcgayh4j/
============================================