Etienne de la Boetie2 (Government-Scam.com) book "Government"- The Biggest Scam in History… Exposed! ?" Fifth Edition Exposes the Scam of "The Covid," the 2nd Biggest Scam in History! IndieGoGo Campagin
---
Hour 1 - 3
Media Type: Audio • Time: 71 Minutes and 26 Secs
LIVE STREAM ON FREEDOM'S PHOENIX, FLOTE, and DLIVE
Front page of Freedom's Phoenix (player only active when we are live, and it's located under Roberts & Roberts Banner ad)
https://flote.app/LoveBusLibertyTour
https://dlive.tv/ErnestHancock
PODCASTS
1 - Etienne de la Boetie2 (Government-Scam.com) on Exposing Organized Crime's Control of the Gov't & Media; "Government"- The Biggest Scam in History… Exposed! – Fifth Edition Exposes the Scam of "The Covid," the 2nd Biggest Scam in History! IndieGoGo Campaign
-30-
ClearUnited Affiliate Link: https://www.clearunited.com/pages/r/freedomsphoenix
PODCAST 1
Etienne de la Boetie2
Etienne de la Boetie2 is the nom de guerre of a voluntaryist/anarchist author, father, technology entrepreneur, cyclist, runner, hot yogi, racquetballer, scuba-diver, multi-disciplinarian truther, armchair economist, cryptocurrency enthusiast, and neo-abolitionist who is experimenting with large-scale cult deprogramming. Mr. Boetie2 distills 20+ years of research into short, easily-digestible treatises on individual subjects and optimizes them for the 70% of society who are visual learners. https://government-scam.com/
GO HERE for PDF (The Biggest Scam - 5th Edition Press Release)
Etienne's previous interviews here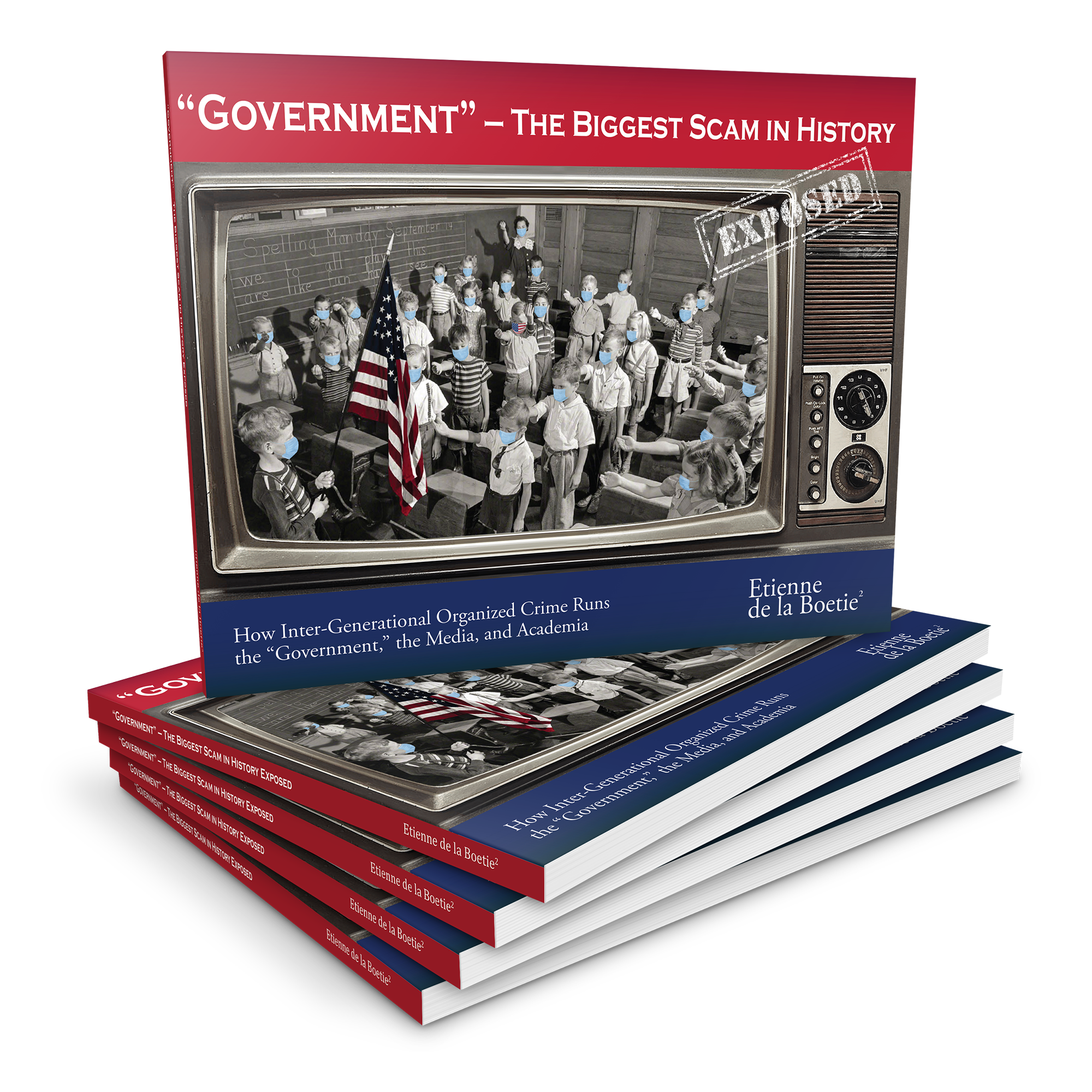 Proving the case that "Government", of every flavor, has been a scam of inter-generational organized crime since the beginning… and they have been getting away with it… until now… because they have been controlling the media…
Grant Ellman joins the show a little bit later in the podcast. See his youtube channel: https://www.youtube.com/c/PrezenceMusic33/videos
SEE ALSO: SCAM: Official Music Video...
The Art of Liberty Foundation is exposing the illegitimacy and criminality of "Government" from a principled voluntaryist perspective. Prezence has partnered with the Art of Liberty Foundation to help launch an IndieGoGo for the 5th edition of their ground-breaking book: "Government" – The Biggest Scam in History… Exposed! with the simultaneous release of this song SCAM! You can get the high-resolution audio and music video files for supporting any level of the IndieGoGo and both will be included on their credit-card sized flash drive of Liberty: The Liberator
The new single from Grant Ellman and Prezence. The song is being released in conjunction with an IndieGoGo for the 5th edition of the book: "Government" – The Biggest Scam in History… Exposed! which is exposing not just the Scam of "The Covid", (the 2nd biggest scam in history), but the scam of "Government" as well: "Government" isn't there to help or protect us but is a technique of inter-generational organized crime to rob and control populations and they have gotten away with it by controlling, financially and hierarchically, the media and academia that have been propagandizing and indoctrinating the population that "Government" is legitimate, desirable and necessary.
SHOW NOTES:
IndieGoGo Campaign - CLICK HERE
~~~~~~~~~~~~~~~~~~~~~~~~~~~~~~~~~~~~~~~~~~~~~~~~~~~~~~~~~~~~~~
Letters of Marque Paperback
AVAILABLE ON AMAZON NOW BY CLICKING HERE!
Letters of Marque Paperback – September 25, 2018
by Marque dePlume (Author)
"The Crown calls it 'piracy' to explore frontiers beyond its grasp. So the time has come to define the conduct among pirates." Captain Marque
http://pirateswithoutborders.com/
Join us 'Above the Grid'
IPFS:
Freedom's Phoenix - https://ipfs.io/ipns/QmW6iyZ27fYAwd15CQ9nDkLhZPa5QsfbZ8EuSoncHgwA8Y/
Pirates without Borders - https://ipfs.io/ipns/QmTHfBRjU826uZxDvwfV9ZzM7pCg71bMYVTgLFVvsZZwPJ/
The Corbett Report - https://ipfs.io/ipns/QmNqHuSVuufkBKK1LHtoUmKETobZriC1o5uoiXSoLX2i3K/
https://ipfs.io/ipns/QmNqHuSVuufkBKK1LHtoUmKETobZriC1o5uoiXSoLX2i3K/mp4
All James Corbett audio files:
https://ipfs.io/ipns/QmNqHuSVuufkBKK1LHtoUmKETobZriC1o5uoiXSoLX2i3K/mp3
The Highwire with Del Bigtree - https://ipfs.io/ipns/k2k4r8pkk8wevtty3rpqw8mh2njz0snop5xpha1ybafquvb7dcgayh4j/
============================================