THOUGH IT HASN'T BEEN TRUE for years, many people believe that government employees receive such lavish employment and retirement benefits in order to compensate for their meager paychecks. The reality is that their paychecks aren't meager at all: Government jobs pay more than those in the private sector, and the difference between the two is growing.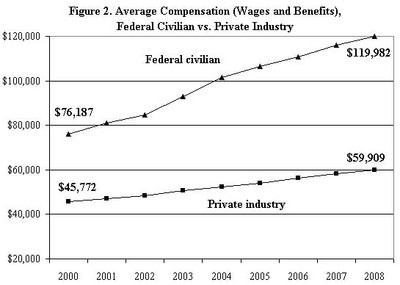 Consider the lucrative lot of the men and women who work for Uncle Sam. In 2008, according to data from the Commerce Department's Bureau of Economic Analysis, the 1.9 million civilian employees of the federal government earned an average salary of $79,197. The average private employee, by contrast, earned just $49,935. The difference between them came to more than $29,000 -- a differential that has more than doubled since 2000.
Take account of total compensation -- wages plus benefits -- and the disparity is even more striking. In 2008, total federal civilian compensation averaged $119,982 -- more than twice the $59,908 in wages and benefits earned by the average private-sector employee. Chris Edwards, a scholar at the Cato Institute, has documented the steady widening of the gap: In 1960, federal workers averaged $1.24 for every $1 earned by a private employee. By 1980, the federal advantage was up to $151; in 2000 it was $1.66. Now it is $2 -- and climbing. When ranked alongside 72 industries that span the US economy, federal employees take home the seventh-highest average compensation. Among the workers they outearn, Edwards shows, are those in such fields as computer systems design, chemical products, and legal services.