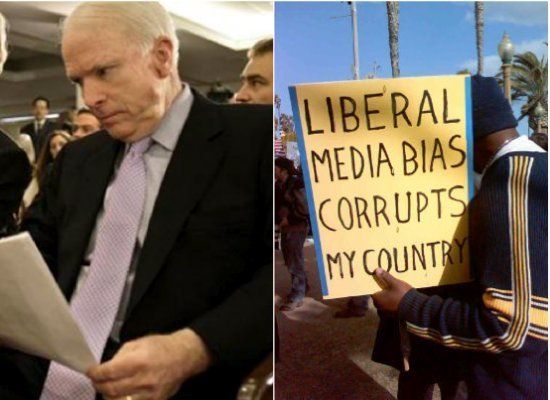 John McCain is taking a page out of his former presidential running mate Sarah Palin's playbook and
accusing
the "liberal media" of distorting its coverage of the Arizona Senate race.
"The line that the liberal media is trying to write is that I'm in some kind of trouble, I'm not," McCain told reporters on Tuesday. "I'm working hard. If I don't work, I could be in trouble, I'm proud of what I can do for the people of Arizona who are hurting very badly right now."
Politico
reports
:
Asked if Arizona voters were like angry Utah primary voters, who prevented Republican Sen. Robert Bennett from winning his party's nomination in Utah, McCain said he senses "frustration and anger."

"But I don't see that translated for support for any opponent of mine," he said confidently, adding that tea party groups in his state said that they would stay out of his primary.
---